Akande-Sadipe Gives Account of Stewardship to Constituents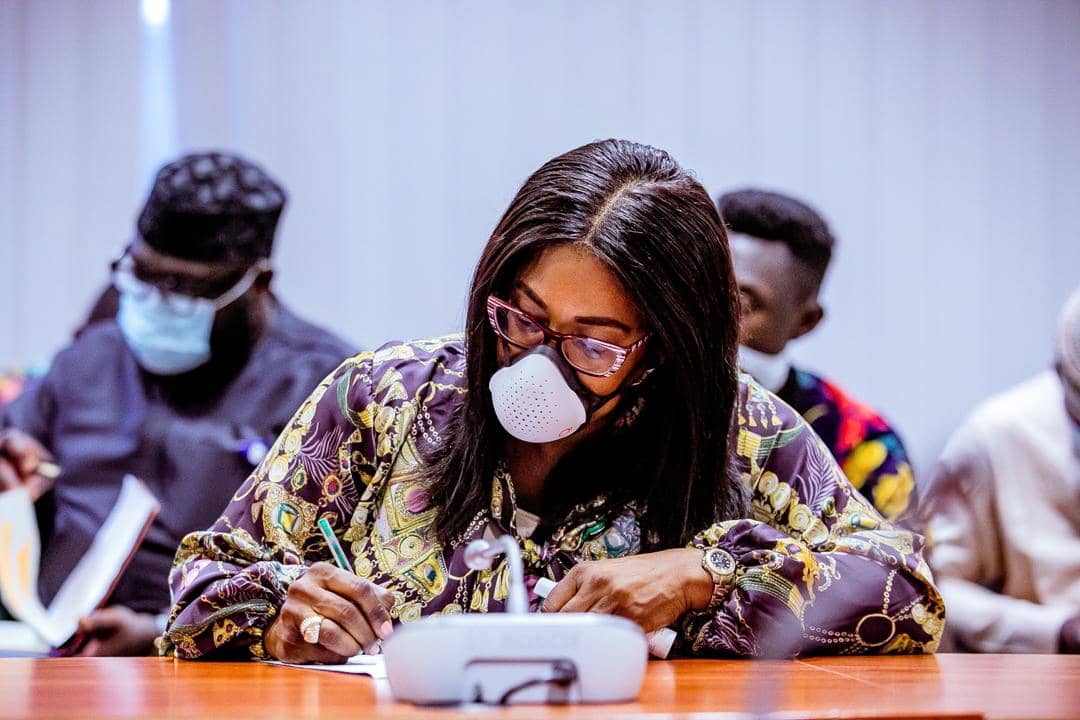 By Dipo Olowookere
A lawmaker from Oyo State, Mrs Tolulope Akande-Sadipe, has done what many Nigerians have yearned for from politicians as it is being done in the Western world.
The congresswoman, who is representing Oluyole federal constituency at the National Assembly, over the weekend, gave an account of her stewardship in January 2021 to her constituents.
It was at the flag-off of an empowerment programme at her constituency office in Ibadan and she was represented by her senior aide, Mr Kunle Fadiran, because she was in Abuja for a joint committee retreat on INEC and Electoral Matters.
According to her, last month, she facilitated the installation of transformers in Orelope Isale-Afla General Community, Papa Eleye Community, Irepodun Community and Orike Anu, with additional nine installations ongoing.
Mrs Akande-Sadipe said during the period under review, she saw to the completion of "a borehole with water treatment plant at Olubi Village in Oluyole Federal Constituency with the construction of 12 more ongoing."
The House of Representatives member also mentioned the recently completed school classroom blocks which included Ifesowapo Community Primary School, Boluwaji Oyalami Community School Orita Challenge, and Olode Community School Olode.
The lawmaker promised to continue in her efforts to make Oluyole the pride and joy of her people as the development of her constituency remains a key priority, thanking residents for the support they have given to her.
She explained that the empowerment programme was aimed at boosting economic activities in the area as 200 women and youths would learn cosmetology.
Mrs Akande-Sadipe, who is the Chairperson, House Committee on Diaspora, advised the beneficiaries to apply the knowledge they have acquired and judiciously make use of the start-up funding provided to them.
"This empowerment is part of my efforts to ensure fulfilment of my campaign promises of Worthy Laws, Provision of Water, Good roads, Education, Empowerment, Employment and Power (WWREEEP) in Oluyole Federal Constituency through programs that would promote self-dependency within the community," she said.
The lawmaker also reiterated her commitment to the enactment of the Diaspora Voting Bill so that Nigerians in the Diaspora can play an active part in elections at home to deepen confidence in the nation and commitment to economic collaborations at home.
"As the Chairperson, Diaspora Matters at the House, I will continue to fight against the sufferings of Nigerians abroad, citing Human Trafficking and the case of Suliamon imprisoned on death row in Saudi Arabia.
"My position is well known on this, even on the floor of the National Assembly. The move to ensure Nigerians are respected anywhere they are in the world is quite paramount," she said.
EFCC Goes After Car Dealers, Real Estate Agents, Others
By Modupe Gbadeyanka
The Chairman of Economic and Financial Crimes Commission (EFCC), Mr Abdularasheed Bawa, has hinted that a searchlight will be beamed on car dealers, jewellery sellers, real estate agents and others.
The anti-money laundering agency, while addressing newsmen in Abuja on Thursday, disclosed that evidence has shown that these set of people use proceeds of corruption for their business transactions.
He said the EFCC was working on a number of proactive strategies including a special control unit against money laundering, established particularly to address non-designated financial institutions including car dealers, real estate, jewellery dealers, among others.
Mr Bawa said that he was confident that when the unit is fully established, corruption will significantly decline in the country.
He added that the agency was equally working towards the development of a biometric ownership database to address money laundering.
According to him, most proceeds of crime are laundered through real estate and have become a huge challenge, giving examples of property acquired especially in Lagos, Abuja, and Port Harcourt where billions of naira were laundered through this means.
He, however, declined to disclose actual perpetrators or the properties involved but revealed that since his assumption, a number of recoveries have been made including N6 billion, $161 million, £13,000, €1,730, among others.
He further said internet fraudsters numbering 1,502 have also been apprehended between January and June 2021, noting that efforts were underway to file about 800 of them.
Mr Bawa was at the Presidential Villa yesterday to clarify the specific Minister involved in the laundering of about $37 million into real estate to which he referred in his earlier statement.
He said the matter was an old case involving a former Minister of Petroleum, Ms Allison Diezani Madueke.
KedCo Warns Customers Against Meter Bypass
By Adedapo Adesanya
The management of Kano Electricity Distribution Company (KEDCO) has cautioned customers in its franchise areas against meter bypass as it intensifies efforts in meter installation.
According to a statement by KEDCO's Head of Corporate Communications, Mr Ibrahim Sani Shawai, "the warning had become necessary as a way of ensuring that renewed efforts at speeding up metering are not sabotaged.
"Anyone caught bypassing our meters would not be spared as we will go all out within the provisions of the law of the land to ensure that violators are made to pay penalty after prosecution.
"We are speeding up processes to ensure that 87,747 meters are installed by the end of the month under the zero phase.
"We have met with all vendors and mandated them to increase manpower to ensure speedy deployment and installation of meters to customers.
"We appeal to our numerous customers to give vendors the necessary cooperation to ensure that estimated billing system is brought to an end in KEDCO franchise within the shortest time possible."
The distribution company had recently warned customers against meter apathy as it observed that some customers were deliberately refusing to get metered, which it considers unacceptable.
KEDCO is one of the major Nigerian electricity distribution companies. KEDCO operates in the northwestern geopolitical zone of Nigeria and generates, distributes and markets electricity in three states. It covers the franchise states of Kano, Katsina and Jigawa.
Navy Seizes 251 Bags of Smuggled Rice in Akwa Ibom
By Adedapo Adesanya
The Nigerian Navy, Forward Operating Base (FOB), Ibaka, Mbo Local Government Area of Akwa Ibom has impounded 251 bags of rice smuggled through the waterways.
The Commanding Officer of FOB, Navy Captain Suleiman Abdullahi, disclosed this in Ibaka on Thursday when he handed over the bags of contrabands to the Nigeria Customs Service (NCS).
He said that the 251 bags of rice were seized from smugglers on June 15 during routine patrol operations by the unit, explaining that the suspects abandoned the rice and the boat and fled on sighting the naval patrol team, emphasising that the Base would not relent in putting an end to illegalities on the Akwa Ibom waterways.
"What you are witnessing here today is the handover of 251 bags of rice suspected to be smuggled into the Nigerian maritime border.
"By the directive of the Flag Officer, Eastern Naval Command, Rear Admiral Sanusi Ibrahim, we have zero tolerance for smuggling.
"By the directive, we have carried out intensive patrol and on June 15, 2021, we seized one wooden boat and 251 bags of smuggled rice.
"On sighting the patrol team, the smugglers abandoned the rice inside the boat and flee to escape arrest.
This is an indication of their awareness of the crime perpetrated by these suspects for them to have abandoned their boat and flee," Mr Abdullahi said.
The commanding officer warned smugglers to relocate out of the Nigerian maritime borders, stressing that it would not be business as usual for them.
He urged them to desist from smuggling and other illegal businesses, but they should engage in legitimate endeavours.
"I will like to use this opportunity to warn those maritime criminals that it is not going to be business as usual.
"That they should desist from their criminal ways and engage in genuine business, otherwise the long arm of the law will catch up on them," he said.
Receiving the 251 bags of rice on behalf of the customs, the Comptroller of Sector 1, Port Harcourt, Mr Shehu Abubakar, said the agency would do everything possible to stop smuggling in the country.
Mr Abubakar, who was represented by the Superintendent of Customs, Border Drill Patrol Team, Oron Axis, Mr Mustapha Ahmed, warned smugglers to desist from the illegal trade, stressing that the organisation would continue to checkmate all economic sabotage in the country.
Latest News on Business Post