Buhari Relaunches WAI Brigade
President Muhammadu Buhari has relaunched the War Against Indiscipline (WAI) Brigade he introduced over 30 years ago when he was the then military Head of State.
At the re-introduction of the Brigade in Abuja on Monday, the President stressed that he was forced to make the same move due to insecurity, violence, kidnapping, and other forms of social vices on the rise in the country at the moment.
He explained that the role of the Brigade in civil intelligence gathering cannot be underestimated.
Announcing the development on the occasion of the National and State Commanders meeting of the Community Support Brigade, CSB, also known as WAI, the Director-General, National Orientation Agency, NOA, Dr Garba Abari said the President Buhari administration has declared the intention to relaunch the Brigade for better performance, as well as to bring its activities to the fore.
"It is great pleasure that I have the opportunity to meet with the leadership of WAI, for the first time since my assumption of office about two months ago. This meeting is meant to discuss the repositioning of the WAI Brigade in the current dispensation of change.
"I'm not only delighted with this gathering, but excited with you all for keeping faith and working tirelessly to contribute your quota to nation building as volunteers who are not being paid for over 3 decades. So, I salute your patriotic efforts, indeed, Nigeria salutes your patriotism," Abari said.
NBC Withdraws Operating Licences of Silverbird TV, Others
By Modupe Gbadeyanka
The operating licences of Silverbird TV, Rhythm FM and others have been revoked by the National Broadcasting Commission (NBC).
A statement issued on Friday by the agency disclosed that the action was taken over the failure of the broadcast stations to renew their licences after being given time to do so.
The affected media platforms were given 24 hours to stop operations or risk being forced to do so with the help of security operatives.
"After due consideration, NBC hereby announces the revocation of the licenses of the under-listed stations and gives them 24 hours to shut down their operations.
"Our offices nationwide are hereby directed to collaborate with security agencies to ensure immediate compliance," a part of the notice today read.
It was stated by NBC that the affected radio and television stations, numbering over 50, were given enough time to pay their broadcast renewal fees of about N2.66 billion but they refused to take action.
"In May 2022, the NBS published in the national dailies, the list of licensees that are indebted to the commission and granted them two weeks to renew their licenses and pay their debts or consider their licenses revoked, frequencies withdrawn and the withdrawn frequencies reassigned to others who are ready to abide by the necessary requirements.
"Three months after the publication, some licensees are yet to pay their outstanding debts, in contravention of the National Broadcasting Commission Act CAP N11, Laws of the Federation of Nigeria, 2004, particularly section 10(a) of the third schedule of the Act.
"In view of this development, the continued operation of the debtor stations is illegal and constitutes a threat to national security," the statement said.
In the disclosure, the nation's regulatory agency for the broadcast platforms warned others yet to renew their licences for the present duration to do so within the next 30 days to avoid sanctions.
"The broadcast stations that are not affected/whose names are not on this list are required to renew their licenses for their current durations within the next 30 days or get their licenses also revoked," it stressed.
Below is the full list of the affected stations:
     S/N                NAME OF STATION                           LOCATION
Silverbird TV (Silverbird Communications Co. Ltd) Network
Rhythm FM (Silverbird Communications Ltd) FM Abuja
Rhythm FM (Silverbird Communications Ltd) FM Lagos
Rhythm FM (Silverbird Communications Ltd) FM Yenagoa
Rhythm FM (Silverbird Communications Ltd) FM Port-Harcourt
Rhythm FM (Silverbird Communications Ltd) FM Jos
Rhythm FM (Silverbird Communication Ltd) Benin
Greetings FM (Greetings Media Ltd) FM Network
Tao FM (Ovidi CommunicationS Ltd) FM Okene
Zuma FM (Zuma FM Ltd) FM Suleja
Crowther FM (Crowther Communications Ltd) FM Abuja
We FM (Kings Broadcasting Ltd) FM Benin
Linksman International ltd Keffi
Bomay Broadcasting Services ltd Abuja
MITV (Murhi International Group Ltd) Ibadan
Classic FM (Pinkt Nigeria Ltd) Port-Harcourt
Classic FM (Pinkt Nigeria Ltd) Lagos
Classic TV (Pinkt Nigeria Ltd) Lagos
Smoot FM (Fenchurch Invest Consortium ltd) Lagos
Beat FM (Megalectrics LTD) Lagos
Cooper Communications ltd Lagos
Splash FM (West Midlands Ltd) Ibadan
Rock City FM (Boot Communications ltd) Abeokuta
Family FM (Kalaks Investments Nig. Ltd) Ilugun
Space FM (Creazioni Nig. Ltd) Ibadan
Radio Jeremi (Radio Jeremi ltd) Effurun
Breeze FM (Bays Water ltd) Akure
Vibes FM (Vibes Communication ltd) Benin
Family Love FM (Multimesh Broadcasting Co. Ltd) Port-Harcourt
Wave FM (South Atlantic Media ltd) Port-Harcourt
Kogi State Broadcasting Corporation
Kwara State Broadcasting Corporation
Niger State Broadcasting Corporation
Gombe State Broadcasting Corporation
Lagos State Broadcasting Corporation
Lagos DSB
Osun State Broadcasting Corporation
Ogun State Broadcasting Corporation
Ondo State Broadcasting Corporation
Rivers State Broadcasting Corporation
Bayelsa State Broadcasting Corporation
Cross River State Broadcasting Corporation
Imo State Broadcasting Corporation
Anambra State Broadcasting Corporation
Borno State Broadcasting Corporation
Yobe State Broadcasting Corporation
Sokoto State Broadcasting Corporation
Zamfara State Broadcasting Corporation
Kebbi State Broadcasting Corporation
Jigawa State Broadcasting Corporation
Kaduna State Broadcasting Corporation
Katsina State Broadcasting Corporation
Stakeholders Prepare for 2022 GTCO Autism Conference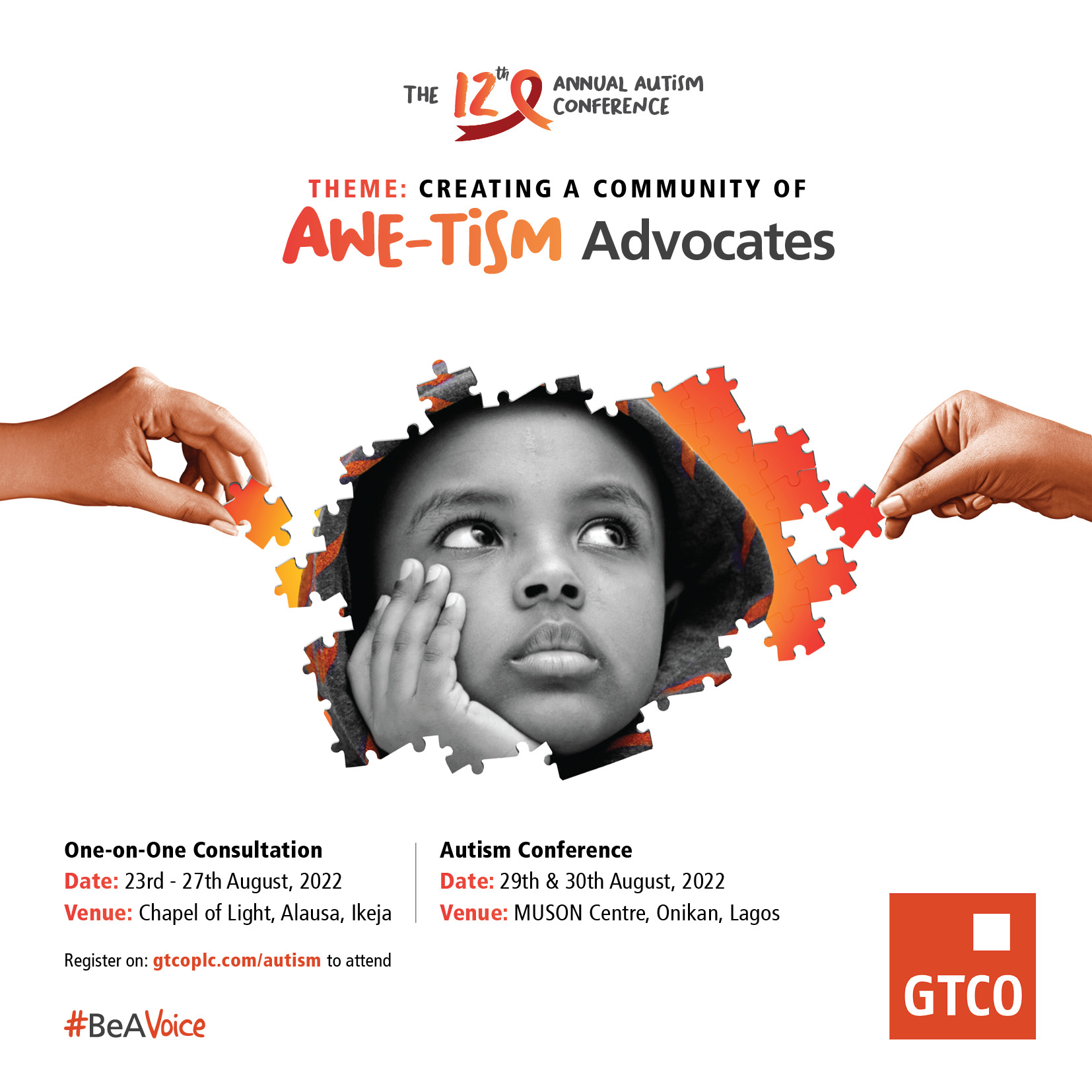 By Modupe Gbadeyanka
All is now set for the 2022 edition of the annual GTCO Autism Conference scheduled for Monday, August 29 and Tuesday, August 30 at MUSON Centre, Onikan, Lagos.
This year's event, the 12th, is themed Creating a Community of Awe-Tism Advocates and will involve different stakeholders, including parents, medical experts, caregivers and others.
Organisers of the programme, which has gained wider acclaim for bringing together some of the world's leading experts in autism, said the GTCO Autism Conference will feature keynote addresses and panel discussions by experienced specialists from renowned institutions in Nigeria and abroad in a hybrid set-up to allow for both in-person and virtual participation.
In addition, there would be one-on-one consultations and Q&A sessions during the conference to provide opportunities for parents and other stakeholders to further engage on best practices for proper diagnosis and treatment of persons on the autism spectrum with the experts.
Some of the partnering organisations include Federal Neuropsychiatric Hospital, Enugu, Autism Compassion Africa, Ghana, The Color of Autism Foundation, USA, Meharry Medical College, USA, and Behaviorprise Consulting Inc., Canada.
As a special feature and to ensure more persons with developmental disorders can benefit from professional help, provision has been made to offer specialist care to autistic children in the areas of speech and behaviour therapy, child psychology and psychiatry, as well as occupational development for adults living with autism via in-person consultations at the Chapel of Light, Alausa, Ikeja, starting from Tuesday, August 23 to Saturday, August 27 between the hours of 10 am and 5 pm.
"While much has been done over the years to increase the social consciousness around autism and to improve the available support systems for managing developmental disorders, we strongly believe that we can do more individually and collectively to create and uphold a culture of inclusion towards people with ASD to enable them to reach their full potential," the group chief executive of Guaranty Trust Holding Company (GTCO) Plc, Mr Segun Agbaje, said.
The annual event is a pivotal component of GTCO's Orange Ribbon initiative and serves as a key advocacy platform for people living with autism and other developmental disorders.
According to Mr Agbaje, "The Orange Ribbon initiative was created to support children and adults with developmental disabilities with a focus on those with autism spectrum disorders.
"Now in its 2nd decade, the annual Autism Conference has over the years created a community of people with a shared commitment to creating better outcomes for those who find themselves in the margins of society simply because they are different from the rest."
GTCO is a leading financial services company providing banking and non-banking services across eleven countries spanning West Africa, East Africa, and the United Kingdom.
The Group operates a diversified, proudly African franchise and is renowned for its innovative approach to customer service and stakeholder engagement which has endeared the brand to millions of people across Africa and beyond.
Oyo Government Begs Nigerians to Stop Cutting Trees
By Modupe Gbadeyanka
Nigerians have been urged to stop cutting trees and the earth will suffer from it if it is not stopped. This appeal was made by the Oyo State government in commemoration of the 2022 World Ranger Day.
In a statement issued by the Commissioner for Information, Culture and Tourism, Mr Wasiu Olatubosun, the government also saluted the bravery of park rangers at the Old Oyo National Park.
World Ranger Day, which is marked annually on July 31, pays tribute to those who have fallen in the fight to save forests, wild animals and trees, as well as a show of support for those still fighting.
Mr Olatubosun said the state government recognises reforms on forestry laws and policies, through its forestry department, advocating the need for enlightenment on forestry activities and the significance of the world celebrating the day.
He added that Oyo State is enjoying relative peace due to the synergy within the security architecture of the state, noting that the government appreciates the efforts of the guards at the National Park, especially in complementing the security architecture of the state.
"One of the cardinal points of this administration is security. The peace that members of the state are enjoying cannot be over-emphasised without the work of National Rangers in the state," he said.
"Oyo state government is proud to be associated with you because you have been very helpful tremendously by supporting other security agencies in maintaining peace in all our reserves.
"A ranger protects our cultural and historical heritage. Therefore, we appreciate your efforts. Through your efforts, our park and forests must be kept and saved from intruders," the Commissioner added.
The Coordinator, Old Oyo National Park, Mrs Caroline Samuel Ilori, said the annual celebration was an opportunity to celebrate rangers that have died in the course of exercising their duties, protecting this park.
She added that the day is set aside to celebrate living rangers who have given their all to having our environment protected.
"We are all aware of climate change in our environment; once protected, the forest helps to cushion and help mitigate climate change," the Coordinator said.
"A ranger plays a key role in our environment; a ranger is a protector, tour guard, security personnel and researcher. He knows what an environment is lacking," she concluded.
Latest News on Business Post