Group Knocks Ohanaeze, Others over Attack on MASSOB Leader
By Modupe Gbadeyanka
A group known as the National Alliance for Democratic Governance (NADG) has condemned what it described as "unwanted attacks on the founder and leader of Movement for the Actualisation of Sovereign State of Biafra (MASSOB) and the Biafra Independent Movement, Mr Ralph Uwazurike, over his support for the presidential ambition of Governor Yahaya Bello of Kogi State."
Mr Uwazurike had thrown his weight behind the presidential ambition of Mr Bello and this incurred the wrath of an apex Igbo socio-cultural organisation, Ohanaeze Ndigbo, and others.
The action of the critics of the MASSOB leader did not go down well with NADG, which in a statement signed by its National Coordinator, Mr James Ezema, urged the critics of the Igbo leader to always respect the opinions of others.
NADG, a pro-democracy group and accountable governance advocate, wondered why Igbo politicians who have no respect for their opinion leaders should be supported while those outside Igbo land who honoured them with consultation visits should be disregarded.
It said, "Ohanaeze Ndigbo has now turned itself into a political regulatory organisation for the South East and now infringing on people's fundamental rights to associate."
"In as much as Ndigbo, ahead of the 2023 general elections, are agitating for a Nigerian President of Igbo extraction as part of a visible remedy for the long years of marginalisation of the South East in particular and the old eastern region as a whole, it is undemocratic for Ohanaeze Ndigbo or any individual for that matter, to decide for another Igbo son or daughter whom to associate with.
"If indeed Uwazurike has long ago lost relevance in Igbo land as the group claimed, why is Ohanaeze Ndigbo complaining about such a person?
"The Ohanaeze Ndigbo has, by its outburst against Chief Uwazurike, manifested the age-long lack of understanding of grassroots politics by most Igbo politicians who disregard their home front in pursuit of national political relevance.
"How many Igbo sons who are contesting for President have visited major Igbo stakeholders like Uwazurike and others?
"Has any Igbo presidential aspirant consulted international figures like former Secretary-General of the Commonwealth of Nations, Chief Emeka Anyaoku?
"We have many prominent Igbo sons like the former chieftain of the National Democratic Coalition (NADECO), Chief Ralph Obioha, a staunch Igbo defender like Chief Willy Ezugwu, who is a traditional ruler and the Secretary General of Nigeria Political Parties (CNPP) and the National Coordinator of the South East Revival Group (SERG), among several other ranking Igbos opinion leaders. Who among the so-called Igbo aspirants visited them in the course of their consultations?
"Recall that Governor Yahaya Bello recently visited Chief Uwazurike at his country home in Imo State to seek his support for Presidency. How many of those presidential aspirants of Igbo extraction have visited Uwazurike to inform him of their plans to run for president?
"An Igbo proverb says Ana esi n'ụlọ ama mma apụ n'èzí (meaning that charity begins at home) and indeed, grassroots politics begins at home.
"Besides Peter Obi who visibly declared for president at a meeting with his traditional rulers and opinion leaders within his constituency, who among the Igbos contesting for president has visited traditional rulers, political elites, market women leaders or youth leaders, in South East?
"It is lack of understanding of grassroots politics that has led to such gross neglect of Igbo opinion leaders by presidential aspirants of South East extraction, yet when honour given by outsiders to these opinion leaders is returned, groups like Ohanaeze Ndigbo will kick against them rather than properly advising Igbo politicians to remember their home front if Igbos want to be united in reclaiming their lost grounds in the post-civil war Nigerian politics.
"Why should Chief Uwazurike, who merely reciprocated a gesture by Governor Yahaya Bello, be vilified as if Ndigbo are not seeing Yoruba presidential aspirants consulting their traditional rulers and opinion leaders in the South West while Igbo aspirants neglect their own?" the group said.
Co-founder of Bukka Hut Laolu Martins Dies After Battle With Depression
By Module Gbadeyanka
An investment banker and co-founder of Bukka Hut, Mr Laolu Martins, has died.
He was said to have kicked the bucket in the early hours of Tuesday.
Mr Martins has allegedly been battling with depression and had made efforts to overcome it, according to reports.
His family, which confirmed his demise in a statement on Wednesday, asked for understanding and privacy as they mourn him.
"We hereby solicit the support and understanding of everyone as the family grieves the loss of our beloved Laolu in our privacy.
"Our kind request is that you support the family – wife, children, aged mother and father and his siblings with your prayers at this difficult time.
"Further announcements will be made by the family," the statement said.
Mr Martins established Bukka Hut with his friend, Mr Rasheed Jayeola. The company is a leading a restaurant that offers a wide variety of tasty homemade meals.
NDLEA Sets Ablaze N194bn Cocaine Seized in Lagos
By Modupe Gbadeyanka
The 1.8 tonnes of cocaine worth N194 billion recovered by the National Drug Law Enforcement Agency (NDLEA) from a warehouse in the Ikorodu area of Lagos last week has been set ablaze.
The illicit drug was burnt on Tuesday, September 27, 2022, in the Badagry area of Lagos and was witnessed by the Chairman/Chief Executive of the agency, Mr Buba Marwa.
Mr Marwa, represented by the Director of Prosecution and Legal Services, Deputy Commander General of Narcotics (DCGN), Mr Sunday Joseph, said the cocaine was set ablaze following an order of the Federal High Court in Lagos.
He said the sheer volume of the drug haul speaks volumes about the extent of the nefarious activities of the drug underworld, noting that this has made it imperative for Nigerians to continue to support NDLEA in the renewed war against illicit drugs.
The NDLEA chief said out of the 1.8-tonne seizure, 1,828 blocks of the cocaine will be crushed and set ablaze, while the remnant will be secured for the purpose of prosecution of the suspects who were brought to witness the procedure and sign the certificate of destruction.
According to him, the agency is proceeding with the prosecution of those arrested in connection with this consignment, promising that the organisation will pursue the trial to a logical conclusion.
"Since January 25, 2021, when we commenced our offensive action against drug traffickers, the Agency has secured record convictions.
"Presently, 2,904 drug offenders are serving various jail terms, while other cases are ongoing in court, which we are confident will end in positive results too," he was quoted as saying in a statement signed by the spokesman of the agency, Mr Femi Babafemi.
While soliciting more support for the agency's work, Mr Marwa said the safety of society was the responsibility of every citizen.
He said the fact that the Ikorodu operation was conducted clinically without any skirmish or bloodshed was further testimony to the evolution of the NDLEA and its new capabilities and a pointer to the fact that the game has changed in the war against illicit drugs.
He expressed appreciation to the organisation's international partners, especially the American Drug Enforcement Administration (US-DEA), which supported the cocaine syndicate bust and the Nigerian military that provided additional firepower during the operation, as well as other law enforcement agencies that have been supporting efforts to rid Nigeria of illicit drugs.
The NDLEA had in a well-coordinated and intelligence-led operation that lasted two days last week, stormed a hidden warehouse at 6 Olukunola Street, Solebo Estate, Ikorodu. Five suspects, including a Jamaican, were arrested.
Afenifere's Support for Peter Obi Good for Nigeria's Unity—SERG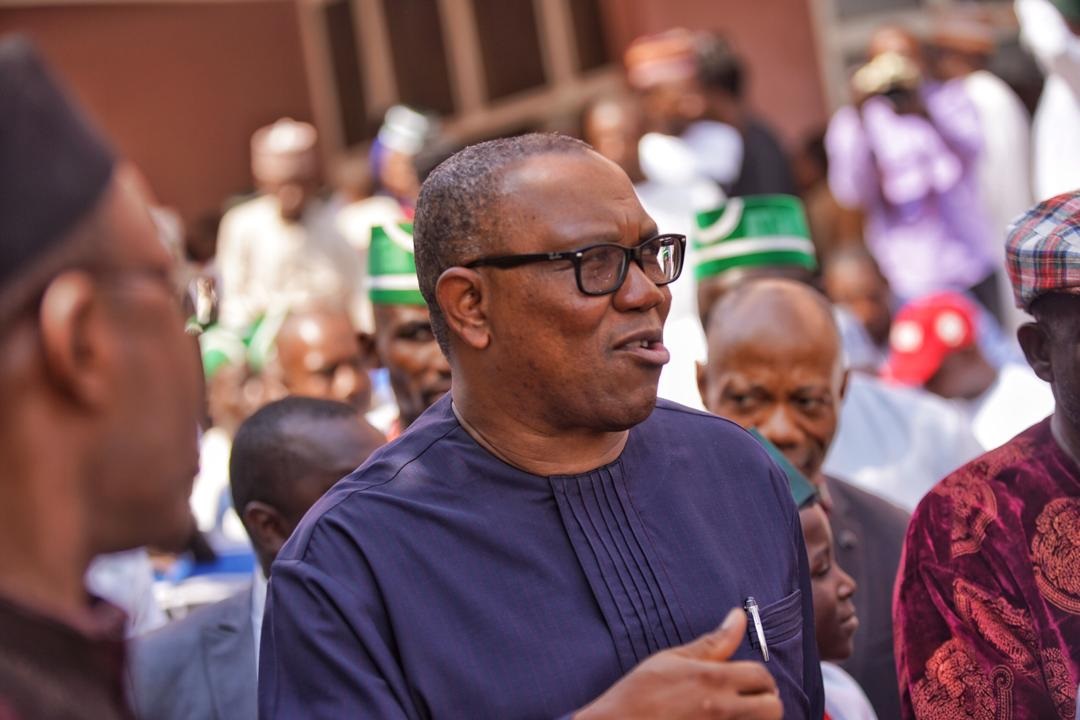 By Modupe Gbadeyanka
The endorsement of the candidate of the Labour Party, Mr Peter Obi, by a pan-Yoruba socio-political group, Afenifere, has been applauded by a pan-Igbo socio-political pressure organisation, the South East Revival Group (SERG).
In a statement issued in Abuja by the president and national coordinator of SERG, Mr Willy Ezugwu, the group said the support for the former Governor of Anambra State for the 2023 presidential election was good for the unity of Nigeria.
The leader of Afenifere, Pa Ayo Adebanjo, had said for equity, justice and fairness, the organisation would be throwing its weight with the candidate of Igbo extraction as it was the turn of the South East to govern Nigeria.
"The unequivocal support coming from credible South West political bloc, which the Afenifere represents, is a support for equity and justice, which will boost Nigeria's national unity," SERG said.
It maintained that "the renewed declaration of support for the Peter Obi presidential bid, alongside his running mate, Yusuf Datti Baba-Ahmed, by the Afenifere has demonstrated that there are still individuals and groups around who love the country and would sacrifice anything to keep Nigeria united and prosperous.
"The support by Afenifere is in line with the advocacy sustained by the former Executive Governor of Kaduna State and elder statesman, Alhaji Balarabe Musa, ahead of the 2023 general elections before his death.
"Alhaji Balarabe Musa had urged Nigerians to give the South East the chance to produce the next President of Nigeria in 2023 to give the region a sense of belonging.
"We, therefore, totally agree with Pa Adebanjo that by the Afenifere's support, the group is contributing to shaping Nigeria into a truly Federal Republic where no person or ethnic nationality would be sidelined or oppressed.
"We recognize the fact that Afenifere, as well as the Southern and Middle Belt Leaders Forum, have been consistent in their advocacy for restructuring and, by extension, the need for a Nigerian President of South East extraction as part of efforts towards national integration.
"With this reiterated endorsement from the Afenifere against all odds, it should now sink into the minds of all Nigerians, especially South East political leaders, that the Peter Obi presidential bid is devoid of ethnic colouration and must be embraced by all and sundry in Igboland.
"We, therefore, call on all Igbo sons and daughters to join the support train, not because Peter Obi is an Igbo but because he has proven to be competent with a reasonable understanding of Nigeria's problems and how they can be fixed.
"Nigeria is greatly troubled in every sector, with complications from security challenges as evident in all parts of the country, and we need urgent rescue from total collapse.
"Peter Obi has a track record of integrity, competence, and proven performance and has expressed his readiness to work with Nigerians of all tribes and religions to make the country work again by focusing on production, which will boost the country's economy and return the country to the path of recovery and prosperity," the SERG said.
Latest News on Business Post