ICAN, BOI Partner to Drive Stakeholders Inclusion in Tech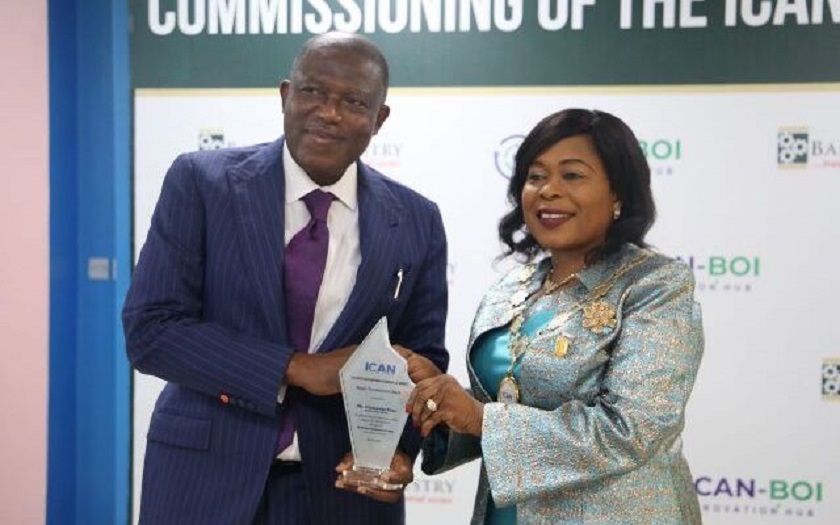 By Adedapo Adesanya
The Institute of Chartered Accountants of Nigeria (ICAN) and the Bank of Industry (BOI) have strategically inaugurated an ICAN-BOI Tech Hub that will promote job creation, entrepreneurship and skill development in the technology space.
This was the central point of the tech hub inaugurated on Tuesday at the ICAN annexe office in Lagos which will ensure that members of the institute and the public can access the necessary skills and competencies required to become job creators and productive contributors in today's tech-savvy world.
According to the Managing Director of BOI, Mr Olukayode Pitan, the project was necessary, given the increasing importance of technology to development and youth empowerment.
Mr Pitan said the dominant role of technology in many professions, including accountancy, had transformed the way businesses operated, resulting in improved efficiency, cost-saving, and simplified processes.
"The tech hub shall encourage development and testing of new ideas, products and business models as well as create an environment to prepare for start-ups and existing businesses for sustainability.
"It also aims at boosting business mentorship, market linkages and accelerated programmes to enable young entrepreneurs to scale up.
"Technology, innovation and entrepreneurship are key factors shaping global trends and there is a need to continually scale up on them for our national economic growth and development," he said.
The BOI boss noted that young people were embracing an entrepreneurship mindset and technological skills, which had resulted in the provision of innovative solutions servicing millions of people in diverse sectors.
According to him, the Information and Communication Technology (ICT) sector contributed 14.7 per cent to the gross domestic product in 2020 and increased to 15.21 per cent in 2021.
"We can see a perfect example of the value of tech hubs when we consider Silicon Valley, which is one of the earliest tech hubs in the world.
"It houses the headquarters of many of the world's largest high tech operations as well as thousands of promising start-ups and we have started on that journey here in Nigeria.
"Nigerian Fintechs are fast gaining recognition globally. In 2021, Nigerian FinTech start-ups raised about $1.37 billion out of a total of $4 billion raised by African start-ups despite the COVID-19 pandemic.
"In Nigeria, we can boast of having technologically-driven products and services such as Flutterwave, Opay, Andela, Interswitch and Jumia.
"This shows the growing significance of ICT in driving the economy," he added.
Mr Pitan also added that the BOI, through its corporate social responsibility programmes, would proactively continue to support the establishment of tech hubs across the country.
He said the ICAN-BOI tech hub collaboration brought the total tech hubs established by BOI to 10 in six states across the country.
"Structurally, the ICAN-BOI tech hub boasts of over 250 co-work desks, meeting rooms, private offices, a relaxation centre and a hybrid area for organising competitions and hackathons.
"In collaboration with ICAN, we have made provisions for all divider networks, IT equipment, power supply and all required to enable the hub function at optimal capacity.
"The bank is committed to making all its financing products and services available to bankable projects that emanate from users of the tech hub.
"We are confident that this hub will help users to innovate, incubate, collaborate and scale up as they become employers of labour and contributors to the economy of the nation," he said.
The 57th ICAN President, Mrs Comfort Eyitayo, adding her input said the hub was positioned to empower users through different stages from idea generation to actualisation of products or services.
Mr Eyitayo expressed gratitude to the management of BOI for partnering with the institute to ensure members and youths were equipped with the necessary skills for economic growth and development.
On his part, the ICAN Registrar, Professor Ahmed Kumshe, commended Eyitayo, who through the ICAN Entrepreneurship Development Centre initiative brought about the partnership with BOI that resulted in the establishment of the tech hub.
He urged the institute to enlighten members and students to maximise the benefits of the hub since technology had taken over every aspect of life, especially in finance.
Subsidy Removal: Court Stops Proposed Nationwide Strike by NLC, TUC
By Modupe Gbadeyanka
The proposed nationwide strike to kick against the removal of fuel subsidy by the federal government may suffer a setback as the National Industrial Court (NIC) has restrained the Nigeria Labour Congress (NLC) and the Trade Union Congress (TUC) from going on with the action.
In a ruling on an interim order sought by the federal government on Monday in Abuja, Justice O. Y. Anuwe ordered the unions to stop the strike pending the determination of a suit filed by the government.
The judge directed the government to serve the NLC and the TUC the interim order and the substantive suit marked NICN/ABJ/158/2023, fixing June 19, 2023, for hearing of the matter.
"The defendants/respondents are hereby restrained from embarking on the planned Industrial Action/or strike of any nature, pending the hearing and determination of the motion on notice dated 5th June 2023.
"It is ordered that the defendant/ respondents be immediately served with the originating processes in this suit, the motion on notice, and the order of this court hereby made.
"The motion on notice is hereby fixed for hearing on 19th June 2023. Hearing notices to that effect shall be served on the defendants/respondents along with the other processes," Justice Anuwe ruled.
Business Post reports that the Federal Ministry of Justice filed an ex-parte motion to stop the planned industrial action by the labour unions, arguing that the strike was capable of disrupting economic activities, the health sector and the educational sector.
Momentum Gathers for Second Adire Lagos Experience
By Modupe Gbadeyanka
Stakeholders in the Nigerian textile industry are getting prepared for the second Adire Lagos Experience organised by Ecobank Nigeria Limited.
Momentum is gathering for this event slated for June 9 to 11, 2023, because the first edition, held at the ultra-modern Ecobank Pan African Centre (EPAC) complex in Victoria Island, was the talk of the town.
Participants used the occasion to network and get the latest designs in the local adire fabric.
Ecobank has assured that this year's programme would be bigger as those expected are top government officials from  Lagos, Ogun and other neighbouring states, the CEO of Adire Oodua Textile Hub and wife of Ooni of Ife, Mrs Ronke Ogunwusi; the CEO of Dye Lab, Ms Joke Ladoja; the Creative Director, Afume Global Concepts, Mrs Funmi Sosanya; and the CEO, Aga Culture & Upbeat, Moyo Ogunseinde, among others.
The event is being partnered with the National Union Textile Garment Tailoring Workers of Nigeria (Adire Sector) and will involve the exhibition of new designs of the fabric.
The Head of Consumer Banking at Ecobank, Mrs Korede Demola-Adeniyi, said the exhibition is part of the bank's contribution to boosting the nation's tourism, culture and creative industry using Adire as a key driver, adding that, high profile exhibitors, vendors, dignitaries from different parts of the world have indicated interest to be part of the event.
"The bank was encouraged by the success of the maiden edition last year.  It is in line with our brand promise as a Pan-African Institution to promote culture and boost tourism on the continent.
"We expect topflight exhibitors, expatriates, influencers, dignitaries from all walks of life and members of the public at the three days event," she said.
Mrs Demola-Adeniyi stated that the event would feature a series of masterclasses and exhibitions, as well as networking opportunities with entrepreneurs, shoppers and everyone interested in the making or trading of Adire, adding that the bank has provided a cosy ambience with utmost serenity to make participants feel comfortable and safe.
She added that, "Participation is free, and you are welcome to invite family and friends to come over to witness the beautiful event.
"This exhibition also presents an opportunity not only to sell and buy products but to experience the luxuriance in our culture.
"In addition to the wonderful display of Adire clothing and products, there will be masterclasses on Adire production, picture-perfect moments, and music to vibe."
Why to Start a YouTube Channel for Yoga
Introduction
YouTube is one of the most creatively driven platforms on the Internet right now. Thanks to YouTube, many artists, and unconventional professionals have found a place to share what they love, do something they enjoy and showcase their talents to the world, and do some pretty crazy stuff for people to see. And just by creating and sharing fun, they are able to earn money as well! Previously, it was difficult for people of their professions to leave a mark, and often, they did not make enough. However, with YouTube, creative pathways opened for everyone around the world.
Moreover, videos entered the commercial picture and changed the face of marketing. Prior to YouTube domination, people found it extremely difficult to watch or transfer videos due to their size. However, when YouTube came in, things changed drastically, and new avenues opened for all.
Starting a YouTube channel is a giant leap for anyone today. As a Yoga teacher, this must have been on your mind for some time. It is essential to know, however, the best possible way to start one so that you can do a better job at it.
How to start your YouTube channel for Yoga
There are a few things that you must keep in mind to run a successful Yoga channel on YouTube. To begin with, it is necessary to point out that creating a YouTube channel and making videos are relatively easier tasks as compared to marketing those videos and earning money out of them. However, the following tips will give you a head-up about where to start and how to get going to ensure you not only do what you love, but you also earn a profit out of it.
Chalk out the plan for your video content: As a Yoga instructor, it is vital to base your content around Yoga and the general wellbeing of your viewers. You must be careful to present your content in a way that your audience will appreciate and be attracted towards. You can do this by researching and watching videos of established Yoga teachers on YouTube. The engagement on their posts will tell you what your audience is likely to enjoy, share, and engage with. Moreover, make sure you use great intros and outros. There are plenty of templates readily available to create impactful intros and  inspire your YouTube end screen ideas. Additionally, there are intro makers and YouTube outro templates that you can use at your convenience.
Pre-define your target audience: Before you delve into your channel, research about the kind of audience you are aiming to reach. They are your targets, and you should be as specific as you can get. Take inspiration from the active audience of some fellow predominant Yoga instructors on YouTube and tailor it to your needs.
Make sure your videos are SEO friendly: SEO is a critical factor for your videos to get a better ranking and reach more people on YouTube. You can either learn all about it from tutorials and guides on the Internet, or you can even hire a freelancer to do it for you. Use video descriptions well to make your videos rich in keywords so that the YouTube algorithm can detect it and thereby recommend your videos to anyone who's looking for related content.
Follow a schedule to upload your videos: Creating a schedule is of utmost importance especially whenever you feel your motivation and energy levels declining. When you first create your channel, you will be enthusiastic and fired up. You will upload the videos according to the decided frequency, and things will be fine. However, once the enthusiasm subsides and you calm down, you will find yourself postponing and delaying the videos. Hence, to discipline yourself, you must create a schedule and make sure to follow it. Moreover, your audience will find it easier to follow your content if you have a routine, especially because Yoga is a lot about being punctual about the practice.
Create your brand presence: Creating a brand presence is important to establish your credibility among your audience. Your brand, if it is famous and of repute, will ensure the trust of your clients and viewers. Your content will be viewed as authentic and your followers and subscribers are also likely to increase.
Promote your content across social media: Your work as a creator does not end with uploading the video. After this, another part of the job starts- marketing. Use all the social media platforms available to promote your videos and reach many people as possible. Use SEO everywhere and make your content catchy and attractive. Concentrate on adding value, and people will automatically share your content with their friends and social groups. Use your social media to drive traffic to your YouTube account. This will also help you create a personal brand.
Collaborate with brands and other YouTubers in your videos: Collaborations with different brands and companies, or other creators on YouTube will help you expand across many genres and reach a much larger chunk of the audience. If you want a diverse range of viewers, make sure to collaborate with influencers in those particular areas. This act will excite their audience and introduce your content to them. The exchange, if properly conducted, can bring you a ton of new subscribers within a short period. It will definitely widen your scope of success on YouTube.
Conclusion
As a YouTube creator, make sure to concentrate on your content. Think of all the ways you can add value to your viewers with Yoga and anything associated with it. Engage with your audience regularly and modify your upcoming videos to suit their needs. Ask for feedback and analyse your growth. Being a creator is easy, but being a creator who people want to watch, is a tough nut to crack.
Latest News on Business Post