MTN Pays N.5m to Customer over Illegal Credit Deduction
By Modupe Gbadeyanka
The sum of N500,000 has been paid to a customer of telecommunications giant, MTN Nigeria, Mr Oluwole Aluko.
The amount was paid in compliance with a Federal High Court judgement in Ibadan, Oyo State, directing the telco to pay for illegal deduction of call credit of the affected customer.
In 2016, Mr Aluko filed a suit against MTN Nigeria, claiming his call credit was illegally deducted from his account by the GSM network provider.
During the hearing, MTN Nigeria made no representation until the day set aside for ruling on the matter.
Two persons, Abiola Olagunju and Fatiullah Tiamiyu, showed up at the court that day, claiming to be representing the company and urged the court to set aside the judgment against their client.
They had argued that the company's legal department was never aware of the suit against the company before the court, but Mr Aluko countered this claim, presenting evidence of court summons served on the defendants with proof of receipt in a criminal contempt suit he instituted against the duo.
Ruling on the matter in 2017, Justice Nathaniel Ayo Emmanuel of the Federal High Court in Ibadan directed the company to pay the sum of N500,000 to Mr Aluko.
This week, at the resumption of a criminal contempt suit filed against MTN Nigeria's lawyers, Mr Aluko confirmed receiving the amount in compliance with the court's earlier order.
As a result of his confirmation, the judge struck out the suit.
Outstanding Debts: Be Patient With us—NDDC Begs Contractors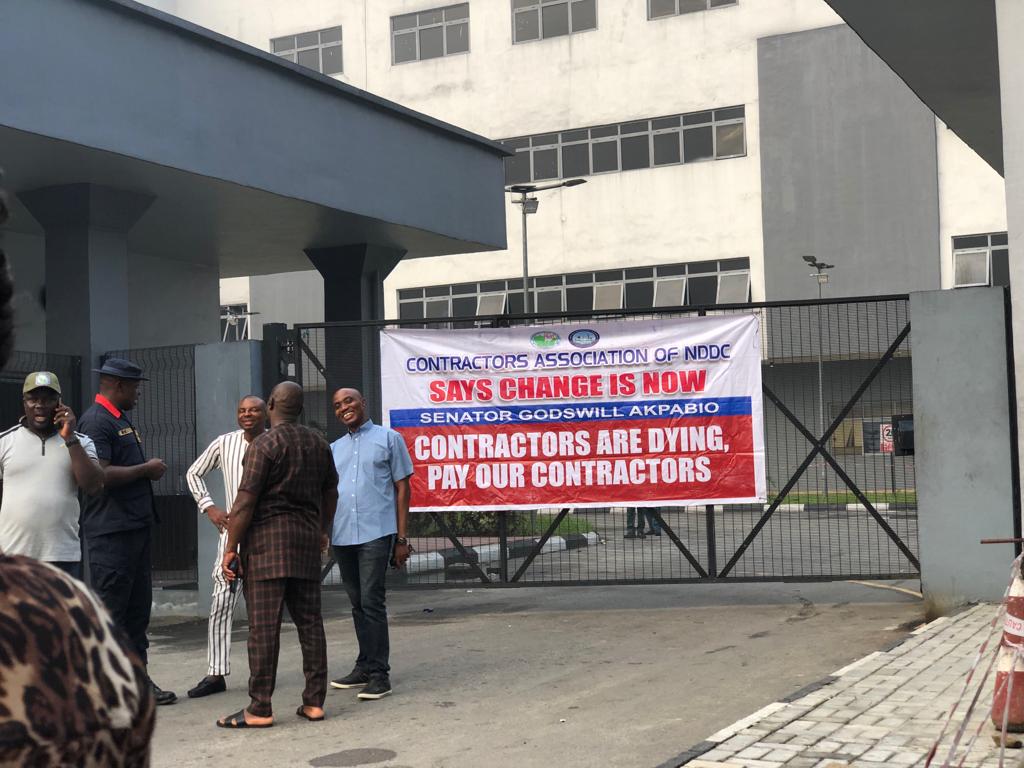 By Francis Udoka Ndimkoha
Contractors who carried out projects for the Niger Delta Development Commission (NDDC) but are yet to be paid have been urged to be patient as all verified outstanding claims would be settled.
A source close to the Interim Administrator of the Commission, who spoke on condition of anonymity, said the NDDC boss was saddened that contractors who had done their jobs were still being owed many years after completion.
He said that the NDDC boss regretted the closure of NDDC headquarters by aggrieved contractors and called for patience "to achieve an amicable resolution" in an effort to facilitate sustainable development of the oil-rich region.
The source, who is a director in NDDC, said: "The Interim Administrator is not happy that contractors who had completed their jobs were yet to be paid. There is no reason to owe these contractors except the fact that enough funds have not been released to NDDC to take care of the debt."
He disclosed that the federal government owes the agency over N1.9 trillion, while the oil companies owe in excess of $4 billion (about N2.2 trillion).
"This huge indebtedness to NDDC is far in excess of what the Commission owes its contractors and has exposed us to this kind of situation," the director added.
He also disclosed that the bulk of the indebtedness was inherited from past administrations of the commission.
According to him, "The Interim Administrator has been very prudent and circumspect about adding to the commission's liability with new contracts. But he is determined to clear the debts because he believes that those who have worked for the commission deserve the due reward."
The source said that President Muhammadu Buhari set up a reconciliation committee "headed by the Minister of Finance to determine how much is owed to NDDC and reconcile the accounts."
He stated that President Buhari and the Minister of Niger Delta Affairs, Mr Godswill Akpabio, "are concerned about the situation and must be commended for all efforts being put in place to ensure that all monies owed NDDC were paid. This will be resolved soon so that contractors can receive payment in this Christmas season."
"The Interim Administrator is working tirelessly to pay outstanding debts and calls for calm and patience from all aggrieved contractors and service providers," he added.
EFCC Declares MBA Forex Owner Wanted Over N231bn
By Modupe Gbadeyanka
Mr Maxwell Chizi Odum, the founder and chief executive of MBA Trading and Capital Investment Limited, otherwise known as MBA Forex, has been declared wanted by the Economic and Financial Crimes Commission (EFCC).
A statement issued by the Head of Media and Publicity of the EFCC, Mr Wilson Uwujaren, confirmed this development on Wednesday.
According to the anti-graft agency, the self-acclaimed investor is wanted for allegations bordering on fraud to the tune of N213.0billion.
Members of the public with vital information that could lead to his arrest have been urged to make them available. His last known address, the EFCC said, was in Port Harcourt, Rivers State.
"The general public is hereby notified that Maxwell Chizi Odum, a.k.a. Mba Trading And Capital Investment Limited, whose photograph appears above, is wanted by the Economic and Financial Crimes Commission (EFCC) in an alleged case of conspiracy, obtaining money by false pretence and money laundering to the tune of N213,000,000,000.00 (Two Hundred and Thirteen Billion Naira) only.
"Odum is a native of Ikwerre in Obio-Akpor Local Government Area, Rivers State. His last known address is at 7, Odum Street, Elekahia, Port Harcourt, Rivers State.
"Anybody with useful information as to his whereabouts should please contact the commission in its Benin, Kaduna, Ibadan, Sokoto, Gombe, Maiduguri, Makurdi, llorin, Enugu, Kano, Lagos, Gombe, Port Harcourt and Abuja offices or through these numbers 09-9044751-3, 08093322644, 08183322644, 070-
26350721-3, 070-6350724-5; its e-mail address: info@efccnigeria.org or the nearest Police Station and other security agencies," the statement stated.
Recall that about nine months ago, MBA Forex claimed it has been unable to refund funds of investors to them because of the actions taken by the Central Bank of Nigeria (CBN).
The firm, which is involved in foreign exchange (forex) trading and investment in capital investment, said the banking sector regulator in Nigeria "suspended any dealings in our [bank] accounts."
According to the chief executive of the organisation, Mr Maxwell Odum, "All other payment gateways we normally use for the easy payout of funds have also [been] blacklisted."
He disclosed that this has made it quite difficult for some investors to get their money back from the company.
Mr Odum explained that the apex bank said it blocked the company's bank accounts "to carry out some checks to ensure that we have been acting lawfully."
However, the MBA Forex chief assured that those who invested in the firm would get their funds back as the "process has already commenced while some have already received their funds."
AfDB 2021 Electricity Regulatory Index Ranks Nigeria 21
By Adedapo Adesanya
Nigeria's electricity sector emerged as the 21st best regulated across a number of key metrics, according to the African Development Bank's (AfDB) 2021 Electricity Regulatory Index.
The 2021 Electricity Regulatory Index, an annual report, covered 43 countries, up from 36 in the previous edition, and assessed their impact on the performance of their electricity sectors. The index covered three countries in the North Africa region; 14 in West Africa; 6 in Central Africa; 7 in East Africa; and 13 in the Southern Africa region.
According to the report, Nigeria has an index between 0.600 to 0.799 which indicates a substantial level of regulatory development. This means that many elements of a supportive regulatory framework are established, although there are weaknesses that do not permit the regulator to have a strong capacity, legal and institutional structures.
Meanwhile, the Ugandan electricity sector is the best for the fourth consecutive year while other strong performers include East African neighbours, Kenya and Tanzania, as well as Namibia and Egypt.
Among the 2021 report's key highlights are that regulatory independence is one sub-indicator where African countries have room to improve: in 93 per cent of sampled countries, governments, and stakeholders exercise influence over regulatory authorities.
In terms of regulatory substance, participating countries scored lowest on the adequacy of their tariff setting and frameworks, as well as licensing frameworks when compared with best practices.
According to the report, the average performance of economic regulation has continued to decline since 2018. A third of countries surveyed indicated they lack methodologies to determine tariffs; another 40 per cent rely on tariff methodologies that do not include key attributes such as automatic tariff adjustment and tariff indexation mechanisms and schedule for major tariff reviews.
Speaking on this, Mr Kevin Kariuki, the AfDB's Vice President for Power, Energy, Climate and Green Growth said, "The unprecedented participation of so many countries shows the commitment to strengthen the countries' regulatory environment with a view to improving the performance of the respective electricity sectors".
On his part, Mr Wale Shonibare, AfDB Director for Energy Financial Solutions, Policy and Regulation, commended the top-performing country.
"Uganda topping the rankings consecutively for four years comes as no surprise to many, as the regulator spends significant time on consultation and analysis, including regulatory impact assessments of key interventions and follow-through to ensure full implementation," he said.
Outside stakeholders also viewed the report's results positively with Mr Abel Didier Tella, Director General of the Association of Power Utilities of Africa, saying, "It is interesting that the utilities in most of the top-performing countries in the Electricity Regulatory Index are listed on their national stock exchanges, which requires compliance with transparency in information sharing and good governance practice."
Since its launch in 2018, the Electricity Regulatory Index has highlighted aspects of electricity regulation that need reform, identified appropriate areas for intervention, and encouraged stakeholders to be proactive in addressing challenges. Since then, the index has been widely adopted by regulators and other stakeholders across the continent as a benchmark for the regulatory environment as well as for ongoing reforms.
Latest News on Business Post