Nigeria Almost Zero in all Indices of Development—Peter Obi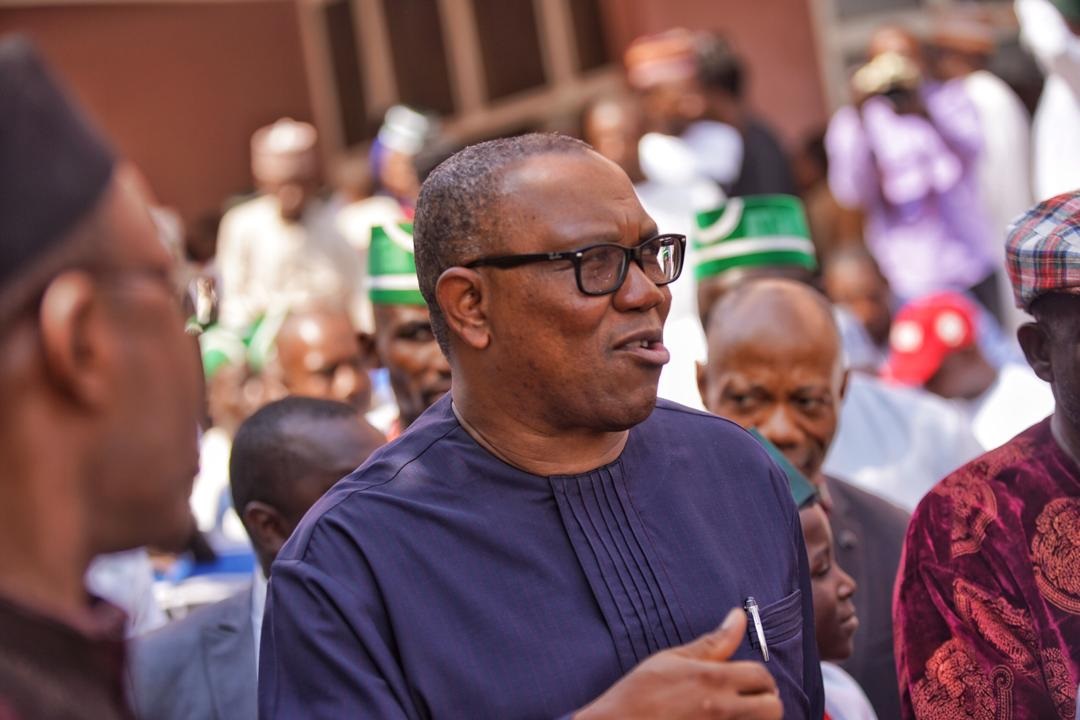 By Aduragbemi Omiyale
The presidential candidate of the opposition Labour Party, Mr Peter Obi, has lamented the poor ratings of Nigeria, promising to change the narrative if elected president next year.
Mr Obi, while speaking after he emerged candidate of the party in Delta State on Monday, said the greed of "forces of retrogression" have made Nigeria to "become a laughing stock among other nations."
"Yes, our country stands hijacked by forces of retrogression. We are almost zero in all indices of development. As a result, our future, especially those of the youth and generations unborn is in ruins. We have become a laughing stock among other nations, including African countries where we were once revered," he said in his acceptance speech.
The former Governor of Anambra State defected from the Peoples Democratic Party (PDP) to the Labour Party a few days ago. He had wanted to fly the flag of the PDP in the 2023 presidential election but when it became clear that this would be impossible, he jumped ship. The ticket was later given to former Vice President, Mr Atiku Abubaker, at a keenly contested primary held over the weekend in Abuja.
On Monday, the Labour Party held its presidential primary and was won by Mr Obi. In his speech, he thanked the other participants, calling on them to support him to return "Nigeria to Nigerians from forces of bad leadership and retrogression."
"In the battle to re-take Nigerian, the odds are great and seemingly insurmountable, but with our commitment, patriotism and understanding that we are doing, what we are supposed to do for our country, lest she shall die, we shall move on discontent with what is and focused on enthroning what ought to be. In doing this, our battle cry shall remain: get your PVC and become part of this great liberation!" he declared.
He stated that, "Our governance mission will be twin-tracked. Secure Nigeria in every ramification: national security, human security, food security and tackling insecurity created by unemployment."
"We will also seek to unite our nation by pulling our people out of poverty and creating a new sense of nationalism and patriotism. Nigeria shall rise again: and her people will be proud to claim ownership of her patrimony. Doing so is in our collective national interest," he added.
Mr Obi disclosed that, "Nigerians remain hopeful for a national rebirth, which implies returning Nigeria to Nigerians – farmers, teachers and students, lecturers, artisans, workers, pensioners and over a hundred million poor Nigerians who are not sure where their next meal will come from."
"As a party that represents the workers and masses of this great nation, we are people organised and working for our economic rebirth. As I am nominated today, I humbly proclaim that the journey towards the emancipation of the country has begun," he stated.
Greater Lagos Vanguard Endorses Sanwo-Olu for 2nd Term
By Adedapo Adesanya
A grassroots political organisation, Greater Lagos Vanguard (GLV), has commended all adherents of democracy and good governance for trooping out in their thousands in solidarity with Governor Babajide Olusola Sanwo-Olu of Lagos State, who flagged off his re-election bid for a second term in office in Lagos on Saturday, December 3.
The group has also lauded the Governor for "a successful first term tenure which has witnessed monumental development strides in various facet of governance and has endeared Mr Governor to the hearts of appreciative Lagosians who trooped out today in solidarity with him, which is an endorsement for his second term in office."
In a statement jointly signed by its convener, Mr Nelson Ekujumi and its General Secretary, Mr Uche Nnadozie, the organisation stated that, "We feel proud and excited to proclaim that Governor Babajide Sanwo-Olu has performed excellently well in his first time in office which is still ongoing, in line with the tradition of the excellent performance of good governance like his predecessors and the Lagos master plan of economic growth and development."
According to GLV, Mr Sanwo-Olu has distinguished himself excellently well in the areas of governance, such as his outstanding role as the incident commander in the fight against the coronavirus pandemic, which earned him local and international accolades.
"The way and manner Governor Sanwo-Olu mobilised men and resources to confront the pandemic was a turning point and testament of his quality as a servant leader, who leads from the front, and it contributed in no small measure to the success recorded by Lagos State in particular and Nigeria in general and became a global reference point," the statement read.
The group also mentioned the infrastructural development projects of the Governor like construction, reconstruction and renovation of health institutions, roads, 21st-century model schools, ICT, agricultural tools and implements for farmers, first and last-mile buses, empowerment of transportation and traffic agencies, emergency responders fire fighting trucks and equipment, vehicles, motorbikes, APC, walkie talkie, etc for the security agencies among several others.
While commending Mr Sanwo-Olu for a job well done in his first time, it promised to mobilise Lagosians to support, canvass and vote for him on election day based on the testimonials of what he has done.
SERAP Sues FG over Missing Ecological Funds
By Adedapo Adesanya
Following the expiry of an ultimatum given to President Muhammadu Buhari's administration to probe the missing ecological funds at all levels, the Socio-Economic Rights and Accountability Project (SERAP) has filed a lawsuit against the federal government.
Joined in the suit as respondents are the Attorney-General of the Federation and Minister of Justice, Mr Abubakar Malami, and the Secretary to the Government of the Federation (SGF), Mr Boss Mustapha.
In a statement on Sunday, SERAP Deputy Director, Mr Kolawole Oluwadare, specifically said the decision to file a lawsuit followed "the failure to probe the spending of trillions of ecological funds by governments at all levels—federal, state and local governments from 2001 to date, and to ensure the prosecution of suspected perpetrators of corruption and mismanagement of public funds."
According to him, the United Nations Children's Fund (UNICEF) recently said that no fewer than 600 persons died, and 1.3 million were rendered homeless as a result of the floods that ravaged most states across the country, with the destruction of properties worth billions.
In the suit number FHC/L/CS/2283/2022 filed last Friday at the Federal High Court, Lagos, SERAP is asking the court to "direct and compel President Buhari to promptly and thoroughly investigate the spending of Ecological Fund by governments at the Federal, state and local government levels from 2001 to date."
The rights group also wants the court to "direct and compel President Buhari to ensure that suspected perpetrators of corruption and mismanagement of trillions of ecological funds are promptly brought to justice, and any missing public funds fully recovered."
"The failure to probe the alleged missing trillions, prosecute suspected perpetrators and recover any missing public funds is a fundamental breach of constitutional and international legal obligations," the statement partly read.
"Impunity for corruption in the management of Ecological Fund will continue as long as high-ranking public officials go largely unpunished for their alleged crimes.
"It is in the public interest to direct and compel President Buhari to probe these allegations so that evidence can be taken before the court and the truth about the spending of ecological funds revealed, and justice served," it added.
The group alleged further that the federal government had violated the obligations to protect and uphold the human rights of those affected and to provide them with access to justice and effective remedies.
It argued that the government has the legal obligation to address the calamitous consequences of flooding for the human rights of millions of people and to prevent and address the consequences that climate change may reap on human rights.
No date has been fixed for the hearing of the suit.
Firm Rewards Ibadan Traders for Sorting Waste to Ease Recycling
By Aduragbemi Omiyale
Some traders in Bodija market, Ibadan, Oyo State, have been rewarded for segregating their waste to make it easier for recycling.
The beneficiaries were given gift items like Bluetooth headsets, customised simple chest bags, and customised face caps by the waste management consultant to the Oyo State government, Mottainai Recycling, on Friday through an initiative known as Recyclables for Rewards.
At the campaign, in its third year, two tonnes of recyclables were recovered by the company, which is managing waste collection in the state.
The Managing Director of Mottainai Recycling, Mr Adey Adewuyi, sensitised traders, buyers and passers-by in Bodija market and its environs on how the waste they generate could be a source of wealth.
Mr Adewuyi, represented by the firm's Chief Sustainability Officer, Ms Deborah Fadeyi, urged the traders to embrace proper waste disposal and management habits like segregating their waste at source.
He further encouraged them to avoid dumping waste on the median, warning that those caught erring would be fined and punished according to law.
Also, the Special Adviser to Governor Seyi Makinde on Environmental Matters, Mr Ademola Aderinto, explained that the initiative was aimed at creating awareness among traders and residents to segregate their waste at source and recover as much plastics before it enters into the water bodies and landfills.
He said that the event showcases the economic and social benefits of recycling, adding that "the event is aimed at making the good people of Oyo State see value in what they consider as waste."
"These wastes would have otherwise ended up in landfills and water bodies which will contribute to the pollution of the environment," he added.
Mr Aderinto discouraged the act of dumping waste on the median by the market men and women and also encouraged them to sort out their waste to ease the act of recycling, noting that the government will do more to eradicate the issue of improper waste disposal and management in the state.
"There was also an adequate and effective sensitisation and awareness campaign in the market on the need for proper waste management. They were also enlightened on the economic benefits of recycling instead of allowing their recyclables to end up on the median, water bodies or the landfills," he said.
Latest News on Business Post