Osinbajo Tasks Military to Partner Private Sector on Research, Innovation
By Modupe Gbadeyanka
Vice President, Mr Yemi Osinbajo, has advised the Nigerian Armed Forces to partner with the private sector on research and innovation.
Mr Osinbajo gave this charge at the weekend during the combined passing out parade for cadets of 64 Regular Course (Army, Navy, Air Force) 65 Regular Course (Navy and Air Force) and Short Service Course 44 (Army) where he represented President Muhammadu Buhari.
The Vice President said crimes in the world have taken new turns and security operatives have to always be a step ahead of criminals, especially terrorists.
He said last week's bombing in a London tube suggest that tutorials for making the explosive devices used are available on the internet.
"How can the military get ahead of the curve on communications in the age of the fast, cheap and available communication for all?" he asked, pointing out that, "We must also answer the question of how to defeat the ideologies that promote mindless killings and anarchy."
He further said the swift evolution in suicide bombings is a perfect illustration of the nature of the threats that nations face today, unpredictable, asymmetric, constantly adapting to changing conditions, driven by a compulsive need to inflict maximum damage with minimal effort.
According to him, "This is therefore the question we ought to be asking ourselves: Are our Armed Forces evolving with a similar speed and urgency, are they adapting with a similar nimbleness? How do we evolve rules of engagement in asymmetric warfare situations? Should we be redefining the borders of the Geneva Convention in the light of military engagements with armed militant combatants? Can we observe the same human rights rules where suicide bombers and persons determined to die and take with them as many innocent lives as possible are the enemy we must confront? What are the borders of the right to privacy and freedom of expression on the internet? What is the responsibility of Nations of the world in policing the internet which has become a virtual training ground for much good and as much evil?"
Mr Osinbajo said, "But just as important as these issues around conflict are the issues around how the military can in the process of innovating or thinking through use science and technology to add real value to the society and nation it has sworn to defend."
"Let me speak briefly about the relationship between the military and scientific innovation, and how both have historically shaped and influenced each other.
"Centuries ago, inventions like the wheel, and gunpowder, forever changed the nature of war. National armies wasted little time taking advantage of these innovations in the endless battle to gain an edge over existing and emerging enemies.
"In a similar manner, the military has also spearheaded technology and practices that civilians have latched on to, to alter human civilization as we know it. The one that comes to mind most readily is the Internet, originating from the 1960s Advanced Research Projects Agency Network (ARPANET) Project of the United States Department of Defense.
"Five decades on, the Internet has turned out to be perhaps the most definitive invention in the history of mankind, creating unprecedented social, economic and political opportunity. The American military has also been credited with the invention of GPS- Global Positioning System (GPS) now so common that every smartphone and cars use it to ascertain location.
"But this network of satellites was originally set up by the U.S. Department of Defense in the 1970s. President Ronald Reagan ordered GPS to be made available to civilians once it was completed, while President Bill Clinton later declared that the highest quality GPS signal should be available as well.
"How about RADAR? (an acronym for Radio Detection and Ranging,) this system uses radio waves to find speed, altitude, range, and direction of moving objects such as planes, ground vehicles, missiles, etc. Radar was developed before World War II for military purposes.
"Today, it's used for a variety of purposes, both military and civilian, including air traffic control and weather forecasting. Inadvertently, it was discovered that microwaves transmitted from radar equipment during WWII could also cook food, which led to the post-war creation of the microwave oven.
"The use of Unmanned Aerial devices or drones today for surveillance, photography (and in Rwanda), the delivery of blood to rural medical facilities originated from the development of the devices by the military in the early 20th Century.
"The world I have just described is the one that today's cadets are graduating into. Placed side-by-side with this contemporary context, the Cold War Era into which your predecessors – today's Generals and Commanding Officers – graduated, almost feels like a model of orderliness and predictability.
"At this point let me say that I am pleased to note that the NDA has been positioning itself as a hub for innovation. I am already aware of inventions such as an Automated Pop-Up Target System, a Multi-Purpose Combat Mobile Robot, and a Perimeter Surveillance Robot, which the NDA has showcased at various science and technology exhibitions in the recent past. This is laudable and I urge you to sustain the culture.
"I would also like to urge you to collaborate more extensively with the private sector, for research and innovation. All around the country technology hubs are springing up that are attracting our Nigeria's brightest talent, and breaking new technological ground. I am convinced that the military should make its presence felt in this area," the Vice President said.
FCFA Tasks Nigeria to Adopt Sweden's Tobacco Harm Reduction Model
By Dipo Olowookere
Nigeria has been advised to adopt the model used by Sweden to achieve Tobacco Harm Reduction (THR), which helped the European nation to reduce smoking rates, thereby promoting a healthier future.
Sweden is moving closer to becoming a smoke-free society, as over the past 15 years, smoking rates have plummeted from 15 per cent to 5.6 per cent, making it the lowest rate in Europe.
This has also put the country 17 years ahead of the European Union's target, affirming the effectiveness of the Swedish way of making reduced risks alternative products to smoking widely accessible, acceptable and affordable.
Nigeria can also achieve this feat if necessary steps are taken to work toward this, the Foundation for Consumer Freedom Advancement (FCFA) submitted.
While joining others to celebrate World Vape Day 2023 on May 30, the group said it was fully behind the fight to combat smoking charging African leaders to adopt the Swedish model to save millions of lives across the continent to transform public health outcomes and reduce the staggering toll of tobacco-related diseases.
Nigeria continues to face the devastating consequences of smoking-related diseases. The World Health Organisation, in 2022, reported that nearly 30,000 lives were lost in Nigeria due to this.
According to the Global State of Tobacco Harm Reduction, 4.1 per cent of the adult population in Nigeria are current smokers, representing approximately 4.5 million individuals.
The Global State of Tobacco Harm Reduction reports that while 7.9 per cent of men in Nigeria are current smokers, only 0.3 per cent of women smoke.
These figures underscore the urgent need for the Nigerian government to prioritize THR and learn from the Swedish model, FCFA said, attributing the success of adopting a smokeless oral tobacco product called Snus and promoting diverse alternatives to traditional cigarettes.
The organisation Sweden offered a range of reduced-risk alternatives such as e-cigarettes or vaping products and nicotine pouches, noting that these alternatives are made readily available in convenience stores, supermarkets, and tobacco stores, simplifying the transition process for smokers.
FCFA has called on the Nigerian government to prioritise Tobacco Harm Reduction, stating that through education, regulation and provision of safer alternatives, Nigeria can empower its citizens to make informed choices and transition from traditional combustible tobacco products.
The group promised to partner with "stakeholders in Nigeria to promote Tobacco Harm Reduction initiatives and work towards a smoke-free future."
InTouch, GTP to Unlock Financial Inclusion for African Consumers
By Modupe Gbadeyanka
A partnership targeted at unlocking financial inclusion for African consumers has been entered between GTP, a specialised provider of prepaid and virtual card processing solutions, and InTouch, a leading pan-African fintech.
This collaboration will commence in Senegal and Côte d'Ivoire and expand into the rest of the continent. The goal will be achieved by democratising access to card credentials for millions of African consumers, as it would bridge the gap between digital payment platforms and card-based transactions, giving InTouch customers access to cross-border transactions through Visa credentials.
"With this partnership, we are democratizing access to card payments and enabling international and online payments as well as cash in and cash-outs in our TouchPoint network in Senegal and Ivory Coast and very soon in 16 other African countries.
"Our goal is to offer the simplest and most accessible solutions for digital payments to millions of customers across the African continent," the founder of InTouch, Omar Cissé, said.
Also, the chief executive of GTP, Christian Bwakira, said, "InTouch is an innovative pan-African payments aggregator that has demonstrated consistent innovation in markets in which it operates.
"By working together, we will unlock the power of card credentials for millions of Africans across the continent and make borders matter less for them in the global digital economy."
Access to card credentials plays a pivotal role in Africa's financial ecosystem, opening doors to a wide range of economic opportunities and driving financial inclusion.
Studies currently estimate that 90 per cent of transactions conducted in Africa are still reliant on cash, highlighting the significant gap in digital financial inclusion across the continent.
But McKinsey argues that card-linked digital wallets are already a significant driver of growth in the issuance and usage of cards.
Prepaid cards are decoupled from the traditional banking infrastructure, allowing banks and fintech companies to give more people access to a globally accepted payments method without a need for a traditional bank account.
By partnering with GTP, an MFS Africa company, InTouch aims to democratise access to card credentials for its African customers across its 13 markets. This collaboration will enable users of InTouch's innovative digital platform, which aggregates over 400 services through its API` to seamlessly link their digital wallets to card credentials, enhancing their access to the global digital economy.
Through the integration of GTP's robust prepaid and virtual card processing solutions, InTouch users will be able to tap into the advantages of card-based transactions, including wider acceptance, enhanced security, and seamless integration with global payment networks.
Nigeria's Acute Food Insecurity May Worsen from June— FAO, WFP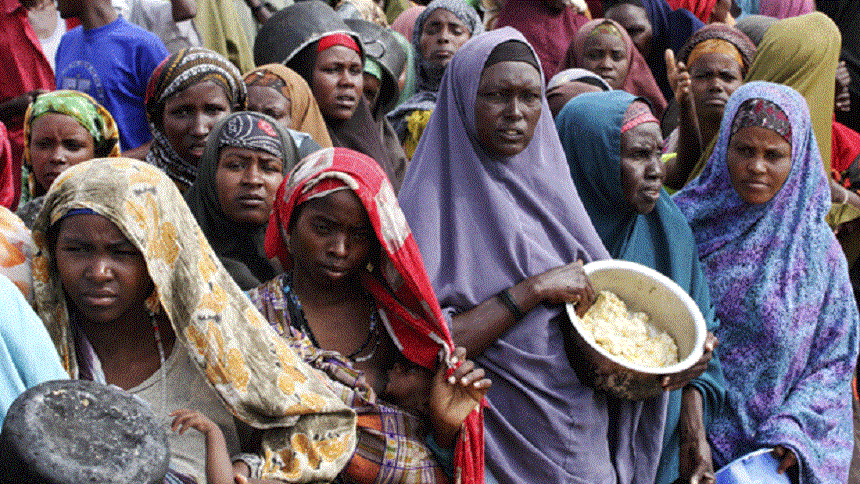 By Adedapo Adesanya
The Food and Agriculture Organization of the United Nations (FAO) and the United Nations World Food Programme (WFP) has warned that Nigeria remains among the highest-level countries facing acute food insecurity, which is likely to deteriorate further during the outlook period from June to November 2023.
For the outlook period, FAO and WFP issued an early warning for urgent humanitarian action in 18 hunger hotspots, including two regional clusters comprising a total of 22 countries.
According to the report, Afghanistan, Nigeria, Somalia, South Sudan, and Yemen remain at the highest alert level. Haiti, the Sahel (Burkina Faso and Mali) and Sudan have been elevated to the highest concern levels; this is due to severe movement restrictions for people and goods in Burkina Faso, Haiti and Mali and the recent outbreak of conflict in Sudan.
All hotspots at the highest level have communities facing or projected to face starvation or are at risk of sliding towards catastrophic conditions, given they already have emergency levels of food insecurity and are facing severe aggravating factors. These hotspots require the most urgent attention, the report warns.
The Central African Republic, the Democratic Republic of the Congo, Ethiopia, Kenya, Pakistan and Syria are hotspots with very high concern, and the alert is also extended to Myanmar in this edition.
All the above hotspots have a large number of people facing critical acute food insecurity, coupled with worsening drivers that are expected to further intensify life‑threatening conditions in the coming months. Lebanon has been added to the list of hotspots, joining Malawi and Central America (El Salvador, Guatemala, Honduras and Nicaragua) that remain hotspots.
In the hunger hotspots, parts of the population will likely face a significant deterioration of already high levels of acute food insecurity, putting lives and livelihoods at risk. Targeted humanitarian action is urgently needed to save lives and livelihoods in all 18 hunger hotspots.
In eight of these – Afghanistan, Haiti, Nigeria, the Sahel region (Burkina Faso and Mali), Somalia, South Sudan, the Sudan and Yemen – humanitarian action is critical to prevent starvation and death.
Speaking on this, Mr QU Dongyu, FAO Director-General, said, "Business-as-usual pathways are no longer an option in today's risk landscape if we want to achieve global food security for all, ensuring that no one is left behind."
"We need to provide immediate time-sensitive agricultural interventions to pull people from the brink of hunger, help them rebuild their lives, and provide long-term solutions to address the root causes of food insecurity. Investing in disaster risk reduction in the agriculture sector can unlock significant resilience dividends and must be scaled up," he added.
"Not only are more people in more places around the world going hungry, but the severity of the hunger they face is worse than ever," said Ms Cindy McCain, WFP's Executive Director.
"This report makes it clear: we must act now to save lives, help people adapt to a changing climate, and ultimately prevent famine. If we don't, the results will be catastrophic," she warned.
The report warns of a major risk of El Niño conditions, which meteorologists forecast to emerge by mid-2023 with an 82 per cent probability. The expected shift in climate patterns will have significant implications for several hotspots, including below-average rains in the Dry Corridor of Central America, and raises the spectre of consecutive extreme climatic events hitting areas of the Sahel and the Horn of Africa.
Latest News on Business Post