PDP Deputy Governorship Candidate Funke Akindele Vows to Liberate Lagos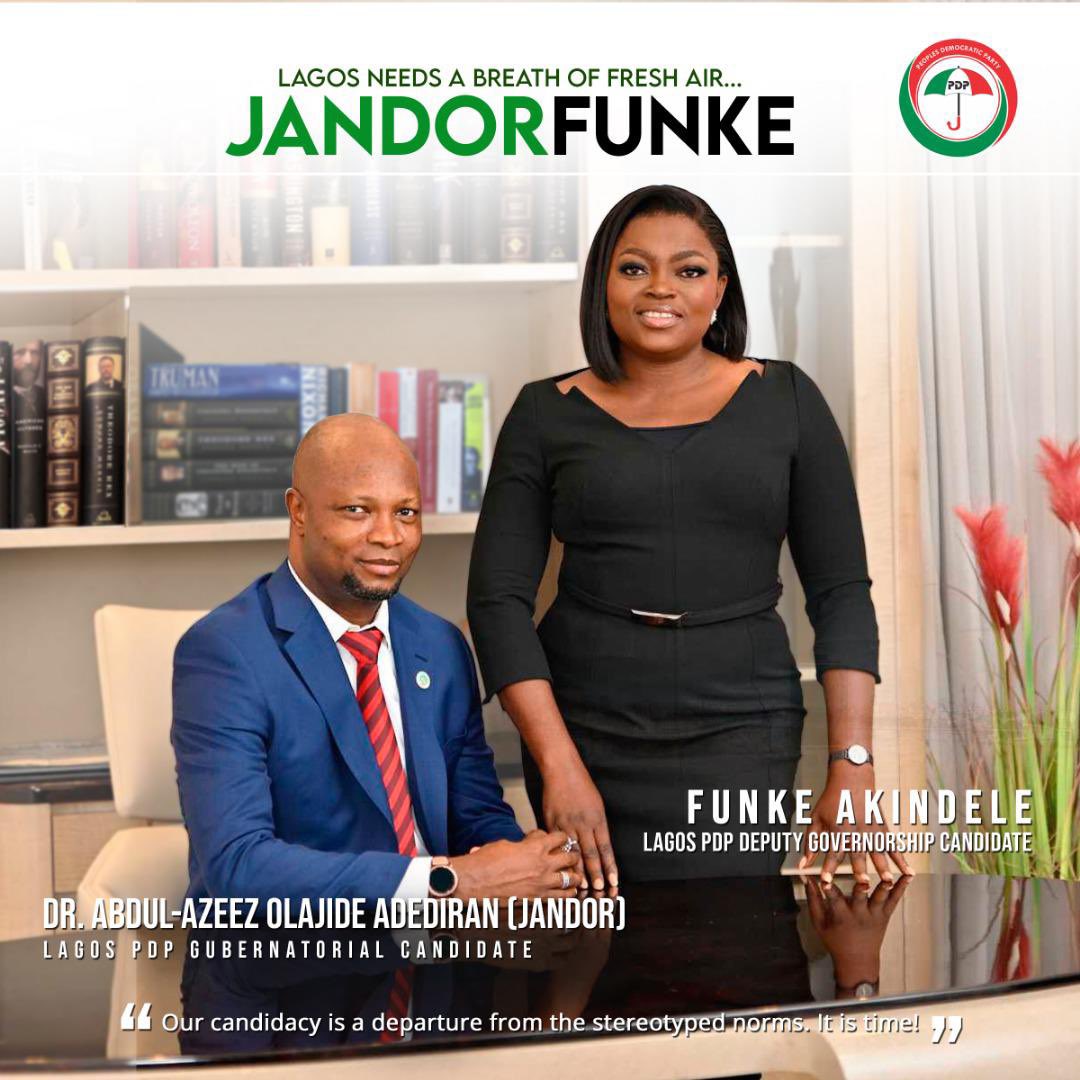 By Adedapo Adesanya
Popular Nigerian actor, Funke Akindele, otherwise known as Jenifa, after emerging as the Lagos State governorship candidate of the Peoples Democratic Party (PDP) in the 2023 general elections, has promised to liberate Lagosians.
Ms Akindele will be flying the ticket of the opposition party with the governorship candidate, Mr Abdul-Azeez Olajide Adediran, otherwise known as Jandor. They will hope to unseat the candidate of the ruling All Progressives Congress (APC) in the state, Governor Babajide Sanwo-Olu.
In a statement via her Twitter, she said, "Dear Lagosians, I must share my decision to venture into a more significant facet of humanitarian service with you all.
"Through God's grace, my 25-year career in the entertainment sector has seen much success and given me the privilege to engage with people from all walks of life.
"It was also within that period, that my passion for contributing to the growth of youth, women and children was solidified. Coupled with an upbringing dedicated to service to others and value for life, compassion for others is second nature to me.
"As a Lagosian born out of Ikorodu, when asked to join Dr Abdul-Azeez Olajide Adediran (JANDOR) as his running mate for next year's gubernatorial elections– the opportunity to help liberate and improve the welfare of our people could not be ignored.
"I found JANDOR to be young, brave, knowledgeable and compassionate. Most importantly, his commitment to making the wealth of Lagos truly reflect in the living standards of all her residents is genuine & remarkable.
"My decision is not only to accept this huge responsibility but to work tirelessly and complement JANDOR's burning desire to see our dear state of Lagos live up to its full potential, where the people are made the top priority as immediate and direct beneficiaries.
"I use this opportunity to appeal to the well-meaning residents of Lagos, especially the youth: There is strength in numbers, and we must use this to our advantage. It is time to take our rightful people in matters that concern our lives and our future.
"Over the years, a great number of men and women with immense potential have been ignored, victimized, and sometimes killed, for daring to dream. Nothing can justify why our beloved city can be ranked the 2nd worst to live in globally, despite our N45bn in monthly revenue.
"This is the time to change our story and our lives. I am greatly aware of the cost of this assignment and prepared to make the personal sacrifice of putting my career on hold, to serve. My resolve is that no sacrifice is too much for the good of our people and state.
"As a woman, I strongly desire a state that values her women, protects the girl child and has zero-tolerance for abuse in any form. A state where your religion, age or tribe is a non-factor in having a fair chance of living your dreams.
"I must express my deep appreciation, both to our party leadership and our gubernatorial candidate for considering me worthy of such a great call to serve our people.
"I do not take this responsibility for granted. (Alt. I must express my deep appreciation, both to our party leadership and our gubernatorial candidate for considering me worthy of such a great call to serve our people. It is a call I take with reverence and utmost responsibility.)
"Given your mandate, be assured that the people's governor, Dr Olajide Adediran with the support of my humble self, represents the much-needed breath of fresh air in Lagos State. Indeed we can achieve a Lagos that works for all. Let's do this."
Greater Lagos Vanguard Endorses Sanwo-Olu for 2nd Term
By Adedapo Adesanya
A grassroots political organisation, Greater Lagos Vanguard (GLV), has commended all adherents of democracy and good governance for trooping out in their thousands in solidarity with Governor Babajide Olusola Sanwo-Olu of Lagos State, who flagged off his re-election bid for a second term in office in Lagos on Saturday, December 3.
The group has also lauded the Governor for "a successful first term tenure which has witnessed monumental development strides in various facet of governance and has endeared Mr Governor to the hearts of appreciative Lagosians who trooped out today in solidarity with him, which is an endorsement for his second term in office."
In a statement jointly signed by its convener, Mr Nelson Ekujumi and its General Secretary, Mr Uche Nnadozie, the organisation stated that, "We feel proud and excited to proclaim that Governor Babajide Sanwo-Olu has performed excellently well in his first time in office which is still ongoing, in line with the tradition of the excellent performance of good governance like his predecessors and the Lagos master plan of economic growth and development."
According to GLV, Mr Sanwo-Olu has distinguished himself excellently well in the areas of governance, such as his outstanding role as the incident commander in the fight against the coronavirus pandemic, which earned him local and international accolades.
"The way and manner Governor Sanwo-Olu mobilised men and resources to confront the pandemic was a turning point and testament of his quality as a servant leader, who leads from the front, and it contributed in no small measure to the success recorded by Lagos State in particular and Nigeria in general and became a global reference point," the statement read.
The group also mentioned the infrastructural development projects of the Governor like construction, reconstruction and renovation of health institutions, roads, 21st-century model schools, ICT, agricultural tools and implements for farmers, first and last-mile buses, empowerment of transportation and traffic agencies, emergency responders fire fighting trucks and equipment, vehicles, motorbikes, APC, walkie talkie, etc for the security agencies among several others.
While commending Mr Sanwo-Olu for a job well done in his first time, it promised to mobilise Lagosians to support, canvass and vote for him on election day based on the testimonials of what he has done.
SERAP Sues FG over Missing Ecological Funds
By Adedapo Adesanya
Following the expiry of an ultimatum given to President Muhammadu Buhari's administration to probe the missing ecological funds at all levels, the Socio-Economic Rights and Accountability Project (SERAP) has filed a lawsuit against the federal government.
Joined in the suit as respondents are the Attorney-General of the Federation and Minister of Justice, Mr Abubakar Malami, and the Secretary to the Government of the Federation (SGF), Mr Boss Mustapha.
In a statement on Sunday, SERAP Deputy Director, Mr Kolawole Oluwadare, specifically said the decision to file a lawsuit followed "the failure to probe the spending of trillions of ecological funds by governments at all levels—federal, state and local governments from 2001 to date, and to ensure the prosecution of suspected perpetrators of corruption and mismanagement of public funds."
According to him, the United Nations Children's Fund (UNICEF) recently said that no fewer than 600 persons died, and 1.3 million were rendered homeless as a result of the floods that ravaged most states across the country, with the destruction of properties worth billions.
In the suit number FHC/L/CS/2283/2022 filed last Friday at the Federal High Court, Lagos, SERAP is asking the court to "direct and compel President Buhari to promptly and thoroughly investigate the spending of Ecological Fund by governments at the Federal, state and local government levels from 2001 to date."
The rights group also wants the court to "direct and compel President Buhari to ensure that suspected perpetrators of corruption and mismanagement of trillions of ecological funds are promptly brought to justice, and any missing public funds fully recovered."
"The failure to probe the alleged missing trillions, prosecute suspected perpetrators and recover any missing public funds is a fundamental breach of constitutional and international legal obligations," the statement partly read.
"Impunity for corruption in the management of Ecological Fund will continue as long as high-ranking public officials go largely unpunished for their alleged crimes.
"It is in the public interest to direct and compel President Buhari to probe these allegations so that evidence can be taken before the court and the truth about the spending of ecological funds revealed, and justice served," it added.
The group alleged further that the federal government had violated the obligations to protect and uphold the human rights of those affected and to provide them with access to justice and effective remedies.
It argued that the government has the legal obligation to address the calamitous consequences of flooding for the human rights of millions of people and to prevent and address the consequences that climate change may reap on human rights.
No date has been fixed for the hearing of the suit.
Firm Rewards Ibadan Traders for Sorting Waste to Ease Recycling
By Aduragbemi Omiyale
Some traders in Bodija market, Ibadan, Oyo State, have been rewarded for segregating their waste to make it easier for recycling.
The beneficiaries were given gift items like Bluetooth headsets, customised simple chest bags, and customised face caps by the waste management consultant to the Oyo State government, Mottainai Recycling, on Friday through an initiative known as Recyclables for Rewards.
At the campaign, in its third year, two tonnes of recyclables were recovered by the company, which is managing waste collection in the state.
The Managing Director of Mottainai Recycling, Mr Adey Adewuyi, sensitised traders, buyers and passers-by in Bodija market and its environs on how the waste they generate could be a source of wealth.
Mr Adewuyi, represented by the firm's Chief Sustainability Officer, Ms Deborah Fadeyi, urged the traders to embrace proper waste disposal and management habits like segregating their waste at source.
He further encouraged them to avoid dumping waste on the median, warning that those caught erring would be fined and punished according to law.
Also, the Special Adviser to Governor Seyi Makinde on Environmental Matters, Mr Ademola Aderinto, explained that the initiative was aimed at creating awareness among traders and residents to segregate their waste at source and recover as much plastics before it enters into the water bodies and landfills.
He said that the event showcases the economic and social benefits of recycling, adding that "the event is aimed at making the good people of Oyo State see value in what they consider as waste."
"These wastes would have otherwise ended up in landfills and water bodies which will contribute to the pollution of the environment," he added.
Mr Aderinto discouraged the act of dumping waste on the median by the market men and women and also encouraged them to sort out their waste to ease the act of recycling, noting that the government will do more to eradicate the issue of improper waste disposal and management in the state.
"There was also an adequate and effective sensitisation and awareness campaign in the market on the need for proper waste management. They were also enlightened on the economic benefits of recycling instead of allowing their recyclables to end up on the median, water bodies or the landfills," he said.
Latest News on Business Post