Stakeholders in Zambia for Bloomberg Africa Business Media Innovators Summit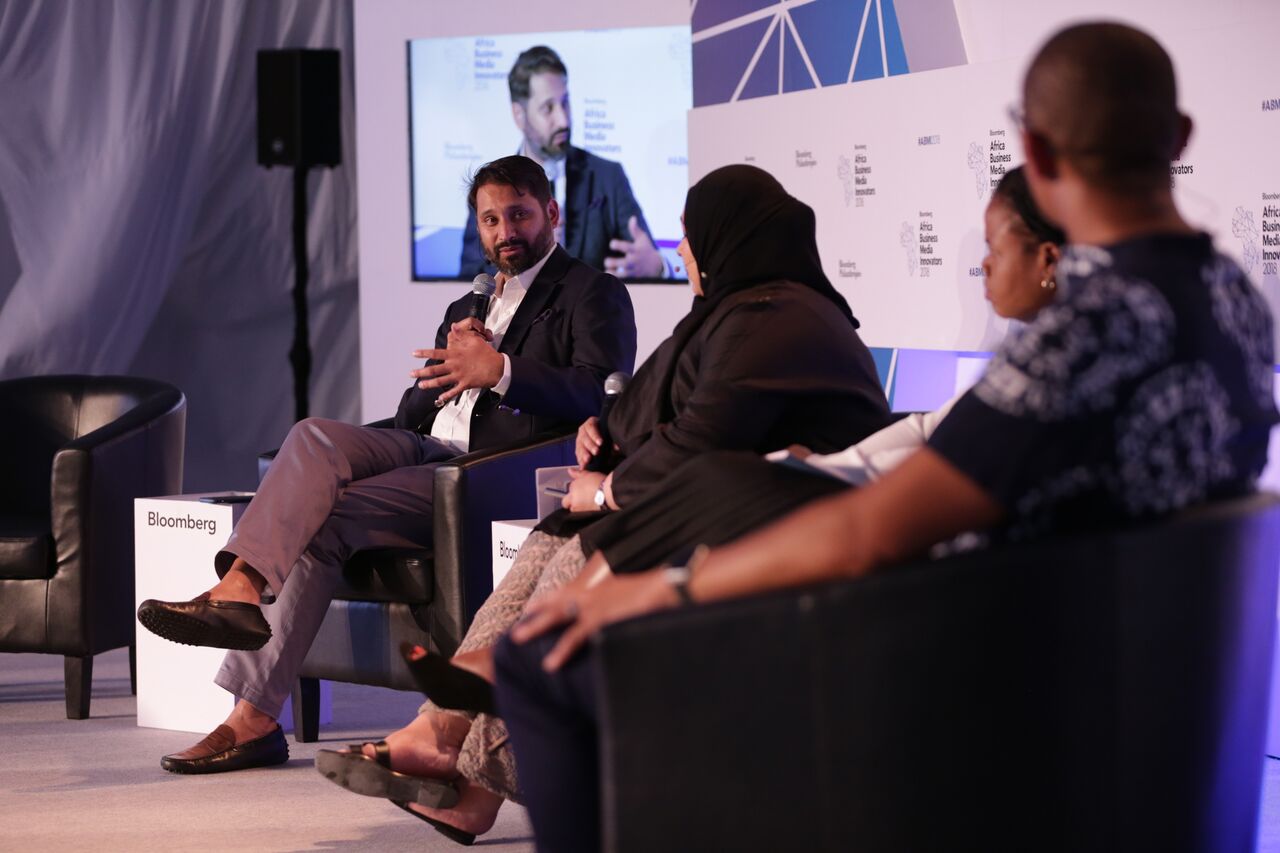 By Modupe Gbadeyanka
Several stakeholders in the media industry in Africa are gathering to explore issues and challenges impacting the future of media on the continent under the overarching theme, 'Africa 2025: The Media Landscape of the Future'.
The participants are meeting for the fourth Bloomberg Africa Business Media Innovators forum taking place in Livingstone, Zambia.
The summit is hosting more than 90 international media, technology, business and government and community leaders from 21 countries.
Convened by Bloomberg Philanthropies and hosted by Matthew Winkler, Co-Founder and Editor-in-Chief Emeritus, Bloomberg News and Scott Havens, Global Head of Digital and Media Distribution, Bloomberg Media, this year's summit will focus on key themes impacting the evolving global media landscape, including business models of the future, how to finance a rapidly changing industry and media's opportunities and obstacles in The Fourth Industrial Revolution.
Participants will also hear from a group of young disruptors on their experiences and predictions about the future of African media.
"As African economies continue to grow and play an increasing role in the global economy, the need for robust, accurate business journalism and financial analysis is more important than ever before," Matthew Winkler, Co-Founder and Editor-in-Chief Emeritus, Bloomberg News, said. "Every year, this summit leads to dynamic and engaging discussions about the current state and future of African media; I am looking forward to participating in these conversations over the coming days."
Speakers at this year's convening include media owners, senior editors, investors, business leaders, government officials and community leaders from countries across the continent and beyond, including: Angola, Botswana, Ethiopia, Ghana, Madagascar, Mali, Nigeria, South Africa, Uganda, U.S.A. and Zambia.  Honorable Dora Siliya, Minister for Information and Broadcasting Services, Zambia, opened Monday's program with a welcome address.
"We are pleased to host Bloomberg's Africa Business Media Innovators summit here in Zambia," said Honorable Dora Siliya, Minister for Information and Broadcasting Services, Zambia.  "As Zambian and African economies continue to evolve and grow more complex, it is key that journalism across the continent develops accordingly. I believe in the transformative power of the media and I am confident that the conversations taking place today and tomorrow will help us continue to drive growth."
The latest edition of ABMI follows successful gatherings in Ghana (2017), Kenya (2016) and South Africa (2015), where international media owners and operators, investors and government officials addressed the importance of a robust financial journalism sector and the value of data and data-related technologies to drive international investment and economic growth.
The annual event series is a component of the Bloomberg Media Initiative Africa (BMIA), a pan-African program launched by Michael R. Bloomberg to strengthen media capacity, promote innovation in the sector and improve access to high-quality data and information on the continent.
Some of the speakers at the forum include Yinka Adegoke, Africa Editor, Quartz; Frank Aigbogun, CEO, Business Day Media Ltd; Bunmi Akinyemiju, CEO, Venture Garden Group (VGG); Addis Alemayehou, Founder and CEO, 251 Communications and Co-founder, KANA TV.
Others are Uchenna Jennifer (Uche) Pedro, Founder, BellaNaija; Mamadou Gouro Sidibe, Entrepreneur and Founder, Lenali; Honorable Dora Siliya, Minister for Information and Broadcasting Services, Zambia; Leo Stiegeler, General Manager, Swiss Ringier Africa AG; Wiebke Toussaint, Co-founder and Director, Engineers Without Borders South Africa, Data Scientist at the University of Cape Town; Sheel Tyle, Founder and CEO, Amplo; Lesley Donna Williams, CEO, Tshimologong Precinct; Matthew Winkler, Editor-in-Chief Emeritus and Co-Founder, Bloomberg News; and Kabiru Yusuf, CEO and Editor-in-Chief, Media Trust Limited.
LG Financial Autonomy: FG, NFIU Floor Governors in Court
By Adedapo Adesanya
A Federal High Court has ruled in favour of the federal government and the Nigerian Financial Intelligence Unit (NFIU) against the state governors over the financial autonomy for the 774 Local Government Areas of the federation.
Justice Inyang Ekwo of the Federal High Court sitting in Abuja delivered the ruling on Monday, May 23 in favour of the central government and the NFIU.
The NFIU had in June 2019 issued guidelines aimed at curbing crime vulnerabilities created by cash withdrawals from local government accounts by various state governments.
It directed that the states/local government joint accounts should use only for receiving funds and subsequently transferring them to local government accounts only.
The guidelines also reduced cash withdrawal from local government accounts to N500,000 daily.
Immediately after the guidelines came into place, most local governments across the country stopped facing challenges in the payment of staff salaries.
However, the Nigeria Governors Forum (NGF) sued the FG and the NFIU for interfering with state government powers to initiate transactions on Local Government Joint accounts citing provisions of the 1999 constitution.
While reacting to the judgement the Director/CEO of NFIU, Mr Modibbo Tukur, said the judgement is good because the federal government is always ready to protect both states and local governments by making funds available for their governance responsibility.
He stressed that funds can now be decided on by local councils which can be channelled to improve local security.
Mr Tukur stated that the ruling would help ensure transparency and accountability since anti-corruption agencies like the Independent Corrupt Practices and Other Related Offences Commission (ICPC) and the Economic and Financial Crimes Commission (EFCC) are involved.
"From this judgement and from today all transactions on Local Government funds will be disclosed to ICPC and EFCC 100 per cent and will be reported continuously," he said.
Buhari Meets Kano Explosion Victims, Expresses Sorrow
By Modupe Gbadeyanka
President Muhammadu Buhari has met with the families of victims of the explosion in Kano State to express his condolences and that of the nation, describing the incident as sad and unfortunate.
Mr Buhari met the Kano explosion victims on Monday during a short visit to officiate at the Nigerian Air Force Day and 58th Anniversary Celebration, a statement from the Senior Special Assistant to the President on Media and Publicity, Mr Garba Shehu stated.
At a visit to the palace of the Emir, Mr Aminu Ado Bayero, the President spoke with various community leaders resident in Sabon Gari Kano, including Mr Nicholas Ibekwe, the Eze Igbo.
In a brief address, Mr Buhari said he was "extremely pained by the loss of lives and injury to many due to the explosion," adding "my thoughts and that of the nation are with the bereaved families. I hope the injured will recover fully at the earliest possible time."
He drew parallels between Kano and his native Daura and described the palace of the Emir as his own home, commending the traditional institution and the people of Kano for standing with him at all times.
In his remarks, the Emir thanked President Buhari for the condolences and commended him for providing a fair and just leadership.
He conveyed the Kano community's appreciation for the numerous things the federal government is doing in the state and prayed for the emergence of good leaders in the coming elections.
Governor Abdullahi Umar Ganduje announced cash support in various sums for the families of the deceased, the injured and others whose property were partly damaged.
As per the official reports, nine people lost their lives and 22 were injured and receiving treatment.
Why Nigeria Rejected OECD Minimum Corporate Tax Agreement—FIRS
By Modupe Gbadeyanka
The Executive Chairman of the Federal Inland Revenue Service (FIRS), Mr Muhammad Nami, on Monday explained why Nigeria did not endorse the Organization for Economic Cooperation and Development (OECD) Minimum Corporate Tax Agreement.
In a statement issued by his Special Assistant on Media and Communication, Johannes Oluwatobi Wojuola, the tax agency boss stated that signing the deal will not be in the interest of the nation.
The OECD Minimum Corporate Tax Agreement was designed to allow multinational enterprises (MNEs) to have a fair payment of taxes in different countries.
But Mr Nami said if Nigeria endorses it, it will lose out on potential revenue from the digital economy as the agreement is unfair to the nation and the developing countries in general.
"There are serious concerns on how the rules would compound the issues in our tax system. For instance, to be able to tax any digital sale or any multinational enterprise (MNEs), that company or enterprise must have an annual global turnover of €20 billion and global profitability of 10 per cent. That is a concern. This is because most MNEs that operate in our country do not meet such criteria and we would not be able to tax them," he said.
"Secondly, the €20 billion global annual turnover in question is not just for one accounting year, but it is that the enterprise must make €20 billion revenue and 10 per cent profitability on average for four consecutive years, otherwise that enterprise will never pay tax in our country, but in the country where the enterprise comes from, or its country of residence," he was further quoted as saying in the statement.
The FIRS head noted that for Nigeria to subject a Multinational Enterprise to tax under the rule, the entity must have generated at least €1 million turnover from Nigeria within a year, stressing that this is an unfair position, especially to domestic companies which, with a minimum of above N25 million (that is about €57,000) turnover, are subject to companies income tax in Nigeria.
He added that this rule will take off so many multinational enterprises from the scope of those that are currently paying taxes to Nigeria. In other words, even the MNEs that are currently paying taxes in Nigeria would cease to pay taxes to us because of this rule.
On the issue of dispute resolutions under the Two-Pillar Solution, the FIRS Executive Chairman explained that the rules were such that in the event of a dispute between Nigeria and a Multinational Enterprise, Nigeria would be subject to an international arbitration panel as against Nigeria's own justice system.
"It would be subject to international arbitration and not Nigeria's judicial system and laws—even where the income is directly related to a Nigerian member of an MNE group, which is ordinarily subject to tax in Nigeria on its worldwide income and subject to the laws of Nigeria.
"We are concerned about getting a fair deal from such a process. More so, such a dispute resolution process with a Multinational Enterprise, in an international arbitration panel outside the country, would lead to heavy expenses on legal services, travelling and other incidental costs. Nigeria would spend more; even beyond the tax yield from such cases," he said.
On the issue of Nigeria losing significant revenue if it fails to sign in to the OECD Inclusive Framework rules for the taxation of the digital economy, Mr Nami noted that this was not a problem as the country had already put forward four ongoing solutions to the challenge of taxation of the digital economy.
"One, we have made it a point of practice to annually amend our tax laws to reflect the current global realities, it was courtesy of these reviews that we developed the Significant Economic Presence (SEP) rule, through the Finance Act of 2019 and 2020. The SEP rules set a threshold for multinational enterprises, without a physical presence in Nigeria, for registration and payment of taxes to the country.
"Two, we have deployed technology in order for us to bring digital transactions to the tax net. Coupled with the Significant Economic Presence rule, we have started seeing the impact of the technology we have deployed; companies like Twitter, Facebook, Netflix, and LinkedIn, among others who have no physical presence in Nigeria and that were hitherto not paying taxes, have now registered for tax purposes and are paying taxes accordingly. A positive to this is that we surpassed our target in the year 2021, despite the challenge posed to the global economy, including our own economy, by the Covid-19 pandemic.
"The third initiative is the Data-4-Tax Initiative, a blockchain technology which FIRS is jointly developing with the Internal Revenue Service of the 36 states and that of the FCT, under the auspices of the Joint Tax Board. With this project, we are confident that we are going to have a seamless view and access to all economic activities of individuals and corporate bodies in Nigeria going forward, including money spent on digital commerce.
"The fourth is that we have set up a specialised office, the Non-Resident Persons Tax Office, to manage the taxation of non-resident persons and cross-border transactions, including all tax treaty operational issues and the income derived from Nigeria by non-resident individuals and companies," he disclosed.
Latest News on Business Post