Zenith Bank, Police Abandon Wife, 7 Kids of Brave Cop
By Dipo Olowookere
Wife of Sergeant Chukwudi Iboko, the super cop captured to have killed a robber in the in a viral video showing a robbery attack at a branch of Zenith Bank in Owerri, Imo State, has accused the Nigeria Police and the financial institution of neglecting her and her seven children.
The women, Mrs Rose Iboko, a housewife, told Punch in an interview last Friday that she and her children have been left to suffer in penury after the death of their breadwinner.
She told Punch that one of her eight kids even died on the day her husband was buried in March 2017, a month after the robbery incident happened.
Here is the story by Punch:
Her grief is palpable. One only needs to cast a glance at Mrs. Rose Iboko to decipher that the anguish of losing her husband has taken a toll on her. This is unmistakable in her gait, talks and looks.
Iboko is the wife of Sergeant Chukwudi Iboko, the brave policeman, who died after engaging a gang of four robbers who trailed a customer to the Wetheral Road branch of Zenith Bank in Owerri, Imo State, on February 22, 2017, in a shootout.
Though the incident happened four months ago, the video of the encounter, captured by the bank's CCTV, has gone viral, with many saluting the rare valour displayed by the cop to the detriment of his life.
Our reporter went to Amakohia in the Ihitte Uboma Local Government Area of the state, where the widow resides with her seven children.
She broke down in tears when the incident leading to the death of her husband became the discourse.
The 32-year-old mother could not take her eyes off the portrait of her late husband in police uniform placed at a strategic point in the living room surrounded by walls whose painting had seen better days.
She tenderly held a copy of Saturday PUNCH which used a screenshot of the robbery, with her husband's unclear face showing him in action as he boldly killed one of the robbers before his (robber's) colleagues shot at him.
As she narrated how life took a turn for the worst for her and her seven surviving kids after the death of her husband, she constantly wiped her tears with the back of her hand so her kids would not notice her distraught state.
SUNDAY PUNCH noticed that her children not only skip meals, but are out of school as a result of the inability of their mother to pay their tuition fees.
Her first son, Favour, who is 16, cried profusely when asked the last time he spoke with his father before his death.
He said amid sobs, "I spoke with daddy two days before his death. He died on Thursday, but had promised to come home for the weekend. He promised to give me money for some textbooks I needed once he arrived. But he couldn't fulfil his promise as he died two days to the day he promised to come home.''
Asked if he would like to be a police officer, Favour said his dream was to be a medical doctor and that his father promised to help him realise his dream. But his immediate younger brother said he would follow in his father's career path.
The teenager told SUNDAY PUNCH that he loved the way his father worked as a cop which made him fall in love with the profession.
Our correspondent, who on Friday visited the Zenith Bank branch where the robbery took place in February, saw a police officer in mufti with some security men patrolling the bank's premises.
Commercial activities were in full force with no traces showing that it was on the bank's premises that Iboko lost his life a few months ago. Banking activities were paralysed in Owerri in 2009 when robbers hit banks in the Imo State capital.
Two eyewitnesses told our correspondent that the February robbery was a swift one. According to Ike and Promise, who didn't give their surnames, the gunmen, who arrived in a car, went straight to their target and robbed him of his money. They said nobody knew that they were criminals until gunshots rent the air.
They added that it was when the policemen in the bank started exchanging gunshots that they knew danger loomed and everybody ran for their lives.
One of the surviving police officers said he would have died if he had not moved to the back room from the security post a few minutes before the robbers arrived.
According to the police officer, Iboko and another policeman, identified as Sunday Agbor, died as a result of the gunshot injuries they sustained during the shootout.
He added that another police officer, Otu Itan, lost an eye to the incident.
Meanwhile, two suspects — Justice Ogbenna, aka JJ; and Okechukwu Onwuamaegbu, were arrested in April in Aba, Abia State, by the police in connection with the robbery.
Two AK-47 rifles, seven magazines and 127 pieces of live ammunition were recovered from them. Ogbenna, said to be the gang leader, was arrested on the day he was to bury his late father.
One of my triplets slumped, died when he saw his father's corpse — Iboko's wife
Can you please tell us about yourself?
I am Mrs Rose Iboko, wife of the late Sergeant Chukwudi Iboko, the policeman who died as a result of the gunshot injuries he sustained in a shootout with armed robbers at the Wetheral Road branch of Zenith Bank on February 22, 2017. We are from Etitiulo community in the Bende Local Government Area of Abia State, but we live in Amakohia in Ihitte Uboma Local Government Area of Imo State. I am 32 years old.
What can you say about your family?
My late husband was from the same community with me. I am a housewife, while my husband was the breadwinner. I was only taking care of the home and our kids.
When did he die?
He died the next day after the incident on Thursday. Before I could arrive in Mopol 18 office in Owerri, my husband was already dead. It was in the office of the officer in charge of the unit that I was told that my husband was dead. I was, however, not allowed to see his corpse. I was only able to see his corpse for the first time during his burial in the village when his remains were laid to rest. That was almost one month after his death. He was 37 years old.
When did you see him last and what did you discuss?
I saw my husband last, four days before his death. It was on February 19. He came home for the weekend to inform his children and I that he had got a new posting to work as a security officer in a bank. I never thought that it would be the last time we would see, talk and hold each other.
He also told his children that he would be visiting the next weekend to bring them foodstuff and money for the upkeep of the family, especially for their textbooks. He was just three days old in the bank before the robbery which claimed his life. He resumed at the bank on Monday, the bank robbery took place on Wednesday, and he died on Thursday before I could even arrive in Owerri.
Were you aware that he sacrificed his life to save that of others on the premises of the bank that day?
Yes, I am very aware. I was not surprised that he confronted them because he was a combatant, committed and patriotic cop. My only regret was that his death was untimely, leaving me to cater for our children alone. He was in Yobe State for a special mission during the upsurge of Boko Haram attacks in the North.
He was also on special missions in Kano and Plateau states and he fought gallantly. One thing about him was that he was committed to his job. He loved his job and derived joy in saving lives.
What did you do when you learnt of his demise?
It was one of his colleagues who called me on a Thursday morning to tell me that my husband was shot by armed robbers the previous day. I don't know the person but he spoke to me in a manner that suggested that all was not well. He didn't tell me that my husband was dead. He only informed me that my husband was shot by armed robbers a day before that day. It was when I arrived in Mopol 18 that I was told that my husband, whom I spoke with on the phone on Tuesday prior to that day, was dead. I couldn't believe it. I told them to stop the joke but they insisted that he was dead. It was as if my world had crumbled. Several thoughts came to my mind within a few minutes: "Where do I begin? How do I explain what happened to him to his children, especially our last child, Success, who was fond of him? Where do I go from here?"
What do you tell the children anytime they ask after their father?
I have eight children for him; seven boys and a girl, Success, who I earlier said is the last born. We have triplets; all boys, but sadly, one of them, Chukwuebuka, slumped and died the day their father's remains were to be interred. He slumped immediately he saw his dad's corpse during his lying-in-state and died.
It was a double tragedy for my family that day. He was very close to his father.
Despite being just five years, he couldn't bear the loss of his loving father. Most of my children know that their father is dead, only the young ones are yet to comprehend what happened. I keep telling those ones anytime they ask after him that he is on a special assignment and would be back soon. But each time I lie to them, I would go into the room and weep profusely because when they ask for his whereabouts, I also recall the great moments we shared.
How have you been coping with the kids without their father?
It has been hell for me since he died. The children dropped out of school because I could no longer pay their school fees. I don't work, I am a house wife. His sudden death was an agonising loss to my family. To eat is now a problem. Most times, we don't eat and when we eat, it is half food. Last night (Friday), we took groundnuts as dinner. It has been very difficult for us. We now live from hand to mouth. We always go to bed hungry without knowing where the next meal will come from.
Has the Nigeria Police Force reached out to you to support your family?
Not at all. They only came for his burial in the village on Friday, March 17, 2017. I am now left with my children alone.
What assistance has the bank rendered to you knowing that your husband died in the course of protecting its assets and customers?
The bank only assisted me in making sure that he was buried. After that, no help has come from the bank.
What kind of husband and father was he?
My late husband was a combat-ready police officer. He loved his job with a huge passion. I was not surprised that he engaged the robbers in a gun duel because he was committed to what he did. As a husband, he was a caring one. He was a role model to his children. He loved me and his children so much. Whenever he came home on weekends to see us, he would buy foodstuff and all we needed.
His family was first in all he did. He was close to the last child who is also the only girl. It was in the process of looking for a girl child that I had many children. He used to carry her about anytime he was at home. He never beat me for once. Whenever we had issues, we settled them inside our home amicably without anybody knowing that we had disagreements. He was everything I desired in a man. He was caring, romantic and responsible. He was equally God-fearing. He was a member of Jesus Deliverance Bible Church in Amakohia. He took us along to anywhere he was transferred to.
Tell me about your last conversation with him?
We spoke last the Tuesday preceding that robbery. I called him to complain to him about his children's stubbornness. You know how children behave at times? I told him about their attitude because he had more influence over them than me as a woman. He immediately asked me to give the phone to the boys and reprimanded them. He told them to behave well and that he would buy something for them on the way home for the weekend.
They boys quickly obeyed. I also told him about the textbooks of his first son, Favour, and he promised to give him the money on his return on Saturday. I didn't know that it would be our last discussion. What a world! As if he knew he was going to die, before he left for his new posting to the bank, he called all his children on Sunday and told them to be good children. His words were full of wisdom. He asked them not to look for trouble. When he was leaving on Monday, we all said goodbye to him without knowing that it was the last time we would see him.
How did you meet?
We met in our village. I told you we came from the same village. We grew up together. He knew me when I was a young girl and from there, he liked me and later proposed marriage to me. We got married in 1999 and even as of that time, I was young. He was not a policeman then. He became a police officer few years after our wedding. He was nice and hard working. Honestly, I miss him. Tears are my companion every night. I have yet to come to terms with his demise.
Would you allow any of your children to join the police considering how their father died?
I wouldn't stop any of my children who wants to be a police officer. As a matter of fact, our second child, Wisdom, who is 13, always told his father that he wanted to be a cop in future. The choice is entirely that of any child who chooses that. I will only pray for the child not to die untimely like his father.
Do you have any regrets that he was a policeman?
I have no regrets that my husband was a policeman because it was what he loved. I am proud of my late husband as a police officer. My only regret is that he died young without fulfilling his dreams and goals.
What do you want Nigerians to do for his family, especially as many saluted his courage?
I want government and Nigerians to help me support the education of our children and to take care of us. I want them to please do for his kids, the things he would have done for them as a father if he were alive. I am jobless.
What were the things he planned to do which death did not allow him to realise?
He had an uncompleted building project in the village. He was building a bungalow. I am not sure I know where I will take my children to whenever we visit the village. He promised to train them up to the university level. He pledged that he would assist Favour to realise his dream to study medicine. But death didn't allow him to fulfil any of them.
Where are his parents and how did they receive the news of his death?
My husband's father is dead and his mother, Mrs Maria Iboko, is seriously sick, owing to the shock she suffered upon hearing the news of her son's death. My husband was her second child and the family's breadwinner. She is almost 80 years old. My mother is currently down with stroke. She could not bear the news. She was fond of my husband.
We are at the mercy of a landlord, he wants his rent. We owe 15-months, rent and that is about N180,000. I want the good people of Nigeria to come to our aid before we are thrown out of the apartment.
Source: Punch
LASEMA Battles to Curtail Fire Outbreak at Balogun Market
By Modupe Gbadeyanka
The Lagos State Emergency Management Agency (LASEMA) has said it was working tirelessly with other agencies to put out the fire at 3/5 Gbajumo Street, Balogun, Lagos Island.
In a statement issued on Thursday, the organisation said it received a distress call from concerned persons in the wee hours of today over the unfortunate incident.
It was gathered that a 5-storey building at the Balogun Market was gutted by fire, destroying properties worth millions of Naira.
Giving an update on the situation, LASEMA said the joint teams, which rushed to the scene of the inferno, were having a constraint preventing the fire trucks from having direct access to the source of the fire, which are the shops constructed on the road blocking all routes.
"The agency received a distress call around 12:30 am today, Thursday, January 26, 2023, regarding a fire outbreak at No 3/5 Gbagumo street Balogun market, Lagos Island, which prompted the immediate activation of the Emergency Response Team to the scene of the incident.
"Consequent upon arrival at the scene of the incident, information gathered revealed that some shops (rubber shoes and clothes are stored) on the first floor of a 5-storey building was gutted by fire. However, the cause of the fire could not be ascertained.
"Fortunately, there is no loss of life or casualty involved in the incident.
"Collaborative efforts to put out the fire are ongoing by the agency's Response Team and its fire unit, alongside Lagos State Fire and Rescue Service, Federal Fire Service, Police Force, CBD, LASAMBUS, LNSC and NEMA.
"However, the joint teams have a constraint which is preventing the fire trucks from having direct access to the source of the fire, which are the shops constructed on the road blocking all routes.
"Efforts are still ongoing to prevent the spread of the fire to nearby buildings. Operations are also still ongoing," the statement said.
Tinubu Never Blamed Buhari for Fuel Scarcity, Others—Onanuga
By Modupe Gbadeyanka
The Director of Media and Publicity of the All Progressives Congress (APC) Presidential Campaign Council (PCC), Mr Bayo Onanuga, has said the party's presidential candidate, Mr Bola Tinubu, did not blame President Muhammadu Buhari for the current challenges in the country.
On Wednesday, during his campaign in Abeokuta, Ogun State, Mr Tinubu accused some powerful persons were behind the current scarcity of petrol in Nigeria, as well as the scarcity of the new Naira notes.
President Buhari is the Minister of Petroleum Resources, and fuel scarcity has remained for months under his watch. He also approved the redesigning of the Naira when Mr Godwin Emefiele, the governor of the Central Bank of Nigeria (CBN), brought the proposal to him.
But while speaking yesterday, Mr Tinubu said, "We will use our PVCs to take over government from them. If they like, let them create a fuel crisis; even if they say there is no fuel, we will trek to vote.
"They are full of mischief, they could say there is no fuel. They have been scheming to create a fuel crisis but forget about it. Relax, I, Asiwaju, have told you that the issue of fuel supply will be permanently addressed," he said at the campaign rally.
"Whoever wants to eat the honey embedded in a mountain won't worry about the axe. Is that not so? And if you want to eat palm kernel, you would bring a stone and use it to break it; then the kernel will come out. It's not easy to…
"Let them increase the price of fuel, let them continue to hoard fuel, only them know where they have hoarded fuel, they hoarded money, they hoarded naira; we will go and vote, and we will win even if they changed the ink on Naira notes. Whatever their plans, it will come to nought," he added.
His comments generated mixed reactions, with some commentators saying he was indirectly indicting Mr Buhari for the crisis facing the country.
But Mr Onanuga rebuffed this, saying the opposition Peoples Democratic Party (PDP) was plotting to "create a wedge between our presidential candidate and President Muhammadu Buhari."
According to him, the former Governor of Lagos State was only empathising "with the Nigerian people facing the dual crises of fuel and new Naira notes scarcity."
"For the records, Asiwaju Tinubu, during the APC campaign rally at Abeokuta on Wednesday, in his statement, did not mention, blame or accuse President Muhammadu Buhari for the current challenges in the country.
"Asiwaju Tinubu was only adverting the government's attention to the sabotage being carried out by some Fifth Columnists in the system, possibly working in cahoots with the PDP.
"The CBN officials, including Governor Godwin Emefiele, have said many times that enough new Naira notes have been supplied to the banks, yet our people complain that they have not been able to get the new notes.
"In recent days, many ATMs are either not working, or when working, they are dispensing the old notes, just a few days to the  January 31 deadline.
"Similarly, Asiwaju Tinubu is aware of the salutary efforts by President Buhari to end the fuel queues by chairing a 14-man panel. Yet the queues and agony continue.
"For a presidential candidate, who cares about the suffering of our people, he has a duty to warn the government that its efforts to make life better for Nigerians are being sabotaged on several fronts.
"Our presidential candidate only re-echoed what is well known and acknowledged, even by President Buhari himself, at different fora: That there are Fifth Columnists in and outside of government who often throw spanners in the works against good intentions and programmes of the government.
"How does an advisory genuinely made by Asiwaju Tinubu to protect and create goodwill for the government of his party become an attack? It can only be so in the jaundiced view of the PDP," a part of the statement issued on Thursday said.
DLM Capital Sponsors Employee's Philanthropic Projects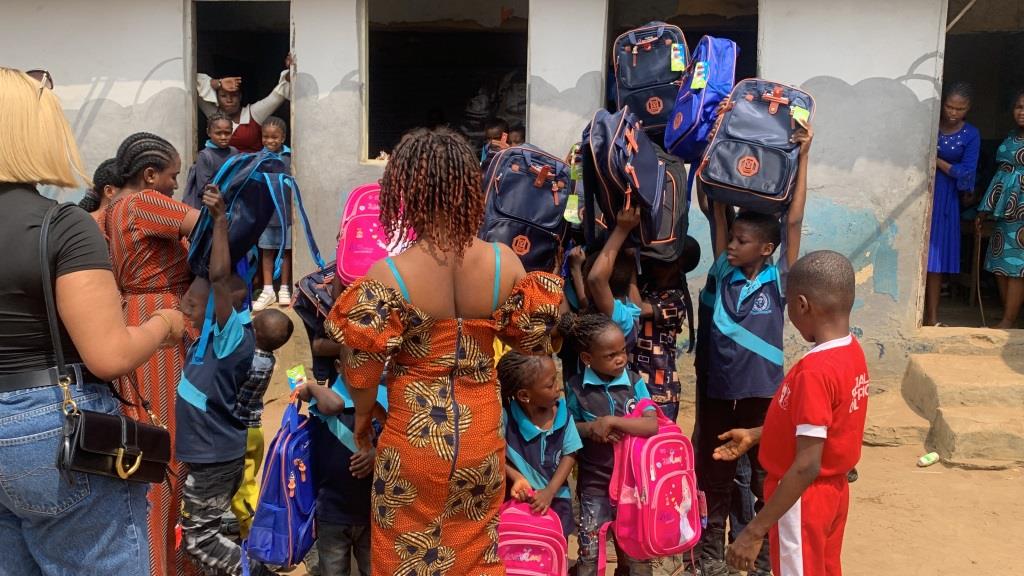 DLM Capital Group, a development investment bank, partnered with the Shile Akinjo Charity Foundation (SACF) on two of its charity initiatives: "Love Feast on the Street" and "Back-to-School Project."
Shile Akinjo, a corporate finance associate at DLM, started SACF in 2022 to support low-income families and the less privileged to fight poverty, receive decent health care, and achieve a basic education.
The "Love Feast on the Street" was held on the 17th of December 2022 to celebrate Christmas with over 400 kids at Makoko Slum, Yaba, Lagos. The day's highlights include face painting, a dance competition, popcorn, food, drinks, and the gifting of party packs to the kids.
The "Back-to-School Project" was held on the 20th of January 2023 at The Light School and Boanerges School at Akesan, Alimosho, local government. All the pupils in basic 1–5 were given school supplies such as school bags, socks, notebooks, pencils, biros, erasers, rulers, crayons, water bottles, and snacks.
Shile Akinjo commented on the initiative, stating, "Happiness is as essential as food if a child is to develop into normal manhood or womanhood." Being able to put smiles on these kids' faces is fulfilling, and we will continue to carry out initiatives that support these goals. I am grateful to Mr. Sonnie Ayere and DLM Capital Group for their full commitment to these projects. I feel lucky to work for a company that supports and encourages its employees to do good things for the community.
In a statement highlighting DLM's sponsorship of the projects, Chinwendu Ohakpougwu, Head of Corporate Communications, said: "At DLM, we are committed to impacting human lives. The management of DLM will continue to support good causes that promote the welfare of others."
Latest News on Business Post