HealthPlus Launches Digital Prescription Website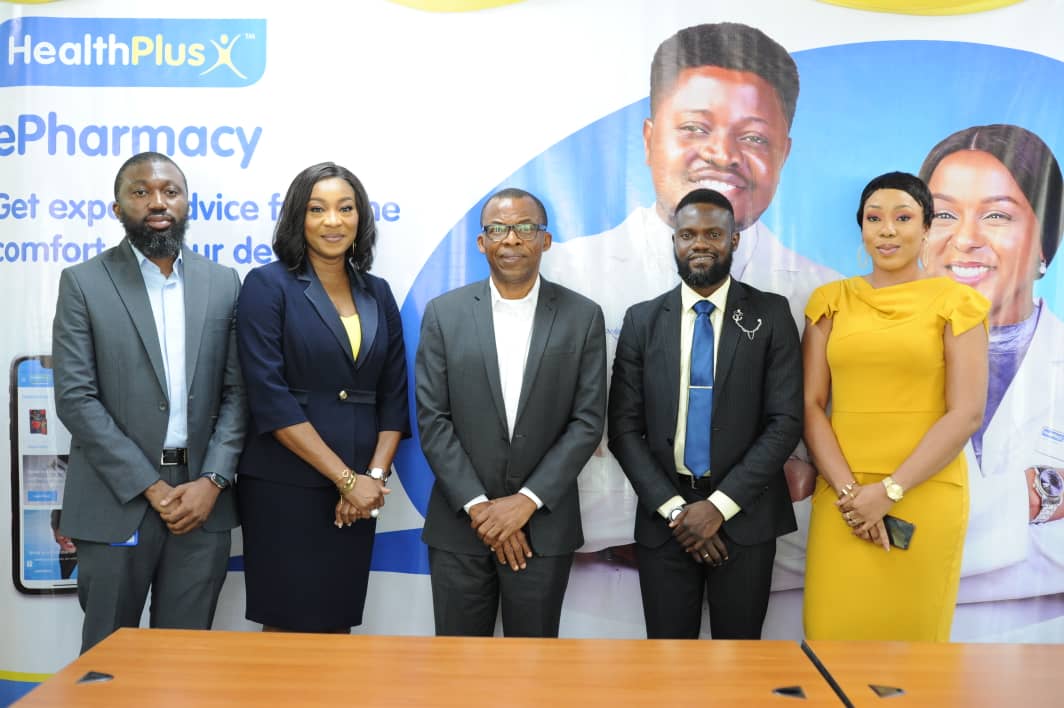 By Aduragbemi Omiyale
A game-changing application that will facilitate the interaction between patients (customers) and health-service providers nationwide has been launched by HealthPlus.
The first integrative pharmacy in Nigeria announced that it has introduced West Africa's first-ever ePharmacy and digital prescription website, https://www.healthplusnigeria.com and for a limited period, customers can access up to 10 per cent discount on selected items.
With this, patients located anywhere in the country and indeed anywhere in the world can get a prescription from a certified pharmacist and have the medicines delivered promptly.
This marks a big step in the democratization of health in Nigeria and provides unprecedented healthcare access for Nigerians in all geographical locations.
The HealthPlus ePharmacy is attributed to a rise in the number of internet consumers, increased access to web-based and online services, and the rising implementation of e-prescriptions in hospitals and other healthcare services.
With 108 million internet users in Nigeria and an estimated 120 million mobile phone holders, HealthPlus is now able to connect more Nigerians to qualified pharmacists and fast track the provision of efficient health care.
In a statement by the Chief Transformational Officer at the launch of this unique service, Mr Chidi Okoro, remarked that, "Pharmacists are the first point of care for many Nigerians and are critical to ensure access to essential drugs.
"The HealthPlus ePharmacy platform is following the mission to enhance access to wholesome medicines and good pharmacy care services. Customers can now access professional pharmacists online from the comfort of their homes using mobile devices."
Nigeria is also severely underserved in the aspect of pharmacy stores locations. Only 25 per cent of Nigeria's local governments have any sort of pharmacy. That means, 70 per cent of Nigeria's local government areas have no access to a pharmacist.
Mr Okoro pledged that, "HealthPlus will help bridge this gap. Furthermore, Nigeria has one of the lowest productivity rates in the world. This is due to absenteeism and inadequate health care. If more Nigerians have access to health and we take a more proactive approach, productivity will increase significantly.
"In keeping with its commitment to raise the standard of care, provide safe access to wholesome medications and reduce wait times, HealthPlus is utilizing the latest technology to consolidate the compendium of care and expand our vision to our customers' mobile devices."
Ernest Eguasa, CFO HealthPlus Limited added that "this is a very exciting offering that combines technology and the capabilities of fast-growing sector dynamics of Healthcare and e-commerce in synergy to deliver high-quality customer-centric customer patient care.
"It gives our customers a channel to conveniently get a wide array of their medical needs with the added benefit of One-on-One pharmaceutical consulting through our bespoke Chat with a Pharmacist functionality that ensures patients are getting exactly what they require for their optimum health."
Afsane Jetha, Managing Partner & CEO Alta Semper and HealthPlus's private equity partner stated that "Healthcare in Africa is at an inflexion point and has proven its ability to leapfrog traditional business models; it is becoming more consumer-focused and precision-driven. With this technology and platform, we are increasingly focused on preventative care and patients' well-being, in providing access at their fingertips and the last mile."
HealthPlus's commitment to superior quality at reasonable cost maintains the Company's vision to be West Africa's most trusted healthcare retail brand, Zachary Fond, Managing Director at Alta Semper also remarked, "HealthPlus is at the forefront of being able to respond to this industry evolution, given the strength of the Company's brand and its growing footprint nationally, we plan to dedicate further efforts to transformative initiatives aimed at integrating end-to-end healthcare services for our customers".
WHO Partners Health Authorities to Bolster Monkeypox Testing in Africa
By Adedapo Adesanya
The World Health Organisation (WHO) has announced that it was working with national health authorities in Africa to bolster surveillance and laboratory diagnosis to detect cases and deter a silent spread of the virus.
The continent as of June 28 has reported 1,821 cases in 13 countries of which 109 are laboratory confirmed in nine countries. The number of confirmed cases accounts for 2 per cent of the more than 4,500 confirmed cases globally.
However, there are a large number of suspected cases in the region, 81 per cent of which are in the Democratic Republic of the Congo, underlining the need for increased diagnostic capacity.
While all African countries have the polymerase chain reaction machines needed to test for monkeypox thanks to reinforced laboratory capacity in the wake of COVID-19, many lack reagents and in some cases training in specimen collection, handling and testing.
As a result, WHO is working to secure 60,000 tests for Africa, with around 2,000 tests and reagents to be shipped to high-risk countries and 1,000 to those facing lower risk.
Over the past months, five more African countries have received donations of reagents from partners, bringing to 12 the number of countries in the region with enhanced monkeypox diagnostic capacity. Another group of countries in West Africa will receive reagents after participating in a training.
Outside the six countries in Africa with a history of human transmission, monkeypox has also been reported in three countries which have not previously had any human cases. These include Ghana, Morocco and South Africa, which have confirmed the disease in two patients with no travel history, suggesting there is a high possibility of local transmission.
"The geographic spread of monkeypox to parts of Africa where cases have never been detected before is a worrying sign," said Dr Matshidiso Moeti, WHO Regional Director for Africa. "It is critical that we support national efforts to boost surveillance and laboratory diagnosis, which are the cornerstones of disease control."
To deepen the analysis of monkeypox transmission patterns, WHO is supporting countries to capitalize on the improved genomic sequencing capacity built during the COVID-19 pandemic.
Many years of research have led to the development of new and safer (second- and third-generation) vaccines for smallpox, some of which may be useful for monkeypox and one of which (MVA-BN) has been approved for the prevention of monkeypox. However, supplies are limited.
"What happened in the early days of the COVID-19 vaccine rollout when Africa watched on the sidelines as other countries snapped up limited supplies must not be allowed to recur. There are some signs that this is already happening," said Dr Moeti. "The current global spotlight on monkeypox should be a catalyst to beat this disease once and for all in Africa. For this, we know vaccines are a critical tool."
WHO is also working closely with the Member States and partners to define what type of coordination mechanism could be put in place to ensure fair access to vaccines. There are many regulatory, legal, operational, technical, and other issues to clarify before an allocation mechanism is fully operational.
With limited vaccines and antivirals, WHO does not recommend mass vaccination for monkeypox but rather targeted vaccination for people who have been exposed or are at high risk including health workers, laboratory personnel and outbreak team responders.
African Health Scientists Attend Monkeypox Virus Workshop
By Kestér Kenn Klomegâh
With rising cases of Monkeypox virus in Africa, the Centre for Disease Control (Africa CDC) and the African Society for Laboratory Medicine (ASLM) have jointly held their first training on Real-Time PCR-based Monkeypox virus (MPXV) testing for 20 African Union Member States in Abuja, Nigeria.
It was the first in the series of hands-on training on real-time PCR-based monkeypox virus (MPXV) diagnosis launched and organized in partnership with the Nigeria Centre for Disease Control (NCDC) in June.
The three-day training workshop is designed to cover a combination of theoretical and hands-on training in the collection and handling of MPXV suspected specimens; isolation of nucleic acid; detection of MPXV using RT-PCR assay; interpretation and reporting of results for public health interventions.
Furthermore, the Africa CDC in partnership with Jiangsu Bioperfectus Technologies Co., Ltd. will distribute MPXV RT-PCR kits to expand testing in participating Member States.
Dr Yenew Kebede, Head Division of Laboratory Systems and Networks at the Africa CDC, said: "Laboratory testing capacity is key to expanding MPXV surveillance in endemic and non-endemic countries across the continent. This training is timely and critical to building and expanding MPXV testing capacity and capability across the continent. We will continue to organize additional trainings and distribute testing kits to the additional African Member States in order to strengthen MPXV surveillance in the continent."
Dr Ifedayo Adetifa, Director General of NCDC, commented: "Establishing diagnostic capacity for infectious diseases including for monkeypox virus is an essential first step in gaining the understanding required for preparedness and response. So, we are very delighted to partner with Africa CDC to conduct hands-on training for 20 African countries on the RT-PCR-based detection of the monkeypox virus. The training covers a range of topics from collection and handling of the specimen to RT-PCR testing and reporting of results to inform response and containment strategies."
Dr Ahmed Ogwell, Acting Director of the Africa CDC, said: "Africa CDC will continue to support the Member States in strengthening their capacity and capability to detect and respond to disease outbreaks. Recently, we have issued a call for more support to the Member States and increased access to diagnostics, therapeutics and vaccines to limit the spread of MPXV. The MPXV training and the distribution of test kits are key to expanding MPXV surveillance across the continent."
The participants are expected to put into practice the skills and knowledge gained from this training to expand MPXV testing and surveillance in their home country. Furthermore, the training workshop will create a network of laboratory experts to collaborate and share expertise and resources in MPXV detection and response.
The training was coordinated and supported through the Africa CDC – Africa Pathogen Genomics Initiative (Africa PGI). The training workshop targeted 20 participants from 20 African Union (AU) Member States: Benin, Chad, Cote d'Ivoire, Democratic Republic of Congo, Ethiopia, Gabon, Ghana, Guinéa, Liberia, Mali, Mozambique, Niger, Republic of Congo, Senegal, Sierra Leone, South Sudan, Sudan, Togo, Uganda, and Zambia.
Sterling Bank, NHEA Honour Exceptional Healthcare Providers
By Aduragbemi Omiyale
Some healthcare providers who were exceptional during the COVID-19 pandemic have been honoured at the Nigeria Healthcare Excellence Awards (NHEA) with support from Sterling Bank Plc.
At the 8th annual event held in Lagos over the weekend, special recognition awards were given to Medbury Medical Services as the Most Responsive COVID-19 Testing Company of the Year and Seven-UP Bottling Company Plc as the Most Outstanding COVID-19 Consumables Manufacturer of the Year. Other recipients were the African Centre of Excellence for Genomics of Infectious Diseases (ACEGID), Redeemers University in Ede, Osun State as the Most Outstanding Genomics Laboratory of the Year and Nassarawa State as the Most Outstanding State for COVID-19 Vaccination.
Speaking on the occasion themed Innovative Healthcare Services in the Era of Change, the Group Head of Health Finance at Sterling Bank, Ms Ibironke Akinmade, explained that the bank recognised and honoured the champions of the COVID-19 pandemic because of the excellent services they rendered while the pandemic was raging in a bid to spur them to do more.
"Sterling Bank is committed to improving access to healthcare for every Nigerian and our flagship offering – digitisation of State Health Insurance Platform – prefers 360-degree solution to help states bring healthcare to every citizen as well as provide a wealth of data to inform policies, planning and strategy, at no initial investment," she said.
The Divisional Head of Business Growth and Transaction Banking at Sterling Bank, Mr Obinna Ukachukwu, while speaking at the event, had observed that the lender recognised the role that NHEA is playing in the health sector by rewarding excellence and promoting positive outcomes in the sector.
He noted that Sterling Bank, a leading player in the financing of the health sector, decided to come on board to further support the excellence and growth of the sector.
On his part, the Minister of Health, Mr Ehanire Osagie, who was represented by the Managing Director of the Federal Medical Centre, Yaba, Lagos, Dr Adedamola Dada, commended the organisers of the awards and remarked that the purpose of recognising and rewarding healthcare professionals that contributed to efficient and quality healthcare services is to foster excellence and sustain the quality.
"Good healthcare delivery is a key objective of this present administration," he declared.
Chairman of the Advisory Board of NHEA, Dr Anthony Omolola, while speaking said, "Over the years, NHEA has continued to strive to deliver new and creative ways to honour excellence across the healthcare space. This year's is not different at all. At these awards, we are paying attention to those who pioneered innovative healthcare services in the era of change."
NHEA Executive Secretary, Ms Vivian Alkali, expressed the confidence that with Sterling Bank's partnership and support, subsequent editions of NHEA will meet with greater success.
NHEA is an initiative of Global Health Projects and Resources in collaboration with Anadach Group of the United States of America. It is a yearly event where individuals and organisations are recognised and celebrated for their exceptional contributions to the healthcare sector.
The initiative, through its eminent team's research and innovation, has continued to encourage improvements and focus on the quality and standard of service provided by various stakeholders in the industry.
Latest News on Business Post