Kwara, Three Others to Receive ASR N10bn Health Intervention Fund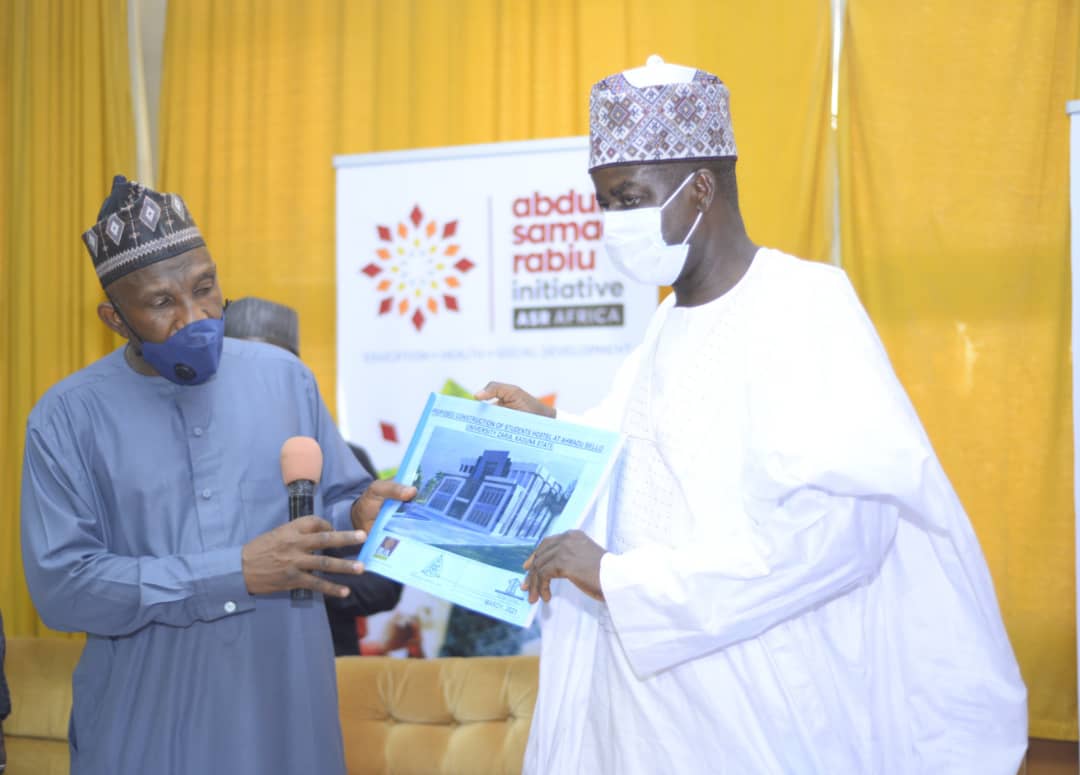 By Adedapo Adesanya
Four states in Nigeria – Kwara, Edo, Ogun and Sokoto have been selected as recipient states for the Abdul Samad Rabiu Africa Initiative (ASR Africa) N10 billion health intervention programmes for 2021.
This was disclosed by the Managing Director of the ASR Africa, Mr Ubon Udoh, in a statement in Ilorin, the capital of Kwara state on Tuesday, June 22.
He explained that the health intervention fund is a continuation of the initiative's $100 million Africa Fund for social development within Nigeria and the African continent, which has identified and commenced implementation of development needs in healthcare, education and social development within the country and beyond.
"In addition to this and based on our subnational healthcare needs assessment, ASR Africa has now decided to commit N2.5 billion each to four states within Nigeria — Ogun, Kwara, Sokoto and Edo States.
"This expanded grant will be dedicated towards healthcare interventions from maternal and child health to health infrastructure, capacity development, amongst others.
"We will develop mutual accountability frameworks with the state implementation teams after which 50 per cent of the grant will be disbursed immediately to commence implementation of the projects earmarked. The remaining 50 per cent will be released in line with agreed delivery milestones," Mr Udoh said.
Established this year, the Abdul Samad Rabiu Africa Initiative seeks to support sustainable development initiatives in the health, education, and social development within Nigeria and the rest of Africa, every year, the statement added.
Speaking on the selection of his administred state for the initiative, Governor AbdulRahman AbdulRazaq of Kwara State commended the ASR Africa Initiative for including the State of Harmony in the intervention, saying it would help to consolidate the administration's investments and achievements in the health sector.
The Governor said; "We sincerely thank AbdulSamad Rabiu for this huge humanitarian gesture which is a continuation of his supports for the state over the years.
"The government, for the record, remains immensely grateful for the support it received from Alhaji Abdul Samad and the BUA Group in the teeth of the COVID-19 pandemic last year, and looks forward to enduring relationship with the conglomerate," the Governor said.
GE Healthcare Donates VScan Ultrasound Equipment to AMCH
By Aduragbemi Omiyale
Seven modern mobile ultrasound systems have been donated by GE Healthcare West Africa to the Abiye Maternal and Child (AMCH) International Foundation.
AMCH is a non-governmental organisation that aims to provide up-to-date evidence-based life-saving knowledge and skill to frontline health workers in communities across Nigeria. Its mission is to help contribute to health system strengthening and quality improvement for maternal and newborn care.
The items were given to the organisation at its office in Maryland, Lagos to help increase access to quality maternal and child medical services especially in rural areas in the state.
At the presentation, the founder of AMCH, Prof. Elizabeth Disu, expressed her gratitude to GE West Africa for donating the medical equipment to the group and promised that it would be used to improve medical services rendered to pregnant women especially in the rural areas in Lagos State and Nigeria in general.
She said AMCH had collaborated with other partners to execute several training programs such as Essential Care for the Newborn which comprises Helping Babies Breathe, Essential Newborn Care, Essential Care for Every Baby and Essential Care for Small Babies, Newborn Resuscitation Training (NRT), to mention a few.
According to the AMCH founder, the organization recently partnered with Rotary Club International, California, USA to train health workers in Epe and Ibeju-Lekki communities in Lagos State on Essential Newborn Care Course (ENCC). The ultrasound system donated by GE would enable them to add obstetric care trainings in these rural communities.
In her remarks, the patron of AMCH, Mrs Aba Sagoe, said, "We appreciate this and we believe this will improve quality of care. We assure you that you are going to see positive results very soon. Thank you, GE." she added.
The representative of the Federal Ministry of Health Head of Newborn, Family Health Department, Dr John Ovuoraye, in his address, commended GE for their contributions to the development of the health sector in Nigeria and for donating the equipment to AMCH, a reputable NGO whose commitment to maternal and child health is widely recognised.
"On behalf of Federal Ministry of Health, I wish to thank GE for the company's commitment to improving access to medical services in various communities in Nigeria.
"We have had collaborative trainings with AMCH and its founder, Prof. Elizabeth Disu, a pillar and a worthy person in the health sector, especially on maternal and childcare services.
"The equipment that I am seeing here will help in no small measure to improve quality services to pregnant women in Nigeria.
"The machine is technologically driven, simple, handy and mobile. It works amazingly well with a soft touch, gives accurate analysis, and has durable battery life. Once again, I want to thank GE for this donation," he said.
Prof. Adeniyi Adewumi, the director of training at AMCH and a consultant at Lagos State University Teaching Hospital, Ikeja opined that the ultrasound equipment would help monitor the number of babies a pregnant woman is carrying, baby's position and growth of pregnancy amongst many other factors associated with improved quality care.
In his goodwill message, the Permanent Secretary, Primary Health Care Board (PHCB), Lagos State, Dr Ibrahim Mustafa, also expressed gratitude to the donor and said that ultrasound equipment would help achieve focus on antenatal with its special features for obstetrics examination and quantification and could not have come at a better time than this.
The GE team was led by Mr Abdulrahman Alabi, Manager, Ultra Sound, GE West Africa, accompanied by Mr Gospel Johnson, Clinical Application Specialist, GE West Africa, and Mrs Modupe Shittu, Lead, Life Care Solution Business, West Africa.
Mr Alabi said, GE did background research on NGOs and found AMCH worthy to receive the donation of ultrasound equipment to help improve quality services in maternal and child care access of many pregnant women in Nigeria.
Other dignitaries present at the acceptance ceremony were Mrs Ekhaiyeme Taiwo, Clinical Volunteer (AMCH), Retired Chief Matron Mrs Oluwatoyin Odukoya, and Miss Funmilola Oremakinde, an administrative officer with AMCH.
Monkeypox: NCDC Urges Nigerians Not to Panic
By Adedapo Adesanya
The Nigeria Centre for Disease Control (NCDC) has called on Nigerians to be alert but should not panic as the country registered 59 suspected cases of Monkeypox with 15 confirmed.
This call was made by its Director-General, Dr Chikwe Ihekweazu, on Tuesday in Abuja.
The NCDC chief was reacting to the Dallas, Texas resident from the United States who recently returned from Nigeria and tested positive for the disease.
It was reported that it was the first confirmed case of the virus in the US since 2003, with health officials saying that the public should not be concerned.
Laboratory tests confirmed that the patient was infected with a strain of the virus mainly seen in West Africa, which included Nigeria.
"While rare, this case is not a reason for alarm and we do not expect any threat to the general public," Dallas County Judge, Mr Clay Jenkins, said in a statement by Dallas County's health department.
With passengers wearing masks on the flight and in the airport, the health department said that the risk of spreading monkeypox via respiratory droplets to others on the planes and in the airports was low.
Dr Ihekweazu said that just as the agency responded to other epidemic-prone diseases in the country, an outbreak would be declared when there was a large cluster of monkeypox cases that constituted an emergency.
"The federal government was notified of the situation in Texas through the International Health Regulations (IHR), which reported a case of monkeypox disease diagnosed in a patient who had recently visited Nigeria.
"Since the re-emergence of monkeypox in the country in September 2017, the agency has continued to receive reports and responses to sporadic cases of the disease from states across the country.
"We have been working closely with state health ministries to strengthen monkeypox disease surveillance and response in the country.
"We work with Enhanced Monkeypox Surveillance Project where we have been training health workers across states to rapidly detect and manage cases.
"Our initial focus is on the states with the highest number of cases – Delta, Bayelsa, Rivers and Lagos.
"We will continue working with all states to strengthen monkeypox prevention, detection and control in Nigeria," he said.
He urged Nigerians to continue adhering to precautions that protected them from monkeypox and other infectious diseases.
"If you feel ill or have a sudden rash, please visit a hospital for diagnosis and management," he advised.
Monkeypox, which is in the same family of viruses as smallpox, is a rare but potentially deadly viral infection that begins with flu-like symptoms and progresses to a rash on the face and body.
It tends to last two to four weeks. People who do not have symptoms are not capable of transmitting the virus.
Monkeypox infections of that strain are fatal in about one in 100 people, affecting those with weakened immune systems more strongly.
CribMD Acquires Charisland for Better Drug Deliveries
By Adedapo Adesanya
Nigerian health-tech startup, CribMD, has announced the acquisition of Charisland Pharmaceuticals Group to ensure fast and efficient one-hour drug deliveries to its patients across Nigeria.
The acquisition comes on the heels of CribMD's $2.6 million seed round in May 2021, which the startup says was oversubscribed.
According to CribMD's Chief Executive Officer, Mr Ifeanyi Ossai, users would not need to wait two days for the delivery of their medications. Now, it can be sent to their homes, offices, or hotels in as little as one hour.
Speaking on the choice of Charisland Pharmaceuticals Group, Mr Ossai revealed that the group's commitment to excellence was a decisive factor.
"They are a well-respected brand in the country and have served the communities where they operate with excellence, and we are glad to pick up the next part of the race," he said.
Charisland Pharmaceuticals Group was founded nine years ago and has a presence in major Nigerian cities but is exiting the Nigerian market to expand into Canada.
CribMD's acquisition of the pharmaceutical chain, as opposed to building a solution in-house, will see it leverage the company's vast network of pharmacies to deliver drugs faster to their subscribers.
As part of the sale, the startup would be assimilating Charisland Pharmaceuticals Group's staff and hiring more to build out its operations.
Before the acquisition, CribMD dispensed drugs from pharmacies that they own. However, with the acquisition of Charisland, the startup is set to bank on the group's wide network of pharmacies to serve subscribers.
Founded in June 2020 by Messrs Ossai, Ngiri Michael, and Lorna Mae Johnson, CribMD allows patients — with a subscription plan ranging between $7 and $50 monthly — to request doctors for house calls or consultation via telemedicine.
With a presence in every Nigerian state, CribMD also offers insurance services for individuals and corporations. The company disclosed that it plans to embark on some other series of acquisitions.
Latest News on Business Post