Merck Unveils 2016 Hypertension Award Winners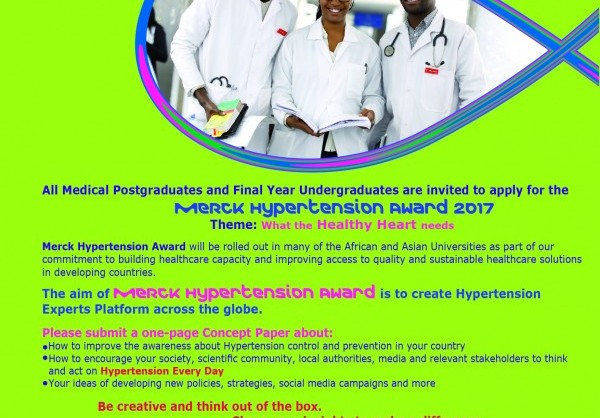 By Dipo Olowookere
A leading science and technology company in healthcare, life science and performance materials, Merck, has announced the 2016 'Merck Hypertension Award' winners to mark the World Hypertension Day.
Also, it has called for applications for the 2017 Hypertension Award, which is part of the Merck Capacity Advancement Program launched in April 2016 in partnership with African and Asian universities with the aim of building a platform of hypertension experts across the globe.
In Kampala, Uganda, Rasha Kelej, Senior Vice President and Chief Social Officer, Merck Healthcare emphasized: "Merck plays an important role in building diabetes and hypertension care capacity and improving access to quality and sustainable healthcare solutions in developing countries. Today marks an important day in the fight against hypertension as we mark the World Hypertension Day. In this context, we have announced ten Merck Hypertension Award 2016 winners."
Merck invited medical students to apply for the "Merck Hypertension Award 2016" with the theme of "What the Healthy Heart needs." Students across African and Asian medical universities were asked to submit a concept paper on how to improve hypertension awareness, early detection and prevention in their countries and how to encourage their society, scientific community, local authorities, media and relevant stakeholders to 'think and act' on hypertension every day.
The scientific committee received over 500 concept submission applications from universities in Africa and Asia and 10 winners were selected for the award. Winners from each university have been granted a one year postgraduate Preventive Cardiovascular Medicine diploma with the University of South Wales, United Kingdom.
"Merck Hypertension Award is another step in our long term commitment to support hypertension care strategy through working with local governments, academia and relevant stakeholders in building healthcare capacity with a focus on diabetes, hypertension and other non-communicable diseases in various countries in Asia-Pacific, Middle East, Africa and Latin America," added Rasha Kelej when making the announcement of the winners during an event in Nairobi, Kenya.
Prof. Eligah Ogola, Vice President of Pan African Cardiology Society said: "We are happy to partner with Merck to implement their Capacity Advancement Program focusing on Hypertension in 2016. This combined diabetes and hypertension education program will contribute towards providing guidelines and clinical practice for prevention, diagnosis and management of these diseases and their complications. The objective of this initiative is to increase the level of knowledge for medical students who will work in the near future with patients to help them prevent, understand and control the diseases across the continent".
Nigeria Surpasses 30% COVID-19 Vaccination Milestone
By Modupe Gbadeyanka
A new report has revealed that Nigeria has surpassed the milestone of fully vaccinating 30 per cent of its total population as a result of a sustained COVID-19 vaccination rollout in recent months.
Nigeria has maintained the COVID-19 vaccine rollout through campaigns and initiatives with the support of stakeholders, including Gavi, the Vaccine Alliance. COVAX, which Gavi co-leads with the Coalition for Epidemic Preparedness Innovations (CEPI), WHO and UNICEF, has supplied over 91 million COVID-19 vaccines to Nigeria (about 65 per cent of all vaccines received) and over 669 million to the African continent.
The country has also developed an integrated micro-plan featuring routine immunisation alongside COVID-19 vaccinations with a bottom-up approach taking into account individual state's plans.
Recall that in January 2022, the country reported less than 3 per cent coverage, but dedicated efforts by the government and stakeholders in rolling out relevant strategies to sustain COVID-19 vaccination amidst competing health priorities have caused the COVID-19 vaccination milestone.
According to Gavi, key drivers behind the success of this year's drive include leadership and improved coordination at the local, state and national levels, as well as innovation, such as the increase in mobile vaccination sites.
With more teams being supported to take the vaccines to communities rather than wait for visits to facilities, missed opportunities are being reduced.
The country also adopted a strategy to track the performance of the vaccination teams in the various states through daily call-in data. The performance of states is being ranked, and this is disseminated daily on social media and provides healthy competition across the states.
Nigeria has also set up COVID-19 Crisis Communication Centre (CRICC) at the national and state levels, ensuring targeted demand-generation activities were adopted and rolled out across the country.
The country has also integrated a service delivery approach with teams empowered to provide multiple arrays of services – COVID-19 vaccination, and routine immunization, ensuring that other key health services were not neglected.
Dr Richard Mihigo, Director of COVID-19 Vaccine Delivery, Coordination and Integration at Gavi, the Vaccine Alliance, which leads on procurement and delivery at scale for COVAX, said, "Nigeria has become a case study on how to roll out COVID-19 vaccines at scale and speed and at the same time, catch up on routine immunization programmes.
"The country's surveillance systems are efficient and precise, enabling monitoring of trends as well as promptly responding to counter vaccine misinformation increasing acceptability of the vaccines."
Streamlining and Increasing Pharmacy Inventory Workflow
Pharmacies are an essential part of the healthcare system. However, managing pharmacy inventory is difficult for pharmacists due to the complexity of tracking stock levels and expiration dates. Streamlining and increasing pharmacy inventory workflows help make this process more efficient. Here are some tips that can help pharmacies maximize their inventory workflow.
Use Pharmacy Inventory Solutions
With comprehensive pharmacy inventory solutions, pharmacists will keep track of all their supplies in an organized manner. Such solutions offer a wide range of features to help streamline the inventory process and make it easier for pharmacies to manage their inventory. Features such as automated order fulfilment, real-time stock visibility, and streamlined processes help reduce mistakes and save time.
Automate Reordering Processes
Automating the reordering process is another way to increase pharmacy workflow efficiency. By automating the ordering process, pharmacies no longer have to manually place orders or check on availability when items are out of stock. This allows pharmacists to focus on more important tasks instead of wasting time on mundane administrative chores. Additionally, automated reordering systems allow better tracking and forecasting of inventory needs.
Implement Barcode Scanning
A barcode scanner is very helpful for pharmacies in tracking inventory levels and identifying items quickly. This helps to reduce errors and streamline the process of counting inventory. Barcode scanners are also used with automated reordering solutions to ensure orders are placed accurately and on time.
Additionally, barcode scanners track expiration dates and alert staff when items need to be restocked or thrown away. This way, pharmacists don't have to worry about expired products on the shelves.
Utilize Analytics Tools
Analytics tools provide pharmacies with valuable insight into their inventory workflow and help them identify areas where they may need improvements. With analytics, pharmacists can track trends in sales data and stock levels and monitor customer buying patterns. That allows them to anticipate customer needs better and adjust their ordering processes accordingly. It also helps pharmacists track certain items' performance and decide what products best suit their business model.
Proper Employee Training
Employees are the foundation of any successful business, and proper employee training is essential for ensuring that pharmacy inventory workflow processes are efficient. Pharmacists should ensure that their staff is properly trained to use the various systems and tools. Training should also include tips on how to keep up with stock levels, expiration dates, and drug interactions. With the right training, employees help prevent errors and save time when managing the pharmacy's inventory.
Invest in Quality Control
Pharmacists should also invest in quality control processes to ensure that their inventory remains updated. Quality control procedures help identify discrepancies or issues with the inventory and alert staff when problems occur. This helps prevent expired items from reaching customers or mistakes made with orders. Quality control processes also help pharmacies save money by preventing waste and ensuring that items are ordered in the right quantities.
Focus on Customer Service
Finally, pharmacies should focus on providing excellent customer service. This involves ensuring that customers have accurate information about their medications and being available whenever they need help.
Pharmacists should also take the time to answer customer questions and address any concerns they may have. This way, pharmacists ensure that customers leave satisfied, leading to better sales and repeat business.
Implementing the strategies mentioned above helps streamline and increase pharmacy inventory workflow. Automating reordering processes, utilizing analytics tools, investing in quality control, and focusing on customer service are great ways to improve efficiency and increase profits. Pharmacies will operate more smoothly and efficiently with the right systems and processes.
Research Shows Interorganisational Deals Boost Drug Discovery, Innovation
By Adedapo Adesanya
In a recent study published in the journal Drug Discovery Today, a team of scientists at Ritsumeikan University in Japan analysed the changing trends in pharmaceutical industries to spotlight the role of interorganisational collaborations in promoting drug discovery and innovation.
Discovering new drugs has become increasingly rare for independent large pharmaceutical companies in recent times. With numbers showing that almost 60 per cent of new drugs are discovered through mergers and acquisitions and drug licensing.
Now, the university researchers shed light on the recent trends of spinouts from academia and investments in the US and Europe, foreshadowing a promising shift in the industry's interorganisational deal networks to improve research and development productivity in the future.
"It is a challenging feat to launch a new drug in the market, given the low probability of success during the research and development (R&D) phase and the high costs involved. In recent times, industry trends in external innovation for drug discovery are rapidly changing.  With an improved understanding of disease biology, decision-making can be more streamlined through the effective use of scientific information," a statement made available to Business Post said.
Led by Associate Professor Kota Kodama of Ritsumeikan University, the team is uncovering how the trends in interorganisational deals in the pharmaceutical industry are changing to improve R&D productivity and drug discovery.
"The network structure of innovation creation in the pharmaceutical industry has changed with the increasing emergence of start-up companies spinning out from academia and research institutions as players in the source of innovation," explains Dr Kodama, while discussing their investigations into these changing trends and the results of which were made available online on December 27, 2022, and published in volume 28 issue 3 of the journal Drug Discovery Today on March 1, 2023.
Their research suggests that the knowledge necessary for breakthrough innovation in drug discovery is more often than not obtained through alliance networks.
Over the past decade, large research-based pharmaceutical companies have used research collaborations, innovation incubators, academic centres of excellence, public-private partnerships, mergers and acquisitions (M&As), drug licensing, and corporate venture capital funds as typical methods for external innovation.
The researchers now aim to define the changes in the network structure and nature of such alliances that have occurred over the past decade to provide future strategic insights for industry and academic players involved in drug discovery.
Using data from the Cortellis Competitive Intelligence database, the researchers identified nearly 50,000 deals of various kinds related to pharmaceutical R&D across pharmaceutical, digital health software, animal drug, and medical device companies to uncover trends in the creation of new drugs for human use.
They also studied the trends of 13 of the largest pharmaceutical companies with annual revenues of more than $10 billion, who saw an improvement in their CAGR (compound annual growth rate) since 2015.
The researchers noticed that the rising CAGR correlated to a significant change in M&A-related deals after 2015, indicating that M&A-related deals drive revenue growth for large pharmaceutical companies.
Furthermore, the number of organizations involved in interorganisational deals has been increasing yearly from 2012 to 2021. Although the number of organizations involved and the number of deals may be increasing, the density of the deal networks is decreasing annually, suggesting that networks are becoming more non-cohesive.
The concentration of business relationships between organizations of certain areas in the network changed to dispersion around 2015, and new networks connecting different groups started to form after 2017.
These trends are an important illustration of how the industry landscape is gradually evolving away from the traditional network in which large pharmaceutical companies drove drug discovery output. Now, interorganisational deals among more diverse players have become active and are driving R&D productivity for startups in biotechnology and pharmaceuticals.
A clear increase in the number of academia-owned spinouts of advanced technology and expansion of investment in start-ups is a positive sign. The emergence of new chemical modalities, such as biologics, oligonucleotides, and peptides that differ from traditional small molecule drug discovery, indicate remarkable changes that have taken place over the past two decades.
The trend of increased financing for start-up companies in personalized drug development is beneficial for patent creation and will positively impact innovation creation in the coming years.
"The presence of academia to support the technologies of these start-ups is becoming very important, and government and private support and investment in this area are boosting innovation. Our study shows that such medium- and long-term support may ultimately benefit the health and well-being of humankind," Dr Kodama noted.
Latest News on Business Post