Nigeria Society of Physiotherapy President Shares Tips for Quality Sleep
By Aduragbemi Omiyale
The president of the Nigeria Society of Physiotherapy, Dr Nnenna Nina Chigbo, has shared some tips for quality sleep, advising people to fix a bedtime and an awakening time.
Speaking at an event held to commemorate this year's World Sleep Day themed Quality Sleep, Sound Mind, Happy World, a global and annual event held on March 18, she also urged people to avoid caffeine intake 6 hours before bedtime, use comfortable bedding, block out all distracting noise and eliminate light as much as possible.
According to her, "quality sleep is critical for the proper functioning of the body, including immune function, tissue healing, pain modulation, cardiovascular health, cognitive function, and learning and memory."
World Sleep Day was set aside to advocate and raise awareness for sleep health and Mrs Chigbo pointed out that, "A good quality mattress determines a great deal how well you will sleep. A bad mattress can affect the spine and cause damage to the body as the body needs to align well with the mattress."
"Secondly, when you are not comfortable on your mattress, it will affect the quality of your sleep and can be detrimental to your health," she added.
At the event organised by Mouka, a leading brand of mattresses and pillows in Nigeria, the Managing Director of the firm, Mr Femi Fapohunda, said the mission is to add comfort to life by providing quality sleep solutions and educating consumers on the right sleep culture.
"At Mouka, the wellbeing of our consumers is our top priority. We don't just provide great quality products, we also invest significantly in educating consumers on the right sleep culture.
"As Nigeria's foremost manufacturer in the sleep industry, the onus lies on us to ensure our consumers prioritise quality sleep; hence we deploy educational content across numerous platforms, including TV, radio, print and digital.
"In addition, we look forward to leveraging our membership of Dolidol International Group in terms of technical expertise in consistently delivering superior sleep solutions to our consumers."
Business Post reports that the theme for World Sleep Day 2022 focused on key issues such as how quality sleep helps maintain mental health, how better sleep helps people focus during the day and how fatigue can weigh people down physically, mentally and emotionally.
Explainer: What is Monkeypox Virus?
By Adedapo Adesanya
In a world where the coronavirus is still around, attention may shift to the Monkeypox virus – which has been found in Australia, the United States, and some top countries in Europe.
What is the Monkeypox Virus?
According to a World Health Organisation (WHO) research, the Monkeypox virus is a virus that is transmitted to humans from animals. The first case was discovered back in a small child back in 1970 in the Democratic Republic of the Congo.
It is a rare disease caused by the monkeypox virus, part of the same family as smallpox, though typically less severe. The incubation period of the newly spreading Monkeypox virus ranges from 6 to 13 days. However, it might be from 5 to 21 days.
Symptoms
Symptoms such as fever, intense headache, lymphadenopathy, back pain, myalgia (muscle aches), and an intense asthenia (lack of energy) usually appear in the patients who test positive for the Monkeypox virus. On the other hand, skin eruption usually starts within 1-3 days of the appearance of fever. The rash appears mostly on the face and extremities rather than on the chest.
History in Nigeria
There have since been sporadic cases reported across 10 African countries, including Nigeria, which in 2017 experienced the largest documented outbreak, with 172 suspected and 61 confirmed cases. In terms of age, 75 per cent of those affected were males aged 21 to 40 years old.
Cases outside of Africa have historically been less common and typically linked to international travel or imported animals.
How Can One Catch Monkeypox?
Monkeypox spreads when someone comes into close contact with another person, animal or material infected with the virus. The virus can enter the body through broken skin, the respiratory tract or through the eyes, nose and mouth. Human to human transmission most commonly occurs through respiratory droplets, though usually requires prolonged face-to-face contact.
Animal to human transmission meanwhile may occur via a bite or scratch but the disease is not generally considered a sexually transmitted disease, though it can be passed on during sex.
Available Treatment
There are currently no proven, safe treatments for monkeypox, though most cases are mild. In the past, researchers said that vaccination against smallpox with the vaccinia vaccine was proved through several observational studies to be about 85 per cent effective in preventing the Monkeypox virus.
A newer vaccinia-based vaccine was approved for the prevention of smallpox and monkeypox in 2019 and is also not yet widely available in the public sector. Countries including the United Kingdom and Spain are now offering the vaccine to those who have been exposed to infections to help reduce symptoms and limit the spread.
Can it Kill?
Monkeypox cases can occasionally be more severe, with some deaths having been reported in West Africa. However, health authorities stress that we are not on the brink of a serious outbreak and the risks to the general public remain very low.
What are Health Regulators Saying?
WHO says it continues to closely monitor as the situation is evolving rapidly. It is supporting member states with surveillance, preparedness, and outbreak response activities for monkeypox in affected countries.
Health authorities in the United Kingdom, the United States, and Canada urged people who experience new rashes or are concerned about monkeypox to contact their healthcare provider.
WHO also clarified that does it not recommend any restrictions for travel based on available information at this time.
Malaria: Nova Diamond Launches Give A Net Campaign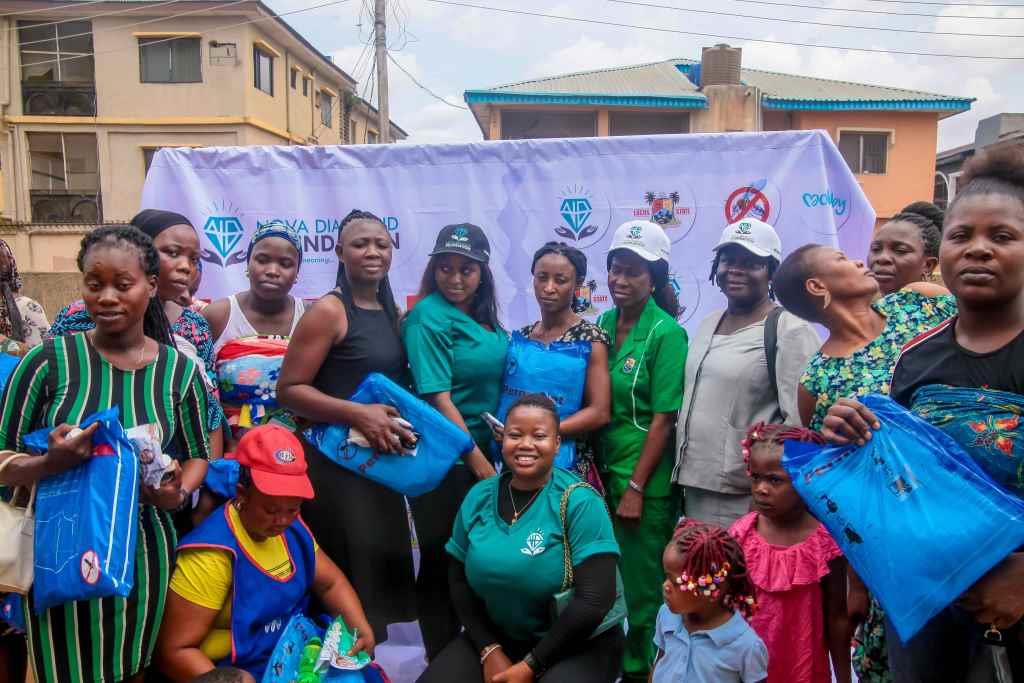 By Adedapo Adesanya
In commemoration of World Malaria Day for the year 2022, Nova Diamond Foundation has launched a campaign called Give a Net, ave Lives.
The Give a Net campaign is targeted to protect the most vulnerable in society, including pregnant women and children under the age of 5 because of the increased death rate, according to WHO 2021 Malaria report.
WHO described malaria as the 3rd highest killer non-communicable disease as the disease kills four in every five malaria cases in Nigeria. Malaria is the number one endemic in the country, which also has the highest number of malaria-related deaths.
To address this issue and reduce malaria-related deaths, Nova Diamond Foundation has partnered with the Lagos State Ministry of Health to educate residents on the danger posed by malaria.
The organisation also worked in partnership with Mobaby Care to walk the streets of Lagos, starting with Agboyi LCDA under Kosofe LGA, Mascara Primary Health Centre and Alapere Primary Health Centre, Ketu. These health facilities were visited between Monday, April 25 and Wednesday, April 27, 2022.
During the visits, pregnant mothers and children were given some malaria prevention incentives like Insecticides Treated Nets (ITNS) and mosquito repellant creams from Mobaby Care.
The executive director of Nova Diamond Foundation, Mrs Oluwafikayo Ooju, sensitised the participants on how to protect their unborn children, toddlers and themselves from malaria by ensuring that they always sleep under an insecticide-treated net.
She also lectured them on keeping their environment clean from stagnant water, ensuring children are well covered up and use of repellant to the exposed parts of the body.
In addition, she educated them on how to identify the symptoms of malaria as well as the need to visit the primary health centres for proper diagnosis and treatment immediately after they notice any symptoms.
In her remarks, the Medical Officer in charge of Agboyi LCDA, Dr Mariam Oshodi, commended the effort of the foundation and also advised the beneficiaries to use all the incentives distributed to them.
The team intends to visit other primary health centres across Lagos state and hopes to reach at least 1,000 pregnant mothers and 1000 children aged 0-5.
FG to Intensify Fight Against Female Genital Mutilation
By Adedapo Adesanya
The federal government has said it will intensify efforts to eliminate the practice of Female Genital Mutilation (FGM) in Nigeria as it pursues the realisation of the sustainable development goals (SDGs) 2030.
This was disclosed by the Minister of Women Affairs, Ms Dame Tallen, at the launch of the Movement For Good To End FGM in Nigeria organised by the Federal Ministry of Women Affairs in collaboration with the United Nations Children Fund (UNICEF).
Ms Tallen noted that the procedure of FGM has no health benefit for girls and women.
FGM involves partial or total removal of the external female genitalia or other injuries to the female genital organs for non-medical reasons. The practice is mostly carried out by traditional practitioners.
Speaking, she said, "Available statistics show that Nigeria has the highest number of cases of FGM in the world accounting for about 115 million out of 130 million circumcised women worldwide.
"The South-South zone with 77 per cent among adult women has the highest prevalence of the practice in Nigeria.  This is followed by the South-East zone with 68 per cent and South-West zone with 65 per cent.  The Northern part of Nigeria is also not free from this practice."
She described "FGM as a traditional practice inflicted on girls and women worldwide and it is widely recognized as a violation of human rights, which is deeply rooted in cultural beliefs and perceptions over decades and generations.
"The resulting outcome of FGM are adverse pain and haemorrhage, infection, acute urinary retention following such trauma, damage to the urethra or anus.
"During the procedure, the victim would struggle through an experience which leads to chronic pelvic infection, dysmenorrhea, retention cysts, sexual difficulties, obstetric complications, bleeding, prolonged labour leading to fistula formation amongst others.  The mental and psychological agony attached to FGM is deemed the most serious complication because the problem does not manifest outwardly for help to be offered.
"The continuous practice of FGM denies girls and women the right to quality education, opportunities for decent work and their health particularly sexual and reproductive are threatened."
The United Nations (UN) Resident, and Humanitarian Coordinator, Mr Matthias Schmale said the prevalence of FGM amongst girls up to 14 years old is still on the rise.
Mr Schmale said 86 per cent of these children were mutilated before the age of Five, meaning FGM is greatest in the early years of life.
"What this tells us is that the perpetrators of this harmful practice are devising ways to circumvent surveillance and diminish the gains recorded over the years towards the eradication of FGM in Nigeria, by targeting infants who neither knows nor understand the enormity or magnitude of the practice they are being subjected to," he said.
He explained that the practice of FGM which is handed over from generation to generation and culturally justified is no longer acceptable.
He noted that this practice violates women's and girls' rights to life, health, and dignity as well as their bodily autonomy.
"The time to end FGM in Nigeria is now and the responsibility to do so lies with us all," he said.
The French Ambassador to Nigeria, Mrs Emmanuelle Blatmann, on her part said at least 200 women worldwide have undergone genital mutilation and more might be affected in the coming years.
Ms Blatmann said FGM contravenes the rights of every woman.
"Indeed to promote the elimination of this scourge, coordinated and systematic efforts involving everyone are needed," she said.
Latest News on Business Post