Art Of Technology Lagos 2.0 Begins December 3
By Adedapo Adesanya
The Lagos State government through the Office of Innovation and Technology is organising the second edition of the Art of Technology (AOT) Lagos 2.0. curated by Eko Innovation Centre.
The two-day conference will bring together the best of tech minds from across the globe physically and virtually on the December 3 and 4, 2020, in line with its SMART City agenda of making Lagos a 21st-century economy.
Aptly themed Smart Data, SMARTER Lagos, the AOT Lagos 2.0 will facilitate multi-stakeholder discussions, exchanges and collaborations along the data value chain as an enabler of a SMARTER Lagos.
The conversation will centre on the fundamental role data plays in connecting the city with its citizens. Together, delegates will rub minds on how data can be collected, collated, analysed and deployed for governance, commerce and development.
The Vice President of Nigeria, Mr Yemi Osinbajo, will deliver the presidential address on Lagos, Driving a Smarter and Efficient Nigeria while Mr Isah Ali Pantami, the Minister of Communication and Digital Economy, will speak on Nigeria in the eyes of the world: The data approach.
Mr Michael Seibel, CEO and Partner, Y-Combinator; Mr Demola Sogunle, CEO Stanbic IBTC; Ms Lisa Da Silva, Principal Investment Officer, International Finance Corporation; and Mr Tomi Davies, CEO, TVC Labs are keynote speakers.
According to the Curator of Art of Technology Lagos 1.0 and founder of Eko Innovation Centre, Mr Victor Gbenga Afolabi, the two-day summit will build on the success of the maiden edition held in 2019 with over 2,000 participants.
He noted that one of the key successes was the launch of the Lagos Innovation Master Plan which has continued to guide the Lagos state government in achieving its SMART City agenda.
In addition, the Governor of Lagos, Mr Babajide Sanwo-Olu, announced a tech fund of N250 million to be managed by the Lagos State Science, Research and Innovation Council (LASRIC) headed by the Vice-Chancellor of the University of Lagos of which N100 million has already been disbursed. The Open Government Initiative and Lagos State Solution Hub were also launched.
This year's conference will feature 60 industry speakers, 50 investors and 35 experience centres. There will also be an ideathon tagged Collaborate Lagos where innovative policies and tech-driven solutions aimed at achieving a SMARTER Lagos will be pitched by startups.
Also expected is the launch of a new tech product by Lagos State. Interactive panel discussions led by experts will cover transportation, agriculture, environment, education and healthcare. They will engage in the understanding of data economy, the opportunities it presents and the exponential change it could trigger. Plenary sessions will focus on exploring collaborative platforms to facilitate the sharing of the best ideas and innovations to inform policy and inspire collective action for scale and global impact.
Art of Technology Lagos 2.0 is sponsored by Access Bank with support from International Finance Corporation, Y Combinator, Lagos Innovates, Oracle, Lagos State Employment Trust Fund. Media partners are Brand Communicator and BusinessDay.
The hybrid event will happen through online VR experience via www.aotlagos.com, however, the physical 'limited edition' part will be hosted at Eko Hotel & Suites, Victoria Island, Lagos and attendance is strictly by invitation.
Netflix Delves Into Video Games as Streaming Growth Slows
By Adedapo Adesanya
A streaming service, Netflix, is expanding its footprint into video games as the streaming industry is experiencing slow growth due to the COVID-19 pandemic.
In its quarterly letter to shareholders, the firm explained that it was taking this step to keep the attention of customers in the increasingly competitive world of streaming television as the once pandemic boom has seen drops in major markets – the United States and Canada.
Netflix said it was in the early stages of expanding its video game offerings, which would be available to subscribers at no extra charge. The company will initially focus primarily on mobile games.
The streaming service offered details of its plans to move into games in its latest update, confirming cooling growth even as the Silicon Valley giant spins off hit shows.
"We view gaming as another new content category for us, similar to our expansion into original films, animation and unscripted TV," the company said.
The multi-year effort will start "relatively small" with games tied to Netflix hits, Chief Operating Officer and Chief Product Officer, Mr Greg Peters noted.
"We know that fans of those stories want to go deeper. They want to engage further," Mr Peters said.
Netflix has dabbled in video games with a few titles linked to series including Stranger Things and The Dark Crystal: Age of Resistance.
On his part, co-CEO, Mr Reed Hastings said gaming and other ventures such as podcasts and merchandise sales will be "supporting elements" to help attract and retain customers to its core business of streaming video.
The company projected it would add 3.5 million customers from July through September.
For the just-ended quarter, Netflix added 1.54 million customers, beating analyst projections of 1.04 million. Total subscribers numbered 209 million at the end of June.
A year ago, Netflix picked up 10.1 million subscribers in the second quarter.
This year, Netflix felt the impact of COVID-19 on TV production, which left the company with a small menu of new titles.
The company also had to deal with competition from Walt Disney Co's Disney+, AT&T Inc's HBO Max and other services attracting customers and in addition, summer blockbusters returned to the cinemas.
The easing of pandemic safety measures also lured people out of their homes and away from their televisions.
Netflix promises a heavier lineup in the second half of 2021, including new seasons of "You," "Money Heist" and "The Witcher."
If its subscriber forecast pans out, Netflix will have added more than 54 million subscribers over the past two years, a pace consistent with its annual additions before the COVID-19 pandemic, the company said.
It also noted that streaming television still accounts for a small portion of overall viewing time and that its service is less mature outside the United States.
FilmOne to Premiere '76 on Netflix August 4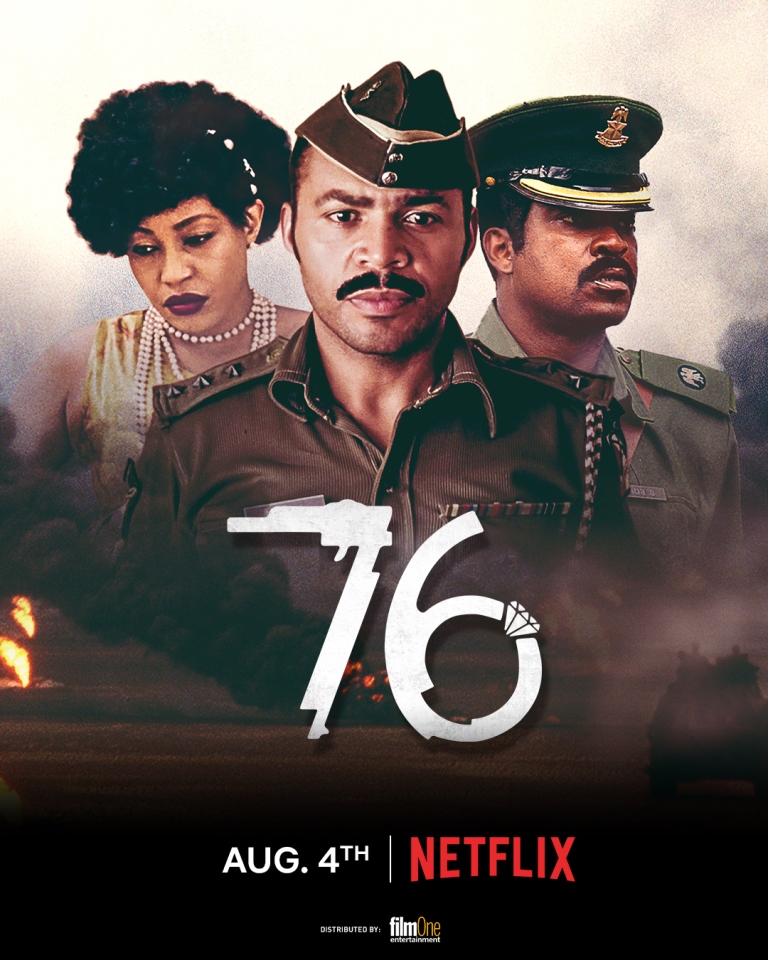 By Aduragbemi Omiyale
Five years after premiering in cinemas across Nigeria, the award-winning movie, '76, will be available to audiences worldwide on the global streaming service, Netflix, from August 4, 2021.
The flick is being taken to the global platform by a leading film company in West Africa, FilmOne Entertainment.
'76, produced by Adonis Production and Princewills Trust, was released in cinemas in 2016. The movie was set six years after the Nigerian civil war and tells the story of Joseph Dewa, a young military officer from the Middle Belt, who gets into a romantic relationship with an O-level student, Suzy, from the South-eastern region.
However, their relationship is strained by constant military postings and Suzy's family, who would not tolerate a relationship with Joseph's people.
In a series of events that unfold amid betrayal from a close friend, Joseph is falsely accused of being a co-conspirator of the unsuccessful 1976 military coup that ultimately led to the assassination of General Murtala Mohammed. Proving his innocence and securing his release became dependent on the bravery of his pregnant wife.
It stars multi-award-winning actor, Ramsey Noah in the lead role, supported by ace actors – Rita Dominic, Chidi Mokeme and Ibinabo Fiberisima, amongst others.
Following its hugely successful Nigerian launch, '76 went on to screening at the Toronto International Film Festival (TIFF) in 2016 and was the closing film at the Africa International Film Festival (AFRIFF) in the same year.
Co-founders of Filmhouse Group (owners of FilmOne Entertainment), Kene Okwuosa and Moses Babatope, are excited about the acquisition and described the film as a model for the region.
"We are happy to be part of such a remarkable milestone in the Nigerian film industry. '76 is a clear example of dynamic story-telling, portraying the essential characteristics of an ideal global export from this region," Okwuosa said.
They also maintained that the film has the potential to influence positive perceptions about the industry on the global stage.
"This kind of content shapes a narrative that portrays the richness of our history, culture and artistry, in great light. We are super proud of the '76 team and thankful to Netflix for recognizing a gem," Babatope added.
Producers, Adonijah Owiriwa and Tonye Princewill issued a joint statement, expressing their hope that the deal would be the first amongst many.
"Proving once again that Nollywood is a powerhouse, not only for Africa but the world. We have always been very selective about our projects and this deal is evidence that good things happen to those who wait and pay attention to detail," they said.
According to director, Izu Ojukwu, seeing '76 reach a global audience is a dream come true, noting that, "My team and I poured our heart and soul into the making of this film, to honour the age and live up to the responsibility the project itself placed on us. My overwhelming thought is gratitude for the opportunity and appreciation for the recognition."
HAPAwards 2021 Organisers Honour Toyin Kolade
By Modupe Gbadeyanka
A Lagos-based socialite, businesswoman and philanthropist, Mrs Toyin Kolade, has been celebrated by organisers of the Hollywood and African Prestigious Awards (HAPAwards).
Mrs Kolade, fondly called Iyalaje of the Source, was honoured by HAPAwards organisers on her birthday for good works, business strides and positive contributions to the development of society.
The African representative of HAPAwards, Mr Adeola Odunowo, led other team members to the residence of Mrs Kolade to present her with a trophy.
"We decided to honour her on a special day and also officially present a trophy as the International Business Woman of the Year 2020 from the last edition of HAPAwards, which took place in the United State of America," Mr Odunowo said.
He further noted the awards appreciation of the awardee's immense efforts to showcase the African heritage and reposition Yoruba culture and tradition around the world.
He disclosed that the 5th edition of HAPAwards has already commenced with activities in top gear to make this year's edition a memorable one.
According to him, the theme for HAPAwards 2021 is Collaboration for Global Development, Peace and Prosperity.
Responding, Mrs Kolade, who is the Managing Director of Fisolak Global Resources, praised and thanked the executives of HAPAwards for the global recognition even with the ongoing pandemic which has ravaged the entire world.
She disclosed that the honour will encourage and motivate her to do more for the less privileged in society while representing Africa on the global stage.
Mrs Kalode is also the sole promoter of the Aje Festival (Festival of Wealth) in Ile-Ife, the cradle of the Yoruba race. It was gathered that she is planning to celebrate her installation as the Iyalaje Oodua by the Ooni of Ife, Oba Babatunde Adeyeye Ogunwusi, on July 17, 2021, in Ile-Ife.
The HAPAwards is a US-based award that recognises outstanding individuals, whose lives have been marked by extraordinary personal and professional accomplishments.
Last year, Richard Mofe Damijo, Patoranking, Rita Dominic, Kate Henshaw and Oba Olufolarin Ogunsanwo, the Alara of Ilara Kingdom, were among notable personalities across Africa and beyond that were honoured.
Latest News on Business Post