Music Star Mr Eazi Partners Decagon to Help Aspiring Software Engineers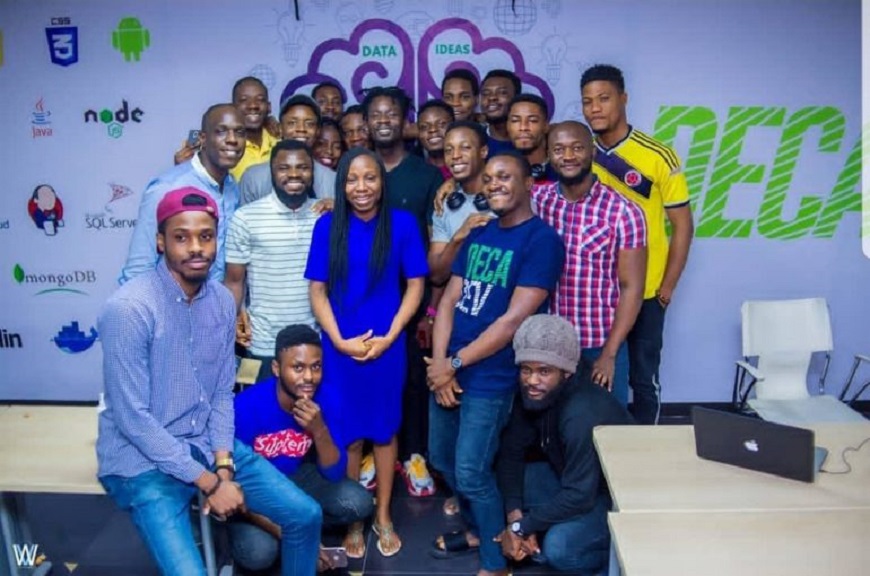 By Adedapo Adesanya
Popular music star, Tosin Mr Eazi Ajibade, has announced a partnership with Decagon, organisers of Nigeria's top software engineering training programme, to help brilliant young Nigerians actualise their dream of becoming software engineers.
Mr Eazi will serve as a sponsor for 5 residents or indigenes of Ogun State to attend Decagon.
Decagon recently opened applications for its 6-month training programme and the sponsorship will include accommodation, feeding, laptop, internet and a monthly stipend, followed by an immediate job placement into companies like Access Bank, Sterling Bank and Etranzact after graduating.
However, successful applicants are required to have a credible guarantor in order to access the Pay-Later model and this has proven difficult for some otherwise successful applicants in the past. It is due to this challenge that Mr Eazi has decided to step in and guarantee 5 lucky ones from Ogun State, by residence or origin.
Mr Chika Nwobi, CEO of Decagon, said, "For some who do not have access to someone in their family or network to stand in for them, Mr Eazi is providing a lifeline and this is the type of collaboration that will move Nigeria forward."
Mr Eazi is a singer, songwriter, and entrepreneur. He is passionate about music and any program that supports emerging talent in Africa. In June 2020, the hitmaker launched the African Music Fund (AMF) with an initial investment of $20 million dedicated to African creatives.
He recently launched the emPawa initiative to provide a hundred African artists with funding to shoot their music videos and through this, artistes like Joeboy among others have emerged.
Speaking about Decagon deal, he said, "I've always been passionate about helping young people and pushing them to be the best version of themselves. For some of them, their talents naturally align with software engineering.
"I am happy to support this initiative in the hopes that they can support themselves and their families."
By visiting http://applications.decagonhq.com, interested candidates can apply before November 22nd for this programme which doesn't require any payment of fees until the trainees have graduated and started working and earning salaries.
Nigerian Idol Winner Kingdom Lauds Rite Foods
By Ashemiriogwa Emmanuel
Winner of the Nigerian Idol season 6, Kingdom Kroseide, has expressed gratitude to Rite Foods Limited, manufacturers of premium Bigi drinks, which was the chief sponsor of the reality music show.
The 24-year-old Bayelsa-born singer praised the Bigi brand for supporting the platform that brought him to the limelight when he visited the company's corporate headquarters in Lagos.
It was the first time Kingdom and the other top contestants of the just-concluded programme visited the office of the sponsor of the music competition.
According to Kingdom, his unique style was a key instrument that made him clinch the crown of the competition, and he likened it to what the Bigi water stands for.
"Bigi water is just unique with a crisp and refreshing taste and that distinctiveness was what brought me this far," the Nigerian Idol winner stated.
"I thank Bigi, I thank Rite Foods, the proudly Nigerian and truly world-class company for sponsoring the show which has favoured me to be announced in my music career. The platform has exposed me, and this is indeed a whole new level for me," he said.
Kingdom's gratitude, along with the interaction of other stars at the event, saw the reiteration of what they went through during the music contest, as well as how they were inspired by their interaction with the brand.
Also present at the event was the Brand Manager, Beverage and Bakery, Rite Foods, Ms Boluwatife Adedugbe, who assured the winner and other top contestants that the Bigi brand will always be there to promote and support them through their careers.
Netflix Delves Into Video Games as Streaming Growth Slows
By Adedapo Adesanya
A streaming service, Netflix, is expanding its footprint into video games as the streaming industry is experiencing slow growth due to the COVID-19 pandemic.
In its quarterly letter to shareholders, the firm explained that it was taking this step to keep the attention of customers in the increasingly competitive world of streaming television as the once pandemic boom has seen drops in major markets – the United States and Canada.
Netflix said it was in the early stages of expanding its video game offerings, which would be available to subscribers at no extra charge. The company will initially focus primarily on mobile games.
The streaming service offered details of its plans to move into games in its latest update, confirming cooling growth even as the Silicon Valley giant spins off hit shows.
"We view gaming as another new content category for us, similar to our expansion into original films, animation and unscripted TV," the company said.
The multi-year effort will start "relatively small" with games tied to Netflix hits, Chief Operating Officer and Chief Product Officer, Mr Greg Peters noted.
"We know that fans of those stories want to go deeper. They want to engage further," Mr Peters said.
Netflix has dabbled in video games with a few titles linked to series including Stranger Things and The Dark Crystal: Age of Resistance.
On his part, co-CEO, Mr Reed Hastings said gaming and other ventures such as podcasts and merchandise sales will be "supporting elements" to help attract and retain customers to its core business of streaming video.
The company projected it would add 3.5 million customers from July through September.
For the just-ended quarter, Netflix added 1.54 million customers, beating analyst projections of 1.04 million. Total subscribers numbered 209 million at the end of June.
A year ago, Netflix picked up 10.1 million subscribers in the second quarter.
This year, Netflix felt the impact of COVID-19 on TV production, which left the company with a small menu of new titles.
The company also had to deal with competition from Walt Disney Co's Disney+, AT&T Inc's HBO Max and other services attracting customers and in addition, summer blockbusters returned to the cinemas.
The easing of pandemic safety measures also lured people out of their homes and away from their televisions.
Netflix promises a heavier lineup in the second half of 2021, including new seasons of "You," "Money Heist" and "The Witcher."
If its subscriber forecast pans out, Netflix will have added more than 54 million subscribers over the past two years, a pace consistent with its annual additions before the COVID-19 pandemic, the company said.
It also noted that streaming television still accounts for a small portion of overall viewing time and that its service is less mature outside the United States.
FilmOne to Premiere '76 on Netflix August 4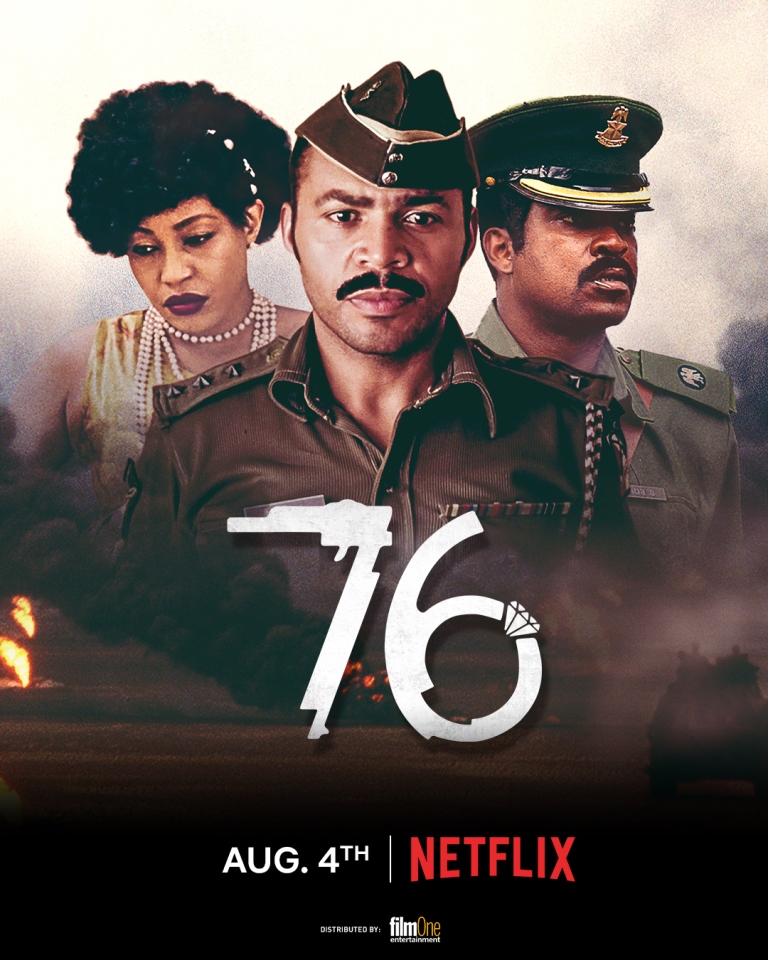 By Aduragbemi Omiyale
Five years after premiering in cinemas across Nigeria, the award-winning movie, '76, will be available to audiences worldwide on the global streaming service, Netflix, from August 4, 2021.
The flick is being taken to the global platform by a leading film company in West Africa, FilmOne Entertainment.
'76, produced by Adonis Production and Princewills Trust, was released in cinemas in 2016. The movie was set six years after the Nigerian civil war and tells the story of Joseph Dewa, a young military officer from the Middle Belt, who gets into a romantic relationship with an O-level student, Suzy, from the South-eastern region.
However, their relationship is strained by constant military postings and Suzy's family, who would not tolerate a relationship with Joseph's people.
In a series of events that unfold amid betrayal from a close friend, Joseph is falsely accused of being a co-conspirator of the unsuccessful 1976 military coup that ultimately led to the assassination of General Murtala Mohammed. Proving his innocence and securing his release became dependent on the bravery of his pregnant wife.
It stars multi-award-winning actor, Ramsey Noah in the lead role, supported by ace actors – Rita Dominic, Chidi Mokeme and Ibinabo Fiberisima, amongst others.
Following its hugely successful Nigerian launch, '76 went on to screening at the Toronto International Film Festival (TIFF) in 2016 and was the closing film at the Africa International Film Festival (AFRIFF) in the same year.
Co-founders of Filmhouse Group (owners of FilmOne Entertainment), Kene Okwuosa and Moses Babatope, are excited about the acquisition and described the film as a model for the region.
"We are happy to be part of such a remarkable milestone in the Nigerian film industry. '76 is a clear example of dynamic story-telling, portraying the essential characteristics of an ideal global export from this region," Okwuosa said.
They also maintained that the film has the potential to influence positive perceptions about the industry on the global stage.
"This kind of content shapes a narrative that portrays the richness of our history, culture and artistry, in great light. We are super proud of the '76 team and thankful to Netflix for recognizing a gem," Babatope added.
Producers, Adonijah Owiriwa and Tonye Princewill issued a joint statement, expressing their hope that the deal would be the first amongst many.
"Proving once again that Nollywood is a powerhouse, not only for Africa but the world. We have always been very selective about our projects and this deal is evidence that good things happen to those who wait and pay attention to detail," they said.
According to director, Izu Ojukwu, seeing '76 reach a global audience is a dream come true, noting that, "My team and I poured our heart and soul into the making of this film, to honour the age and live up to the responsibility the project itself placed on us. My overwhelming thought is gratitude for the opportunity and appreciation for the recognition."
Latest News on Business Post