Music Star Mr Eazi Partners Decagon to Help Aspiring Software Engineers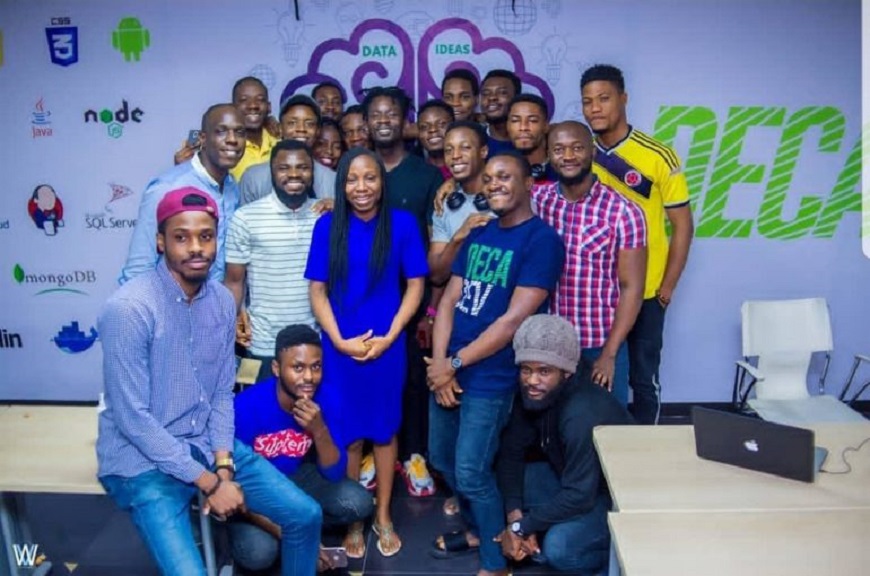 By Adedapo Adesanya
Popular music star, Tosin Mr Eazi Ajibade, has announced a partnership with Decagon, organisers of Nigeria's top software engineering training programme, to help brilliant young Nigerians actualise their dream of becoming software engineers.
Mr Eazi will serve as a sponsor for 5 residents or indigenes of Ogun State to attend Decagon.
Decagon recently opened applications for its 6-month training programme and the sponsorship will include accommodation, feeding, laptop, internet and a monthly stipend, followed by an immediate job placement into companies like Access Bank, Sterling Bank and Etranzact after graduating.
However, successful applicants are required to have a credible guarantor in order to access the Pay-Later model and this has proven difficult for some otherwise successful applicants in the past. It is due to this challenge that Mr Eazi has decided to step in and guarantee 5 lucky ones from Ogun State, by residence or origin.
Mr Chika Nwobi, CEO of Decagon, said, "For some who do not have access to someone in their family or network to stand in for them, Mr Eazi is providing a lifeline and this is the type of collaboration that will move Nigeria forward."
Mr Eazi is a singer, songwriter, and entrepreneur. He is passionate about music and any program that supports emerging talent in Africa. In June 2020, the hitmaker launched the African Music Fund (AMF) with an initial investment of $20 million dedicated to African creatives.
He recently launched the emPawa initiative to provide a hundred African artists with funding to shoot their music videos and through this, artistes like Joeboy among others have emerged.
Speaking about Decagon deal, he said, "I've always been passionate about helping young people and pushing them to be the best version of themselves. For some of them, their talents naturally align with software engineering.
"I am happy to support this initiative in the hopes that they can support themselves and their families."
By visiting http://applications.decagonhq.com, interested candidates can apply before November 22nd for this programme which doesn't require any payment of fees until the trainees have graduated and started working and earning salaries.
Africa Day: YouTube Honours Nollywood, African Storytelling
Nollywood stars, creators, and creative community members gathered together at a YouTube event titled Celebration of Nollywood on Africa Day.
This event celebrated the enchanting world of Nollywood and marked the significant contributions of African storytelling through cinema, paying tribute to the creators who bring these narratives to life.
The event welcomed 150 attendees and assembled prominent celebrities and influential personalities from the Nollywood industry.
Notable guests included veteran actress Sola Sobowale, AMVCA comedian of the year Bimbo Ademoye, Adeyemi Okanlawon, Debo Adedayo aka Mr Macaroni, and Linda Ejiofor-Suleiman.
Top Nigerian YouTube content creators such as Apaokagi-Greene Maryam aka Taaooma, AMVCA award winner Samuel Animashaun Perry aka Broda Shaggi, and Chukwuebuka Emmanuel Amuzie aka Brainjotter, also graced the event.
Among the sessions at the event was a panel discussion addressing Nollywood's growth and the potential of digital technology in the industry. The panellists, including Murphy Ben, CEO of Murphy Ben International and Aforevo, YouTube content creator Taaooma, and Nollywood actress and movie producer Rahama Sadau, shared invaluable insights on leveraging digital technology for industry growth and scalability.
Alex Okosi, YouTube EMEA Managing Director for Emerging Markets, acknowledged the significant impact of Nollywood and the transformative power of storytelling.
He emphasized YouTube's dedication to partnering with Nollywood and serving as a platform where meaningful stories are shared and celebrated globally.
Okosi stated, "Your work is reshaping global narratives about Africa and Nigeria. It's not merely entertainment – it's powerful, transformative, and making a real difference. The stories you tell and the emotions you evoke resonate with audiences worldwide. YouTube is privileged to partner with you and provide a platform to share and celebrate these impactful narratives globally."
Olumide Balogun, Interim Country Lead at Google Nigeria, shed light on YouTube's commitment to supporting and promoting the Nollywood industry by promoting movies, actors, producers, and other industry members. He outlined a two-month-long program designed to spur the growth of Nollywood on YouTube.
Acclaimed actors, talented producers, and influential film community members enlivened the event, contributing to the celebratory ambience. The event showcased Africa's dynamic culture and creativity, emphasising Nollywood's significant role in shaping global perceptions and narratives.
In a world full of diverse stories, YouTube has remained committed to supporting black creatives across the globe, recognizing their invaluable contributions to the platform and beyond.
This commitment is exemplified by initiatives such as the #YouTubeBlack Voices Fund, a global fund aimed at amplifying Black voices and perspectives and facilitating the creation of fresh narratives that educate audiences about racial justice. With a deep gratitude for the creative community, YouTube fosters an environment where diverse voices are heard, respected, and empowered.
Excitement as Nigerian Idol Season 8 Live Show Begins
By Modupe Gbadeyanka
All is now set for the commencement of the Nigerian Idol Season 8 Live Show this weekend after the judges chose 10 contestants for the stage.
The process started last December with entries received from across the country and reached its high point when the trio of Obi Asika, D'Bank, and Simi selected 10 budding singers from the 29 who made it to the theatre week.
The live show is the crucial phase of Nigerian Idol, as the fate of the contestants is in the hands of the voting public.
Savvy Henry, Constance, Goodness, Abraham, Quest, Precious Mac, Victory, Reigny, Ose Daniel, and Chisom were selected for the final stage after five weeks of audition and theatre week performances.
Performances on the live show will be judged by the viewers, who hold the power to retain and evict contestants through their votes.
Viewers can follow their favourite contestants on Nigerian Idol season 8 by tuning in to Africa Magic Showcase, Africa Magic Urban, and Africa Magic Family every Sunday at 7 pm.
Judges Pick 10 Contestants for Nigerian Idol Season 8 Live Show
By Aduragbemi Omiyale
The ongoing Nigerian Idol Season 8 will take a new twist this weekend as 10 contestants will begin the race to clinch the coveted prize with the help of the voting public.
Before now, the judges for the show, Simi, Obi Asika, and D'Banj, have had the final say on the thousands of budding singers that applied for the programme.
But from this weekend, it would be the turn of the viewers to seal the fate of the contestants. The three judges picked 10 contestants from the 29 that made it to the final stage of Theatre Week after doing their final solo performance.
The aspiring music stars would be expected to sing and impress the viewers with their performances during the Nigerian Idol Season 8 live show on Sunday, May 28, 2023.
The first pick for the final top 10 was Henry Savy, who impressed the judges with his Para performance of Davido, as 17-year old Constance stole the show as she melted hearts with Positions by Ariana Grande, while Precious Mac thrilled and filled the theatre with singer Simi's Ayo.
The judges also selected Victory, Daniel Ose, Goodness, Abraham, Reigny and Quest after singing No Shaking by 2baba, Catch me if you can by Adekunle Gold, About damn time by Lizzo, Under the Influence by Chris Brown, Karma by Summer Walker, and Flowers by Miley Cyrus, respectively.
The last man standing, Chizo, narrowly escaped this time around, unlike last season when he was sent off at a crucial moment.
Meanwhile, 19 contenders – Arite, Sapphire Whinnas, Amaka, Akinwande, Mura's twin brother (Mina), Eloehi, Daniel, Sir Danny, Soultunes, Busayo, and nine others were tactfully eliminated from the moving train as it could only accommodate the 10 best acts this time around.
While commenting, Ms Aransiola Biola, who is the Assistant Brand Manager of the sponsor of the show, Bigi, said the support was to help discover and nurture talent across the country and the African continent and a demonstration of its mantra that it is for every moment, connecting consumers through worthy platforms.
"We are excited to sponsor Nigerian Idol for three consecutive years, the Seasons 6 and 7, due to our love for promoting the entertainment industry and to support the next generation of musical talents," she stated.
"This show is a great opportunity for contestants to showcase what they have as they unlock new opportunities in the music industry," she added.
Latest News on Business Post