Music Star Mr Eazi Partners Decagon to Help Aspiring Software Engineers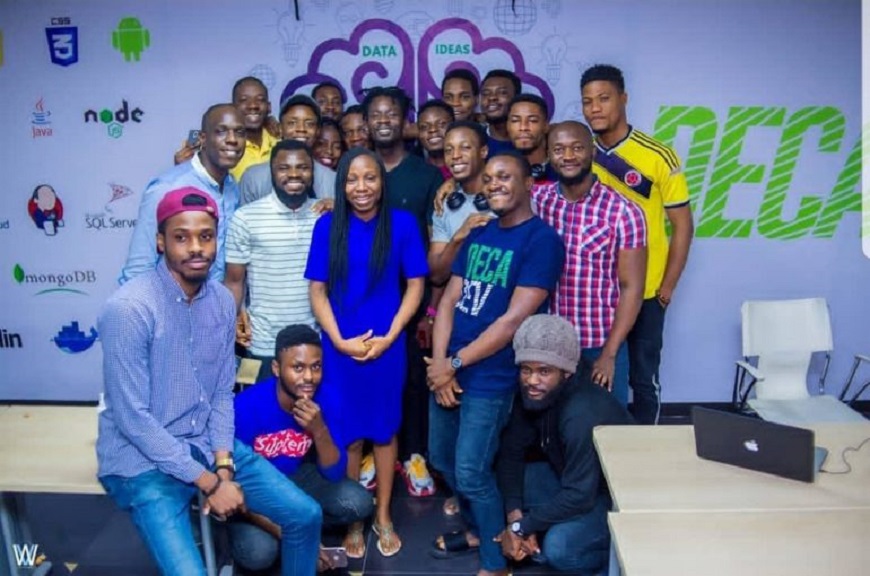 By Adedapo Adesanya
Popular music star, Tosin Mr Eazi Ajibade, has announced a partnership with Decagon, organisers of Nigeria's top software engineering training programme, to help brilliant young Nigerians actualise their dream of becoming software engineers.
Mr Eazi will serve as a sponsor for 5 residents or indigenes of Ogun State to attend Decagon.
Decagon recently opened applications for its 6-month training programme and the sponsorship will include accommodation, feeding, laptop, internet and a monthly stipend, followed by an immediate job placement into companies like Access Bank, Sterling Bank and Etranzact after graduating.
However, successful applicants are required to have a credible guarantor in order to access the Pay-Later model and this has proven difficult for some otherwise successful applicants in the past. It is due to this challenge that Mr Eazi has decided to step in and guarantee 5 lucky ones from Ogun State, by residence or origin.
Mr Chika Nwobi, CEO of Decagon, said, "For some who do not have access to someone in their family or network to stand in for them, Mr Eazi is providing a lifeline and this is the type of collaboration that will move Nigeria forward."
Mr Eazi is a singer, songwriter, and entrepreneur. He is passionate about music and any program that supports emerging talent in Africa. In June 2020, the hitmaker launched the African Music Fund (AMF) with an initial investment of $20 million dedicated to African creatives.
He recently launched the emPawa initiative to provide a hundred African artists with funding to shoot their music videos and through this, artistes like Joeboy among others have emerged.
Speaking about Decagon deal, he said, "I've always been passionate about helping young people and pushing them to be the best version of themselves. For some of them, their talents naturally align with software engineering.
"I am happy to support this initiative in the hopes that they can support themselves and their families."
By visiting http://applications.decagonhq.com, interested candidates can apply before November 22nd for this programme which doesn't require any payment of fees until the trainees have graduated and started working and earning salaries.
Spotify to Commence Operations in Nigeria, Others
A Swedish audio streaming and media services provider, Spotify, has announced its intention to commence business operations in Nigeria, some African countries and others in the coming days.
To ensure usability in all of these new markets, the company also officially added support for 36 new languages to its platform, including Romanian, Hindi and Swahili. This means the platform now supports more than 60 languages in total.
Spotify explained that it was expanding its services to many Africam nations because these areas represent more than one billion potential new listeners.
"As part of our ongoing commitment to building a truly borderless audio ecosystem— connecting creators, listeners, and content—Spotify is embarking on a sweeping expansion that will introduce the world's most popular audio streaming subscription service available to more than a billion people in 80+ new markets around the world, and add 36 languages to our platform.
"These moves represent Spotify's broadest market expansion to date," the statement on the official website read.
With the additional countries and territories, Spotify's total footprint will cover 178 markets which the company says is its biggest concentrated market expansion to date.
According to Spotify, its full global music catalogue will be available in each of the new markets and the entire podcast catalogue will be available in the majority of them.
In each new market, "We will work with local creators and partners to expand our music offerings and deliver a Spotify experience that meets the unique needs of each market."
The full list of new markets includes Angola, Antigua and Barbuda, Armenia, Azerbaijan, Bahamas, Bangladesh, Barbados, Belize, Benin, Bhutan, Botswana, Brunei Darussalam, Burkina Faso, Burundi, Cabo Verde, Cambodia, Cameroon, Chad, Comoros, Côte d'Ivoire, Curaçao, Djibouti, Dominica, Equatorial Guinea, Eswatini, Fiji, Gabon, Gambia, Georgia, Ghana, Grenada, Guinea, Guinea-Bissau, Guyana, Haiti, Jamaica, Kenya, Kiribati, Kyrgyzstan, Lao People's Democratic Republic, Lesotho, Liberia, Macau, Madagascar, Malawi, Maldives, Mali, Marshall Islands, Mauritania, Mauritius, Micronesia, Mongolia, Mozambique and many more.
Spotify offers digital copyright restricted recorded music and podcasts including more than 70 million songs, from record labels and media companies. As a freemium service, basic features are free with advertisements and limited control, while additional features, such as offline listening and commercial-free listening, are offered via paid subscriptions.
Users can search for music based on artist, album, or genre, and can create, edit, and share playlists on the platform.