Boomplay Signs Deal to Stream UMG Songs in 47 African Countries
By Ahmed Rahma
A deal to allow the streaming of songs from the stables of Universal Music Group (UMG) in more African countries on the Boomplay platform has been signed.
Before the agreement, Boomplay had the licence to stream the UMG global music catalogue in just seven African nations, but with the latest development, 40 more countries have been added.
It was gathered that the agreement between both parties benefit African musicians and talent and expand the listening experience for Boomplay users across Africa.
Boomplay's catalogue currently stands at more than 50 million tracks and it boasts the largest repertoire of local African content globally, with 50 million monthly active users (MAU).
"Since our original deal with UMG, the African music industry has seen exponential growth and made huge strides towards being the next powerhouse that it should be.
"We're excited to continue partnering with the UMG team to help promote their African and international artists by bringing their catalogue to even more regions across Africa," the Director of Content and Strategy at Boomplay, Mr Phil Choi, said of the deal.
Also commenting of the agreement, the Managing Director of Universal Music Africa, Mr Franck Kacou, who also leads UMG's activity across French-speaking Africa, stated that, "We are excited for our artists and labels to be available now to music fans across these 25 French speaking countries, but also to reach audiences across the rest of the continent."
"Africa is rich with artistic talent and musical culture and continues to inspire millions of Africans for whom music is an essential part of their daily lives.
"Working alongside Boomplay, we will help introduce these talents to new audiences, as the appetite for music continues to grow throughout these countries," he added.
Business Post reports that with this deal, Boomplay users will now have access to UMG's extensive catalogue of both local and global recording artistes and labels including Tiwa Savage (Nigeria), Nasty C (SA), Mi Casa (SA), Sauti Sol (Kenya), Cassper Nyovest (SA), Toofan (Togo), Tekno (Nigeria), Suspect 95 (Côte d'Ivoire), Brenda Fassie (SA), Tenor (Cameroon), Black Coffee (SA), Dena Mwana (DRC), Singuila (DRC), Locko (Cameroon), Hugh Masekela (SA), Charlotte Dipanda (Cameroon), Diamond Platnumz (Tanzania), Alpha P (Nigeria), Tomi Owo (Nigeria), Cysoul (Cameroon), Major League Djz (SA), Fior De Bior (Côte d'Ivoire), Larry Gaaga (Nigeria), Prince Kaybee (SA) alongside international artists from the world's largest music catalog including: Da Baby, Drake, Lil Baby, Justin Bieber, The Weeknd, Ariana Grande, Selena Gomez, Stevie Wonder, Billie Eilish, Booba, Dadju, Tasha Cobbs, Niska, Lionel Richie, Rihanna, Motown's Catalog and Bob Marley.
Recall that in 2018, UMG became the first major global music company to license music to Boomplay, which has been at the forefront of the music streaming market since 2015.
Buga Keeps Kizz Daniel on Spotify's Top Artist Chart for 13th Week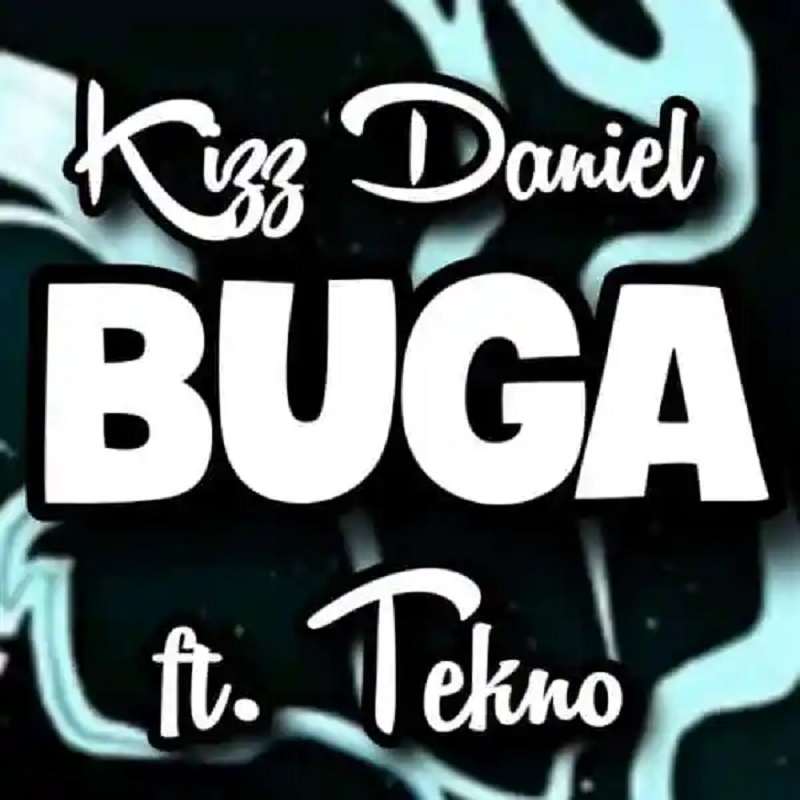 By Dipo Olowookere
For the 13th straight week, Afro-beat act, Kizz Daniel, has remained on Spotify's Top Artist Chart courtesy of his latest song of the moment, Buga, which features Tekno.
In the latest chart released by the audio-streaming platform, Kizz Daniel, who has since moved on from his issues with his former record label, G-Worldwide, was number one. He was followed by Victony, Burna Boy, BNXN (formerly known as Buju) and Rema.
A look at this chart revealed that Tekno was the biggest climber at number, while Ktizo was the highest new entry for the week at number 127.
As for the Top Songs chart, Buga by Kizz Daniel moved up by 72 spots to number one, while Finesse by Pheels and Buju clinched the second spot. Kolomental by Victony occupied number three, Sungba (feat. Burna Boy) – Remix by Asake & Burna Boy is number four and Dada (feat. Davido) – Remix by Young Jonn & Davido is number five.
Further analysis of this log showed that Calm Down has remained on the list for 13 weeks stretch, while Chop & Slide by Victony is the highest new entry this week at number 14.
For the Top Albums of the week, Spotify said Come Home The Kids Miss You by Jack Harlow ranked as the highest new entry at number 5, with the top spot claimed by Rave and Rose by Rema. The second position was taken by I Never Liked You by Future, Barnabas by Kizz Daniel is third, while Made in Lagos Deluxe Edition by WizKid is fourth.
However, Drake continues to claim the most spots in Nigeria with Certified Lover Boy at number 14. Barnabas by Kizz Daniel has been on the Top Albums chart the longest with a 13-week streak, while Born 2 Shine by T DOLLAR is the biggest winner, moving up by 75 spots to number 118.
YouTube Music, Sarz Academy to Train Producers, Songwriters
By Adedapo Adesanya
YouTube Music has collaborated with The Sarz Academy to train emerging producers and songwriters in Nigeria as part of a series of initiatives commemorating Africa Month 2022.
The training is part of YouTube's Future Insiders program and will be a three-day training series designed to help young producers and songwriters build their skills and abilities through hands-on training from famous music and industry leaders.
Speaking on this, Mr Osabuohien Osaretin, popularly known as Sarz, founder of the Sarz Academy said, "We founded the Sarz Academy in 2015 to help creatives thrive in the creative and business of entertainment.
"Our objective has always been to help turn the enormous potential that exists in the music creative space into genuine accomplishments.
"We recognize that, although many young Nigerians possess the necessary abilities for the industry, many are unable to create a successful music career owing to a lack of grasp of the business and production foundations."
Business Post had earlier reported that a series of activities commemorating Africa Month will take place throughout the month of May.
The initiatives, including the Future Insiders' workshop, are meant to bring attention to and show appreciation for the artists and creatives who are moving Africa's music business forward.
On her part, Addy Awofisayo, YouTube's Head of Music, Sub-Saharan Africa explained, "At YouTube, we've always been committed to supporting the next generation of music creatives out of Africa, and we are thrilled at the opportunity to connect the impactful work of the YouTubeBlackVoices Fund with The Sarz Academy's efforts to support the artistic aspirations of Nigerian music creatives."
Future Insiders is a component of the Black Voices Fund's Music Community Pillar, which provides possibilities for exposure and learning for young people all across the world.
It has collaborated with community-oriented groups in New York, Los Angeles, the Bay Area, Rio de Janeiro, Houston, Atlanta, London, Lagos, Accra, and now Memphis.
In addition to technical production and business sessions, selected participants will access one-on-one sessions with YouTube to learn how to connect and use the platform to drive the best engagement, as well as learn about all the essential tips such as creating and developing their brands, self-marketing, building positive artist and producer relationships, and revenue streams to consider.
Also commenting, the General Secretary of Sarz Academy, Ms Olajumoke Olayiwola, explained that "the 2022 Future Insiders program will focus on the business and production sides of music, with the primary objective of assuring that new producers do not make the same errors as previous generations.
"This level of success demonstrates that we are on the right route, and we look forward to furthering sessions, the development of new hit-making producers, and the expansion of the Academy to more countries."
The Masterclass will be held at Ogidi Studios from May 25-27 2022, with attendees able to network and ask facilitators questions about the music industry.
Interested participants can apply via the website https://www.thesarzacademy.com/
Who Wears Nigerian Idol Season 7 Crown, Progress or Zadok?
By Dipo Olowookere
On Sunday, May 22, 2022, the Nigerian Idol Season 7 sponsored by Bigi and Binance will come to an end and a winner announced.
Last Sunday, Banty failed to make it to the Top 2 as she was eliminated from the show after securing the least votes, leaving Progress and Zadok to compete for the N100 million prizes promised by the organisers.
This Sunday, the duo will know their fate but they will expect that their performances in the last episode can fetch them the needed votes to clinch the coveted crown.
Last week, the two contestants showcased their musical talent in the songs performed, comprising their favourite, a song selected for them by the judges, and the last with the 121 Selah choir, a musical gospel group, which added colour to the evening performance.
Progress, who was the first to appear on the music stage, thrilled the judges and the audience electrifyingly with his favourite song A Change is Gonna Come by Sam Cooke, which led to a standing ovation, with IK Osakioduwa, the host, stating "that was amazing." And on what prompted his choice of song, Progress avowed that it is what the society needs at the moment, the change that would make things better for all and sundry.
His second song Joy released by Wizkid, picked for him by one of the judges, D'Banj, was also wonderfully done, with the host saying "that was very nice," while the third song, Jon Ogah's Uncle Zuru performed with the 121 Selah choir was fantastic met with applause and a standing ovation.
His rendition of this tune led to a good commendation from Obi Asika, who confessed that "your confidence is impressive, you are already a winner," while Simi affirmed "your performance is incredible, l want to be like you," and D'Banj saying "you have done well, keep progressing."
Zadok, who said he is a preacher of love, did When a man loves a woman by Michael Bolton, with IK Osakioduwa saying "this is what you know how to do best," and the second act, Michael Bolton's Soul Provider selected for him by Simi, one of the judges, was a fascinating performance that led to a flower gift from an excited lady fan, cheering him for the grand finale.
His third gig with Timi Dakolo's Wish me well got Simi excited, saying "that was astonishing, an excellent rendition" while D'Banj stated "you have a proper voice for the song, you are someone whom others would like to watch in a show," and Asika "I love the way you perform."
The final episode of the programme will air this weekend on Africa Magic Showcase (DStv channel 151), Africa Magic Urban (DStv channel 153, and GOtv Supa channel 6), and Africa Magic Family (DStv channel 154 & GOtv channel 2).
Latest News on Business Post