Buhari, Makinde, Minister Mourn Sound Sultan
By Modupe Gbadeyanka
President Muhammadu Buhari and Governor Seyi Makinde of Oyo State have mourned a popular music act, Lanre Fasasi, otherwise known as Sound Sultan, on Sunday.
The celebrated rapper, singer, songwriter and actor died at the age of 44 of throat cancer. His death came as a shock to many, though reports about his battle with cancer emerged in May 2021. He was buried in the United States yesterday in line with Islamic rites.
In a statement issued on Monday, President Buhari, through his Special Adviser on Media and Publicity, Mr Femi Adesina, stated that the demise of the artiste was not only a loss to the Nigerian music industry, but to the country as a whole.
Mr Buhari, while extending his heartfelt condolences to the Fasasi family, prayed for the eternal repose of the soul of the singer and divine peace and comfort for the family, friends and associates.
According to him, Sound Sultan "lived an exemplary life, achieved several milestones in his career and contributed greatly to the development of the Nigerian music and entertainment industry through his artistic genius, creativity and talent, which has inspired many young Nigerians in the industry."
The President said the deceased, while he was alive, "was kind, generous, and deeply passionate about issues in the country, which reflected in his music and art," noting that as an avid basketball fan, he made telling contributions to the development of local basketball in the country.
On his part, Governor Makinde, via a statement issued by his Special Assistant on Print Media, Mr Moses Alao, described the death of the entertainer as a huge loss to the state and the entertainment world.
He commiserated with the immediate family of the artiste, the Iseyin community and the entertainment industry on what he described as the demise of a truly great ambassador of Oyo State.
Mr Makinde noted that Sound Sultan made his mark and left strong messages for the Nigerian society through various songs with thematic preoccupations that centre on politics, commitment and service to fatherland, among others.
He charged youths in the state to borrow a leaf from the pages of Sound Sultan's books, as according to him, the late singer showed a great example of how to manage fame as a young person.
"The news of the death of popular singer and producer, Lanre Fasasi popularly known as Sound Sultan, unsettled me greatly.
"From afar, Sound Sultan cuts the figure of a well-bred young man, who achieved stardom by dint of hard work and managed to remain relevant without falling to the entrapments of fame and youthful exuberance.
"In him, Oyo State lost a truly great but humble artiste and ambassador. We lost an individual who tried his best to positively impact his society through entertainment.
"I commiserate with the family of Sound Sultan, the good people of Iseyinland, all residents of Oyo State and players in the entertainment industry.
"I pray to God to grant everyone related to him the fortitude to bear the loss," he said.
In the same vein, the Minister of Information and Culture, Mr Lai Mohammed, in a statement issued on Monday by his Special Assistant on Media, Mr Segun Adeyemi, said he was shocked and saddened by the untimely demise of Sound Sultan.
He described his death as a great loss not just to his family and the creative industry, but to Nigeria as a whole, expressing his condolences to the family, friends and fans of the departed artiste.
"'Our prayers and thoughts are with his wife, children and indeed his entire family at this time. May God comfort and strengthen them. May He also grant repose to the soul of the departed," Mr Mohammed said.
Netflix Delves Into Video Games as Streaming Growth Slows
By Adedapo Adesanya
A streaming service, Netflix, is expanding its footprint into video games as the streaming industry is experiencing slow growth due to the COVID-19 pandemic.
In its quarterly letter to shareholders, the firm explained that it was taking this step to keep the attention of customers in the increasingly competitive world of streaming television as the once pandemic boom has seen drops in major markets – the United States and Canada.
Netflix said it was in the early stages of expanding its video game offerings, which would be available to subscribers at no extra charge. The company will initially focus primarily on mobile games.
The streaming service offered details of its plans to move into games in its latest update, confirming cooling growth even as the Silicon Valley giant spins off hit shows.
"We view gaming as another new content category for us, similar to our expansion into original films, animation and unscripted TV," the company said.
The multi-year effort will start "relatively small" with games tied to Netflix hits, Chief Operating Officer and Chief Product Officer, Mr Greg Peters noted.
"We know that fans of those stories want to go deeper. They want to engage further," Mr Peters said.
Netflix has dabbled in video games with a few titles linked to series including Stranger Things and The Dark Crystal: Age of Resistance.
On his part, co-CEO, Mr Reed Hastings said gaming and other ventures such as podcasts and merchandise sales will be "supporting elements" to help attract and retain customers to its core business of streaming video.
The company projected it would add 3.5 million customers from July through September.
For the just-ended quarter, Netflix added 1.54 million customers, beating analyst projections of 1.04 million. Total subscribers numbered 209 million at the end of June.
A year ago, Netflix picked up 10.1 million subscribers in the second quarter.
This year, Netflix felt the impact of COVID-19 on TV production, which left the company with a small menu of new titles.
The company also had to deal with competition from Walt Disney Co's Disney+, AT&T Inc's HBO Max and other services attracting customers and in addition, summer blockbusters returned to the cinemas.
The easing of pandemic safety measures also lured people out of their homes and away from their televisions.
Netflix promises a heavier lineup in the second half of 2021, including new seasons of "You," "Money Heist" and "The Witcher."
If its subscriber forecast pans out, Netflix will have added more than 54 million subscribers over the past two years, a pace consistent with its annual additions before the COVID-19 pandemic, the company said.
It also noted that streaming television still accounts for a small portion of overall viewing time and that its service is less mature outside the United States.
FilmOne to Premiere '76 on Netflix August 4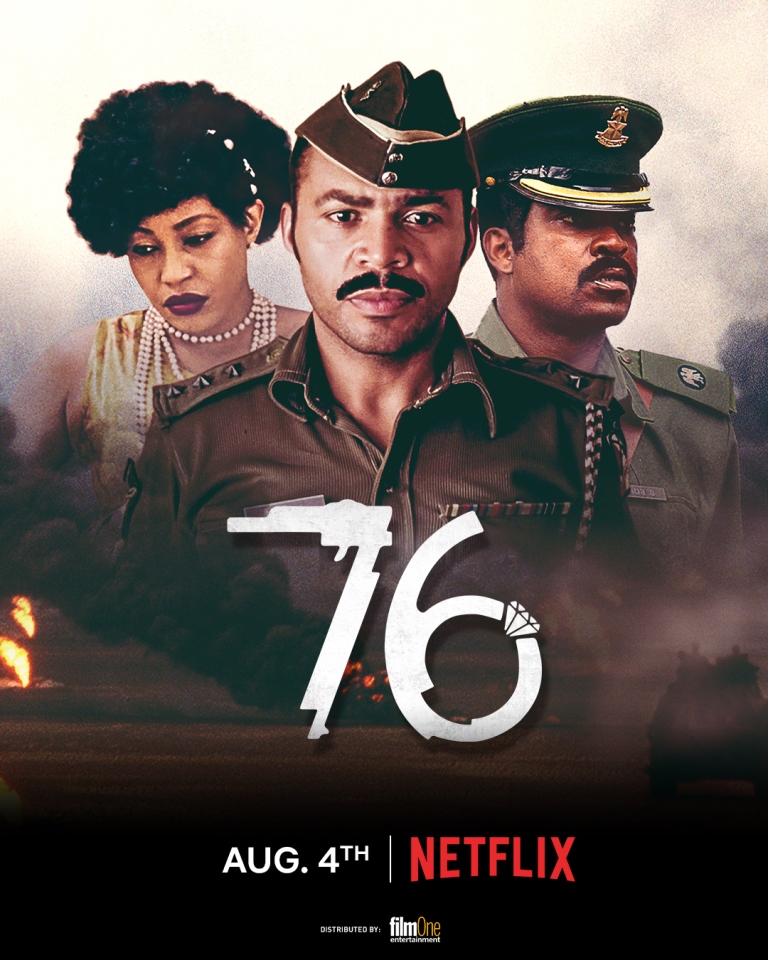 By Aduragbemi Omiyale
Five years after premiering in cinemas across Nigeria, the award-winning movie, '76, will be available to audiences worldwide on the global streaming service, Netflix, from August 4, 2021.
The flick is being taken to the global platform by a leading film company in West Africa, FilmOne Entertainment.
'76, produced by Adonis Production and Princewills Trust, was released in cinemas in 2016. The movie was set six years after the Nigerian civil war and tells the story of Joseph Dewa, a young military officer from the Middle Belt, who gets into a romantic relationship with an O-level student, Suzy, from the South-eastern region.
However, their relationship is strained by constant military postings and Suzy's family, who would not tolerate a relationship with Joseph's people.
In a series of events that unfold amid betrayal from a close friend, Joseph is falsely accused of being a co-conspirator of the unsuccessful 1976 military coup that ultimately led to the assassination of General Murtala Mohammed. Proving his innocence and securing his release became dependent on the bravery of his pregnant wife.
It stars multi-award-winning actor, Ramsey Noah in the lead role, supported by ace actors – Rita Dominic, Chidi Mokeme and Ibinabo Fiberisima, amongst others.
Following its hugely successful Nigerian launch, '76 went on to screening at the Toronto International Film Festival (TIFF) in 2016 and was the closing film at the Africa International Film Festival (AFRIFF) in the same year.
Co-founders of Filmhouse Group (owners of FilmOne Entertainment), Kene Okwuosa and Moses Babatope, are excited about the acquisition and described the film as a model for the region.
"We are happy to be part of such a remarkable milestone in the Nigerian film industry. '76 is a clear example of dynamic story-telling, portraying the essential characteristics of an ideal global export from this region," Okwuosa said.
They also maintained that the film has the potential to influence positive perceptions about the industry on the global stage.
"This kind of content shapes a narrative that portrays the richness of our history, culture and artistry, in great light. We are super proud of the '76 team and thankful to Netflix for recognizing a gem," Babatope added.
Producers, Adonijah Owiriwa and Tonye Princewill issued a joint statement, expressing their hope that the deal would be the first amongst many.
"Proving once again that Nollywood is a powerhouse, not only for Africa but the world. We have always been very selective about our projects and this deal is evidence that good things happen to those who wait and pay attention to detail," they said.
According to director, Izu Ojukwu, seeing '76 reach a global audience is a dream come true, noting that, "My team and I poured our heart and soul into the making of this film, to honour the age and live up to the responsibility the project itself placed on us. My overwhelming thought is gratitude for the opportunity and appreciation for the recognition."
HAPAwards 2021 Organisers Honour Toyin Kolade
By Modupe Gbadeyanka
A Lagos-based socialite, businesswoman and philanthropist, Mrs Toyin Kolade, has been celebrated by organisers of the Hollywood and African Prestigious Awards (HAPAwards).
Mrs Kolade, fondly called Iyalaje of the Source, was honoured by HAPAwards organisers on her birthday for good works, business strides and positive contributions to the development of society.
The African representative of HAPAwards, Mr Adeola Odunowo, led other team members to the residence of Mrs Kolade to present her with a trophy.
"We decided to honour her on a special day and also officially present a trophy as the International Business Woman of the Year 2020 from the last edition of HAPAwards, which took place in the United State of America," Mr Odunowo said.
He further noted the awards appreciation of the awardee's immense efforts to showcase the African heritage and reposition Yoruba culture and tradition around the world.
He disclosed that the 5th edition of HAPAwards has already commenced with activities in top gear to make this year's edition a memorable one.
According to him, the theme for HAPAwards 2021 is Collaboration for Global Development, Peace and Prosperity.
Responding, Mrs Kolade, who is the Managing Director of Fisolak Global Resources, praised and thanked the executives of HAPAwards for the global recognition even with the ongoing pandemic which has ravaged the entire world.
She disclosed that the honour will encourage and motivate her to do more for the less privileged in society while representing Africa on the global stage.
Mrs Kalode is also the sole promoter of the Aje Festival (Festival of Wealth) in Ile-Ife, the cradle of the Yoruba race. It was gathered that she is planning to celebrate her installation as the Iyalaje Oodua by the Ooni of Ife, Oba Babatunde Adeyeye Ogunwusi, on July 17, 2021, in Ile-Ife.
The HAPAwards is a US-based award that recognises outstanding individuals, whose lives have been marked by extraordinary personal and professional accomplishments.
Last year, Richard Mofe Damijo, Patoranking, Rita Dominic, Kate Henshaw and Oba Olufolarin Ogunsanwo, the Alara of Ilara Kingdom, were among notable personalities across Africa and beyond that were honoured.
Latest News on Business Post