Filmmaker Okey Ogunjiofor Denies Praising Uzodinma for Transforming Imo
By Modupe Gbadeyanka
A Nigerian filmmaker, Mr Okechukwu Ogunjiofor, also referred to Okey Ogunjiofor, has expressed dismay over a report linking him with a purported endorsement of the Governor of Imo State, Mr Hope Uzodinma, for transforming the state.
In a statement, the respected Nollywood icon, who produced the award-winning Amina, said he was not part of the movie practitioners, who visited Mr Uzodinma as reported by one of the leading newspapers in the country.
He described the report as "terrible journalism" and demanded a retraction of the story as he was not in the state as claimed by the reporter.
"My attention has been drawn to a news article circulating on various news and social media platforms in the public domain titled Nollywood stars heap up encoumiums on Uzodimma for Imo state transformation as published by Vanguard newspaper December 4, 2022.
"I, Okechukwu (Okey) Ogunjiofor hereby state as follows:
"1. That I, on behalf my Company Videosonic Studios, and the cast and crew entered our latest film Amina for various categories of the Best of Nollywood (BON) Awards 2022.
"2. That subsequently, BON Awards announced the nominations and Amina got 10 Nominations in various categories.
"3. That due to these Nominations the organisers of BON Awards extended invitation to us to come to Owerri, Imo state (the hosting state for 2022 BON Awards) slated for December 4, 2022.
"4. That although logistics were arranged by BON Awards for Okey Ogunjiofor to represent his office, cast and crew at the event, he was unable to make the journey.
"5. That a slight mix-up in the logistics planning caused him to miss his flight to the awards.
"6. That the organisers called to apologise for the mix-up and offered to make it good by booking another flight but I declined to travel to Owerri.
"7. That we are very shocked and surprised to see the published material stating that I was at the event.
"8. We are therefore stating categorically here that this is a PR job made without our consent or approval.
"9. This report is very unfortunate, and very unprofessional and in bad taste.
"10. That I wasn't anywhere near Imo state on the said date, neither was I in Owerri for the show, yet the paper says I was among those who commended the Imo State Governor Hope Uzodimma for his uncommon devotion to duty.
"11. This is terrible journalism and I hereby demand Vanguard to retract this statement and correct it adequately in their subsequent publications," the statement signed by Mr Ogunjiojor stated.
Lagos PDP Deputy Governorship Candidate Funke Akindele Loses Mum
By Aduragbemi Omiyale
The deputy governorship candidate of the Peoples Democratic Party (PDP) for Lagos State, Ms Funke Akindele, has lost her mother, Mrs R.B. Akindele.
In a statement issued on Tuesday, the older sibling of the movie star, Ms Olubunmi Akindele, said their mum died on Tuesday, February 7, 2023.
"It is with heavy hearts, but in total submission to God Almighty, that the Adebanjo and Akindele families announce the passing of their daughter, mother, grandmother and sister, Dr R B Adebanjo-Akindele, which occurred on Tuesday 07 February 2023.
"May her gentle soul begin its rest eternal in peace. Amen. Obsequies in honour of her passing shall be announced in due course," the statement said.
Reacting, the Governor of Lagos, Mr Babajide Sanwo-Olu, through a statement issued by his Chief Press Secretary, Mr Gboyega Akosile, prayed for peace, comfort, courage and love for Funke, his immediate siblings, and the Adebanjo and Akindele families.
"My heart goes out to Funke, friends of the Adebanjo and Akindele families, on the demise of their daughter, mother and grandmother, Dr RB Adebanjo-Akindele, who answered the ultimate call today, Tuesday, February 7, 2023.
"Death of loved ones, whenever it happens, is usually a very painful episode, but we must be consoled by the good life lived by the deceased person. We should relish in the beautiful memories the dead left behind for us.
"The governor urged the PDP deputy governorship candidate to be comforted by the good life that her late mother lived and continue to pray for the repose of the deceased.
"On behalf of my family and the good people of Lagos State, I hereby express my heartfelt condolences to the entire families and friends of Adebanjo and Akindele.
"May God grant the soul of the departed eternal rest and the families the fortitude to bear the irreparable loss," he said.
EFCC Grills Actress Simi Gold for Spraying New Naira Notes
By Aduragbemi Omiyale
A fast-rising actress in Nigeria, Ms Oluwadarasimi Omoseyin, otherwise known as Simi Gold, has been quizzed by officials of the Economic and Financial Crimes Commission (EFCC) in Lagos for allegedly spraying the new Naira notes.
A statement issued on Friday by the anti-money laundering organisation disclosed that the movie practitioner also stepped on the country's legal tender, which the EFCC said was against Section 21 (5) of the Central Bank of Nigeria (CBN) Act, 2007.
It was stated that the suspect was arrested by operatives of the Independent Corrupt Practices and Other Fraud Related Offences Commission (ICPC) on Wednesday, February 1, 2023, along Awolowo Road, Ikoyi, Lagos, following an intelligence report.
She was reportedly questioned by the EFCC on Thursday, February 2, 2023, for further investigations after she was handed over to the agency by the ICPC.
"The 31-year-old was arrested after the video of her spraying and stepping on the newly redesigned Naira notes at a party surfaced online.
"In the viral video, she was also seen flaunting wads of the new Naira notes," the statement today said, noting that, "Items recovered from her at the point of arrest include a Range Rover and iPhone mobile devices."
"The suspect will be charged to court once investigations have been concluded," the commission declared in the statement.
Emerging Artists to Watch Out For in 2023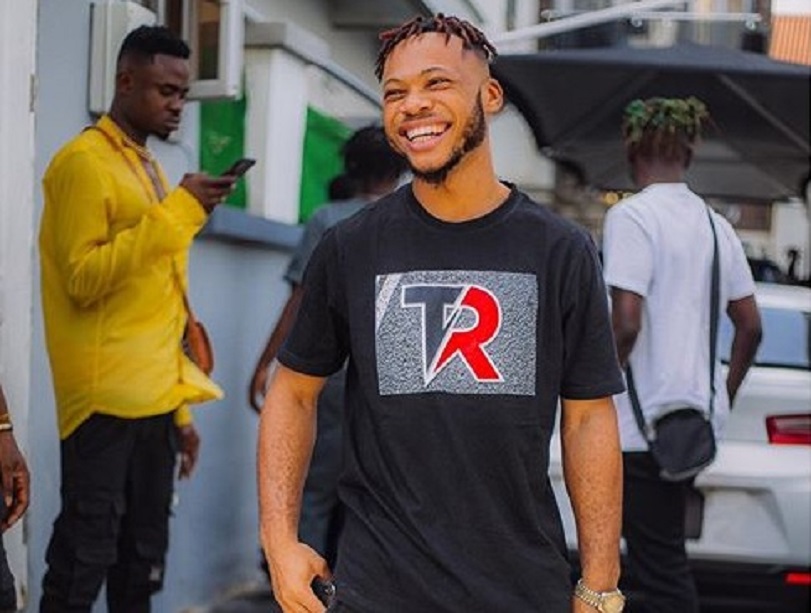 Few things are quite as exciting as discovering new talent to listen to on repeat, add to your favourite playlists and lean on for emotional support over the course of the year.

For fans of African music on Spotify, 2023 promises another roll call of amazing artists ready to break through to fame and mainstream streaming success. 
If anything, African music has consistently unfurled waves of new, fresh talent every year who have propelled the global interest in Afrobeats, Amapiano and its many other sub-genres. 2022 was a breakout year for artists like Buju, Costa Titch and Asake, whose success propelled them into Wrapped top lists at the end of 2022. 
And while those talents took their voices to the main stage, a slew of rising stars was also laying the groundwork for their own breakout year. Some of these musicians are primed to release their best music in the coming months. Others have enjoyed early success on Spotify and show many indications of even greater success on the horizon. Others are relatively new elements, developing new takes on familiar sounds that harken towards major shifts in popular music.
Hailing from Nigeria, South Africa, Kenya, Tanzania and Uganda with a wide array of styles, cultures and perspectives, these artists are, according to Spotify data, the ones to watch out for in 2023.
At 17, Khaid is a Gen Z starboy in every sense. His debut, With You, was an instant darling, evoking a syrupy teenage love story at its crescendo. As part of a generation of artists first discovered on social media, Khaid's songs resonate with a core online audience, inspiring many viral challenges. His Afrobeats inspirations come to the fore on songs like Akpako, but Khaid also shows his emo-trap side on Ski, a fave among young Nigerians in 2022.  
Known for his producer tag, MAD!, the young producer is behind some of Afrobeats' biggest songs. A long-term friendship with CKay birthed the global smash Love, Nwantiti, now certified double platinum in the United States. 2022 showcased a new pace to Tempoe's hit churning powers; he produced Joeboy's viral hit, Alcohol and performed in Soweto, the global sensation by Spotify RADAR alumnus, Victony. With over a hundred million Spotify streams under his name, Tempoe is primed to deliver more hits this year. 
First introduced to fans for his dance skills, Poco Lee has since applied his skill set to crafting some of the biggest street pop hits of 2022. Poco Lee has built a huge fanbase by backing some of the most interesting emerging talent – including Bella Shmurda and HotKid. Whether it's his ear for a future hit or his ability to put the right creatives in the same space, Poco Lee has blessed hit records like Otilo and YARD. Wherever Afrobeats goes this year, you'll find Poco Lee cooking close by. 
Bayanni has hit 2023 running. The newest artist from Mavin, the house that produced Rema & Ayra Starr, introduced himself with an eponymous four-track EP in September 2022. Ta Ta Ta has risen on the shoulders of a viral social media challenge to become almost inescapable. And it has not stopped there, finding its way into the dressing rooms of Manchester City, where Algerian footballer, Riyad Mahrez, chose the song to celebrate a stellar performance.
With just one release under his name, Brume is still a mysterious entity to some. His song, Workaholic isn't. Released in 2021, the unassuming hustler's anthem extols the virtues of perseverance and hard work as the young singer pursues his own holy grail. Brume first drew attention with occasional freestyles on social media before Workaholic, and as 2023 kicks off, ears are perked for what new music Brume has to offer. 
Formerly known as YusufKanbai, YKB is an eclectic artist on many Ones to Watch lists. He's released a number of cult favourites over the years and built a steady community while winning The One, a competition by online publisher Clout Nigeria. YKB levelled up with 2021's Before I Blow, spinning fan favourites like Practice Patience and Oshofree. He's converted even more fans with 2022's San Siro, a football-themed love story that has many convinced it's YKB time. 
Kaestyle boasts a certain dexterity with words and narratives that, aligned with soothing melodies, has eased him into the libraries of many music fans. The singer's debut EP, Kae's Study shows his ability to play in different lanes, offering drill on Moving Mad and some groovy Afropop on Blessings. His collaboration with Victony, True Love, is an early fan pick, and fans will be eager to stream more easy hits from Kaestyle. 
Here below is the list of other emerging artists on the continent. 
| | | |
| --- | --- | --- |
| GHANA EMERGING ARTISTS | KENYA, TANZANIA & UGANDA EMERGING ARTISTS | SOUTH AFRICA EMERGING ARTISTS |
|   |   | |
Latest News on Business Post