Can the Blockchain Really Bypass Government Policies?
One of the importance of the blockchain is Decentralization, but how do blockchain stakeholders boycott real-life politics in the actualization of their goals?
For instance, the United States' sanction on countries like Iran is causing many US-based companies to re-evaluate their release of goods and services to the Iranian market. These companies are forced to weigh their options carefully before picking a side, and so far, the many occurrences in this field have been detrimental to the financial inclusion of Iran into the cryptocurrency space.
The four recent ones are
Gitcoin, a crypto crowdfunding platform, put paid to a rally to help Farsi-students learn Ethereum coding, fearing US sanctions.
BitGo, a crypto wallet startup getting penalized in 2020 for interacting with users in US-sanctioned countries. Actually, BitGo had a little fault in this issue, as the problem arose from its clients receiving payment from sanctioned countries. The Office of Foreign Assets Control (OFAC) explained that the US sanctions prohibit that.
Binance, a global crypto exchange, has also been known to deactivate accounts from the Middle East region; especially Iran and Cuba.
ConsenSys Academy, a blockchain startup focusing on Ethereum-centric knowledge, also came under the limelight in 2021 for banning about 50 Iranian students from its smart-contract learning platform. While it was against the company's policy, they had to issue the exit claiming a review was done on their platform and individuals who are located in countries prohibited by the US law were removed.
Following ConsenSys ban of Iranian students, GItcoin remained more or less one of the only hopes for Iranians to get into the crypto space with a certificate, and when the campaign started to help Farsi-speaking students in March, it seemed like a dream come true.
On Gitcoin, the news came as a shock to all when its COO announced in December that it was marking all donations as inactive. The fundraiser was shifted to a European platform which is based in Barcelona, Spain. Giveth, the new platform for the fundraiser event has seen donations of up to $8,000 for volunteers that have roots in Iran.
Despite this, everyone still seems shocked that real-life politics still has a say in matters of decentralization and borderless policies. One of the shocked individuals was Sahar Rahbari, a course creator for Farsi-speaking people. In an interview with Coindesk, he expressed his displeasure at the policy and lamented why Iranians are always at the receiving end.
Another course contributor, this time from ConsenSys, explained that though the US companies' fear is unwarranted, it is understandable. The rules concerning foreign sanctions remain unclear, and to avoid legal troubles, many US companies are outrightly keeping Persians as far away as possible.
While it would have been better to have more explicit details of how Gitcoin got to know about the grant and its probable breach of US laws, all we have been able to gather from the US quarters is that this is not in any way a discriminatory effort, as the representative spoken to explained that there are other Farsi-speaking communities on Gitcoin's program, and none other have been flagged down.
The process of the Gitcoin grant is simple. Any grant called is first raised by its community into a specified Ethereum wallet with all transactions recorded on the Eth block explorer. The Gitcoin algorithm matches every Ethereum spent with the DAI stablecoin
The grant proposal for the Farsi-speaking people became inactive less than 12 hours after it was first drafted due to some suspicion from the Gitcoin team that the grant might have trespassed US laws.  As a precautionary measure, the difficult decision had to be taken.
When asked about this report, the Gitcoin team explained that they received a call on December 7th about a new grant listed on their platform. The journalist, who called, preferring to remain anonymous, explained the US sanctions to Iran to the team and told them they might have just crossed a red line.
Because the terms of the sanctions were not clearly stated, the team was put in limbo. After contacting legal counsel, the team unanimously chose to shut down the campaign before it disrupts the entire network.
The Gitcoin team emphasized the need to make the funding process more decentralized and assured everyone they would make that happen, but pending the time that materializes, they have to err on the side of caution and follow US laws since they are a US-based company.
A previous occurrence
While many might want to berate Gitcoin for their choice, it is better to zoom out and look at the whole picture. Several months ago, the United States government jailed a citizen because he went to give a speech about blockchain technology and Web 3.0 in North Korea.
The man, Ethereum developer Virgil Griffith is the recipient of one of the scariest crime cases in the blockchain era.
His case shook the Ethereum community as no one expected the US government to be that strict. Even people that travelled with him without giving any speech now fear for their lives and safety. Gitcoin's co-founder cited this case and asked everyone involved in Web 3.0 to move carefully, and lose some battles in order to win the war. According to him, it would not be really responsible to put their donors under the risk of OFAC.
While this news does not come good for the cryptocurrency market, the market is still optimistic about ETH2's merger with the Ethereum mainnet. Stakers can earn passively through https://redot.com/eth2/
5G Subscriptions to Reach 4.4 billion in 2027—Ericsson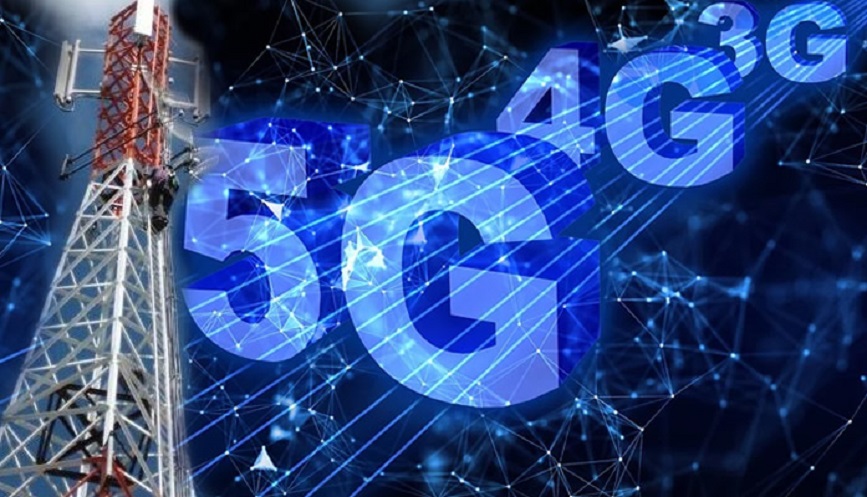 By Aduragbemi Omiyale
The latest edition of the Ericsson Mobility Report has predicted that 5G subscriptions will hit one billion this year and 4.4 billion in 2025, with North America expected to lead in the next five years with 9 of every 10 subscriptions in the region to be 5G by 2027.
The report, which is the 22nd of Ericsson's network traffic insights and forecasts, also revealed that global mobile network data traffic doubled in the past two years, driven by increased smartphone and mobile broadband usage, as well as the digitalization of society and industries.
The recent statistics and forecasts highlight the strong demand for data connectivity and digital services have and are expected to have, despite the global COVID-19 pandemic and geopolitical uncertainties. Several hundred million people are becoming new mobile broadband subscribers every year.
As for the 5G subscriptions, it was stated that by 2027, the fifth-generation network will account for 82 per cent of subscriptions in Western Europe; 80 per cent in the Gulf Cooperation Council region; and 74 per cent in North-East Asia.
In India, where 5G deployments have yet to begin, 5G is expected to account for nearly 40 per cent of all subscriptions by 2027. In global terms, 5G is forecast to account for almost half of all subscriptions by 2027, topping 4.4 billion subscriptions.
According to the survey, 5G is scaling faster than all previous mobile technology generations as about a quarter of the world's population currently has access to 5G coverage.
Some 70 million 5G subscriptions were added during the first quarter of 2022 alone and by 2027, about three-quarters of the world's population will be able to access 5G.
"The latest Ericsson Mobility Report confirms 5G as the fastest growing mobile technology generation ever, and Ericsson is playing a key role in making it happen.
"We work every day with our customers and ecosystem partners around the world to ensure that millions more people, enterprises, industries, and societies enjoy the benefits of 5G connectivity as soon as possible," the Executive Vice President and Head of Networks at Ericsson, Fredrik Jejdling, said.
As for the Executive Editor of Ericsson Mobility Report, Peter Jonsson, "The deployment of 5G standalone (SA) networks is increasing in many regions as communications service providers (CSPs) gear up for innovation to address the business opportunities beyond enhanced mobile broadband.
"A solid digital network infrastructure underpins enterprises' digital transformation plans, and their new capabilities can be turned into new customer services."
MainOne to Host 7th Nerds Unite June 23
By Adedapo Adesanya
An Equinix company, MainOne, a leading provider of wholesale connectivity and data centre services in West Africa, will host the 7th edition of its flagship event, Nerds Unite, on Thursday, June 23, 2022.
The highly engaging annual event themed The Power of Global Interconnection will feature a keynote address on Interconnection and the power of the global Equinix Platform to connect African Businesses and Global/Local Service providers to be delivered by Vice President, Growth and Emerging Markets, Equinix, Mrs Judith Gardiner.
The conference will also feature two-panel sessions on the topics Unlocking Growth through An Interconnected Global Digital Infrastructure and Maximizing Business Efficiency and Minimizing Talent Drain and Rising CAPEX through IT Outsourcing, as industry experts discuss the immense benefits accruable to subscribers through the power of global interconnection and IT Outsourcing.
Confirmed speakers at Nerds Unite 2022 include Mr Martin Atkinson, Senior Manager, Peering & Interconnection EMEA, Equinix; Edge Strategy Manager, SSA, Meta, Mr Ben Ryall; CEO, Tizeti, Kendall Ananyi; CTO, Lagos Free Zone, Mr Nikhil Khandelwal; Country Manager, HPE operated by Selectium, Ms Ifeyinwa Kojo; Head, Technology Infrastructure, Nigeria Inter-Bank Settlement System Plc (NIBSS), Mrs Eunice King.
Others are Group Head, Network Operations, Access Bank, Mr Adebowale Shonekan; CIO, EKO Electricity Distribution Company (EKEDC), Mr J.P. Attueyi; and Partner, Enterprise Technology & Performance Leader, Deloitte, Mr Oluwole Oyeniran.
Speaking on expectations for this edition, the Chief Executive Officer, MainOne, Mrs Funke Opeke, remarked; "It's the first time following MainOne's acquisition that we'd be hosting our annual flagship event, Nerds Unite.
"It is also at a time businesses are just recovering from the COVID-19 pandemic and are faced with new challenges coping with the accelerating rate of digitalization.
"We hope ICT stakeholders find this event very useful, especially with our parent company Equinix billed to share their knowledge of global data interconnection and outsourcing."
Participants will be drawn from a diverse global audience who can register for the event through the link www.nerdsunite.MainOne.net.
With over 4,000 participants since its inception, Nerds Unite has showcased leading technology solutions to MainOne Customers and has hosted major players in the global and local IT industry.
FG to Slash Price of Mobile Data Below N400/1GB in Three Years
By Adedapo Adesanya
The federal government has said that it was targeting to cut the price of mobile data to less than N400 per gigabyte by 2025.
The Minister of Communications and Digital Economy, Mr Isa Pantami, said this while delivering a keynote address at a conference and exhibition of the Association of Telecommunications Companies of Nigeria (ATCON) in Abuja on Monday.
The programme was tagged National Strategic Mobilisation for the Actualisation of National Broadband Target of 70 per cent Conference and Exhibition themed, Realising the New Set Target of 70 per cent of Broadband Penetration.
Mr Pantami, who was represented by the Director of IT Infrastructure Solution Department, National Information Technology Development Agency (NITDA), Mr Usman Gambo Abdullahi, said broadband was the backbone of a digital economy.
He said that the event was aimed at x-raying the current level of broadband penetration, and consider areas of improvement, not only to achieve the 70 per cent broadband penetration but to exceed it.
"We are all aware that broadband supports the development of the digital economy and a focus on growing the national digital economy will also improve and diversify the nation's traditional economy.
"The plan is carefully designed to deliver data download speeds across Nigeria. A minimum of 25Mbps in urban areas, and 10Mbps in rural areas.
"With effective coverage available to at least 90 per cent of the population by 2025 at a price not more than N390 per 1GB of data as well as the penetration rate of 70 per cent by 2025," he said.
He said it had been identified by industry experts that a 10 per cent increase in broadband penetration would increase the Gross Domestic Product (GDP) of an economy by between 1.6 per cent and 4.6 per cent.
He recalled that as of July 2021, the broadband penetration was 39.79 per cent.
He added that the current evaluation of the broadband plan achievements so far revealed that as of the first quarter of 2022, broadband penetration stood at 42.27 per cent.
He said some of the challenges of broadband included multiple taxation and regulation, non-conformity with agreed Right-of-Way (RoW) charges, and difficulty in obtaining approvals and permits.
He said that burdensome taxes and levies were also some of the huge burdens on the industry and had stifled needed investment in telecommunication infrastructure.
He said that this steady increase was a result of relentless efforts made to address those challenges, but said the government was confident that the figure would continue to increase and surpass the set mid-term target of 50 per cent penetration by 2023.
"Our confidence in this is based on the strength of positive indices in 3G and 4G population coverage, which are presently at 83.65 per cent and 62.55 per cent respectively," the minister said.
Mr Kashifu Inuwa, the Director-General of NITDA, in his paper, highlighted the agency's contribution toward the demand of 70 per cent broadband penetration, which was NIRA free domain registration.
Mr Inuwa said this initiative sought to ensure collaboration between NIRA (.ng registry), NITDA and CAC toward getting more Nigerian businesses online by assigning a free .ng domain to every new business registered with CAC for the first two years.
He added that Digital Indigenous Language Contents was aimed at the development of digital content in local languages for citizen empowerment to leverage opportunities created by broadband, Digital Literacy Training and Awareness.
He said the goal of these initiatives was to develop or adopt an explicit Digital Literacy standard with coherent training and requisite certification for the duration of the plan.
"Our goal is to achieve at least one million developers with skills in various aspects of app development in the next 18 months.
"Our long-term objective is to champion the recalibration of the curriculum of institutions of higher learning, which remain the largest pipeline in the production of digital talent.
"It will ensure the implementation of the Nigeria e-Government Interoperability framework (Ne-GIF).
"The framework specifies concepts, principles, policies, recommendations, standards, and best practices for MDAs to work together towards cross-portfolio and seamless services delivery," he said.
On his part, the President of ATCON, Mr Ikechukwu Nnamani, in his opening remarks, said that the event was an interactive session.
Mr Nnamani said this was something that would drive the country forward in a positive way and lead to development across all sectors of the economy.
"We are exploring and taking inventory of where we are in terms of the broadband target that has been set.
"We all know this is critical to the digital economy we are trying to build, which is why the broadband plan must be implemented and achieved," he said.
The conference had panel sessions; the first session was on the state of broadband implementation in Nigeria.
The second session was on the Impact of Broadband Infrastructure on Over The Top (OTT) service providers, Fintech/e-commerce, equipment vendors, VAS providers, satellite operators, internet service providers, Manufacturers' representatives, and Data Centre operators.
Latest News on Business Post