The Future of IT: Democratising Application Development with Low-code Platforms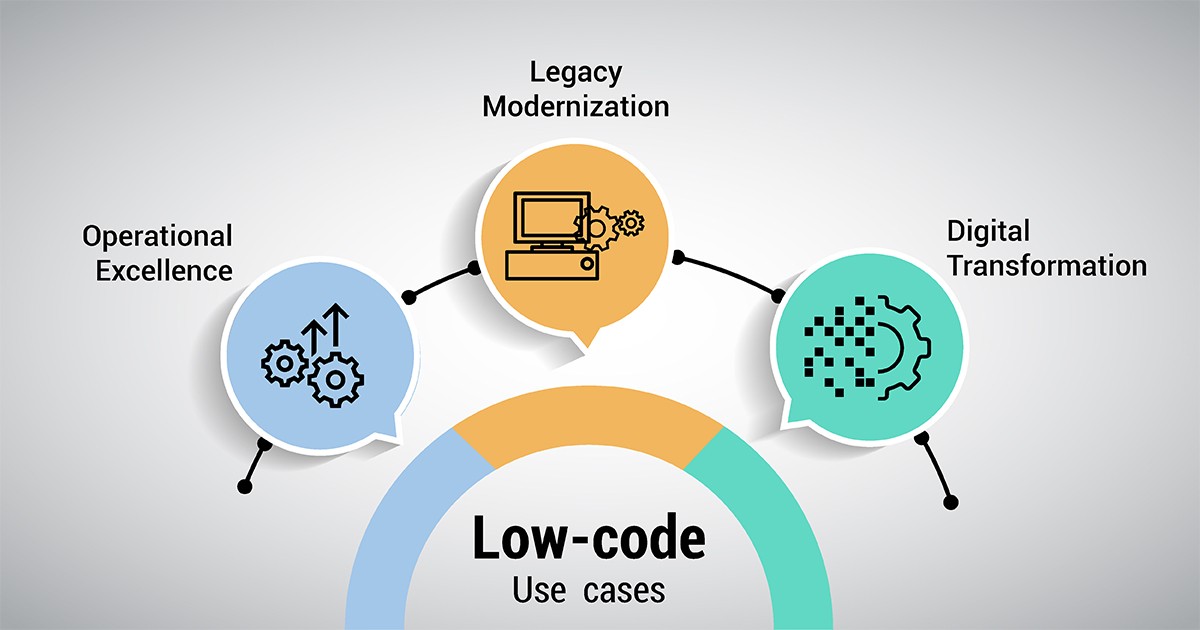 By Hyther Nizam
With COVID-19 accelerating the digital transformation of businesses, many organisations were forced to adopt a work-from-home strategy, and customers began to increasingly purchase goods and services online. The outbreak highlighted the critical nature of software and its impact on people's lives, both professionally and personally.
At the same time, the function of the IT department has evolved and it has been crucial in supporting organisations in shifting to a new way of working. While numerous departments have seen budget cuts, many businesses have increased their IT spending. This is because the department, now expected to complete more tasks more quickly, is vital to the success of a business.
The rise of low-code app development platforms
To accommodate the unexpected change in business, working apps and systems had to be developed and deployed in the shortest period possible. With IT departments now playing such a critical role in strategic business development, the evolution of low-code and no-code (L/N) has helped to lighten the IT load for businesses of all sizes. According to Gartner, low code applications will account for more than 65% of all app development functions by 2024, with 66% of large organisations adopting at least four low-code platforms.
L/N development platforms allow for the rapid development of comprehensive technological solutions without the need for extensive programming skills. This makes life easier for business users, analysts, sales and marketing executives. In other words, those who are closest to the requirement and issue at hand are contextually more informed.
South African businesses that use low-code and no-code software benefit from the following:
Reduce the time it takes to develop and deploy innovative apps.
Reduce the strain on professional developers by ensuring that all business requirements are met while adhering to regulatory criteria for development methods and components.
Allow business users to give shape to their innovative and practical solutions without having to specialise in specific programming languages.
Bring together business and IT teams. Business developers can create applications within the constraints imposed by IT specialists. A centralised, simple-to-use development platform also enables the IT staff to monitor the development process and intervene as necessary.
Low-code platforms also help address the challenges posed by 'Shadow IT' or 'Rogue IT' practices, which often happens when business teams or individuals start using different tools to solve their problems without keeping their IT teams in the loop.
IT possibilities enabled by low-code platforms
Recently, businesses have successfully launched two types of apps employing the low-code application development paradigm, with some focusing completely on solutions as part of their pivotal strategies in the face of the pandemic.
Internal apps: Current conditions have sparked a rise in internal collaboration apps such as contact tracing, virtual check-in portals for remote employees, and COVID-19 live dashboards to name a few. From employee management to streamlining operations with automated approval processes, low-code platforms have played a vital role in allowing different types of users to ship critical solutions for automation, connectivity and communication, allowing thousands of employees to take their work home with them and for businesses to continue as usual with minimal disruptions. This is further enabled by the ability of modern low-code platforms to integrate with legacy systems and processes, allowing for web and mobile apps with seamless user experiences that can push and pull information from existing internal systems.
Customer-facing apps: Post lockdown announcements during the first wave of the pandemic, many businesses quickly rolled out self-service web portals and mobile apps, and extended their products and services to their customers digitally. For instance, a number of banks launched digital solutions for banking, loans, forex etc. Even the large, well-established banks that witness stiff competition from fintechs and neobanks (who are technically more flexible and savvy) are now able to compete successfully with the latter, thanks to low-code application platforms.
The potential for simpler business process automation, unencumbered by complex code structures or delivery delays, makes L/N platforms a strategic asset for any company. Not to mention the fact that we now have AI-assisted L/N platforms that can provide guided experience for non-programmers, assisting them in developing better applications through intelligent suggestions.
All things considered, low-code and no-code solutions will give businesses the freedom they have always needed to achieve true agility and innovation.
Hyther Nizam heads Zoho's Middle East & Africa (MEA) operations and also leads some of the technology initiatives in Zoho which includes Zoho's scripting language, Deluge
Biometrics Player iiDENTIFii Secures $15m to Fund Expansion
By Modupe Gbadeyanka
The goal of an innovative biometrics tech firm, iiDENTIFii, to expand its operations across Africa is coming to fruition as it has obtained a funding package worth $15 million for this purpose.
iiDENTIFii is a world leader in biometric authentication. Its advanced face authentication technology securely authenticates users within seconds via their cellphones or PCs.
The company operates across several industry verticals and its services are used by the largest pan-African banks, insurers and mining houses for customer and employee authentication.
Its customers include Standard Bank, ABSA Bank, and Investec Bank. Investors in the round alongside Arise are growth-stage private equity firm Sanari Capital and veteran US tech entrepreneur Bill Spruill.
The major contributor of the new $15 million injection was an African investment company, Arise, whose cornerstone investors include Rabobank Partnerships, Norfund, NorFinance and FMO.
In a statement, iiDENTIFii said it would use this investment to fund its expansion across Africa, especially at a time cybercrime within the financial sector is a growing threat to the continent.
The consequences of attackers exploiting security vulnerabilities are particularly severe for financial services and banking apps that process sensitive financial information.
The use of iiDENTIFii's biometric authentication to protect access to this sensitive financial information makes iiDENTIFii's solution an integral part of financial inclusion, digital inclusion, and identity inclusion on the continent.
"I'm incredibly proud of our engineering team and our growth as a company over the past three years," says iiDENTIFii Founder and CEO, Gur Geva. "This investment validates our central business thesis that we are the preferred partner for enterprise-grade identity in Africa. We're excited to put the investment to work as we close in on our goal of authenticating every face in Africa. With this new funding and the networks of Arise, Sanari, and Bill – we confidently continue our mission of stopping identity theft in Africa."
"In addition to complementing Arise's portfolio of bank investments across Sub-Saharan Africa, this investment heralds our foray into the African fintech market," says Arise CEO Gavin Tipper. "We are excited about our partnership with iiDENTIFii, which will allow us to offer their unique technology to banks in Sub-Saharan Africa, strengthening digital anti-money laundering practices and advancing financial inclusion."
"At Sanari, we place a strong emphasis on digital and human enablement to unlock business potential," says Sihle Gumede of Sanari Capital. "iiDENTIFii is, therefore, a great addition to our investment portfolio and we look forward to being part of its ongoing growth journey. We are excited about co-creating a scalable and sustainable pan-African biometrics business."
"As an entrepreneur and investor, I've had a significant amount of experience with transformative technology," says Bill Spruill "The work being done by iiDENTIFii is particularly exciting and I am excited to see the impact it has on the African continent."
iiDENTIFii recently won KPMG's Tech Innovator in Africa award and will compete for the global title in Lisbon, Portugal in November 2022.  It has previously, amongst other awards, won MTN App of the Year and Microsoft Independent Software Vendor (ISV) Partner of the Year.
Financial Phishing Cyberattacks Jump 79% in Nigeria
By Adedapo Adesanya
The number of financial phishing attempts in the African regions increased significantly with Nigeria recording a 79 per cent jump in the second quarter of the year.
According to Kaspersky's Financial Cyberthreats report, attacks in the financial sector are becoming increasingly corporate-oriented and shifting away from consumers as banks, payment systems, and e-commerce websites were attacked massively.
Imperfections in the transition to remote/hybrid work continue to pose a huge threat to businesses. On top of that, economic issues caused by the pandemic have further aggravated the problem. Driven by poverty and unemployment, cybercriminals have continually intensified malicious activities against customers and bank infrastructure.
Financial phishing is a deceptive way of stealing information and is gaining momentum in the region. Phishing is a type of online fraud where the scammer sends fake alerts from banks, e-pay systems and other organisations to trick consumers into sharing their financial details.
The alerts sent by the scammer can be related to loss of data, update credentials or system breakdown, which results in theft of passwords, credit card numbers, bank account details and other confidential information.
According to the Kaspersky telemetry, in Q2 of 2022, a total of 61,344 financial phishing attacks aimed at organisations were detected, an increase of 79 per cent compared to the first quarter.
Giving a breakdown, the largest share of attacks was mostly directed at e-commerce websites with 52 per cent, with payment systems hit by 42 per cent, while banks received about 6 per cent.
It was higher in Kenya, one of Africa's booming economies, as a total of 100,192 financial phishing attacks aimed at organisations were detected in Kenya, a 201 per cent increase compared to Q1.
The largest share of attacks was directed at e-commerce websites (58 per cent), with banks (21 per cent) and payment systems (also 21 per cent).
Speaking on the report, Mr Emad Haffar, Head of Technical Experts at Kaspersky, said, "A life without the Internet is strange to us. So much so that our financial life is now digital. This is the magic of digitisation. But we also need to be aware of an unprecedented wave of challenges.
"Financial threats are one such challenge which is becoming more advanced in exploiting human behaviour and will only continue to grow. Businesses trying to stay ahead of such evolving, complex cyberattacks should make fraud prevention a focal point to control fraud transactions, eventually reduce fraud risk in the future and avoid reputation damage."
Kaspersky highlighted certain recommendations to help businesses stay ahead of financial threats and phishing attacks, including companies needing to educate employees as they are considered the first line of cyber defence. This needs to be a continuous learning experience as well as teaching them about the red flags they need to keep an eye out for.
Similarly, organisations need to extend the dos and don'ts of cybersecurity to customers to protect themselves against phishing fraud.
It called on companies to capitalise on the Kaspersky Fraud Prevention solution, which proactively analyses and detects whether a customer's device is infected with malware in real time.
Organisations were also charged to rely on Kaspersky Threat Intelligence to increase visibility and feed their security operations with advanced insights.
Meta Introduces WhatsApp Call Links to Rival Zoom, Google Meet
By Adedapo Adesanya
WhatsApp is rolling out a new feature that allows users to share a direct link to a call, just as it is planning to allow up to 32 users during a call session in a move that can see the Meta-owned platform rival other platforms.
The Call Links feature will start appearing on WhatsApp this week and can be accessed through a banner at the top of the Calls tab. WhatsApp users who want to try the Call Link feature will need the latest version of the app, which can be updated through the app store.
Mr Mark Zuckerberg, CEO of Meta, while announcing the feature on Facebook, said WhatsApp users will be able to share a link to a call with "a single tap."
The ability to share a call link with up to 32 users was teased in April during the announcement of another upcoming feature, WhatsApp Communities.
The WhatsApp Call Links feature will support both audio and video calls. Mr Zuckerberg also confirmed that encrypted video calling is currently being tested for group calls with up to 32 people, which is notable, as WhatsApp currently caps video calls at eight users.
The expanded call capacity sets up WhatsApp as a competitor for Google Meet, Microsoft Teams, or Zoom. These rival offerings have a far greater caller capacity (100 for Google and Microsoft Teams and 300 for Zoom).
However, they include restrictions like call duration for free accounts and might not be the first choice for the billions of people already chatting for free on WhatsApp.
WhatsApp did not mention any restrictions on call duration, which could place it as one of the best free video calling applications for smaller teams and personal networks once the feature is widely available.
Latest News on Business Post