Innovative Digital Payment Solutions Will Deepen Cross-Border Trade—Interswitch
For several decades, the African continent has been bedevilled with low intra-trade volumes when compared to other parts of the world, and this has consequently hampered the growth of the African economy. To address this challenge, African countries came together to establish the African Continental Free Trade Area (AfCFTA) to increase, strengthen and deepen intra-trade among African countries.
The establishment of the AfCFTA created the opportunity for a single market for the trade of goods and services on the continent, thereby increasing the level of intra-trade. The enactment of AfCFTA is expected to birth the largest free trade area in the world, measured by the number of countries participating, potentially connecting 1.3 billion people across 55 countries.
Financial experts believe that the establishment of AfCFTA has created a window of opportunities for financial institutions to close the gap between financially excluded persons and design cross-border financial products that will avail customers of seamless and safe financial services.
Consistent with its aspirations to build a prosperous African economy and make payment one less thing to worry about in Africa, Africa's leading integrated payments and digital commerce company, Interswitch, has introduced a plethora of innovative products and solutions designed to transform the African economy as well as boost the continent's digital payment ecosystem.
The firm made this known during its first breakfast session in Sierra Leone, where it hosted stakeholders and customers to a robust and insightful session designed to help Sierra Leonean businesses thrive. The firm organized the event to discuss how African businesses can leverage digital payments to unlock endless opportunities and drive growth in the financial industry.
Speaking at the breakfast session, Olubunmi Aina, Group Head Sales, Payment Processing and Switching (Interswitch Purepay), said the firm is committed to building a prosperous African economy by designing innovative cross-border payment products and solutions that will enable the growth of businesses in Sierra Leone and beyond.
He said, "For the last two decades, we have consistently designed products that address financial issues within the payment ecosystem. We equally have been facilitating payment, building infrastructure, and providing world-class technologies and support that aid financial institution to deliver top-notch services to their customers.
He further said, "We are here in Sierra Leone to replicate the successes we have attained in other parts of Africa by providing the Sierra Leone market with secure and safe digital payments products to further drive growth and profitability for businesses."
Reiterating experts' opinion that without a functional and effective payment system, Africa will not be able to facilitate international and regional trade, Interswitch introduced five products to the august audience at the breakfast session. The products; Postilion Retail Payment, Interswitch Banking-as-a- Service; Interswitch Payment-as-a-Service; Agency Banking and Card Fusion are designed to address prevailing issues within the ecosystem and offer; protection against digital payment fraud, effective value financing tools for lenders, seamless integration to newer payment channels and enhance business development.
While the products are targeted at commercial banks, microfinance banks, fintechs, other financial institutions, and their customers, they will essentially improve the digital payment solutions that financial institutions offer to their customers.
To demonstrate the ease of onboarding, participants at the session were onboarded onto the company's products, thereby enabling them to rapidly integrate newer payment channels with intuitive and flexible technologies.
Beyond the benefits the products avail customers, the firm organised the breakfast session in Sierra Leone to bring key players in the financial industry together with the ultimate goal of deepening the growth of digital payment in the country.
Aina noted that Interswitch is committed to the advancement of digital payments in Africa and will continue to drive cross-border payments, financial inclusion and payment interoperability through its innovative products and solutions.
If Africa is to actualize the expected domestic e-payments revenue growth of about approximately 20 per cent per year, reaching around $40 billion by 2025, it is imperative that the players within the ecosystem advance digital payment on the continent and lower the cost of cross-border payments.
Interswitch, as Africa's leading digital payment company, has taken on the challenge and is ensuring that critical markets across Africa, such as Sierra Leone, are provided with alternative payment methods with the introduction of its products. The technology company on the strength of its technical capabilities is providing payment infrastructure to financial institutions to reduce friction and boost integration. Its innovative products are ensuring that the rapidly evolving consumer payment needs are consistently met and even surpassed.
Interswitch is not just a proponent of seamless and convenient payment solutions; the firm has for 20 years consistently been leveraging technology to drive growth and prosperity for Africans across Africa.
How Data Protection Policy In Nigeria Is Evolving To Secure Customers
By Otori Emmanuel
Technology advancement has increased the value of data, and many businesses are willing to invest in it. These data are obtained from customers directly or indirectly. When data is directly gathered, customers are often asked for their consent, and they typically provide it. In contrast, information that is gained inadvertently may be gathered through tracking or linkages to sources that already have the consumers' data. Businesses use this strategy to improve their products and for research purposes.
To prevent unauthorized access, disclosure, or misuse of user's personal information, data privacy and data protection policies are in effect. The right of people to decide how their personal information is gathered, utilized, and shared is referred to as data privacy. It involves making sure that people are informed about the information being collected on them, how it is being used, and with whom it is shared. Data protection policies, on the other hand, are protocols set up to safeguard private data against exploitation or unauthorized access. They require putting technical and organizational mechanisms in place to safeguard the privacy, usability, and authenticity of user data and also to prevent its loss, destruction, or alteration.
Data protection policies usually include instructions for the collection, processing, storage, and disposal of data. They also include safeguards for personal data security, such as encryption, access restrictions, and regular backups. Data privacy and protection regulations are crucial in the contemporary digital age, as personal data is captured, processed, and exchanged more frequently than at any time before.
User Data Protection in Nigeria
The Nigerian Data Protection Regulation (NDPR) was decreed in 2019 with the aim to ensure that individuals have control over their personal data and that it is processed fairly and legally. The NDPR mandates that businesses processing personal data get the individual's consent before processing their information. Additionally, they must take the necessary security precautions to safeguard personal data against theft, loss, and unauthorized access.
Nigeria has established the National Information Technology Development Agency (NITDA) in addition to the NDPR to handle issues with data privacy and cybersecurity. The NITDA is in charge of enforcing the NDPR and ensuring that businesses abide by the data protection laws. Moreover, the NITDA has created frameworks and recommendations to offer firms advice on how to put in place reliable cybersecurity and data protection buffers. These rules address subjects like privacy notices, effect analyses of data protection, and breach reporting.
In accordance with the NDPR, businesses must acquire consent from people before collecting their personal data and have strong security measures in place to safeguard it. Businesses must appoint a Data Protection Officer (DPO) as part of the NDPR, who is responsible for ensuring that the law is upheld. Other laws in Nigeria, in addition to the NDPR, that deal with data protection are the Freedom of Information Act of 2011 and the Cybercrimes (Prohibition, Prevention, etc.) Act of 2015. These laws strengthen the protection of personal information while also outlining the consequences of data protection laws infractions.
With a focus on safeguarding customer personal information and ensuring that businesses are held accountable for any violations by these laws, Nigeria's data protection regulations are continuously improving.
NCC Orders Implementation of Harmonised Short Codes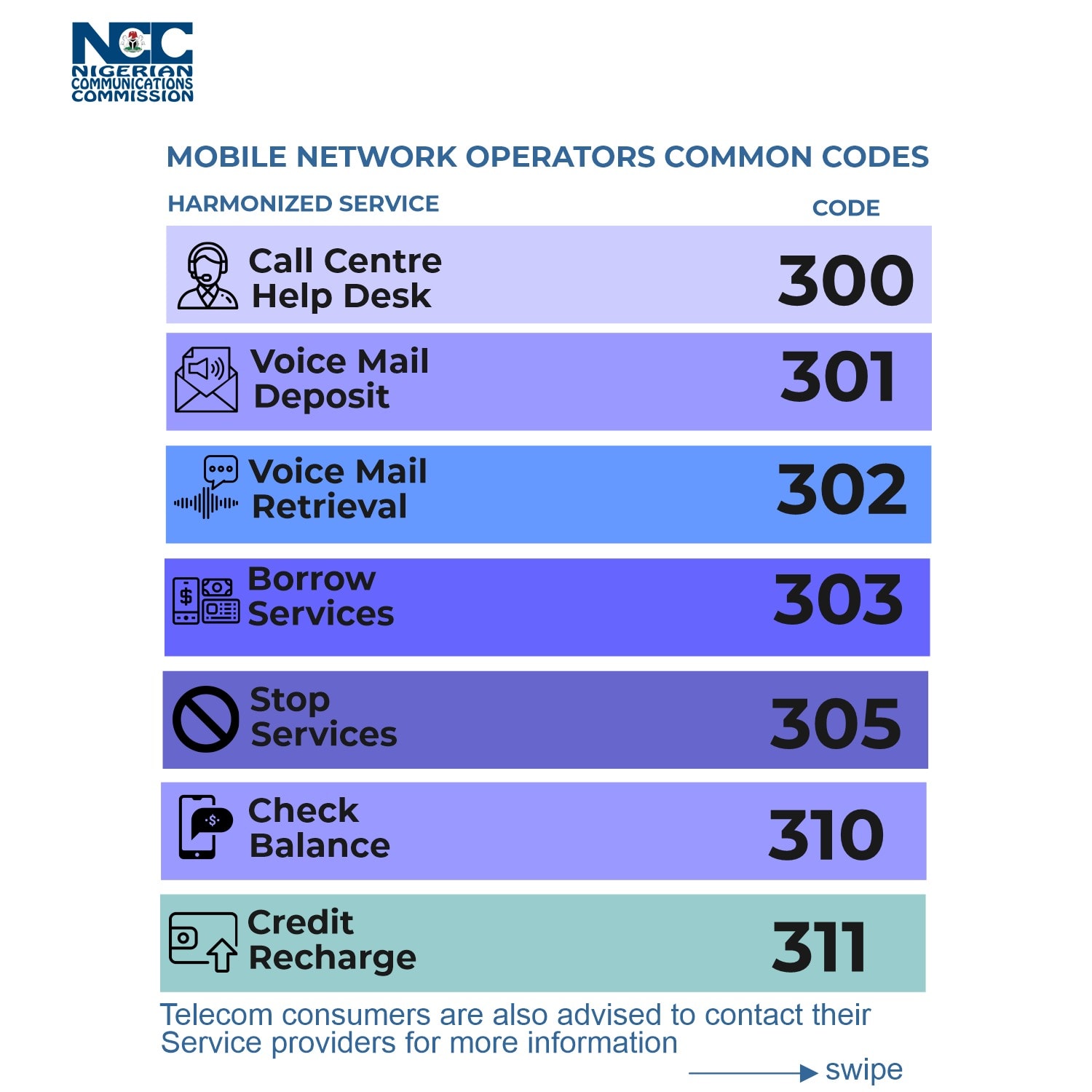 By Aduragbemi Omiyale
The Nigerian Communications Commission (NCC) has directed mobile network operators (MNOs) to commence implementation of the approved harmonised short codes (HSC) for providing certain services to telecom consumers in the country.
The Director of Public Affairs at the NCC, Mr Reuben Muoka, in a statement on Monday, said the unified short codes were approved in line with its consumer-centric approach to telecom regulation.
According to him, the use of harmonised short codes is aimed at achieving uniformity in common short codes across networks.
This means that the code for checking airtime balance is the same across all mobile networks for the same function, irrespective of the network a consumer uses.
With the new codes, telecom consumers using the over 226 million active mobile lines in the country can now use the same codes to access services across the networks.
Already, the agency has set a deadline of May 17, 2023, for all mobile networks to fully migrate from hitherto diverse short codes to harmonised codes.
The period between now and May 17, 2023, is provided by the NCC to enable telecom consumers to familiarise themselves with the new codes for various services.
Under the new harmonised short codes regime, 13 common short codes have been approved by the NCC and include 300 for Call Centre/Help Desk on all mobile networks; 301 for voice Mail Deposit; 302 for Voice Mail Retrieval; 303 for Borrow Services; 305 for STOP Service; 310 for Check Balance, and 311 for Credit Recharge.
Also, the common code for Data Plan across networks is now 312. In line with the new direction, 321 is for Share Services, while 323 is for Data Plan Balance. The code 996 is now for Verification of Subscriber Identity Module (SIM) Registration/NIN-SIM Linkage.
The code 2442 is retained for Do-Not-Disturb (DND) unsolicited messaging complaint management, while the common code, 3232, is also retained for Porting Services, otherwise called Mobile Number Portability.
The old and new harmonised short codes will run concurrently up until May 17, 2023, when all networks are expected to have fully migrated to full implementation of the new codes.
Bitfinex Lists CryptoGPT to Revolutionise Approach to AI
By Adedapo Adesanya
Cryptocurrency exchange, Bitfinex, has listed the first-of-its-kind CryptoGPT token ($GPT) in what has been touted as a revolutionised approach to artificial intelligence (AI).
The CryptoGPT, a cryptocurrency token built on an Ethereum platform, is the first-of-its-kind multi-value gas token and has the necessary demand as fuel for network transactions. It is topped up with value funnels from validator staking, cash flow from core products, and power of fee treasury which can be deployed for liquidity events like buybacks, burns, and/or expanded yield.
In a statement, the company said CryptoGPT token would revolutionise the world of AI by decentralising the data industry and giving billions of users across the world, including Africa, full control of their own AI data and freedom to monetize such data as they live their daily lives, creating a sustainable income stream.
CryptoGPT is a dedicated layer-2 blockchain built to create trillion-dollar data and power the AI revolution. The blockchain hosts apps with 2+ million active users, placing it as one of the biggest blockchains at launch. This innovation uniquely merges blockchain technology with AI and offers an ecosystem that treats data like an asset class.
The rise of artificial intelligence (AI) is bringing drastic changes in the technological fields around the world, where if implemented, it automates systems for more efficiency and performance.
From the comfort of a mobile phone and in multiple fields, AI is continuously providing high-performance and accurate system work with efficiency whilst playing an important role in helping humans work better without the help of humans. Since its inception, there is no doubt that the algorithm and success of AI is data-driven, and currently, many big tech companies and players like Meta, Google, and Amazon make billions and trillions of dollars by monetizing users' AI data.
By creating an ecosystem that incentivizes users to earn crypto tokens and avoid constant inflation, CryptoGPT lets users capitalize on their data through its versatile $GPT token.
"No matter how much CryptoGPT ultimately decentralizes data, the $GPT token is a good investment because users can amass significant quantities of it by using the ecosystem's apps and making referrals. This makes CryptoGPT the first sustainable 'to earn' ecosystem that pays users for contributing data that is then sold in the global data marketplace," the company said.
CryptoGPT, unlike most participants in the AI boom, entered the marketplace with a compelling value proposition setting itself apart.
Currently, AI is used for different purposes and in different fields like virtual assistants or chats, healthcare agriculture, security and surveillance, logistics, shopping and fashion, agriculture, and farming. The CryptoGPT has an ecosystem of millions of daily app users with over 20+ apps in these fields as well as lifestyle, music, dating, travel, and gaming.
Latest News on Business Post