Yahoo Shuts Down Another Service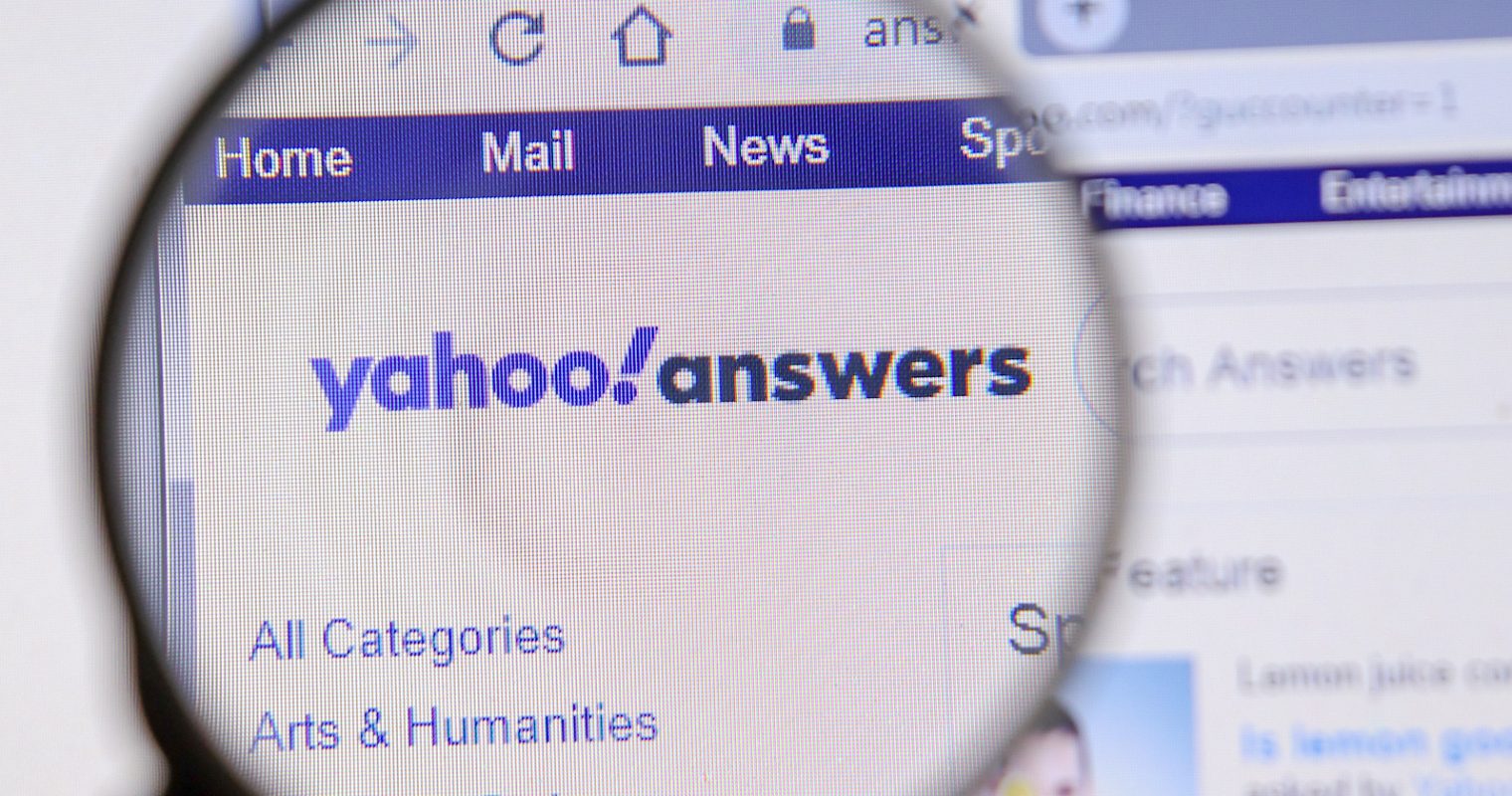 By Adedapo Adesanya
Less than six months after shutting down one of its services, Yahoo has announced that it would no longer operate Yahoo Answers, one of the longest-running and most storied web Questions and Answers platforms in the history of the internet.
The tech giant stated that the services would cease to operate from May 4. Users would be redirected from the Yahoo Answers website to the Yahoo homepage and all of the platform's archives will apparently stop existing.
The platform has been operating since 2005 but its popularity and use has waned during the rise of competitive platforms like Reddit, Quora, and other internet hangouts.
Yahoo, which is now part of Verizon Media Group, following the company's sale to the telecom for nearly $5 billion in 2017, announced the change at the top of the Yahoo Answers homepage.
The message links to an FAQ, which details the timeline of the shutdown, adding that from April 20, the platform will no longer accept new submissions.
Users will also have until June 30 to request their data or it will be inaccessible after that. Yahoo noted that this includes "all user-generated content including your Questions list, Questions, Answers list, Answers, and any images."
However, Yahoo said "you won't be able to download other users' content, questions, or answers."
A note sent to active Yahoo Answers members provides a little more detail as to why Yahoo is shutting down the platform, including that "it has become less popular over the years" and that the company "decided to shift our resources away" from the product to "focus on products that better serve our members."
The statement

Dear Yahoo Answers Community,
We launched Yahoo Answers sixteen years ago to help people around the world connect and share information. With you and millions of other users, we built the best place on the web to ask and answer questions on a variety of topics, creating a community of global knowledge sharing.
While we could not have been prouder of what we accomplished together, we are reaching out today to let you know that we have decided to shut down Yahoo Answers on May 4th, 2021.
While Yahoo Answers was once a key part of Yahoo's products and services, it has become less popular over the years as the needs of our members have changed.
To that end, we have decided to shift our resources away from Yahoo Answers to focus on products that better serve our members and deliver on Yahoo's promise of providing premium trusted content.
Starting on April 20th you will no longer be able to post any new questions or answers. However, you can still view any posted questions and answers until May 4th.
On May 4th the site will be shutting down. If you would like to download a copy of your questions and answers you have posted, you can do this by signing into Your Privacy Dashboard and requesting a download. You will be able to do this until June 30th, 2021 after which your Yahoo Answers data will be securely deleted and no longer available.
The closure of Yahoo Answers will not affect your Yahoo account or other Yahoo services. For further information and instructions on how to download your data, please visit our Frequently Asked Questions or copy and paste this URL into your browser: https://help.yahoo.com/kb/SLN35642.html
Thank you for contributing to Yahoo Answers — we're proud and honoured to have helped you connect with and learn from the Yahoo community these past sixteen years. If you'd like to provide feedback, please feel free to reach out to our team at yahoo_answers_sunset@verizonmedia.com.
Sincerely, The Yahoo Answers team
Follows Shutdown of Yahoo Groups Last Year
Business Post had reported that Yahoo closed its social media platform, Yahoo Groups, last December after almost 20 years of operations.
Yahoo Groups, which was aimed to help users stay connected to their community and friends, has seen a steady decline in usage over the last several years.
Africa's Rise in Technology is Unstoppable—Sanwo-Olu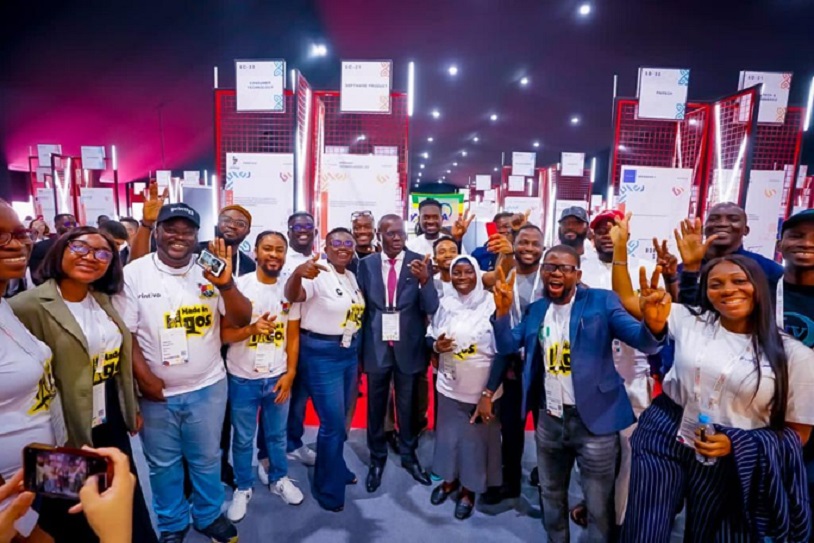 By Modupe Gbadeyanka
The Governor of Lagos State, Mr Babajide Sanwo-Olu, has declared that Africa's rise in technology is unstoppable, noting that his state will continue to play a prominent role in the ecosystem.
The Lagos Governor made this declaration at the GITEX Africa Digital Summit in Morocco, where the state government sponsored 25 startups in partnership with the Dubai World Trade Centre to demonstrate its commitment to fostering innovation and entrepreneurship.
GITEX Africa Morocco is Africa's largest and most influential tech and startup event, renowned for showcasing technological advancements, innovations, and digital transformation.
The event provided a platform for Nigerian startups to pitch their ideas, connect with investors, and network with industry leaders on a global scale.
The small firms sponsored by the state government included Pocket Food, Access Tech, Printivo, Startup Lagos, Eko Institute of Technology, Kirgawa, Qore, Imperial EdTech, Bunce, Etaps, and Innovia Labs.
Mr Sanwo-Olu, who also attended the summit with the delegation, highlighted the remarkable growth of Africa's tech start-up sector and emphasised that Nigerian tech start-ups surpassed the $4 billion mark in 2022, with Lagos playing a leading role in the continent's digital transformation.
He said that from Nairobi to Cape Town and Rwanda to Morocco, the continent was emerging as a global tech hub, attracting local and international investments.
He then called for continued collaboration between the public and private sectors to harness Africa's limitless potential.
GITEX Africa Morocco brings together the brightest minds, entrepreneurs, and investors worldwide to explore Africa's rapidly advancing tech landscape.
With a focus on AI, Cybersecurity, Fintech, Cloud Computing, and Connectivity, the event offers invaluable insights and opportunities to shape inclusive digital societies and drive technological advancements across various sectors.
The Special Adviser to the Governor of Lagos, Tunbosun Alake; the Commissioner for Science and Technology, Mr Hakeem Fahm; and the Permanent Secretary in the Ministry of Science and Technology, Mrs Ibilola Kasunmu, were among the delegation.
The Lagos team and startups were also supported by the Eko Innovation Centre, an innovation hub focused on driving the growth of startups and promoting digital transformation in Nigeria.
Stakeholders Anticipate Emurgo Africa's State of Web 3.0 in Africa Report
By Modupe Gbadeyanka
All is now set for unveiling the State of Web 3.0 in Africa report by a dynamic blockchain technology company, Emurgo Africa.
The study, the first on the continent, aims to fill a knowledge gap by examining the potential of these technologies to advance social and economic development in Africa.
It presents a detailed view of the current landscape and prospects of Web 3.0 technologies in the region, featuring real-world use cases, possibilities and obstacles connected with their adoption.
It was gathered that work explored various aspects of Web 3.0, such as decentralized finance (DeFi), blockchain technology, digital identity, smart contracts, and data privacy.
It also looked into the regulatory environment, infrastructure, and access to technology in the target nations, identifying areas for development that will facilitate the growth and adoption of Web 3.0 technologies.
The chief executive of Emurgo Africa, Mr Ahmed M. Amer, while commenting on the reports, which would be released on June 23, 2023, at a media conference in Nairobi, Kenya, said, "The future of Web 3.0 technologies in Africa is bright, with the potential to drive unprecedented social, financial and economic development across the continent.
"This report emphasizes the critical importance of collaboration between stakeholders, policymakers, and regulators in fully realizing the transformative power of Web 3.0 technologies in Africa."
Expected at the unveiling are industry leaders, policymakers and the press, as well as key figures from prominent blockchain investors, developers and ecosystem players, including NODO, CVVC, GreenHouse Capital, PwC and Cardano.
Web 3.0 technologies are gradually becoming popular in Africa, and this report by Emurgo Africa will highlight the rapidly-evolving landscape, providing an in-depth analysis of their impact, opportunities, and challenges and offering recommendations for fostering growth and measurable impact.
The system can potentially bring transformative change to industries such as trade and industry, financial services and lending, supply chain management and logistics and healthcare provision and accessibility.
Factors such as regulatory clarity, infrastructure development, and collaboration between stakeholders will play a significant role in these technologies' widespread use and successful implementation.
Key findings from the report include the immense opportunities for the African continent through the adoption of Web 3.0 technologies, a staggering 1,668 per cent increase in investment in blockchain technology in Africa between 2021 and 2022, and the crucial importance of collaboration between industry stakeholders, policymakers, and regulators in fostering an environment conducive to the growth of Web 3.0 technologies.
Nigeria, Others Break Pledge Not to Impose Internet Restrictions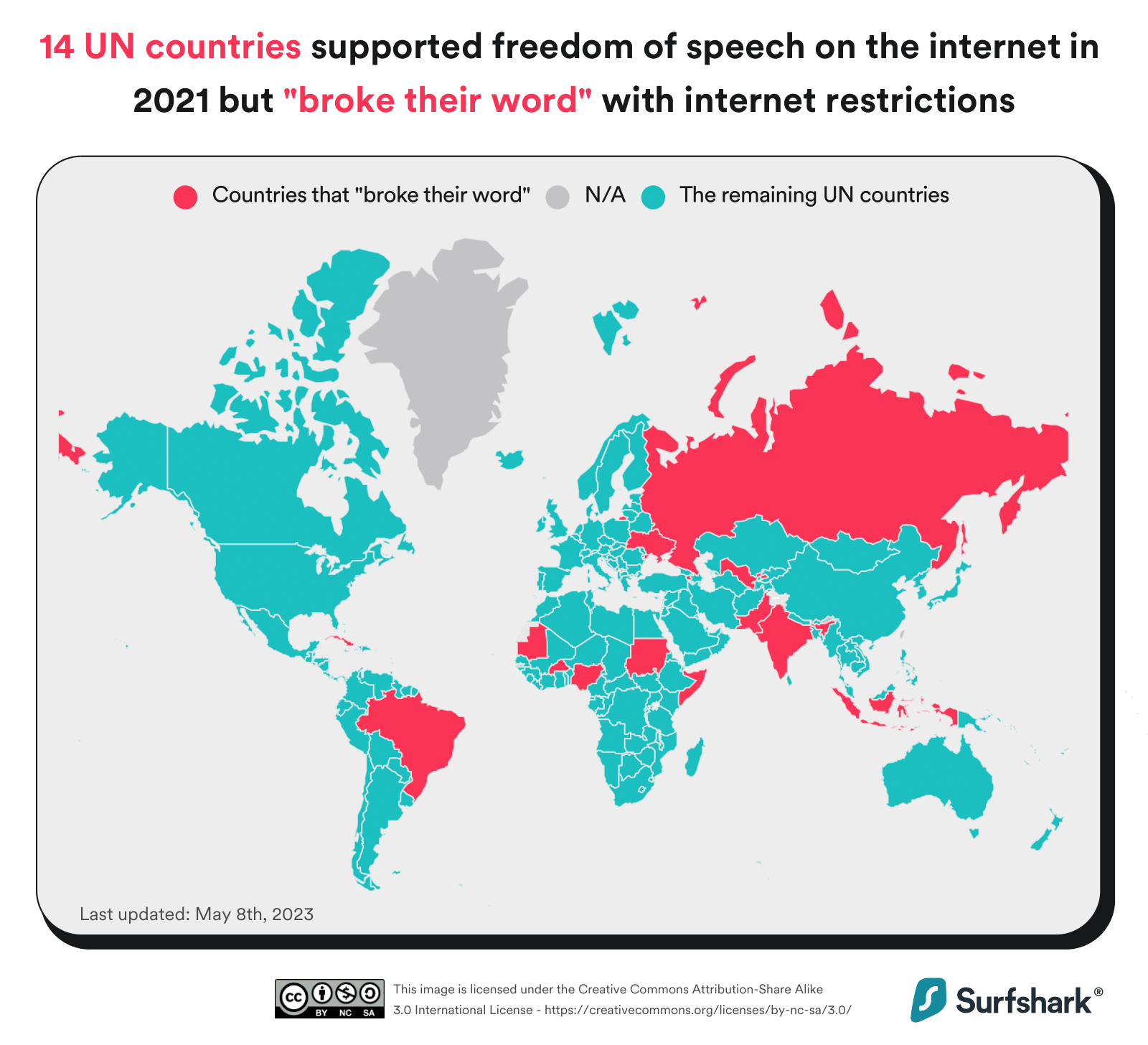 By Adedapo Adesanya
A new study showed that Nigeria was among those that pledged to uphold free Internet according to a 2021 United Nations resolution but yet imposed restrictions.
The UN resolution on human rights on the internet aims to protect and promote human rights online, but some supporting countries have broken their word, according to a study by Cybersecurity company Surfshark, analysing UN countries' stances in the 2021 UN Human Rights Council (HRC) Resolution on the promotion, protection, and enjoyment of human rights on the internet.
It was conducted by comparing countries' stances with data from Surfshark's Internet Shutdown Tracker, Surfshark was able to identify 5 African countries that claimed to support the resolution but "broke their word" by imposing internet restrictions.
On Nigeria's end, it had one ongoing restriction at the time of the resolution's adoption but has had no new restrictions since then.
Nigeria had banned Twitter a month before the adoption, and the restriction lasted until January 2022.
The federal government suspended Twitter on June 4, 2021, after it removed a post from President Muhammadu Buhari that threatened to punish regional secessionists.
The FG told the nation's telecommunication companies to block access to users in Nigeria, leading users to fall to the use of Virtual Private Networks (VPNs). It was not until January 13, 2022, that the suspension was lifted.
Other African countries that supported the 2021 UN resolution but "broke their word" were Sudan, Burkina Faso, Mauritania, and Somalia.
The report noted that Sudan has "broken its word" the most in Africa, with nine internet disruptions that took place after the country supported the 2021 resolution, the first one happening amid the 2021 military coup.
Burkina Faso comes in second, with four restrictions since the resolution's adoption in 2021. The country's 2022 restriction on Facebook is still in place today. Mauritania and Somalia both had one internet restriction since supporting the resolution. Mauritania restricted mobile internet amid a prison riot, and Somalia had an internet blackout after the parliament voted to remove the prime minister.
Speaking on this, Gabriele Racaityte-Krasauske, Surfshark spokeswoman, said, "In today's world, internet shutdowns have become a major concern. Authoritarian governments frequently employ them as a means to manipulate the public and stifle free speech. The UN resolution on human rights on the internet aims to make countries openly condemn these shutdowns and other ways of restricting online speech."
"However, it's concerning that even though 5 African countries publicly supported the resolution, they still imposed internet restrictions. It's important to promote an open and accessible internet and pressure countries to uphold their commitments regarding human rights online," she said.
Nine countries from other continents also "broke their word": India, Cuba, Uzbekistan, Pakistan, Russia, Brazil, Armenia, Indonesia, and Ukraine.
Surfshark's Internet Shutdown Tracker reveals that there were a total of 58 internet disruptions in these 14 countries during or after the adoption of the resolution.
India stands out as the country that has "broken its word" the most, with 19 internet disruptions since the resolution's adoption in 2021, adding that if it included the Jammu and Kashmir region, this number would be even higher.
The Human Rights Council convenes at least three regular sessions annually. The upcoming 53rd session is scheduled for the summer of 2023.
"While the agenda of the specific resolution is currently unknown, Surfshark will keep an eye out for any updates regarding upcoming UN resolutions on human rights on the internet," the firm noted.
Latest News on Business Post