Emirates Group Suffers 70% Profit Loss
By Dipo Olowookere
The Emirates Group has released its 2016-17 Annual Report and it showed that the Arab firm's profit depreciated from what was obtained last year by 70 percent.
It was learnt that the group made $670 million as profit in the financial year ending March 31, 2017, while its turnover hit $25.8 billion with a huge workforce of 105,000.
However, this is the 29th consecutive year of profit and steady business expansion for Emirates Group despite a turbulent year for aviation and travel.
Business Post gathered that the firm's revenue reached $25.8 billion, an increase of 2 percent over last year's results, while its cash balance decreased by 19 percent to $5.2 billion, mainly due to the repayment of two bonds on maturity and ongoing high investments into its fleet and aircraft related assets.
In line with the current business climate and to support the future investment plans of the Group, it said no dividend payment would be made to the Investment Corporation of Dubai (ICD) for 2016-17.
Commenting, Chairman and Chief Executive of Emirates Airline and Group, Sheikh Ahmed bin Saeed Al Maktoum, "Emirates and dnata have continued to deliver profits and grow the business, despite 2016-17 having been one of our most challenging years to date.
"Over the years, we have invested to build our business capabilities and brand reputation. We now reap the benefits as these strong foundations have helped us to weather the destabilising events which have impacted travel demand during the year – from the Brexit vote to Europe's immigration challenges and terror attacks, from the new policies impacting air travel into the US, to currency devaluation and funds repatriation issues in parts of Africa, and the continued knock-on effect of a sluggish oil and gas industry on business confidence and travel demand."
In 2016-17, the Group collectively invested $3.7 billion in new aircraft and equipment, the acquisition of companies, modern facilities, the latest technologies, and staff initiatives.
Sheikh Ahmed said, "These investments will further strengthen our resilience, even as we extend our competitive edge, and adapt our businesses to the volatile business climate and fast changing consumer expectations."
"We remain optimistic for the future of our industry, although we expect the year ahead to remain challenging with hyper competition squeezing airline yields, and volatility in many markets impacting travel flows and demand," he added.
"Emirates and dnata will stay attuned to the events and trends that impact our business, so that we can respond quickly to opportunities and challenges. We will also progress on our digital transformation journey.
"We are redesigning every aspect of how we do business, powered by an entirely new suite of technologies. Our aim is to deliver more personalised customer experiences, and seamless customer journeys, and make our operations and back-office functions even more efficient," he further said.
Across its more than 80 subsidiaries and companies, the Group increased its total workforce by 11 percent to over 105,000-strong, representing over 160 different nationalities.
Emirates' total passenger and cargo capacity crossed the 60 billion mark, to 60.5 billion ATKMs at the end of 2016-17, cementing its position as the world's largest international carrier. The airline increased capacity during the year by 4.1 billion Available Tonne Kilometres (ATKMs), or 7 percent over 2015-16.
During the period, Emirates said it received 35 new aircraft, its highest number, comprising of 19 A380s and 16 Boeing 777-300ERs.
At the same time 27 older aircraft were phased out, bringing its total fleet count to 259 at the end of March. This fleet roll-over involving 62 aircraft was the largest programme it has ever managed in a year, and it brought Emirates' average fleet age down significantly to 63 months, compared with 74 months last year, and the industry average of 140 months.
During the year, Emirates launched six new passenger destinations: Fort Lauderdale, Hanoi, Newark, Yangon, Yinchuan and Zhengzhou; and one new additional freighter destination: Phnom Penh. It also added services and capacity to nine cities on its existing route network across Africa, Asia, Europe, the Middle East, and North America, offering customers even greater choice and connectivity.
Against significant currency devaluations against the US dollar and fare adjustments due to a highly competitive business environment, Emirates managed to keep its revenue stable at $23.2 billion. The relentless rise of the US Dollar against currencies in most of Emirates' key markets had a $572 million impact on airline revenue, and to the airline's bottom line. It was the 2nd largest measured in a financial year after last year.
Total operating costs increased by 8 percent over the 2015-16 financial year. The average price of jet fuel fell slightly during the financial year. But due to an 8 percent higher uplift in line with capacity increase, the airline's fuel bill increased by 6 percent over last year to $5.7 billion.
Fuel is now 25 percent of operating costs, compared to 26 percent in 2015-16, but it remained the biggest cost component for the airline.
Overall passenger traffic growth continues to demonstrate the consumer desire to fly on Emirates' state-of-the-art aircraft, and via efficient routings through its Dubai hub.
Emirates carried a record 56.1 million passengers (up 8%), and achieved a Passenger Seat Factor of 75.1 percent. The decline in passenger seat factor compared to last year's 76.5 percent, is relative to the strong 10 percent increase in seat capacity by Available Seat Kilometres (ASKMs), and also in part due to lingering economic uncertainty and strong competition in many markets.
Under pressure from the weakening of all major currencies against the USD, passenger yield dropped to 6.7 US cents per Revenue Passenger Kilometre (RPKM).
To fund its fleet growth in a year of record aircraft deliveries, Emirates raised $7.9 billion, using a variety of financing structures.
Emirates continued to tap the Japanese market for the Japanese Operating Lease (JOL) structure and Japanese Operating Lease with a Call Option (JOLCO) on both A380-800 and Boeing 777-300ER aircraft, while further accessing a diverse institutional investor and bank market base including Korea, the United Kingdom, Germany and Spain. Further and owing to the suspended Export Credit Agency (ECA) support, Emirates successfully structured an innovative $1.2 billion commercial bridge facility with US and Chinese institutions.
These deals align with Emirates' strategy to seek diverse financing sources, and underscore its sound financials and the strong investor confidence in the airline's business model.
Emirates closed the financial year with a healthy $4.3 billion of cash assets.
Emirates continued to invest in refreshing its product and services in line with changing customer needs. The airline revealed its enhanced A380 Onboard Lounge which will enter service in July 2017, and announced a significant, multi-million dollar deal with Thales to equip its future Boeing 777X fleet with Thales' AVANT inflight entertainment system.
In an airfreight market that remained challenging with fast-changing demand patterns, Emirates' cargo division reported a revenue of $2.9 billion, a decline of 5 percent over last year, while tonnage carried slightly increased by 3 percent to reach 2.6 million tonnes.
Emirates' hotels recorded revenue of AED 738 million (US$ 201 million), an increase of 5% over last year in a highly competitive market mainly in the UAE.
In its 58 years of operation, 2016-17 has been dnata's most profitable yet, crossing $330 million profit for the first time.
Building on its strong results in the previous year, dnata's revenue grew to $3.3 billion, up 15 percent. dnata's international business now accounts for 66 percent of its revenue.
In line with revenue growth, the number of aircraft handled by dnata in the UAE increased 2 percent to 216,000, and Cargo handling by 4 percent to 714,000 tonnes showing a first turnaround sign of the cargo industry's ongoing malaise.
Wakanow, ValueJet to Boost Local Flight Inventory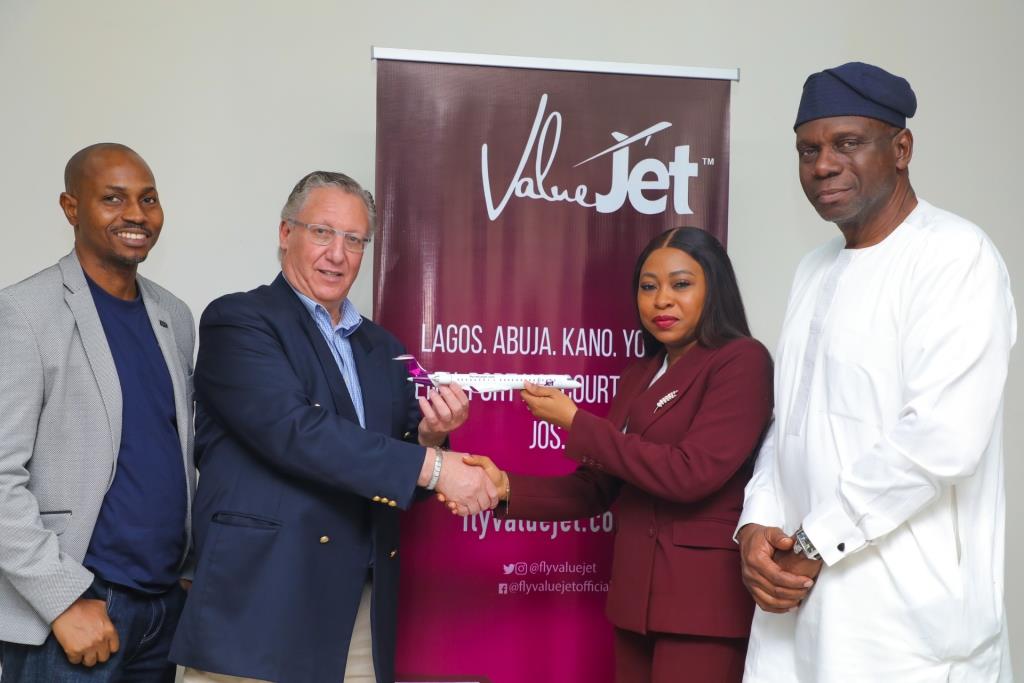 By Modupe Gbadeyanka
A partnership aimed to boost local flight inventory has been entered into between Wakanow and ValueJet.
According to a statement from the foremost travel tech company, the deal allows Wakanow to host ValueJet's inventory on its website and increase local flight inventory available to local travellers.
ValueJet is the latest airline to partner with Wakanow, joining its network and enabling Wakanow-connected customers to find and use bespoke solutions to support their specific travel needs and requirements.
The deal aligns with Wakanow's aim of delivering access to all local flight inventory in real time and an all-year-round flight schedule. It also showcases its continuous commitment to the development of the domestic travel industry in Nigeria.
"As the foremost travel tech company in Nigeria and West Africa, this partnership for us is a reinforcement of our commitment to give our customers the best and to remain the number one distribution partner to our Nigerian Airlines.
"We are constantly innovating around our customers' travel needs and partner with relevant stakeholders to ensure that our customers enjoy a robust and seamless service offering.
"Partnering with ValueJet, who share in our vision of delivering a unique travel experience at a great value to our joint customers, was certain," the chief executive of Wakanow Nigeria, Mrs Adenike Macaulay, said.
While corroborating the CEO, the Group Chief Technology Officer of Wakanow Group, Mr Oyedeji Ojo, said, "Wakanow, as a leader in the Nigerian travel industry, has continued to bring value to air travellers through collaborations.
"We're delighted to welcome ValueJet as a Partner, and together, we will serve our customers with great flight inventories and concentrate on creating enhanced traveller experiences across all customer touchpoints."
On his part, the Chief Commercial Officer of Value Jet, Mr Trevor Henry, said, "We are happy to announce our strategic partnership with Wakanow, making history as the first travel company to provide ValueJet's Live Inventory bookable in real-time, thus enabling the delivery of a seamless booking experience for Wakanow and ValueJet's customers."
Wakanow, Africa's foremost travel tech agency, offers the best travel deals and experiences within the global travel industry to corporate and individual air travellers.
Normalcy Restored at Lagos Airport as Aviation Workers Suspend Strike
By Aduragbemi Omiyale
Normalcy was restored at the Murtala Mohammed International Airport (MMIA) Lagos on Monday afternoon after workers of the Nigerian Aviation Handling Company (NAHCO) Plc disrupted flight operations this morning.
The aviation workers had embarked on an indefinite strike action to ask for a better welfare package from the management of the company.
Their action left many air passengers stranded on Monday morning, with operators suspending their flights in the process.
But the industrial action was later called off by the leaders of the Air Transport Services Senior Staff Association of Nigeria (ATSSSAN) and the National Union of Air Transport Employees, which promised to enter into talks with NAHCO, with a view to resolving the matter.
The aggrieved employees of NAHCO asked the management to increase their salaries after hike air fares by 100 per cent. They claimed that the company was being insensitive to their welfare.
NAHCO Workers' Strike Paralyses Flight Operations At Lagos Airport
By Aduragbemi Omiyale
Activities at the Murtala Mohammed International Airport (MMIA), Ikeja, Lagos, were paralysed on Monday after some employees of the Nigerian Aviation Handling Company (NAHCO) Plc embarked on an industrial action.
The NAHCO workers protested the failure of the management of the company to heed their demands, including an increase in salaries and better welfare packages.
Air passengers who were at the Lagos airport were left frustrated today due to the demonstration by the aviation workers, with a few international flights disrupted.
It was gathered that most airline operators were caught unawares as they did not have prior notice that the NAHCO staff members were planning to down tools on the first working day of the week.
This led to the abrupt suspension of flight operations by most operators this morning while efforts were being made to resolve this issue in order to reduce the losses that could arise from the action of the workers.
Latest News on Business Post