Multidisciplinary Perspective of Association of Five Major Emerging Economies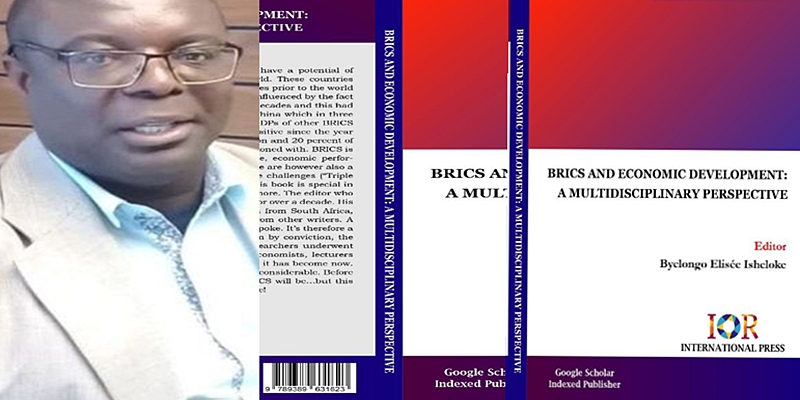 By Kester Kenn Klomegah
The BRICS, an association of five major emerging economies Brazil, Russia, India, China and South Africa, has a significant influence on regional affairs and is very active on the global stage.
All of them are members of the G20. While the group has received both praise and criticism from different corners of the world, BRICS is steadily working towards realizing its set goals, bilateral relations among them are also conducted on the basis of equality and mutual benefits.
In this exclusive interview for IDN, Dr Byelongo Elisée Isheloke, who is currently a Postdoctoral Research Fellow at the University of Cape Town and has scholarly researched some aspects of BRICS for the past ten years, spoke with Kester Kenn Klomegah about his latest book titled "BRICS and Economic Development: A Multidisciplinary Perspective" published in India. Here are the interview excerpts:
What are the driving reasons for writing the book on BRICS?
Interestingly, BRICS has opened the door to new academic research opportunities. As an academic, I have written four books but this is the first one devoted entirely to BRICS topic. I have also written a few articles on the BRICS aspects. I have researched on BRICS right from its creation. From day one, I believed that BRICS will shape the economic situation of the World and will have an impact on multilateralism.
The book is well received by academics in South Africa. I hope BRICS experts and researchers will continue debating on burning issues in the book. I still believe that while competition with the World Bank and IMF is inevitable, there still is a level of understanding and cooperation that must be upheld for stability and win-win engagements between the two blocs. Peace and stability in the world also depend on that.
My doctorate studies focused on BRICS interventions in the South African mining sector. I have a background in business studies and have embarked on research on industrial and economic issues for years.
As an academic, this has become another research area of specialization. It is a force to reckon with. I wrote the book or rather I co-authored it out of passion and conviction. It is also a research product of many contributors or co-authors. I thank them for working with me in this project.
What important key issues are raised or discussed in the book?
Important key issues raised include: First and foremost, BRICS is still important today but it faces a number of challenges: trade war, border conflicts, corruption, political issues, corona crisis and other socio-economic problems. Secondly, the current BRICS partnership is not sustainable, from its creation, the BRICS has changed in purpose and priorities. It will continue to change.
The third point here is the idea of BRICS Plus, or additional members to join the BRICS. That was a brilliant one. The organization should not be static. It has never been. Some European countries wanted to join but in vain, Africa is represented in the BRICS but South Africa should be supported. It is my opinion. The relationship between Russia and South Africa as a gateway to the rest of the continent is looked at. It is obvious that the people of Africa need more development than it is the case today.
The tigers suggested joining as emerging economies. I submit that the criteria to add countries based on whether they are emerging economies do not hold. Economics fluctuate and emerging economies today may struggle tomorrow.
If countries join based on merit or potential contribution, I will suggest African countries to join as observer countries first, and then when they are ready they may become effective members. The Democratic Republic of Congo (DRC), for example, has a lot to offer as potential so also have other African countries.
We raised the issue of the knowledge economy as a priority, IT, port economics, BRICS banking effectiveness, language policy and many other issues. BRICS needs to coordinate their collective action towards solving the coronavirus crisis with the rest of the world. A "global" solution is needed, that means a global solution with local implications.
Brazil, Russia, India, China, and South Africa are the important players of the emerging markets in the global economy and their innovation profiles matter for the economic growth of individual countries and the bloc.
The purpose of this book is to critically analyze and compare the international rankings in innovation outputs in terms of knowledge and technology outputs among the BRICS countries, in relation, to their economic growth in the last two years.
Using a variety of research conducted separately, this e-book discusses matters of economic substance from an African perspective. It identifies the negative scores of the BRICS as a partnership as it is faced with death and seeks to understand its rebirth, restructuring or re-engineering in the aftermath.
The study further assesses the strengths of BRICS and advises how to capitalize on these for a steady economic growth going forward. It looks at economic issues affecting the BRICS or its member countries with a focus on South Africa.
The issue of language policy in the partnership was not forgotten and possible solutions to language planning issues are proposed. On this aspect, the people of the BRICS member countries should be consulted. The book calls for a bottom-up approach in conjunction with the top-down approach that was promoted from the BRICS inception.
What critical challenges do you think still remain and what measures needed in order to realize fully the goals set by BRICS?
The BRICS must be open to others, better coordinate, better synergise their actions, democratise their institutions, to promote mineral beneficiation and foreign direct investment. More peacebuilding efforts and do more in creating a digital economy.
In addition, there will be areas where BRICS will compete, and this is healthy to any economy, but there must be more focus on what BRICS can do together to address abject poverty, growing unemployment and human rights abuses.
It is significant to note that there exist disparity and different strategic orientations of BRICS members. This disparity sometimes influences the implementation of decisions arrived at meetings. The book recommends to member countries to streamline individual economic situation in order to strengthen their cooperation.
It further encourages frequent interactions and exchange knowledge that is relevant to innovation and economic development. These are just part of the challenges and opportunities for this organisation.
What's your assessment of BRICS contribution, particularly, to South Africa?
Starting as BRIC (Brazil, Russia, India and China) the partnership incorporated South Africa in 2010 to form the BRICS. As a partnership, first, as a political initiative it takes relatively long to transform into robust and ambitious economic challenges of the current world order. It takes time to evolve into an economic power bloc. There has been a tremendous achievement in this regard. Although some similarities in development exist, India portrays a slightly high prospect in innovation because of its information communication technology success, followed by Brazil and South Africa.
It is important to point that the size of the population is relevant to the level of development of these countries. In certain circumstances, demographics add to the challenges member countries face, especially in time of COVID-19.
One of the key factors is innovation strength in their system of higher education. South Africa needs the utilization of efficient local and global knowledge network in order to deliver the required innovation, and to sustain businesses and to boost economic development.
The major problem of South Africa is that it is not robust economically compared to its BRICS counterparts, and its economy has been performing badly since the 2008/2009 world's economic crisis. This is why South Africa must be supported by other African countries in the context of BRICS. This is why the idea of an Africa-friendly BRICS Plus is campaigned for. BRICS have to deliver on capital-intensive infrastructure development, and the funding from the New Development Bank (BRICS) is critical in this regard.
With good policies in place, this will help the SADC region and the rest of Africa. It is great that the branch of this bank operates from Johannesburg in South Africa. This is an opportunity for major infrastructure projects to take place in Africa. All the sectors need to come together to solve problems like the COVID-19 pandemic that we are facing today. All the stakeholders, of course, have to work closely together. They need to cooperate with Europe, America and Australasia. The fact is that no one must be left behind.
In all these, can you assess the role of BRICS in Africa's development?
BRICS has helped during the coronavirus crisis, in Africa. Now it needs to support FDI even more. Now it needs to support democracy and peacebuilding in Africa. Now it needs to prioritize exchange programs, education, trade and other viable areas of cooperation. I still hold to the fact that BRICS have to make collective efforts in coordinating with the rest of the world in addressing the coronavirus crisis.
Supporting African countries in debt relief efforts would help. A paradigm shift or change in that directions would mean Africa will have more liquidity to inject in economic development.
This interview was originally published in InDepthNews.
New US Travel Rules Excludes Foreigners Vaccinated with Russia's Sputnik V
By Kester Kenn Klomegah
Local and foreign media have stepped up reports about rising COVID-19 infections in Russia. While the reports indicated high deaths in the country, the other highlighted new trends that are noticeably appearing there.
Interestingly, directors at the Russian tourism and travel agencies say that many Russians are lining up for vaccine tourism in Serbia, Bulgaria and Germany and a few other foreign countries.
These Russians aim at getting foreign vaccines including Pfizer, Moderna and Johnson & Johnson and AstraZeneca.
Here are a few facts about Russian vaccines.
Russia's Sputnik V was the first officially registered coronavirus vaccine on August 11, 2020. Russia is using four vaccines for mass vaccination for COVID-19. These are Sputnik V and Sputnik Light developed by the Russian Health Ministry's Gamaleya Center.
EpiVacCorona developed by the Vector Center of the Federal Service for Surveillance on Consumer Rights Protection and Human Wellbeing (Rospotrebnadzor), and CoviVac developed by the Chumakov Institute of the Russian Academy of Sciences.
Clinical trials of the EpiVacCorona vaccine on teens aged from 15 to 17 might begin in the near future.
China has a 1.3 billion population and has given the two billionth vaccine by the end of August, the United States has 380 million and has vaccinated 60% of its population. In Europe, the vaccination rate is high at an appreciable level.
Overall, Russia with an estimated 146 million people has Europe's highest death toll from the pandemic, nearly 210,000 people as of September 30, according to various authentic sources including the National Coronavirus Task Force.
More than 42 million Russians have received both components of a coronavirus vaccine, according to Russian Deputy Prime Minister Tatyana Golikova.
"The number of citizens who have received the first component of a vaccine has topped 44 million, and more than 37 million people have completed a full vaccination course," Golikova said.
She gave an assurance back in July that once the population have been immunized with at least the first component of a two-shot vaccine, herd immunity to COVID-19, or at least an 80% vaccination rate, should be reached by November 1.
Even though Russia boasted of creating the world's first coronavirus vaccines, vaccination is very low. Critics have principally blamed a botched vaccine rollout and mixed messages the authorities have been sending about the outbreak.
In addition, coronavirus antibody tests are popular in Russia and some observers suggest this contributes to the low vaccination numbers.
Western health experts say the antibody tests are unreliable either for diagnosing COVID-19 or assessing immunity to it. The antibodies that these tests look for can only serve as evidence of a past infection. Scientists say it's still unclear what level of antibodies indicates that a person has protection from the virus and for how long.
Russia has registered Sputnik V in more than 150 foreign countries. The World Health Organization is yet to register this vaccine. For its registration, it must necessarily pass through approved procedures, so far Russia has ignored them, according to reports.
There have also been several debates after the World Health Organization paused its review process of the Sputnik V vaccine over concerns about its manufacturing process, and few other technical reasons. While some talked about politicizing the vaccine registration, others have faced facts of observing recognized international rules for certifying medical products as such vaccines.
During the first week of October, Russian Health Minister Mikhail Murashko has reiterated or repeated assertively that a certain package of documents was needed to continue the process for the approval of the Russian coronavirus vaccine Sputnik V by the World Health Organization. The final approval is expected towards the end of 2021.
Still, one of the problems with registration is unfair competition in the global market. For instance, Russian Minister of Industry and Trade Denis Manturov said in an interview with the Rossiya-24 television channel on October 5: "I think it is an element of competition. Until Pfizer covers a certain part of the market, it is pure economics."
On the other side, Pyotr Ilyichev, Director for International Organization at the Russian Foreign Affairs Ministry, told Interfax News Agency, for instance, that World Health Organization has been playing politics around Russian vaccine especially when it is needed in most parts of the world.
"The world is facing an acute shortage of vaccines for the novel coronavirus infection. In certain regions, for instance in African countries, less than 2% of the population has been vaccinated. The Russian vaccine is in demand, and the UN stands ready to buy it," he told Interfax.
"However, certification in the WHO is a complex, multi-step process, which was developed in the past in line with Western countries' standards. It requires time and serious efforts from our producers. We hope that this process will be successfully finalized in the near future," Ilyichev said.
Chairman of the State Duma's Foreign Affairs Committee Leonid Slutsky has described as discriminatory a decision reported by foreign media that the United States, under its new consular rules, would deny entry for foreigners immunized with the Russian COVID-19 vaccine Sputnik V.
"Thus, the U.S. will blatantly embark on a path of 'vaccine discrimination.' There are absolutely no grounds for such decisions. The efficacy and safety of the Sputnik V vaccine have been confirmed not only by specialists but also by its use in practice," Slutsky said on Telegram.
He cited an article in The Washington Post saying that from November the United States may begin denying entry to foreigners vaccinated with Sputnik V.
It means that if such additional border measures are adopted, foreigners seeking entry to the United States will have to be immunized with vaccines approved for use either by American authorities or the World Health Organization.
According to an article published in The Washington Post, for the first time since the pandemic began, the United States intends to loosen entry restrictions for foreigners vaccinated against COVID-19.
The new rules, which enter into force in November, will not apply to Russians vaccinated with Sputnik V and citizens of other countries using this Russian vaccine.
Under the new rules, foreigners will enter the United States only if they are immunized with vaccines approved for use by the United States Food and Drug Administration or the World Health Organization. Russia's Sputnik V is yet to be approved by the World Health Organization and is not recognized by the United States.
Airtel Money, Flutterwave to Explore East African Markets
By Adedapo Adesanya
Airtel Money has announced a partnership with an African payments company, Flutterwave, to expand the former's services to East African markets.
Through the partnership, businesses integrating Flutterwave in Uganda, Tanzania, Zambia, Malawi, Kenya and Rwanda will be able to receive payments from Airtel Money customers and make bulk payments into Airtel Money wallets, thanks to Airtel Money's proprietary fintech platforms.
The new services will go live subject to regulatory approvals in the respective countries and reach Airtel Money's 19.2 million customers in East Africa.
This is coming after a month after the fintech company announced a mobile money partnership with MTN Group to integrate Flutterwave in Cameroon, Côte d'Ivoire, Rwanda, Uganda and Zambia to receive payments via MTN Mobile Money (MoMo).
According to the company in a statement, the partnership will positively increase mobile money usage and penetration in Africa and improve local economies and livelihoods, as well as create opportunities for individuals and businesses across the continent.
Speaking on the development, Airtel Mobile Commerce BV CEO, Mr Vimal Kumar Ambat commented: "Airtel Money is committed to bridging the digital divide and enhancing financial and digital inclusion for millions of businesses across sub-Saharan Africa. Our partnership with Flutterwave will help to empower even more customers through simple and accessible payments services, using the latest technologies, that support business innovation and boost local economies."
On his part, Flutterwave founder and CEO, Mr Olugbenga Agboola, stated that, "Our business goal is to continue to support African businesses digitise their payments methods and introduce them to a world of opportunities that come with digitisation.
"We are excited to have partnered with Airtel Money to further advance local businesses payment methods which will allow them to increasingly provide more services to their customers, grow their customer base and revenue."
The development of Mobile Money in Africa has been nothing but remarkable and commendable with approximately 144 mobile money providers operating in Africa, with M-Pesa having over 50 million users and MTN MoMo having over 48.9 million users.
Furthermore, the International Monetary Fund (IMF) estimates show that Africa has more digital financial services users than any other region in the world, accounting for nearly half of the 700 million individual users globally.
COVID-19 has also triggered a widespread shift in the adoption of mobile money services, with the GSMA reporting a 12.7 per cent increase in the number of registered global mobile money accounts in 2020.
As the trend continues its upward spike, this partnership further responds to the growing dominance of cashless societies across the sub-Saharan region and the need to penetrate digital innovation deeper into communities across Africa.
Libya Finally Kicks Off Construction of Oil Refinery Project
By Sodeinde Temidayo David
Libya, one of Africa top crude oil exporters, has announced the commencement of the construction of a refinery in the south zone of the country.
This was revealed after a cabinet meeting in the country where it was revealed that the refinery project was originally planned in 1980.
The refinery is aimed to produce cooking gas and also produce 8,000 cylinders per day, jet fuel and other products, including 1.4 million litres of petrol per day and 1.1 million litres of diesel in a day.
Libyan Prime Minister, Mr Abdelhamid Dbeibah, announcing in the ceremony at the country's capital, Tripoli, noted that the project is in association with the country's oil company, National Oil Corp (NOC).
He further disclosed the importance of the project to the country's growth, adding that the financial coverage was ready, with specifications and technical designs also ready with Libya's state oil company.
According to the Chairman of NOC, Mr Mustafa Sanalla, the project will cost between $500 million and $600 million and become operational within three years, with an expected annual income of $75 million.
The refinery will be built near Al-Charara, a major oil field in the Oubari region of Libya, which produces an average of 300,000 barrels of oil a day.
First announced in the early 1980s, the project for a refinery in southern Libya had been put on hold for years before being revived in 2017.
Libya, which has the most abundant oil reserves in Africa, has been trying to emerge from a decade of chaos since the fall of Muammar Gaddafi's government in 2011.
Libya was gripped by violence and political turmoil in the aftermath of the NATO-backed uprising against Kadhafi.
In recent years, the country has been split between two rival administrations backed by foreign powers and myriad militias but the recent ceasefire has helped return some level of peace to the country which has allowed its export crude.
Latest News on Business Post