Russians Acknowledge New Approach Working With Africa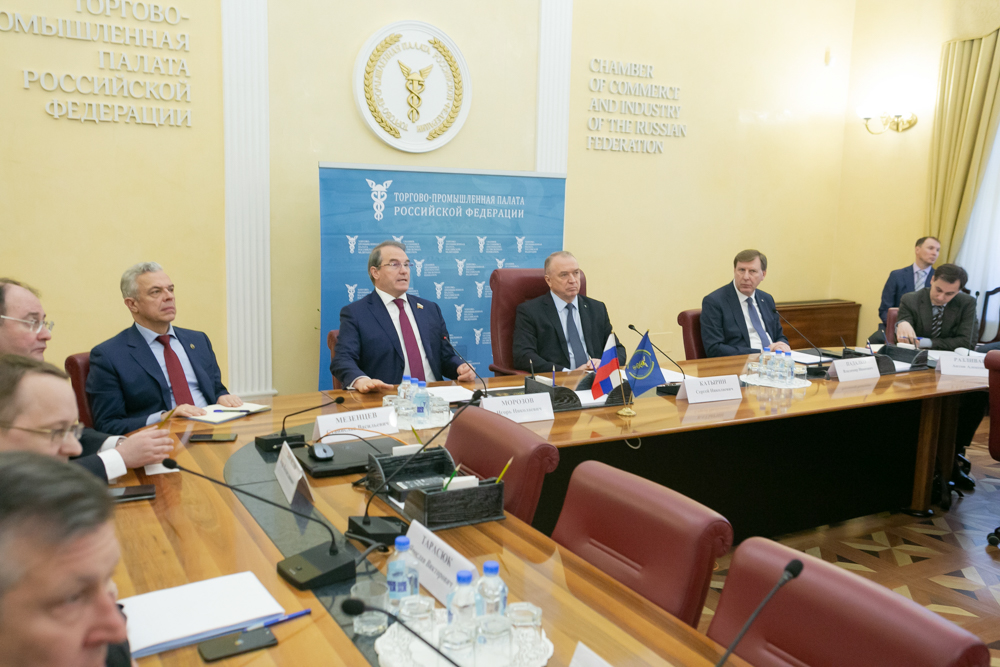 By Kester Kenn Klomegah
For the second round this year, the Russian Chamber of Commerce and Industry together with the Coordinating Committee for Economic Cooperation with African Countries (AfroCom) have gathered corporate business leaders, urging them to look at the African market with much interest and work more systematically and consistently.
The African market is competitive and complex, Russian business needs to work on it thoroughly and systematically in order to succeed, emphasized Sergey Katyrin, President of the Russian Chamber of Commerce and Industry, opening the meeting with the heads of business councils for cooperation with African countries.
Russia lives in fundamentally new economic realities, supply chains are disrupted, many ties are broken, logistics are disrupted, and businesses are forced to adjust their strategies for working with foreign partners and look for new opportunities for their development.
The logical solution here is the development of cooperation in friendly countries, in particular, on the African continent. The Business Chamber has already received lots of requests from territorial chambers regarding the opportunities for developing trade and economic relations between small and medium-sized businesses with Africa, Katyrin emphasized in remarks at the meeting.
At the same time, while noting the low presence of Russian business footprints on the continent, he also acknowledged that today's Africa requires new approaches to work from business, and from the state, long-term programs to support entrepreneurship and foreign economic activity.
Chairman of the Coordinating Committee for Economic Cooperation with African Countries, RF Senator Igor Morozov spoke at length about what the organization had already done and about its future plans. His organization established back in 2009, is supposed to help businesses to navigate African realities, find a niche for their work, learn about the conditions for entering certain markets, et cetera.
With the United States and European sanctions currently hitting hard on Russia, the business organization now turns to Africa. It opens its offices in Kampala (Uganda) and in Addis Ababa (Ethiopia), where the headquarters of the African Union is located.
In Africa today there is a great demand for IT technologies, and this must be borne in mind. Companies can turn around there, create their own digital platforms and work successfully. There are many technology parks on the continent, for example, there are ten of them in Ethiopia alone; they offer significant benefits.
Senator Igor Morozov further noted that it is necessary to create a Russia-Africa trading house, through which Russian firms could more successfully in entering African markets. "We really need a specialized investment fund to support entrepreneurs. In general, if we work seriously and with the prospect of working with African partners for many years, more serious state support is needed," he said.
After the collapse of the Soviet Union, many ties in Africa disappeared, much was lost, and new players came to the continent, but Russia can still take its rightful place here. But over the years, Russians oftentimes going forth and back, have been highly inconsistent with business pursuits with African partners.
In attendance was Yaroslav Tarasyuk, Deputy Director of the Department of Asian, African, and Latin American Countries of the Ministry of Industry and Trade of the Russian Federation. Among the speakers was also Anton Razlivaev, Deputy Director of the Department for the Development of Bilateral Cooperation of the Ministry of Economic Development of the Russian Federation.
Both spoke about the work to promote Russian interests on the African continent while emphasizing the need to revise many current approaches to organizing work in this direction.
In this regard, Sergey Katyrin noted that since many exhibitions in Europe planned by ministries were suspended due to the recent Russia-Ukraine crisis, the money allocated for them should be used to hold exhibitions in African countries.
But at the same time, there is the need to work quickly, since it takes at least six months to organize any exhibition. The situation is changing dramatically, and what is quite possible today may turn out to be difficult to implement tomorrow.
Russian financial institutions are slow in showing interest in Africa.  To promote this idea and ask banks to offer financial support, the participation of the Chamber of Commerce and Industry of the Russian Federation is very important. Another important issue is transaction insurance. Of course, there are more problems, as it always happens in business, but the listed ones are among the most important, the participants of the discussion emphasized.
Sergey Katyrin summed up the meeting, noting that Africa is an extremely interesting and important field of activity for business, and the authorities should prepare and consolidate it into one document supported by the Russian Chamber of Commerce and Industry.
100 million People Displaced in Nigeria, Afghanistan, Ukraine, Others—UNHCR
By Adedapo Adesanya
The United Nations Refugee Agency (UNHCR) has disclosed that the Ukraine war and other conflicts have forced about 100 million people to flee to safety.
According to UNHCROpens in a new window report, the number of forcibly displaced people worldwide rose to 90 million by the end of 2021, propelled by new waves of violence or protracted conflict in countries including Ethiopia, Burkina Faso, Myanmar, Nigeria, Afghanistan and the Democratic Republic of the Congo.
So far in 2022, the war in Ukraine has displaced 8 million within the country this year and forced around 6 million to leave the nation.
Speaking on this, the UN High Commissioner for Refugees, Mr Filippo Grandi said, "One hundred million is a stark figure — sobering and alarming in equal measure. It's a record that should never have been set.
"This must serve as a wake-up call to resolve and prevent destructive conflicts, end persecution, and address the underlying causes that force innocent people to flee their homes."
By calculation, the 100 million people forcibly displaced worldwide represents one per cent of the global population and is equivalent to the 14th most populous country in the world.
The number includes refugees and asylum seekers as well as the 53.2 million people displaced inside their borders by conflict.
Speaking further, Mr Grandi added, "The international response to people fleeing war in Ukraine has been overwhelmingly positive.
"Compassion is alive, and we need a similar mobilization for all crises around the world. But ultimately, humanitarian aid is a palliative, not a cure."
He then called for peace and stability to ensure that the number doesn't grow any further in the coming years.
"To reverse this trend, the only answer is peace and stability so that innocent people are not forced to gamble between acute danger at home or precarious flight and exile."
Last week, the International Organization for Migration (IOM) informed that a record 59.1 million people were displaced within their homelands last year, four million more than in 2020.
Conflict and violence triggered 14.4 million internal displacements in 2021, a nearly 50 per cent increase over the previous year.
Meanwhile, weather-related events such as floods, storms and cyclones resulted in some 23.7 million internal displacements in 2021, mainly in the Asia-Pacific region.
Russia Reaffirms Readiness to Support Mali
By Kestér Kenn Klomegâh
After withdrawing from the Joint Military Force of the G5-Sahel group which the United Nations described as "unfortunate" and "regrettable" middle of May, Malian Foreign Minister, Abdoulaye Diop, made a snapshot visit, for the second time under the new military administration to Moscow, intended to review various aspects of strategic partnership deals with Foreign Minister Sergei Lavrov.
"We paid special attention to the practical aspects of organizing deliveries from Russia of wheat, mineral fertilizers and petroleum products that are so much needed by the people of Mali today in conditions of illegitimate Western sanctions," Lavrov said at a press conference after talks with Diop in Moscow.
The sound pace of military and military-technical contacts between the two countries was noted during the talks, according to Lavrov, and thanked his Malian counterpart for support for Russia's resolutions at the latest session of the UN General Assembly. Lavrov made to explicit reference to the meeting of the UN Security Council the Western countries that consistently tried to "put their blame at Russia's door" and to shirk responsibility for the food crisis.
"It goes without saying that we discussed the situation in Ukraine and around it, including the meeting of the UN Security Council devoted to world food security issues, where the Western countries tried to put their own blame at somebody else's door. They argued that the crisis, which by and large is a result of their own efforts, allegedly stems from the crisis in Ukraine. Of course, they blamed it entirely on Russia," Lavrov said.
Russia reaffirms its readiness to render Mali support in raising the fighting efficiency of its armed forces. "We reaffirmed Russia's readiness as a permanent member of the UN Security Council to further contribute to normalizing the situation in Mali, render Bamako comprehensive support on a bilateral basis, in particular, in the sphere of raising the combat efficiency of the Malian armed forces, training troops and law-enforcement personnel," Russia's top diplomat said.
France's decision together with Western allies to end the anti-insurgent Operation Barkhane and the European special forces mission Takuba does not contribute to restoring security in Mali and the entire Sahel region. Reports say France has approximately 5,100 troops in the region under Operation Barkhane, which spans five countries in the Sahel – Burkina Faso, Chad, Mali, Mauritania and Niger.
With the final exit and the vacuum created by France, Russia now sees Mali as an excellent conduit to penetrate into the Sahel by pushing the much-criticized Wagner Group that organizes private military for countries in conflict. It is aggressively targeting the Sahel region, an elongated landlocked territory located between north Africa (Maghreb) and West Africa region, and also stretches from the Atlantic Ocean to the Red Sea.
"There is an obvious danger of the emergence of enclaves of power vacuum where militants of various outlawed armed gangs will feel free at hand and they have already prepared for such acts. This threatens the country's territorial integrity and we repeatedly told our French counterparts about that," Russia's top diplomat said.
On March 2 at the United Nations General Assembly, African representatives and their votes were considered very interesting, and have geopolitical implications for study and analysis. Some 17 African countries abstained from the vote at the UN General Assembly to deplore the Russian invasion of Ukraine while some other 28 countries in the continent voted in favour. Mali was among those that abstained from vote. Eritrea was the only African country that voted against the resolution. It opposes all forms of unilateral sanction as illegal and counterproductive.
"All our initiatives were supported by Mali. We agreed to enhance coordination on the UN platform and in other international organizations. We are determined to work for this in earnest, including in the recently created Group of Friends in Defense of the Charter of the United Nations," Lavrov assured.
During his first official visit in November 2021 to Moscow, Abdoulaye Diop and Sergei Lavrov, in fact, focused on increasing bilateral cooperation in economic sectors. But particularly significant was Russia's military assistance to strengthen the position of the new military government and to fight rising terrorism in the Sahel region.
As developments explicitly show, Mali already stands in isolation there as the Economic Community of West African States (ECOWAS), the African Union, the United Nations, and the bilateral and multilateral partners endorse and support the implementation of sanctions and other strict measures to ensure a peaceful return to constitutional and democratic government in Mali.
Mali, a landlocked West African state with an impoverished population, faces increasing isolation from the international community over the political power grab. Even as the African Union (AU), the continental organization, and the Economic Community of West African States (ECOWAS), the regional bloc, both suspended the membership of Mali following military coups in August 2020 and May 2021, the ruling military officials are still holding onto political power by delaying the proposed elections in February 2022.
The African Union, Economic Community of West African States (ECOWAS) and foreign organizations such as the European Union (EU) and the United Nations (UN) have requested a quick transition to a civilian government. They further urged that efforts are taken to resolve outstanding issues relating to sustainable development and observing strictly principles of democracy in the Republic of Mali in West Africa.
Moscow is still planning to hold the second Russia-African summit. The "special military operation" approved by both the Federation Council and the State Duma (legislative chambers) to "demilitarize and denazify" the former Soviet republic of Ukraine has pushed the United States and Canada, European Union members and many other external countries to impose sanctions against Russia.
AfDB Board Okays $1.5bn to Avert Food Crisis in Africa
By Adedapo Adesanya
The Board of Directors of the African Development Bank Groups (AfDB) on Friday approved a $1.5 billion facility to help African countries avert a looming food crisis.
With the disruption of food supplies arising from the Russia-Ukraine war, Africa now faces a shortage of at least 30 million metric tons of food, especially wheat, maize, and soybeans imported from both countries.
The Abidjan-based bank, among other institutions, has disclosed that African farmers urgently need high-quality seeds and inputs before the planting season begins in May to immediately boost food supplies.
The Abidjan based bank's $1.5 billion African Emergency Food Production Facility is an unprecedented comprehensive initiative to support smallholder farmers in filling the food shortfall. It will provide 20 million African smallholder farmers with certified seeds.
Also, it will increase access to agricultural fertilizers and enable them to rapidly produce 38 million tons of food, which is about a $12 billion increase in food production in just two years.
The President of AfDB Group, Mr Akinwumi Adesina, said: "Food aid cannot feed Africa. Africa does not need bowls in hand. Africa needs seeds in the ground, and mechanical harvesters to harvest bountiful food produced locally. Africa will feed itself with pride for there is no dignity in begging for food."
Also, the Vice President of AfDB for Agriculture, Human and Social Development, Ms Beth Dunford, said, "The Africa Emergency Food Production Facility builds on lessons learned from the African Development Bank's Feed Africa Response to COVID-19  programme. That programme has provided a strategic roadmap to support Africa's agriculture sector and safeguard food security against the pandemic's impact."
The facility has benefited from stakeholder consultations, including those with fertilizer producers and separately with African Union agriculture and finance ministers earlier this month.
The ministers agreed to implement reforms to address the systemic hurdles that prevent modern input markets from performing effectively.
The bank's $1.5 billion strategies will lead to the production of 11 million tons of wheat; 18 million tons of maize; 6 million tons of rice; and 2.5 million tons of soybeans.
The plan is to provide 20 million farmers with certified seeds, fertilizer, and extension services. It will also support market growth and post-harvest management.
Also, the bank will provide fertilizer to smallholder farmers across Africa over the next four farming seasons, using its convening influence with major fertilizer manufacturers, loan guarantees, and other financial instruments.
The facility will also create a platform to advocate for critical policy reforms to solve the structural issues that impede farmers from receiving modern inputs. This includes strengthening national institutions overseeing input markets.
It has a structure for working with multilateral development partners. This will ensure rapid alignment and implementation, enhanced reach, and effective impact and will increase technical preparedness and responsiveness.
In addition, it includes short, medium, and long-term measures to address both the urgent food crisis and the long-term sustainability and resilience of Africa's food systems.
Latest News on Business Post