Spotlight on Infrastructure Development in Africa at Expo 2020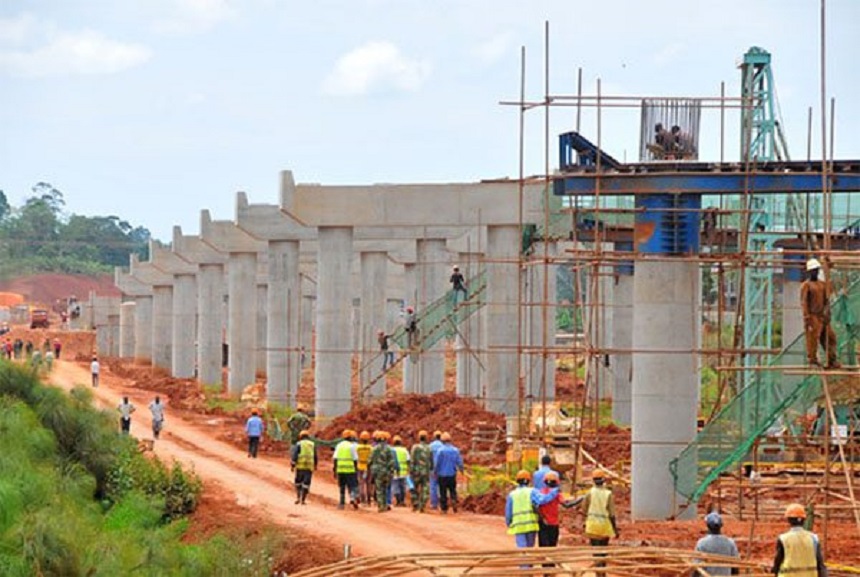 By Kester Kenn Klomegah
During the two-day high-level conference held within EXPO-2020 in Dubai, the African Union Commission (AUC) and the African Union Development Agency-NEPAD (AUC-NEPAD) presented a number of strategic continental infrastructure and energy projects for potential foreign investors, the aggregate cost undisclosed.
The exhibition, originally scheduled for last year was postponed due to the COVID-19 pandemic. The Expo 2020 was officially opened on 30 September 2021 and operates until March 2022.
The conference on Infrastructure Development in Africa also featured high-level personalities and thought leaders from the continent, articulating the African vision for transformational infrastructure, while engaging stakeholders on the effective delivery of infrastructure and energy in Africa.
"We believe that Africa's better days lie ahead of us. Appropriate infrastructure is a prerequisite for implementing the African Continental Free Trade Area (AfCFTA). However, the lack of well-prepared and bankable infrastructure projects has been a major constraint. This is why we are working with AUDA-NEPAD, AfDB and other partners in the NEPAD Project Preparation Facility, encouraging strategic partnerships with the private sector," Hon. Raila Odinga, the AU Higher Representative on Infrastructure Development in Africa, said during the opening session.
Ibrahim Mayaki, Chief Executive Officer of the AUDA-NEPAD CEO, noted "Infrastructure is not about economic transformation alone, but the transformation of people's livelihoods." This was in agreement with Atef Marzouk, Acting Director of Infrastructure and Energy at the AUC, who also emphasized that infrastructure development is not an end in itself, but a means to an end.
The conference highlighted, among others, the recently adopted Second Phase of the Programme for Infrastructure Development in Africa (PIDA-PAP2). "Before the onset of PIDA, regional infrastructure projects were not prioritized. When we moved from PIDA Priority Action Plan 1 to PIDA Priority Action Plan 2, we took on a corridor approach, in order for us to think beyond country boundaries. The corridor approach is the main change in paradigm in our continent's infrastructure development. Africa is therefore ready for investment – it has gone through a process of consultation, prioritization and development of tools with strong political will," Mayaki said.
The second PIDA Priority Action Plan, known as PIDA-PAP 2 (2021-2030) has adopted the Integrated Corridor Approach, a multi-infrastructure corridor approach to infrastructure development that works toward a more prosperous Africa by emphasizing projects that maximize job creation and climate friendliness. The approach also contributes to continental integration by prioritizing projects that improve connectivity between urban and rural areas and link different infrastructure sectors.
Symerre Grey-Johnson, AUDA-NEPAD's Director of Technical Cooperation and Programme Funding, pointed out that projects in PIDA-PAP 2 were curated this way to also guarantee a people-driven Africa as they strengthen the role of women through gender-sensitive infrastructure development.
Amine Adoum, AUDA-NEPAD's Director of Programme Delivery and Coordination Directorate, explained: "The objective of regional integration is to facilitate movement of people, goods and services, a bottleneck in the realization of Agenda 2063. Hence the corridor development is an integral part for regional integration and realizing of the AfCFTA goals together with PIDA-PAP 2."
Adoum also expounded on the importance of other infrastructure sectors and the tools that have been developed to accelerate the implementation of continental and regional projects. "Energy corridors are also important hence we are working towards implementing the Continental Power System Master Plan. Three tools that have been developed to accelerate infrastructure projects rollout are: the Service Delivery Mechanism, the Continental Business Network (validated by the African Union), and the publishing of de-risking infrastructure projects in Africa reports," Adoum declared.
Participants at the event also learnt that financial viability was taken into consideration for all PIDA-PAP2 projects, with new partners sought. Robert Lisinge Chief, Operational Quality Section at United Nations Economic Commission for Africa, clustered the partnerships for Africa's infrastructure development into the following:
Green Funds – PIDA projects are eligible for financing through green funds, including road, water and energy projects.
Impact Investors – Impact investors are important as inclusiveness is a major component of PIDA-PAP 2 projects, aimed at improving the well-being and livelihoods of African citizens
Public-Private Partnerships
Strategic Partnerships
The importance of financing for infrastructure was also brought to the fore, in a session led by Towela Nyirenda-Jere, the Head of Economic Integration at AUDA-NEPAD. She informed the conference participants that African Heads of State approved 69 PIDA-PAP 2 projects. "Therefore, more investments are needed for infrastructure with the opportunities that the AfCFTA) brings," Towela said.
The PIDA PAP II consist of 28 transport projects, 18 energy projects, 12 water projects, and 11 Information Communication Technology projects. PIDA-PAP 2, as the second PIDA priority action plan will run for the period 2021 to 2030. This portfolio is based on an inventory of projects proposed by Regional Economic Communities and African Union Member States as one of the key deliverables in Africa's Agenda 2063 towards the continent's development.
Africa Gets Just 12% of Climate Change Financing
By Adedapo Adesanya
A new report from Climate Policy Initiative (CPI) has said that Africa is getting just 12 per cent of the finance it needs to manage the impact of climate change.
It, however, raised pressure on rich nations to do more in the run-up to global climate talks at COP27 in November.
CPI said that around $250 billion is needed annually to help African countries move to greener technologies and adapt to the effects of climate change, yet funding in 2020 was just $29.5 billion.
Wealthy countries have faced growing criticism for failing to meet a pledge made in 2009 to provide $100 billion annually to help poorer countries and the issue is likely to be central to discussions at the COP27 climate talks in Egypt.
According to the International Energy Agency, Africa has about a fifth of the world's population but produces less than 3 per cent of its carbon dioxide emissions.
"Harnessing climate investment opportunities in Africa will require innovation in financing structures and strategic deployment of public capital to 'crowd-in' private investment at levels not yet seen," the CPI report said.
It cited a lack of skills, infrastructure, data and financial markets depth, governance issues, and currency risks as holding back climate investment to varying degrees in African countries.
The barriers were most numerous in central African countries, where infrastructure and access to credit are lacking and there are high risks of political and regulatory issues hampering investment, the report said.
"While these barriers are real, the perception of risk linked to investments in the African continent is often aggravated by a limited understanding of national contexts by private investors," it said.
Australia Begins Process to Introduce Central Bank Digital Currency
By Adedapo Adesanya
As more countries gravitate towards a digital currency, Australia joined the cadre as it announced the beginning of a collaborative effort to review the case for a central bank digital currency (CBDC) in the country.
The Reserve Bank of Australia (RBA), Treasury, and other agencies will oversee the research effort designed to explore the potential economic benefits of introducing such a currency in Australia, the RBA said in a statement Tuesday. The project is expected to run for about a year.
Speaking on this, the RBA's Deputy Governor Michele Bullock said the work "is an important next step in our research on CBDC. We are looking forward to engaging with a wide range of industry participants to better understand the potential benefits a CBDC could bring to Australia."
The central bank reiterated the research comes in the context of Australia already having "relatively modern and well-functioning payment and settlement systems."
The RBA is collaborating with the Digital Finance Cooperative Research Centre in the project, while Treasury is participating as a member of the steering committee. The work will involve the development of a "limited-scale pilot that will operate in a ringfenced environment for a period of time."
Over the course of the next 12 months, interested industry participants will be invited to develop specific use cases that demonstrate how the digital currency could be used to provide innovative and value-added payment and settlement services to households and businesses, the RBA added.
A report on the findings, including an assessment of the various use cases developed, will be published at the conclusion.
Central banks worldwide are acting swiftly to ensure they don't fall behind as money edges toward its biggest reinvention in centuries with alternative concepts like cryptocurrencies taking hold.
Nigeria is one of the countries at the forefront of a CBDC with the introduction of the eNaira in 2021 with the Digital Euro still under investigation phase while Jamaica began its own testing phase in May. China's Digital Yuan has been in testing since 2020.
Blockchain technology, as well as events like the coronavirus pandemic, are among the forces pushing consumers to go cashless.
Mozambique Risks Economic Stability Over Russian Oil
By Kestér Kenn Klomegâh
Mozambique risks destabilizing its economy and further losing western development finance if it goes ahead to purchase sanctioned oil from Russia.
With the return of western development finance institutions such International Monetary Fund (IMF), World Bank and the USAID, and currently showing tremendous support for sustainable development projects and programmes, Mozambique would have to stay focused and stay clear of the complexities and contradictions of the Russia-Ukraine crisis.
Mozambique needs to seriously concentrate on and pursue its plans of exporting liquefied natural gas (LNG), extracted from the Coral South field, off the coast of Palma district, in the northern province of Cabo Delgado, possibly starting this October. It marks an economic turning point and opens a new chapter for its revenue sources.
According to our research, Mozambique will become the first country in East Africa to export LNG. It will be produced on a floating platform, belonging to a consortium led by the Italian energy company, Eni. The platform, built in a Korean shipyard, arrived in Mozambican waters in January and is now anchored in Area Four of the Rovuma Basin, some 40 kilometres from the mainland.
This is the first deep-water platform in the world to operate at a water depth of about two thousand meters. The Coral South project is expected to produce 3.4 million tons of LNG per year over its estimated 25-year lifespan.
A second project is planned for Area One of the Rovuma Basin, where the operator is the French company TotalEnergies. The planned LNG plants for this project, are onshore, in the Afungi Peninsula of the Palma district. The jihadists seized Palma town in March 2021, and TotalEnergies withdrew all of its staff from the district. Subsequently, the Mozambican defence and security forces and their Rwandan allies drove the terrorists out of both Palma and the neighbouring district of Mocimboa da Praia.
The current global economic situation is changing, and competition and rivalry for markets are also at their height. During the past months, Russia has cut its export of gas as a reciprocal action against European Union members and has redirected its search for new clients in the Asian region. It has already offered discounted prices to China and India, and now looking beyond Africa.
United States Special Envoy to the United Nations, Thomas-Greenfield, has made one point clear in her speeches with African leaders that "African nations are free to buy grain from Russia but could face consequences if they trade in U.S.-sanctioned commodities such as oil from Russia."
"Countries can buy Russian agricultural products, including fertilizer and wheat," Linda Thomas-Greenfield said. But she added that "if a country decides to engage with Russia, where there are sanctions, then they are breaking those sanctions. We caution countries not to break those sanctions because then … they stand the chance of having actions taken against them."
Russian Ambassador to Mozambique, Alexander Surikov, after a meeting with the Confederation of Economic Associations of Mozambique (CTA), had proposed that the Mozambican authorities could buy Russian oil in roubles after Moscow presented the option to Maputo. Ambassador Surikov further expressed Russian companies' continuing interest in investing in Mozambique. Likewise, the possibility was raised of Russia opening a bank in Mozambique focused on supporting bilateral trade and investment.
Russia previously had a VTB bank in Maputo, later involved in opaque deals. It was a financial scandal involving three fraudulent security-linked companies, and two banks – Credit Suisse and VTB of Russia, relating to illicit loan guarantees issued by the government under former President Armando Guebuza. Until today, it is popularly referred to as the "Hidden Debts" scandal involving US$2.7 billion (€2.3 million), the financial scandal that happened in 2013.
In the aftermath, financial institutions exited, projects were abandoned and this southern African country has struggled to rebound economically. Now they are returning with new financial assistance programmes that would promote sustainable and inclusive growth and long-term macroeconomic stability.
In the context of the current cereal crisis, one other issue that the ambassador raised was how Mozambican companies could have direct access to Russian wheat suppliers. In this regard, it was not clear how Russian wheat would enter the market and how it would be paid for because Mozambique uses principally the US dollar in its foreign transactions, and Russia cannot conduct transactions using the US currency due to the sanctions imposed following the invasion of Ukraine.
"The rouble and the medical are worthy currencies that do not need the benevolence of some other countries that control the international system," the Russian diplomat explained, adding that Moscow wanted to strengthen cooperation with Maputo.
Nonetheless, Minister of Mineral Resources and Energy of Mozambique, Carlos Zacarias, admittedly the possibility of buying Russian oil in roubles. "I am sure that we will study and verify the feasibility of this offer from Russia. If it is viable, for sure Russian oil will be acquired in roubles," Carlos Zacarias said.
Mozambique's receptivity to the Russian proposal stems from the fact that the world is experiencing a peculiar moment, characterized by great volatility in oil prices on the international market as a result of the Russia-Ukraine war.
Mozambique was among the countries that abstained on two resolutions that were voted on by the General Assembly of the United Nations, one condemning Russia for the humanitarian crisis in Ukraine as a consequence of the war and the other suspending Moscow from the Human Rights Council.
The Mozambican Liberation Front (Frelimo, the ruling party) was an ally of Moscow during the time of the former USSR and received military support during the struggle against Portuguese colonialism and economic aid after independence in 1975.
Mozambique and Russia have admirable political relations. Mozambique has to focus on trade and economic development with external partners. According to data provided by CTA, the annual volume of economic transactions between Mozambique and Russia is estimated to be, at least, US$100 million (€98.5 million at current exchange rates).
Experts aptly point to the fact that there is a tremendous opportunity window for Mozambique. With partners including ExxonMobil Corp., China National Petroleum Corp. and Mozambican state-owned Empresa Nacional de Hidrocarbonetos, Mozambique has to move towards its own energy development. These past few years, experts have also reiterated adopting a suitable mechanism, mapping out strategies and utilizing financial support for sustainable development.
Mozambique has considerable gas resources and the right decision is to move toward both an onshore concept and an offshore concept. The ultimate goal has to establish connectivity between its resource exploration and national development. The idea is to foster economic relations based on its domestic development priorities. And consequently, it has to determine influential external investment partners ready to invest funds and, in practical terms, committed to supporting sustainable development in the country.
The Mozambique LNG offshore project, valued at around $20 billion, aims to extract about 13.12 million tonnes of recoverable gas over 25 years and generate profits of US$60.8 billion, half of which will go to the Mozambican state.
The process to achieve this task has started and would generate 14,000 possible jobs in phases – first creating 5,000 jobs for Mozambicans in the construction phase and 1,200 in the operational phase, with a plan to train 2,500 technicians and so forth. These projects also have a great capacity to create indirect jobs, with foreign labour decreasing throughout the project and Mozambican labour increasing. Most of these jobs are expected to be provided by contractors and subcontractors.
Several corporate projects came to a halt due to armed insurgency in 2017 in Cabo Delgado province. The entry of foreign troops to support Mozambican forces in mid-2021 has improved the security situation. Since July 2021, an offensive by government troops was fixed, with the support of Rwandans and later by the Standby Joint Force consisting of forces from members of the Southern African Development Community (SADC).
Cabo Delgado province, located in northern Mozambique, is rich in natural gas. Although the gas from the three projects approved so far has a destination, Mozambique has proven reserves of over 180 trillion cubic feet, according to data from the Ministry of Mineral Resources and Energy. With an approximate population of 30 million, Mozambique is endowed with natural resources. It is a member of the Southern Africa Development Community (SADC) and the African Union.
Latest News on Business Post