Spotlight on Infrastructure Development in Africa at Expo 2020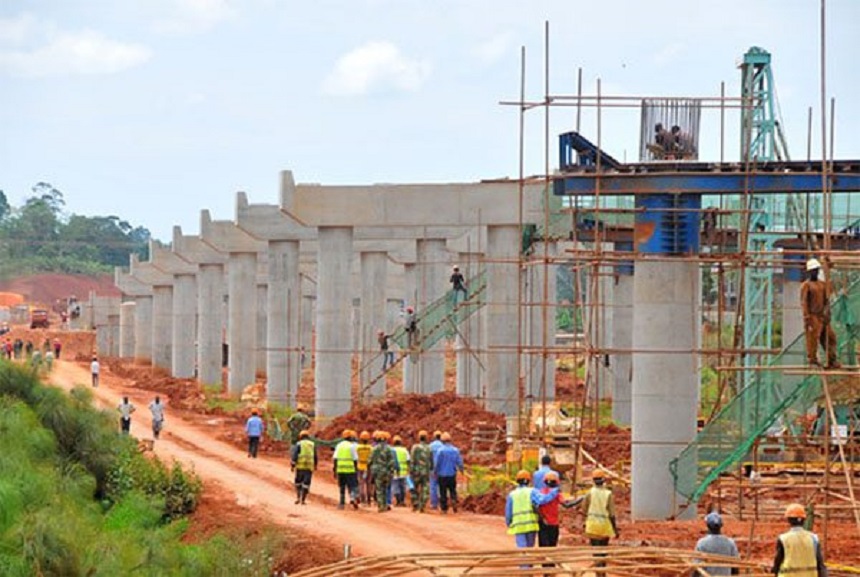 By Kester Kenn Klomegah
During the two-day high-level conference held within EXPO-2020 in Dubai, the African Union Commission (AUC) and the African Union Development Agency-NEPAD (AUC-NEPAD) presented a number of strategic continental infrastructure and energy projects for potential foreign investors, the aggregate cost undisclosed.
The exhibition, originally scheduled for last year was postponed due to the COVID-19 pandemic. The Expo 2020 was officially opened on 30 September 2021 and operates until March 2022.
The conference on Infrastructure Development in Africa also featured high-level personalities and thought leaders from the continent, articulating the African vision for transformational infrastructure, while engaging stakeholders on the effective delivery of infrastructure and energy in Africa.
"We believe that Africa's better days lie ahead of us. Appropriate infrastructure is a prerequisite for implementing the African Continental Free Trade Area (AfCFTA). However, the lack of well-prepared and bankable infrastructure projects has been a major constraint. This is why we are working with AUDA-NEPAD, AfDB and other partners in the NEPAD Project Preparation Facility, encouraging strategic partnerships with the private sector," Hon. Raila Odinga, the AU Higher Representative on Infrastructure Development in Africa, said during the opening session.
Ibrahim Mayaki, Chief Executive Officer of the AUDA-NEPAD CEO, noted "Infrastructure is not about economic transformation alone, but the transformation of people's livelihoods." This was in agreement with Atef Marzouk, Acting Director of Infrastructure and Energy at the AUC, who also emphasized that infrastructure development is not an end in itself, but a means to an end.
The conference highlighted, among others, the recently adopted Second Phase of the Programme for Infrastructure Development in Africa (PIDA-PAP2). "Before the onset of PIDA, regional infrastructure projects were not prioritized. When we moved from PIDA Priority Action Plan 1 to PIDA Priority Action Plan 2, we took on a corridor approach, in order for us to think beyond country boundaries. The corridor approach is the main change in paradigm in our continent's infrastructure development. Africa is therefore ready for investment – it has gone through a process of consultation, prioritization and development of tools with strong political will," Mayaki said.
The second PIDA Priority Action Plan, known as PIDA-PAP 2 (2021-2030) has adopted the Integrated Corridor Approach, a multi-infrastructure corridor approach to infrastructure development that works toward a more prosperous Africa by emphasizing projects that maximize job creation and climate friendliness. The approach also contributes to continental integration by prioritizing projects that improve connectivity between urban and rural areas and link different infrastructure sectors.
Symerre Grey-Johnson, AUDA-NEPAD's Director of Technical Cooperation and Programme Funding, pointed out that projects in PIDA-PAP 2 were curated this way to also guarantee a people-driven Africa as they strengthen the role of women through gender-sensitive infrastructure development.
Amine Adoum, AUDA-NEPAD's Director of Programme Delivery and Coordination Directorate, explained: "The objective of regional integration is to facilitate movement of people, goods and services, a bottleneck in the realization of Agenda 2063. Hence the corridor development is an integral part for regional integration and realizing of the AfCFTA goals together with PIDA-PAP 2."
Adoum also expounded on the importance of other infrastructure sectors and the tools that have been developed to accelerate the implementation of continental and regional projects. "Energy corridors are also important hence we are working towards implementing the Continental Power System Master Plan. Three tools that have been developed to accelerate infrastructure projects rollout are: the Service Delivery Mechanism, the Continental Business Network (validated by the African Union), and the publishing of de-risking infrastructure projects in Africa reports," Adoum declared.
Participants at the event also learnt that financial viability was taken into consideration for all PIDA-PAP2 projects, with new partners sought. Robert Lisinge Chief, Operational Quality Section at United Nations Economic Commission for Africa, clustered the partnerships for Africa's infrastructure development into the following:
Green Funds – PIDA projects are eligible for financing through green funds, including road, water and energy projects.
Impact Investors – Impact investors are important as inclusiveness is a major component of PIDA-PAP 2 projects, aimed at improving the well-being and livelihoods of African citizens
Public-Private Partnerships
Strategic Partnerships
The importance of financing for infrastructure was also brought to the fore, in a session led by Towela Nyirenda-Jere, the Head of Economic Integration at AUDA-NEPAD. She informed the conference participants that African Heads of State approved 69 PIDA-PAP 2 projects. "Therefore, more investments are needed for infrastructure with the opportunities that the AfCFTA) brings," Towela said.
The PIDA PAP II consist of 28 transport projects, 18 energy projects, 12 water projects, and 11 Information Communication Technology projects. PIDA-PAP 2, as the second PIDA priority action plan will run for the period 2021 to 2030. This portfolio is based on an inventory of projects proposed by Regional Economic Communities and African Union Member States as one of the key deliverables in Africa's Agenda 2063 towards the continent's development.
Baker McKenzie Unveils Fighting Domestic Violence Comparative Law Tool
Leading global law firm, Baker McKenzie, has launched its Fighting Domestic Violence global comparative law tool, which allows for a rapid analysis of national legislation measured against model domestic violence conventions and between countries.
Sponsored by Global Rights for Women and Every Woman Treaty, and together with over 500 volunteers from Baker McKenzie, Google, Merck, 3M, Cummins, HP Inc. and Accenture, Baker McKenzie has been working on an ambitious pro bono project to produce the most comprehensive and up-to-date analysis of domestic violence laws around the world, in 87 countries, including Egypt, Ghana, Ivory Coast, Morocco, Nigeria, South Africa, Tanzania and Uganda.
The firm is making that content readily available to all individuals and organizations who can put it to good use in helping the victims of domestic violence.
European Commissioner for Equality Helena Dalli, who gave the keynote speech at the virtual launch event, addressed the need for urgent change, "Violence against women and girls is a pervasive human rights violation.
In Europe, one woman in three aged 15 or above reported having experienced some form of physical and/or sexual violence. One in 10 women reported having been victim to some form of sexual violence, and one in 20 had been raped.
Just over one in five women have suffered physical and/or sexual violence from either a current or previous partner, whilst 43% of women have experienced some form of psychologically abusive and/or controlling behaviour when in a relationship." However, she added that, "Progress is possible and we must continue to work together tirelessly to achieve more."
Baker McKenzie's tool is designed to help local, national and international NGOs, and public and governmental authorities, assess the relative effectiveness of applicable laws and to identify where there is room for improvement.
To compile the tool, volunteers mapped local laws on domestic violence, and assessed law enforcement practices and related social protection and security measures with the aim of identifying any gaps between the status quo and the standards set in international and regional frameworks, such as the Council of Europe's Istanbul Convention.
Speaking at the launch, Fiona Carlin, Partner and lead sponsor of the project at Baker McKenzie, said, "The issue of domestic violence is frighteningly prevalent in our society, and we wanted to help to stop the scourge.
"What was initially planned to be a modest project in parts of EMEA quickly evolved into a project covering over 85 countries, thanks to the tremendous response from our people and our clients.
"So many people gave up a substantial amount of their time because they knew this was an important cause and were committed to making a difference.
"The next phase of the project will see our teams engage with domestic violence specialists on the ground to better understand their needs and to ensure that the content that we make available is in a format that is as useful as possible in their daily work. By working together, we can bring about meaningful change."
Angela Vigil, Partner and Executive Director of Baker McKenzie's pro bono practice, added, "Our pro bono work is a core pillar of Baker McKenzie's commitment to service as global citizens and to our Sustainability strategy.
"We are proud to collaborate with our clients on pro bono projects around the world that aim to protect and realize the rights of the most vulnerable in our societies. One such group, are the survivors of domestic violence.
"For many women, girls and others, the threat looms largest where they should feel safest – in their own homes and their intimate relationships. As femicide and related statistics show, their plight has worsened during the pandemic lockdowns and restrictions.
"Ultimately, the people who fight for this issue have been outnumbered and under-resourced. By lending our support and working together we can help some of the most vulnerable people in the world at a time when they need it most."
Putin Stresses Broadening Economic Cooperation with Nigeria, Others
By Kester Kenn Klomegah
Russian President Vladimir Putin has reiterated some aspects of Russia's foreign policy agenda when he received letters of credence from 20 foreign ambassadors, including seven from Africa, who had arrived in the country to begin their duty tour.
The seven new African ambassadors are from the Republics of Angola, Benin, Ghana, Guinea, Nigeria, Mauritania and Somalia.
The ceremony formally marks the official beginning of the ambassadors' duties in the Russian Federation, and it usually takes place twice a year in the St. Alexander Hall of the Great Kremlin Palace.
President Putin made concrete reference to his earlier speech delivered in November at the expanded meeting of the Foreign Ministry Board, in which he outlined the priorities of Russia's foreign policy and gave a detailed overview of the current difficult international situation, as well as approaches to settling acute global and regional problems.
He has been consistently pursuing the idea that it is possible to effectively cope with the numerous challenges and threats only through joint efforts of the entire global community, that Russia was ready for such cooperation.
"In fact, I believe that without joining the efforts of all states, without establishing mutually beneficial and equal cooperation it will be impossible to address such difficult global problems and achieve success in fighting climate change, or countering terrorism and organized crime, or ensuring sustainable development," the Russian leader stressed.
During his speech at the ceremony, Mr Putin said Russia was ready to raise economic cooperation including developing investment and deepening trade, as well as increasing humanitarian assistance to African countries.
Mr Putin told Ambassador Augusto da Silva Cunha from the Republic of Angola, that Russia has long friendly relations with Angola.
"What matters most is that, together with our Angolan friends, we intend to fully develop a comprehensive cooperation, to promote political dialogue and carry on joint work in trade, investment, and culture among other things," he stated.
At the ceremony was Akambi Andre Okounlola-Biaou from the Republic of Benin. He was reminded that Russia continues expanding its interaction with the Benin Republic. Notably, it is currently drafting an intergovernmental agreement on military cooperation and a memorandum of understanding in the area of sport. Russian companies are interested in participating in joint geological prospecting, energy and infrastructure projects in Benin.
Ghana's ambassador Lesley Akyaa Opoku-Ware is serving her second term in Moscow. Putin noted the steady development of the bilateral relations and pointed to efforts at expanding interaction in the field of trade and energy, including the peaceful nuclear development in that country.
"We jointly produce minerals and hydrocarbons. And, of course, we will continue to train professionals for various sectors of Ghana's economy," Mr Putin added.
With the Republic of Guinea, represented by the newly arrived Ambassador Maju Kake, Russia hopes that political life in this West African country will soon stabilize, and will attain a national accord. For many years, Russia has been offering substantial investment into the Guinean economy. Russian companies have been producing and processing mineral commodities in Guinea.
According to Mr Putin, it is now time to implement new interesting projects, including those in the sphere of energy, infrastructure, fisheries and agriculture.
Mr Abdullahi Yibaikwal Shehu is the new ambassador from the Federal Republic of Nigeria and Russia said it was satisfied with Nigeria as a key partner in Africa.
"We talked with President Muhammadu Buhari during the Russia-Africa Summit held in Sochi two years ago. We hope that the Nigerian leadership will support Russia's initiative to hold another meeting between the Russian and African leaders in 2022," Mr Putin said.
The Russian leader added that, "As for specific areas of bilateral cooperation, we find an expansion of the detailed dialogue on topical problems related to supporting stability on the global hydrocarbon markets, countering terrorism and religious extremism, to be quite promising."
At the ceremony, Mr Putin told Mohamed Mahmoud Dahi (Islamic Republic of Mauritania) that "There are favourable opportunities for expanding trade and economic ties with the Islamic Republic of Mauritania, including in the area of high-seas fisheries where we cooperate closely." Russia, however, appreciates Mauritania's substantial contribution to fighting terrorism in the Sahara-Sahel zone.
With Hassan Abdi Daud from Somalia located in the Horn of Africa, Mr Putin told him that Russia has advocated for expanded cooperation with the Federal Republic of Somalia.
Reports indicate that currently, Russian-Somali relations are at a very low level, with Russia having sent humanitarian aid to Somalia several times. That the Somalian Government is working actively to strengthen the country's sovereignty and territorial integrity, it is fighting terrorism and extremism, striving to create favourable conditions for the socio-economic revival. "We hope that all these efforts will be crowned with success," asserted Putin.
The Russian President expressed hopes that with ambassadors' active participation, these relations will be filled with new content, further hopes for mutually beneficial projects and useful initiatives and, in general, will make rapid progress for the benefit of the people and in the interests of international security and stability.
Due to the unfavourable pandemic situation, Kremlin still had to hold the ceremony for the newly arrived ambassadors to present their letters of credence in a strict and limited format.
At the start of the gathering, Mr Putin congratulated them on the official start of their diplomatic assignments in the Russian Federation. Russian authorities pledged to help and offer necessary assistance to all the foreign envoys in pursuit of their official assignments in the Russian Federation.
Global Food Prices Remain at 10-Year High in November
By Adedapo Adesanya
Food prices in the globe rose for a fourth straight month in November 2021 to remain at a 10-year high, led by strong demand for wheat and dairy products, according to the United Nations' Food and Agriculture Organization (FAO).
The FAO's Food Price Index, which measures the monthly change in the international price of cereal, dairy, meat, vegetable oils and sugar, jumped 1.6 points last month from the previous month to 134.4 points.
In its monthly report, the Rome-based agency noted that prices of cereals and dairy saw the sharpest gains, followed by sugar, while prices of meat and vegetable oils fell slightly in November from the previous month.
Inflation for essentials including food and energy has skyrocketed this year as a result of the recent supply-chain crisis and shortages as countries cast off COVID-19 induced restrictions.
Soaring food prices are hitting low-income households especially hard because higher prices for essentials like bread, meat, milk and rice eat up a larger share of their incomes.
The pain inflicted on consumers has placed central banks the world over in a tough position because higher interest rates help cool inflation, but they also risk denting fragile economic recoveries.
In the United States, the Federal Reserve has prioritised getting Americans back to work over reining in inflation. But with consumer price inflation accelerating at its fastest pace in 30 years in October, the US Fed Chief, Mr Jerome Powell said this week it was time to "retire" the word "transitory" when describing inflation as he signalled that the Fed could speed up the taper of its bond purchases. That in turn could pave the way for an interest rate hike sooner than expected.
According to the UN agency, cereal prices jumped 3.1 per cent in November on a monthly basis, and 23.2 per cent compared to the same period a year ago. Wheat prices have grown for five consecutive months and are now at their highest level since May 2011, due to harvest troubles in Australia linked to untimely rains and potential changes to the export policy in Russia.
Maize export prices also climbed in November, propped up by strong sales in Argentina, Brazil and Ukraine.
The dairy index rose 3.4 per cent on a monthly basis and was 19.1 per cent in November compared to a year ago, due to growing demand for milk and butter and depleted stock.
The FAO's sugar price index averaged 120.7 points in November – 1.4 per cent higher than a month ago and a whopping 40 per cent higher than a year ago.
The meat index fell 0.9 per cent from October, dipping for a fourth consecutive month but still 17.6 per cent above what it was in November of last year. The reason for the slight decline is reduced purchases of pig meat by China, especially from the European Union.
Latest News on Business Post