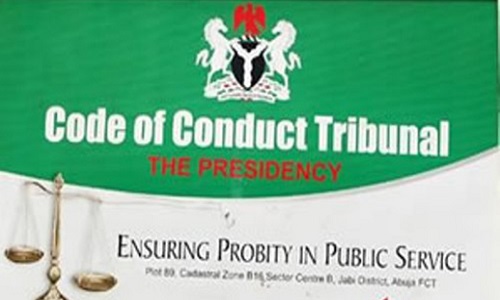 By Dipo Olowookere
The Code of Conduct Tribunal (CCT) sitting in Uyo, Akwa Ibom State has convicted a former Supervisory of Ibesiko local government, Mr Ubong Joshua Etukudo.
The ex-councillor was ban for three years from holding public office, both elective and appointive, for failure to submit his Asset Declaration Form within the stipulated period.
Delivering his judgment on Tuesday, the Justice Danladi Yakubu Umar led Tribunal said with the prosecution counsel proving his case beyond reasonable doubt, the accused was guilty of the offence charged and therefore handed over the punishment of three years ban.
"The defendant haven conceded to all what was said against him in the charge, that was truth by the witness from Code of Conduct Bureau (CCB), the Tribunal had no option than to summarily convict the defendant for the said charge and handed over the punishment of banning him not to be appointed to any position as public officer for the period of three years, both appointive and elective position," the CCT said.
However, at the commencement of the session, the prosecution team led by Musa Usman Ibrahim (SSC), appearing for the Code of Conduct Bureau told the two-man panel that he was ready for the trial haven the accused person insisted to defend himself, despite advice from the court for him to sort for a legal representative.
Also during the day's session, the prosecution applied to the Tribunal that those who were not served should be given another time for service to be properly effected on them and those present applied that court to grant them short adjournment to enable them engage the service of lawyers to represent them.
The Chairman subsequently grant the request of all accused persons and adjourned the matter to 15 of March, 2017, to be held in Enugu, Enugu state, for another round itinerant session of the Code of Conduct Tribunal.