OYRTMA Insists Truck Owner Must Pay Fines for Traffic Law Violation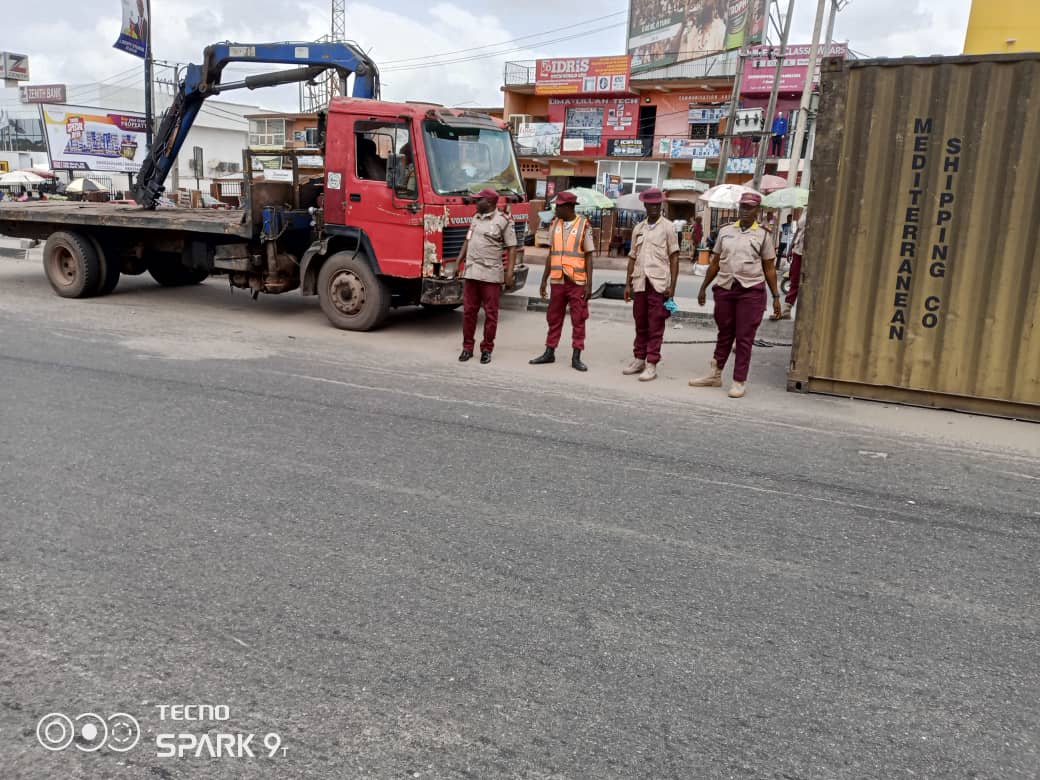 By Aduragbemi Omiyale
The Oyo State Road Transport Management Authority (OYRTMA) has maintained that the owner of a fallen container along Efunsetan Roundabout, Challenge, Ibadan, the state capital, one Mr Abdul-Mumeen, must pay fines for violating the state's traffic law.
In a statement issued on Friday, the chairman of the agency, Mr Akin Fagbemi, said no amount of intimidation would deter the organisation from enforcing the law.
Recall that for about three weeks, the fallen container obstructed the flow of traffic in the area, causing members of the public to criticise the government for not taking action to ease the hardship they were being subjected to.
According to the OYRTMA chief, his organisation had to seek the cooperation of the police and the Federal Road Safety Corps (FRSC) to remove the container on March 30, 2023.
In the statement issued today, the agency said that shortly after the container was evacuated, the owner came up and promised to do the needful, especially paying for the cost of the removal.
Mr Fagbemi said his organisation insisted that apart from paying for the costs of hiring a privately-owned crane and low-bed, Mr Abdul-Mumeen was asked to pay a fine of N1 million for sections 16 (a,b,c,p) and 17 (d) of the Oyo State Road Traffic Management Authority Law 2009.
However, he expressed surprise that the President of the Council of Maritime Truck Unions and Associations (COMTUA), Mr Adeyinka Aroyewun, alleged the agency of demanding the payment of N850,000 into a private account.
In the statement, Mr Fagbemi alleged that Mr Aroyewun "on Wednesday, April 12, 2022, visited OYRTMA's administrative headquarters in an attempt to influence the release of the container, claiming he is a revered member and stalwart of the All Progressives Congress (APC) in Lagos State and as such has a close personal relationship with Governor Seyi Makinde of Oyo State, boasting that he will subsequently secure the release of the container without the payment of statutory fines and charges slammed against the owners."
But Mr Fagbemi stressed that, "No amount of intimidation or interference will stop the authority from executing its constitutional responsibilities of ensuring safety on all roads in Oyo State and issuing fines to defaulting groups or individuals to serve as a deterrent to others.
"If you so much love the public of whom sympathy you now seek, you would not have allowed your member to jeopardize the lives and properties of the people of Oyo State for such a long time.
"As a matter of fact, you will not only pay service charges to the owners of the crane and low-bed equipment used in removing the container; you will also pay the sum of N1 million as an official fine for contravening sections 16 and 17 of the Oyo State Road Traffic Management Authority Law, 2009.
"In addition, you will pay in full for the damages caused to the body and properties of those innocent road users whose vehicles were damaged in crashes caused by the abandoned container. This is Oyo State. We have laws guiding us and our operations."
Meanwhile, Business Post could not reach Mr Aroyewun or Mr Abdul-Mumeen for comments on the issue.
Groups Partner to Train African Women in Logistics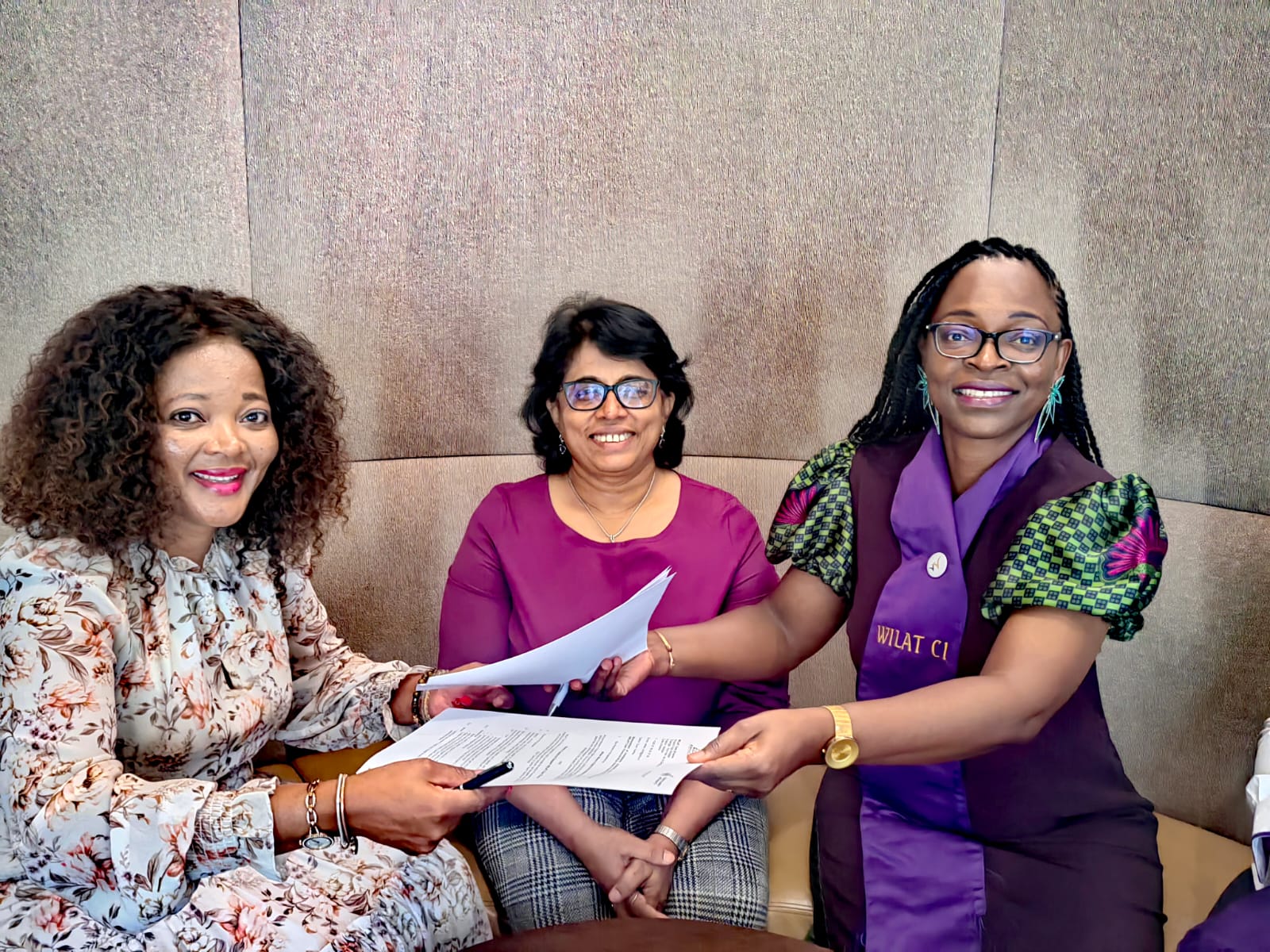 South Africa's African Women in Supply Chain Association (AWISCA) has signed an MOU with the Women in Logistics & Transport (WiLAT) organisation from Côte D'Ivoire to collaborate on the delivery of tailor-made entrepreneurial skills training in the logistics and supply chain and to bolster such capacities across the African continent through mentorship, training and coaching.
AWISCA is an organisation focused on the upliftment, empowerment and transformation of Sub-Saharan Africa's supply chain skills environment. The association aims to address shortages and capacity gaps and to provide integrated solutions that confront such challenges pragmatically.
Founded by Lebo Letsoalo, a globally renowned supply chain champion and expert, the association also intends to bring the supply chain curriculum across African higher education institutions to a globally competitive level.
In this partnership with WiLAT, the two will develop a programme to unlock the continent's potential through entrepreneurship, anchored around the varied opportunities within the scope of the Africa Continental Free Trade Area (AfCFTA) agreement.
"The programme will necessitate the development of the relevant skills in entrepreneurship within the supply chain and logistic sectors to effectively take advantage of the opportunities in the AfCFTA agreement, especially for the youth and women on the continent", says Lebo Letsoalo, Founder and Director of AWISCA.
The partnership will also foster a mentorship and coaching-based student exchange program that will see supply chain and logistics students from Côte D'Ivoire visit South Africa on a skills transfer and exchange mission and the same for South African students.
The entrepreneurship element of the training will be offered to emerging entrepreneurs in the same space, with a key focus on the technical skills relevant to the AfCFTA agreement and through enterprise and supplier development.
WiLAT Côte D'Ivoire is an organisation which promotes the social status of women in the supply chain, logistics and transport industries and coordinates the efforts of other organisations that aid the career development of women and women entrepreneurs in Africa.
Chairperson of WiLAT CI Carine Toure Yemtia says that the agreement with AWISCA will see it expand and extend its programmes to many more women and countries on the continent: "Over and above the skills development initiatives, the understanding seeks to develop advanced curriculum and further training that will benefit women in the sector. We want also to help create relevant policies that will empower and uplift women in our industries, especially in the Franco Nations."
AWISCA and WiLAT Côte D'Ivoire will work collaboratively, reaching many economies across the SSA over the next three years. It will also collaborate with other companies and organisations with the desired expertise to deliver on the mentioned objectives.
AWISCA is already partnering with WiLAT SA and CILT SA (The Chartered Institute of Logistics and Transport) and will expand the partnerships across various African countries.
Future Women Conference Honours Simba TVS
By Modupe Gbadeyanka
For supporting and empowering Nigerian women through its Queen Riders Program, Simba TVS has won the African Brand of the Year 2023 at the Future Women Conference held in Lagos.
The mobility solutions provider in Nigeria put in place the Queen Riders program to empower underrepresented women in the nation's burgeoning commercial transportation industry.
While receiving the award, the Business Head of Simba TVS, Mr Mahendra Pratap, highlighted the importance of women's empowerment in the growth and development of every society.
According to him, the Queen Riders Program is built on four pillars of Opportunity, Development, Empowerment, and Independence and has successfully enriched the lives and livelihoods of hundreds of women across different parts of the country.
"Through the Queen Riders program, Simba TVS provides training for women on vehicle riding and repairs, mentorship, and access to financing. The program has seen women who were once marginalized and excluded from the formal economy become entrepreneurs and leaders in their communities," Mr Pratap said.
He revealed that Simba's stance on women empowerment has also contributed to the organisation setting up a dedicated motorcycle conveyor line for female assemblers in their Lagos factory to provide women with employment opportunities, adding that the line is manned exclusively by women.
"We believe that by empowering women, we are not only transforming their lives but also contributing to the growth and development of Nigeria, ensuring that women have the confidence, skills, and support they need to succeed in whatever they choose to do," Mr Pratap stated.
The 2023 Future Women Conference 2023, organised by the Women in Africa for Transformation Initiative, was attended by several personalities, including the wife of the Ooni of Ife, Mrs Aderonke Ademiluyi Ogunwusi, who commended Simba TVS for introducing the Queen Rider Program which she acknowledged had impacted positively in transforming the lives of women.
Nigerian Firm to Launch Marketplace for Original Auto Spare Parts
By Adedapo Adesanya
A Nigerian platform, Mecho Autotech, which provides global automotive spare parts and vehicle repairs and maintenance services, has announced plans to launch a marketplace for high-quality aftermarket spare parts and original OEM spare parts for wholesalers and enterprise fleet owners.
This is as it plans to launch version 2.0 of its vehicle management app that connects vehicle owners to qualified and vetted mechanics in the third quarter of this year.
In a statement on Wednesday, the auto-maintenance firm announced that the soon-to-be-launched products signal a shift in strategy as Mecho looks to double down on improving Nigeria's $6 billion fragmented and informal automotive aftersales market, which is characterized by substandard automotive spare parts and frequent stockouts.
Among its new features, customers can access financing to pay for vehicle repairs and maintenance to preserve their cash flow. After undergoing an easy and fast verification process, eligible customers can receive overdrafts of up to N10 million, which are deposited in the Mecho app wallet.
Customers also have more flexible servicing options: they can drop off their vehicles at any of Mecho's 100 partner workshops in Lagos, Abuja, and Port Harcourt or arrange for pick-up.
In the improved 2.0 Mecho app, customers can track all their expenses, maintenance requests, and vehicle history, while corporate fleet owners can manage multiple mechanics, including Mecho and other 3rd party service providers, to streamline the maintenance and repairs process in one easy-to-use app.
Mecho will also roll out an IOT integration allowing corporate fleet owners to track their vehicles on the 2.0 vehicle management app, which will be free to use.
The intended Mecho Mart, a marketplace for high-quality aftermarket and original OEM spare parts for wholesalers and enterprise fleet owners, will allow customers to buy genuine auto parts like tires, shock absorbers, brake pads, lubricants, and filters.
Using the marketplace, spare parts wholesalers can stock up on inventory with top-quality parts, secure financing, and increase profit by avoiding stockouts.
With support from Global Brains, a Japanese venture capital firm that invested a seven-figure sum in the company, Mecho aims to build partnerships with global automotive aftermarket spare parts manufacturers to source genuine and affordable spare parts to build a reliable vehicle spare parts supply chain in Nigeria.
Speaking on this, the CEO/co-founder of the firm, Mr Olusegun Owoade, said, "We learned that we had to prioritize fixing the broken automotive spare parts supply chain — a more urgent problem in the industry and a bigger driver of its value."
"Spare parts represent $6 billion out of Nigeria's $8 billion vehicle aftersales market. Since we pivoted our business, we have serviced more than 50 corporate fleet owners and spare parts wholesalers and provided spare parts from 5 global automotive manufacturers. By improving the availability of high-quality spare parts, we believe that we can play a role in improving Nigerians' vehicle longevity and road safety," he said.
Founded in 2021 by Messrs Olusegun Owoade and Ayoola Akinkunmi, Mecho Autotech offers repair and maintenance services to businesses and consumers through in-house and third-party service capacity, which has passed rigorous assessments.
Latest News on Business Post