With UMatter, Everyone Matters at Stanbic IBTC Pension Managers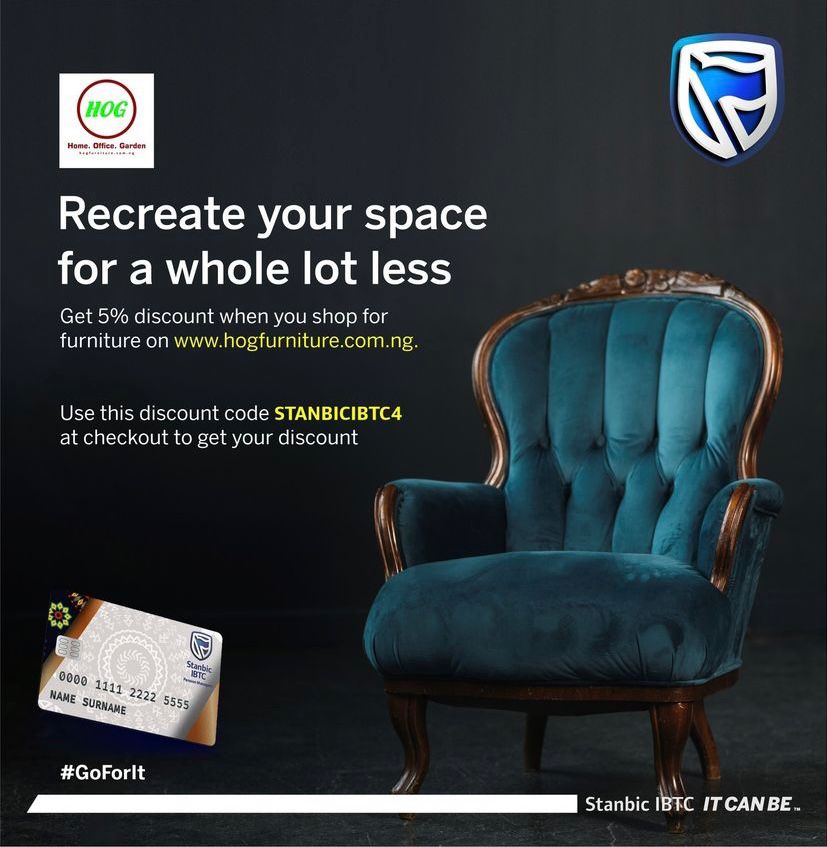 Brands tend to reward customers occasionally or show appreciation to loyal customers every now and then. This is not the case with the good people of Stanbic IBTC Pension Managers as they never miss an opportunity to appreciate their customers.
The brand believes that loyal customers should be appreciated at every given opportunity, hence the recently launched "UMatter", a customer loyalty campaign aimed at providing customers with the opportunity of getting discounts when they shop at partner-merchant locations.
The UMatter initiative described by Olumide Oyetan, Chief Executive, Stanbic IBTC Pension Managers as one of many to come, is geared towards rewarding loyal customers of Stanbic IBTC Pension Managers for their patronage over the years as well as support their lifestyles. Olumide stated that the Pension Fund Administrator (PFA) has over the years remained committed to ensuring the wellbeing of its customers through the provision of bespoke products and services that meet not just their pension needs but also their financial and lifestyle needs.
"Right from our entry into the Nigerian pension industry, our customers have continued to demonstrate unimaginable level of loyalty which has contributed to our success today. It is only fair that we express our profound gratitude to them by appreciating them for their long-standing support through this loyalty programme.
With over 1.8 million customers, we remain committed to supporting and rewarding every customer, as they remain the centre of our business. With UMatter, customers stand a chance of getting discounts ranging from five to twelve percent at various merchant stores, using their e-loyalty card. These merchants include Maybrands, Café Royale, Addide, Chocolate Royale, La Campagne Tropicana, Physio Centers of Africa, Medplus, iStore, Launderland Drycleaners, Artdey, Skit stores, HOG furniture, Oriki Spa and Active Leisure", he said. "The list keeps growing as we continue to partner with more stores" he added.
The UMatter loyalty programme is open to all customers who have their retirement savings account with Stanbic IBTC Pension Managers. These discounts can be accessed by presenting your 'E-loyalty card' at the checkout point of the store. The card is accessible to all customers via the Pensions portal of the PFA's mobile app.
For prospective customers missing out on these rewarding benefits, they can take advantage of the transfer window to sign up with Stanbic IBTC Pension Managers for eligibility to enjoy these discounts as well.
The Transfer Window provides the opportunity for customers who have retirement savings accounts with other pension fund administrators to make a switch to Stanbic IBTC Pension Managers where the safety of their funds is guaranteed. For more information visit www.stanbicibtcpension.com or call 01 271 6000.
Ecobank Assures Customers Sustained Excellent Service Delivery
By Aduragbemi Omiyale
Customers of Ecobank Nigeria Limited have been assured of excellent service delivery as the bank celebrates the annual customer service week.
"For us as a bank, we are inspired by your confidence and support to us in numerous ways. We are proud to celebrate your trust in our products and services and use and reliance on them across our touch points. Indeed, your word-of-mouth recommendations of them make us delighted to serve you better," the Managing Director of the company, Mr Bolaji Lawal, said in a statement issued by the lender.
The financial institution lauded its customers over their continued patronage and dedication to the brand, assuring that the bank will continue to meet and surpass their expectations with product offerings.
Mr Lawal said customers' loyalty to the bank over the years has made the Pan African bank one of the most preferred financial institutions in the country.
He pointed out that the choice of this year's theme, Celebrate Service particularly resonates with Ecobank's philosophy that service is a game changer.
"It is the reason we are constantly investing in our technology and equipping our staff with the requisite skills and resources to provide you with the relevant solutions you need and cutting-edge banking experience," he stressed.
Mr Lawal reaffirmed the bank's commitment to implement their feedbacks, noting that "we will continue to be relentless in our efforts to make financial services readily and easily accessible to you.
"As your preferred financial partner, we are happy to listen to you and remain committed to tailoring our products and services to suit your lifestyle and power your aspirations. We will continue to evolve with you and innovate our products and services to make banking a more rewarding experience for you."
Customer Service Week is an international celebration of the importance of customer service and of the people who serve and support customers daily. It is celebrated annually during the first full week of October.  This year's celebration holds from October 3 to 7.
Unity Bank, Lagos Food Bank Address Hunger, Malnutrition
By Aduragbemi Omiyale
Food items worth millions of Naira have been donated to Ogundimu Ilaje, a riverine community in the suburb of Lagos, by Unity Bank Plc and Lagos Food Bank.
No fewer than 150 cartons of food items tagged Unity Box of Hope were distributed to hundreds of households in the underserved community.
The gesture is a collaborative initiative to support and promote interventions addressing hunger and malnutrition in communities.
It is also part of the strategic Corporate Social Responsibilities (CSRs) of Unity Bank aimed at sustaining the improvement of health and social well-being of communities it operates.
The lender, in a statement, further said it supported the programme because its goals align with the Lagos Food Bank Initiative, a non-profit organisation committed to providing welfare programmes to indigent people.
The donation comes on the heels of the worsening economic situation in the country, especially with the soaring food inflation at 23.12 per cent as of August 2022, which has alleviated hunger in many households.
Addressing the beneficiaries at the venue of food distribution, Mr Hillary Oguebo, Unity Bank's Head, Corporate Resources, said the bank, as an agric-focused financial institution, was fulfilling its core mandate in line with Bank's drive for food security, adding that the Bank is pleased to donate the food items to the community to help ameliorate the impact of the rising cost of food on them.
"Unity Bank has a financing business model that is principally anchored, amongst others, on boosting agricultural production, and it is also useful for those who have not benefitted from the bank's Agric financing package to receive direct food intervention as it is being done today.
"Due to a lot of factors, especially growing insecurity, food production has been impacted severely, leading to historical food inflation. That has left many households struggling and battling hunger. So, this is a thoughtful gesture that we hope to sustain to reach as many Nigerians who deserve this form of intervention at this critical period," he stated.
With a score of 28.3, the Global Hunger Index ranks Nigeria 103rd out of 116 and classifies the country's hunger level as serious. This is a result of the country's growing food insecurity, which has risen to more than 80 per cent from less than 20 per cent about three decades ago.
Unity Bank has led some of the most important critical interventions in the agric sector in Nigeria in the recent past and boasts significant investment in the Agric sector over the past six years and a track record of financing smallholder farmers that spur food production through the Anchor Borrowers' Programme of the Central Bank of Nigeria (CBN).
Through a CSR initiative that feeds households in underserved communities, the Bank is redefining CSR through strategic interventions that align perfectly with its business model.
FCCPC Records Decline in Complaints from Customers of Digital Loan Sharks
By Adedapo Adesanya
The Federal Competition and Consumer Protection Commission (FCCPC) says it has recorded a significant reduction in the number of consumer complaints regarding illegal digital money lending activities.
Mr Babatunde Irukera, the Executive Vice Chairman of the commission, said this in a statement via the agency's Twitter handle on Wednesday.
Mr Irukera attributed the reduction in complaints from customers of digital loan sharks to the enforcement embarked on by the FCCPC joint taskforce.
"I agree that some activities of digital money lending institutions have destroyed relationships, whether professional or personal, and that is why we are doing all we can.
"I will be the first person to agree that there is a problem out there.
"Messages are still coming, harassment is still coming, but frankly, we have been tracking this for a while," he added.
The FCCPC boss said that the complaints were the lowest recorded in the last two years, following several enforcements embarked by the commission.
"This is the lowest it has been in two years. From March, when we started this enforcement, there has been a significant reduction.
"I will say that after our enforcement last month, we counted probably less than 25 per cent looking at the tracking of the complaints that came in.
"But 25 per cent is not it, we will keep doing what we are doing, even adding more," Mr Irukera said.
He said that the task force would continue to set the guard rails and make the loan shark businesses difficult.
"Wherever we find their bank accounts, we lock it down, whatever applications they are using, we go to google, we take them down,'' Mr Irukera said.
He said that in pursuant to the order of the commission, Google had taken down over 70 applications, and the FCCPC had locked out over 60 bank accounts.
The executive vice chairman said Flutterwave had also taken down a dozen applications.
Mr Irukera appealed to members of the public to send their complaints relating to illegal money lending activities to lenderstaskforce@fccpc.gov.ng.
Latest News on Business Post