Copyright Infringement: Nigerian Breweries Wins in Court
By Modupe Gbadeyanka
A suit filed against Nigerian Breweries Plc and three others for alleged copyright infringement has been struck out by Federal High Court in Abuja.
One Mr Paul Allen Oche had dragged the brewery giant to court, alleging that the defendants breached his copyright in the work The Amstel Factor: An Amstel Malta Guide on how to be the best you can be.
He further claimed that the settings, imageries used in brewer's Why Add More? Amstel Malta campaign infringed on his rights since the firm neither sought nor obtained his permission to adapt and publish his intellectual literary work in their campaign.
When he instituted the case against the company in February 2019, he prayed the court to order Nigerian Breweries to pay him N1.5 billion as damages.
But Nigerian Breweries, in a notice of preliminary objection, argued that Amstel Malta is one of the well-known brands in its portfolio for which it had launched several campaigns over the years noting that Mr Oche was laying a false claim to the copyright in one of such campaigns launched in 2016.
While ruling on objection on Friday, June 25, 2021, Justice Binta Nyako held that Mr Oche had no locus standi to institute and maintain the suit and consequently struck out the suit.
Zoho Introduces New Product for SMEs, Gets Office in Lagos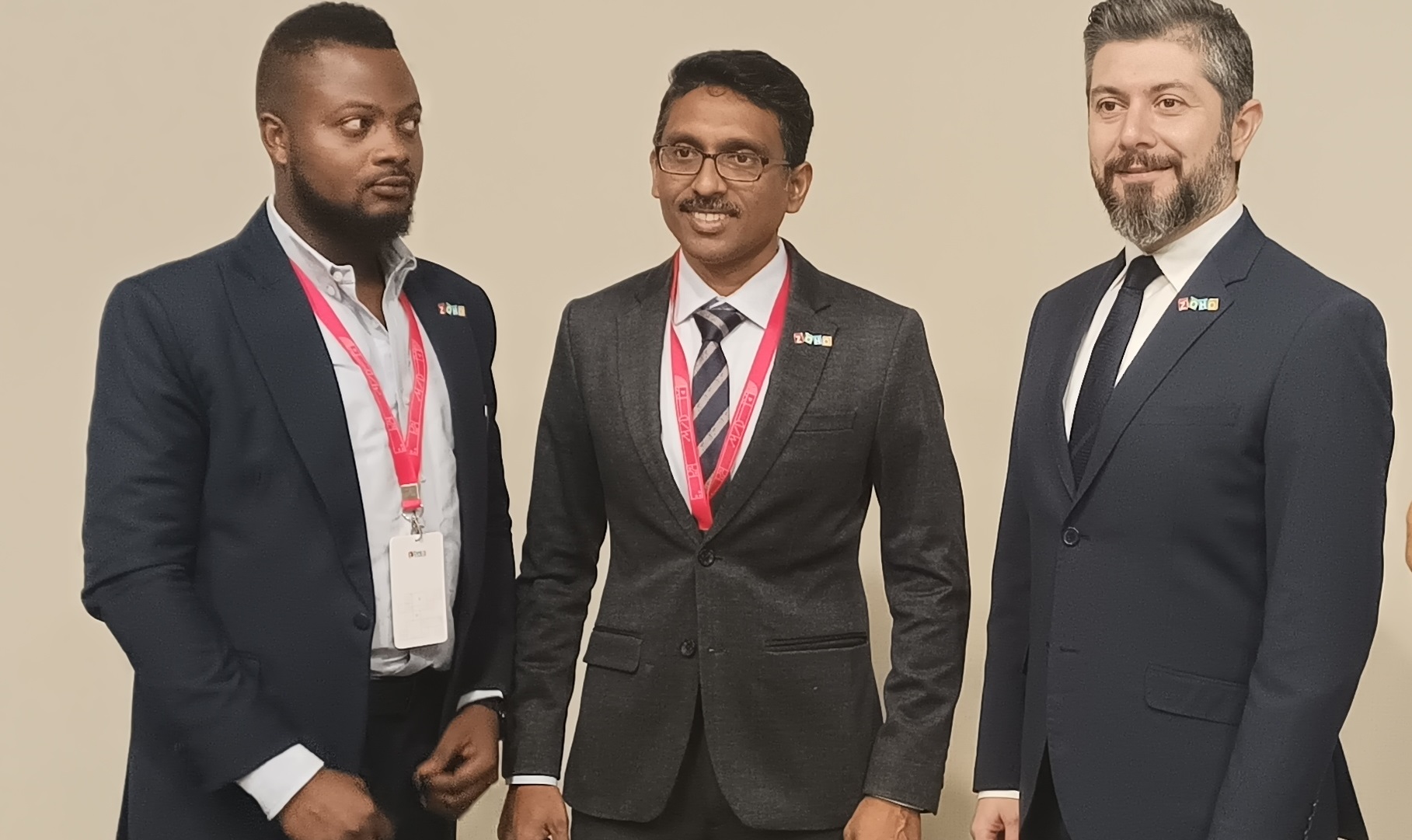 By Dipo Olowookere
Global technology company, Zoho, will next month officially open its third African office in the Lekki area of Lagos as part of its efforts to serve its clients in Nigeria better.
Addressing journalists in Lagos on Friday, the President of Zoho for MEA, Mr Hyther Nizam, explained that the decision to bring the company closer to its consumers in the country is because Nigeria is its largest market on the continent.
He noted that the firm will use the opportunity to reduce the unemployment rate in the country as it would hire more employees locally for customer-facing roles, especially in the sales, marketing and other departments.
While speaking on the sidelines of the company's first user conference in the country tagged Zoholics Nigeria, Mr Nizam further disclosed that Zoho has introduced a new product called Zoho Africa Digital Enabler package tailored for small and medium enterprises (SMEs) with about five employees.
According to him, the Zoho Africa Digital Enabler package, which will be available from July 1, 2022, will help small businesses take steps towards digital transformation and it would be offered at a discount of 50 per cent for a period of three months with a collection of 10 leading apps.
He explained that subscribers will have access to standard support available to them, which will allow access to a knowledge base, community forums, a self-service portal, email support and remote assistance. It also includes live chat support and telephonic support during working hours five days a week.
"For small businesses, enterprise technology is prohibitively priced and inaccessible," said Mr Nizam. "We want to remove the technology adoption barrier and help them kickstart their digital transformation journey, which will in turn help them stay nimble and quickly adapt to changing market conditions.
"The products are available in local pricing, helping businesses avoid cost fluctuations due to changing dollar value, which is beneficial in the current turbulent economy. We hope that Nigerian businesses will avail of this plan and fast-track their growth by leveraging cloud technology."
Business Post gathered that in the package are Zoho Workplace, Zoho Invoice, and Zoho Begin, among others.
The Zoho Workplace is a unified platform that brings together collaboration, productivity, and communications tools and integrates them into other business processes. It has secure business email (Zoho Mail), team chat (Zoho Cliq), and an online office suite (Zoho Writer, Zoho Sheet, Zoho Show, and Zoho WorkDrive).
The Zoho Invoice helps users create and send customised invoices, track time, and bill customers accurately. It can also improve their cash flow by automatically sending payment reminders to customers, and getting paid online faster through debit/credit cards and PayPal. Moreover, businesses can record and track expenses by simply scanning their expense receipts. They will also be able to track tax levied on every transaction, allow customers to view their invoices, and projects, and make payments through the self-service portal.
As for the Zoho Bigin, it is a pipeline-centric CRM designed specifically to help MSMEs keep track of their customers and improve customer relationships without having to worry about high costs or complicated features. It can be set up in 30 minutes, with options to create multiple pipelines with customisable stages based on a company's operation style.
P+ Measurement Holds 20th EvaluatePR Friday
By Aduragbemi Omiyale
Friday, June 24, 2022, has been fixed for the 20th edition of the quarterly EvaluatePR hosted by a leading media intelligence agency, P+ Measurement Services.
According to a statement issued by the company, the programme is themed Dissecting the relevance of Measurement and Evaluation in Reputation Management and will take place between 12 pm and 1:30 pm (West African Time).
The resource persons for the 20th EvaluatePR are Abimbola Shukrah Bello, Marketing & Communications, Johns Hopkins Centre for Communication Program; Francois Van Dyk, Head of Operations, Ornico Group; and Damilola Sobajo, PR/Marketing Consultant. They will together provide their wealth of knowledge and experiences, insights and answers to the theme of the event.
Evaluate PR is an enlightening, interactive and informative event, featuring communications, public relations, and media monitoring professionals who share their experiences, advice, insights, and quotes on media monitoring measurement and evaluation in a question and answer session.
Participation in the event is free via a Google Meet link, https://meet.google.com/tpq-nsgm-svk.
P+ Measurement is an independent media intelligence and evaluation service provider established by Mr Philip Odiakose.
The firm offers media monitoring, measurement, evaluation, and performance audit services to brands, agencies, and government bodies
Reps Accuse Makers of Hypo, Harpic of Deceptive Adverts
By Modupe Gbadeyanka
The Federal Competition and Consumer Protection Commission (FCCPC) and the Standards Organisation of Nigeria (SON) have been asked to appear before the House of Representatives to explain why there are "ineffective" hypo, harpic and others in the Nigerian market.
A lawmaker from Edo State, Mr Sergius Ose-Ogun, while moving a motion on Tuesday, alleged that these cleaning disinfectants were of "poor quality" but hoodwinked Nigerians into buying them through deceptive advertisements as in reality, consumers who bought them were disappointed as they didn't get value for their money.
While speaking at the lower chamber of the National Assembly, Mr Ose-Ogun expressed concerns  "that  toilet  cleaning  disinfectants  such  as  harpic  and  hypo  used  in  most  households  in  Nigeria are  ineffective, poor quality  and  leave  much to be  desired."
He further said "despite the poor quality of these toilet cleaning disinfectants, there are several television sponsored advertisements that are misleading unsuspecting members of the public who rely on such adverts product information to make purchases."
The lawmaker expressed alarm "that most Nigerians utilize these disinfectants in cleaning their homes, offices, hospitals, churches and mosques without getting the value for money spent in purchasing such products."
Consequently, the House ordered an investigation to be concluded within four weeks, while the Committee on Legislative Compliance was directed to monitor the execution of the resolution.
They, thereafter, invited the Executive Vice-Chairman of FCCPC and the management of SON to "appear before the Committee on Commerce to justify the presence of harpic, hypo and other non-effective cleaning disinfectants in the market or otherwise."
Latest News on Business Post