Kelechi Amadi, Mai Atafo to Mentor Isedowo, Progress Booster Winners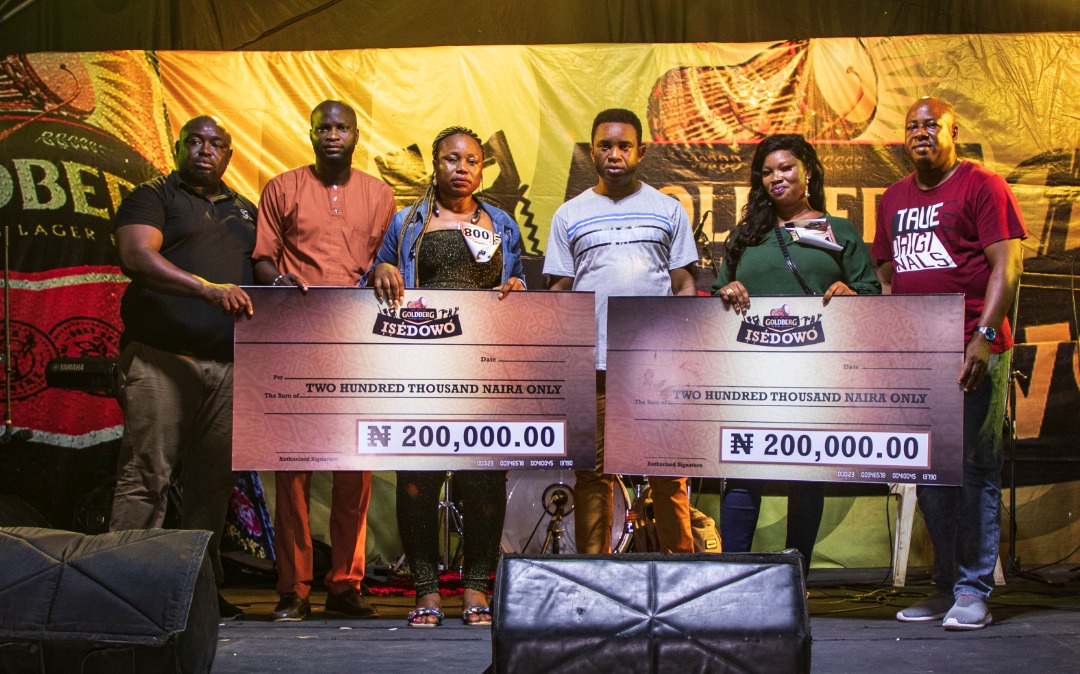 By Modupe Gbadeyanka
Some grantees of the 2021 empowerment initiatives of the Nigerian Breweries Plc have received expert mentorship for the expansion of their business ventures.
Recently, some small business owners, especially artisans, were given grants in the ongoing Isedowo and Progress Booster campaigns.
The beneficiaries were taken from the fashion designing and photography sectors and were trained by ace fashion designer Mai Atafo and renowned photographer Kelechi Amadi.
"I remember my journey into the art space as a photographer and painter, and there was a lot to unpack. A lot to learn,' Mr Amadi enthused.
"Working with individuals who want to improve upon their skills is an energy that I identify. Though art is subjective, the building blocks cannot be overlooked.
"With these building blocks, one can work and improve to give some of their best art pieces. The prospect of archiving this with these talents is what excites me," he added.
"I'm pleased that a platform like this exists. It is one thing to have a passion for making clothing, but it takes something extra to want to make standout pieces. I see the fire in these winners. I know they will progress at a good pace to fulfil their goals," Mr Atafo said.
One of the beneficiaries, Justice Amadi, expressed his excitement about the training saying, "I am happy to be selected for this training, I see it as an opportunity to grow my career. Working with Kelechi Amadi has been my dream and I am grateful to Nigeria Breweries for making this come alive."
Speaking about the journey so far, Ms Kehinde Kadiri, Portfolio Manager, Mainstream Lager, Nigerian Breweries Plc, described Isedowo and Progress Booster as major lifelines for most entrepreneurs in the region.
"We are pleased to see the number of people who are eager to get these grants to support their businesses," she said.
Further expressing her delight especially with the addition of a mentorship program, Ms Kadiri mentioned that, "It is important to not just give people monetary support but to show them how they can utilize it and what better way than pairing them with experts who will not only help them improve their skills but share invaluable experiences from their successes and mistakes in the field."
Progress Booster and Isedowo are empowerment initiatives that were set up to support consumers who are business owners and professionals within the Nigerian informal sector.
The initiatives set out to support them with grants, loans, and access to help them build business relationships with their informal trade associations.
Since the launch in 2017, the initiatives have grown to become a major source of support for craftsmen as well as a seal of approval and encouragement of hard work in the Southern part of Nigeria where both brands are focused.
This year alone, the initiatives have already awarded about 200 artisans across South Eastern and other South Western states while providing them with additional resources to help them get more out of their craft.
Within the last four years, Goldberg and Life Lager have been able to directly impact the businesses of over 1000 artisans through the progress booster and Isedowo programs, while also using the initiatives as touchpoints to reach most of its consumers across the South region where both brands have carved a niche for themselves as leading supporters of culture and tradition, and now entrepreneurship.
Country Hill Assures Clients Affordable Homes, Hires Brand Ambassadors
By Aduragbemi Omiyale
Four personalities in the entertainment industry in Nigeria have been hired by a real estate company, Country Hill Affordable Homes, to deepen its market in the country.
The four celebs were signed by the subsidiary of Fox Capital Investment Limited as brand ambassadors and would be expected to use their various wide platforms to promote the products of the organisation.
Country Hill, which clocks five this year, has chosen Nollywood stars, Seilat Adebowale; Adebimpe Abiodun popularly known as Wasilat Coded; popular comedian Orevaghene Akuidolo also known as Forever and social media influencer Omotara Akanni, fondly called Lady Motara as brand ambassadors.
The Managing Director of Country Hill, Mr Adewale Oshinaike, explained that the four persons were hired to commemorate the fifth anniversary of the firm and to further reinstate its commitment to providing affordable homes to its prospective clients.
He pointed that Country Hill is one of the fast-growing real estate firms with a strong focus on providing affordable housing luxuries to all and leveraging the integrity and resilience in real estate practice has led the course of making housing and land property luxury acquisition available and affordable in the best interests of all stakeholders; customers, market and society.
Also speaking on the ambassadors signing, the company's Executive Director in charge of Legal and Investment, Mr Emmanuel Bello, explained that it was part of efforts to project the company core values in the best possible image for media visibility and presence.
"We intend to have the right media presence and framework for our core value as a real estate company making real estate luxury available and affordable. With us at Country Hill Affordable Homes, having your own property or investment in real estate doesn't require you to must be a millionaire," he added.
According to the Executive Director, the ambassadors were carefully selected across entertainment genres as they fit into the brand project with their tremendous growth.
"A lot of synergies have been happening already between us and in the next one year of this endorsement deal, we want to grow with them in a symbiotic relationship as we grow our net worth together," he added.
The ambassadors would be required to promote the real estate brand online and offline, go on-site tours, be available for clients' land allocation, and be present at corporate events hosted by the company, the firm further said.
The four newly signed brand ambassadors now joined comedian Bukunmi Nathaniel (Bukunmi Preacher), Bunmi Shogbade, and the trio of Segun, Damilare, and Olubori Ojo, "Seriously Bori" making the brand ambassadors and influencers become nine individuals on the list.
One of the newly signed brand ambassadors, Wasilat Coded, noted that Country Hill has come to stay with a strong mission statement in the industry.
She, however, promised to contribute to the success of the brand, urging prospective clients to minimize their fashion spending and invest more into real estate as it comes with a high rate of return of investment.
Forever, another brand ambassador, assured people of the safety of their money as they subscribe to a credible and reliable real estate firm whose plans for its clients are making landed property acquisition luxury available and affordable.
Fearless Energy Drink Validates Market Leadership Position
By Dipo Olowookere
Over the weekend, the market leadership position of Fearless energy drink was validated at the 2021 Brandcom Awards held at D' Podium International Event Centre, Lagos.
The event precisely took place on Friday, November 19, 2021, and it was to honour notable brands that have distinguished themselves in the period under review.
Fearless energy drink, manufactured by Rite Foods Limited, was adjudged as the Most Outstanding Energy Drink Brand of the Year.
According to the organisers, the brand clinched this coveted award because of its inventiveness and numerous contributions to the industry, as well as talent promotion, ideapreneurship, and societal development.
Eulogising the brand for its feat, the publisher of Brand Communicator, Mr Joshua Ajayi, said the Fearless energy drink brand truly deserves the award because of its leading position in its segment through sponsorship of laudable initiatives that have impacted the citizenry.
He added that the award was bestowed on the brand after a painstaking evaluation of the energy drink category and was pinpointed as the number one in terms of uniqueness, innovation, satisfaction, and the positive energy it offers.
In her remarks, the Brand Manager of Rite Foods, Ms Boluwatife Adedugbe, avowed that the award attests to the high quality of the Fearless Classic and Fearless Red Berry brands which are produced with state-of-the-art infrastructure and up-to-the-minute technology in a world-class factory.
She commended the convener of the Brandcom Awards for the recognition accorded the Fearless energy drink brand after a thorough assessment of its leading market status.
According to Ms Adedugbe, the brand will continuously connect with its consumers spread across the country through credible platforms that resonate with its values of positive energy, courage, leadership, and can-do spirit.
Business Post recalled that the Fearless energy drink made an entrance into the Nigerian market in 2017 with the Classic and Red Berry product variants.
Since then, it has continued to blaze the trail in its segment with the first-ever packaged polyethylene terephthalate (PET) bottle packaging and has been the standard for the industry.
The brand has embarked on initiatives that have helped in promoting Nigeria's entertainment industry through sponsorship, thereby adding aiding talent discovery and fulfilment of musical careers by young artists by sponsoring 2021 Felabration and others.
Rite Foods Takes Products to South Africa to Deepen Penetration
By Modupe Gbadeyanka
After conquering the food and beverage market in Nigeria, Rite Foods Limited is taking huge steps to spread its tentacles across the African continent and to achieve this, it is participating in the 2021 Intra-African Trade Fair (IATF) in Durban, South Africa.
At the one-week event, which started on November 15 and will end on November 21, Rite Foods is showcasing its products to guests from across the continents.
The IATF provides a platform for sharing trade, investment, and market information, enabling buyers, sellers, investors, and countries to meet and discuss business deals within the African continent.
It also offers an opportunity for exhibitors to showcase their goods and services, engage in Business-to-Business (B2B) as well as Business-to-Government (B2G) transactions within the African market of over 1.2 billion people, with a gross domestic product (GDP) of over $2.5 trillion created under the African Continental Free Trade Area (AfCFTA).
Whilst there, the West African fast-growing Rite Foods with its 12 Bigi carbonated soft drink variants, Bigi Table Water, premium Fearless energy drink, and Sausages, will take the bull by the horn and ensure it uses the IATF platform to boost its intra-African trade and investment, alongside maximizing the opportunity in discovering new customers and partners to broaden its network in its journey towards building enviable brand equity.
The Rite Foods team is represented by the National Sales Manager, Mr Adeniran Yunus, and the Brand Manager, Ms Boluwatife Adedugbe.
At the event, they will be engaged in trade diplomacy with select African trade ambassadors as well as leading trade partners across the continent, with the hope of engendering the growth of the top-quality brand which has become a major attraction in its category across the African continent.
The team will also meet with worthy distributors across Africa with the hope of deepening penetration within the continent, taking the company's products that have been the hallmark of distinctiveness to consumers in other emerging and developed markets.
Speaking on the IATF participation, Ms Adedugbe stated that Rite Foods with unique brands in its product portfolio is poised towards extending its brand-building equity to other frontiers across Africa and to ensure that consumers get refreshed with the uniqueness attached to our premium brands.
She affirmed that the consumer-centric company with its symbol of quality and inventiveness in its product delivery through up-to-the-minute technology and state-of-the-art infrastructure will continue to participate at international fora for advancement in its business operation in line with global best practices.
In the same vein, Mr Yunus said the IATF will help galvanize the company's investment strategy towards connecting its brands with consumers through robust business relations with trade partners within the continent and beyond.
Latest News on Business Post