Kwik Delivery Grows GMV, Revenue by 400% in 2021
By Adedapo Adesanya
Kwik Delivery has disclosed that its gross merchandise value (GMV) and revenue grew by over 400 per cent year-on-year in 2021.
GMV is a growth metric that shows the total value of merchandise sold over a given period of time through a customer-to-customer exchange site.
The platform also reached 100,000 business-to-business (B2B) users during the period.
Kwik Delivery is a digital platform connecting delivery partners and corporate customers in large African cities and offering digital solutions for e-commerce payment and fulfilment.
The service was launched in June 2019 and opened to B2B customers in Lagos, Nigeria, and has since rapidly expanded both in terms of customer base and services.
Speaking in this development, Mr Romain Poirot-Lellig, Founder & CEO of Kwik Delivery said, "2021 has seen explosive growth of our delivery service as merchants and businesses have shifted more and more of their distribution structures toward e-commerce platforms."
"Kwik is one of the few digital players able to propose access to end-to-end fulfilment and delivery services to its customers," he further said.
He added, "We believe this trend will create further growth for 2022 and beyond as businesses go digital and streamline their supply chains. We anticipate similar growth for fiscal 2022 as we expand our current verticals and launch new digital services, in particular, to help merchants go online and grow their business."
The past year was also one of recognition for Kwik Delivery as the company was named Most Innovative Logistics Company of the Year by the influential Nigerian business publication BusinessDay.
In March 2021, Business Post reported that Kwik Delivery closed its pre-Series A financing round, raising $1.7 million in equity from institutional and high net worth investors.
The company used the financing round to grow its service faster to disrupt and conquer new markets as well as expand to the Federal Capital Territory (FCT).
It also signed fresh ambassadors including Nigerian football legend, JJ Okocha and celebrity biker, Fehinty, and also deliver better packages in the delivery space.
Binance Hires TikToker Khaby Lame for Web3 Awareness
By Adedapo Adesanya
A week after announcing football icon, Cristiano Ronaldo, as its brand ambassador, Binance enlisted the services of Mr Khaby Lame, the Senegalese content creator who grew to fame through his viral TikTok videos, to promote its brand globally.
As the blockchain ecosystem behind the world's largest cryptocurrency exchange, Binance will partner with Khaby to increase Web3 awareness and adoption.
Khaby became a sensation for his spin on "life hack" videos, navigating overly complicated scenarios without saying a word while doing the famous "Khaby move."
He will use his signature style to tackle some of the misperceptions around Web3 in this multi-year partnership.
The former factory worker, just like Ronaldo, will also partner with Binance on exclusive non-fungible token (NFT) collections, further enhancing the experience for his fans.
Speaking on the partnership, Khaby Lame said, "I consider my followers as my family, and I am always looking for new challenges and interesting content to share with them."
"I've been curious about Web3 for some time, and jumped at the chance to partner with a leader like Binance because it aligns perfectly with what I usually do: make complex stuff easy and fun for everyone," the TikToker further said.
"Khaby has become a cultural icon and one of the most entertaining creators globally. We love his charm and sense of humour, and think it will bring relevance and relatability as we scale Web3 adoption," said Mr James Rothwell, Binance Global Vice President of Marketing. "With so much nuance around Web3 and misinformation in the world, it was a perfect match to have Khaby on board to help debunk some of the myths around this space."
Khaby is currently the most-followed creator on TikTok, with more than 144 million followers on the platform, and 78 million followers on Instagram.
Binance is the world's leading blockchain ecosystem and cryptocurrency infrastructure provider with a financial product suite that includes the largest digital asset exchange by volume. The company offers crypto products and offerings, including trading and finance, education, data and research, social good, investment and incubation, decentralization and infrastructure solutions.
Rite Foods Introduces New Fruit Drink in Five Flavours
By Modupe Gbadeyanka
A new fruit drink with five flavours called Sosa Fruit Drink has been introduced into the Nigerian drink market by Rite Foods Limited.
The market of carbonated soft drinks, energy drinks and sausages explained in a statement that the new product was created to meet the needs of consumers, who yearn for quality and refreshing fruit drinks.
Sosa Fruit Drink comes in Orange, Apple, Orange Passion and Mango, Mixed Berries, and Cranberry flavours in 35cl and one-litre packs.
The Managing Director of Rite Foods, Mr Seleem Adegunwa, said the company's commitment to its consumers' satisfaction remains unmatched, as it continuously ensures it produces premium quality products that meet consumers' needs in a manner that reflects positively on the business and the market.
"Our values of innovation and excellence at Rite Foods help us to remain committed to growing with the consumers' tastes through our unique selling proposition.
"This is evident in our new range of Sosa fruit drink products, its quality, package, sizing as well as pricing, all of which are produced with state-of-the-art infrastructure and up-to-the-minute technology to delight and refresh consumers all over the world," Mr Adegunwa said.
The Brand Manager for Beverage and Bakery at Rite Foods, Ms Boluwatife Adedugbe, described Sosa Fruit Drink as an exceptional brand that guarantees the highest quality products for consumers' refreshment, noting that the firm was excited to offer consumers the new range of Sosa fruit drink that delivers the ultimate refreshment.
Rite Foods is a subsidiary of Ess-Ay Holdings established in 2007. It boasts Bigi soft drink, Rite Spicy, Bigi Beef and Rite Sausages.
Zoho Introduces New Product for SMEs, Gets Office in Lagos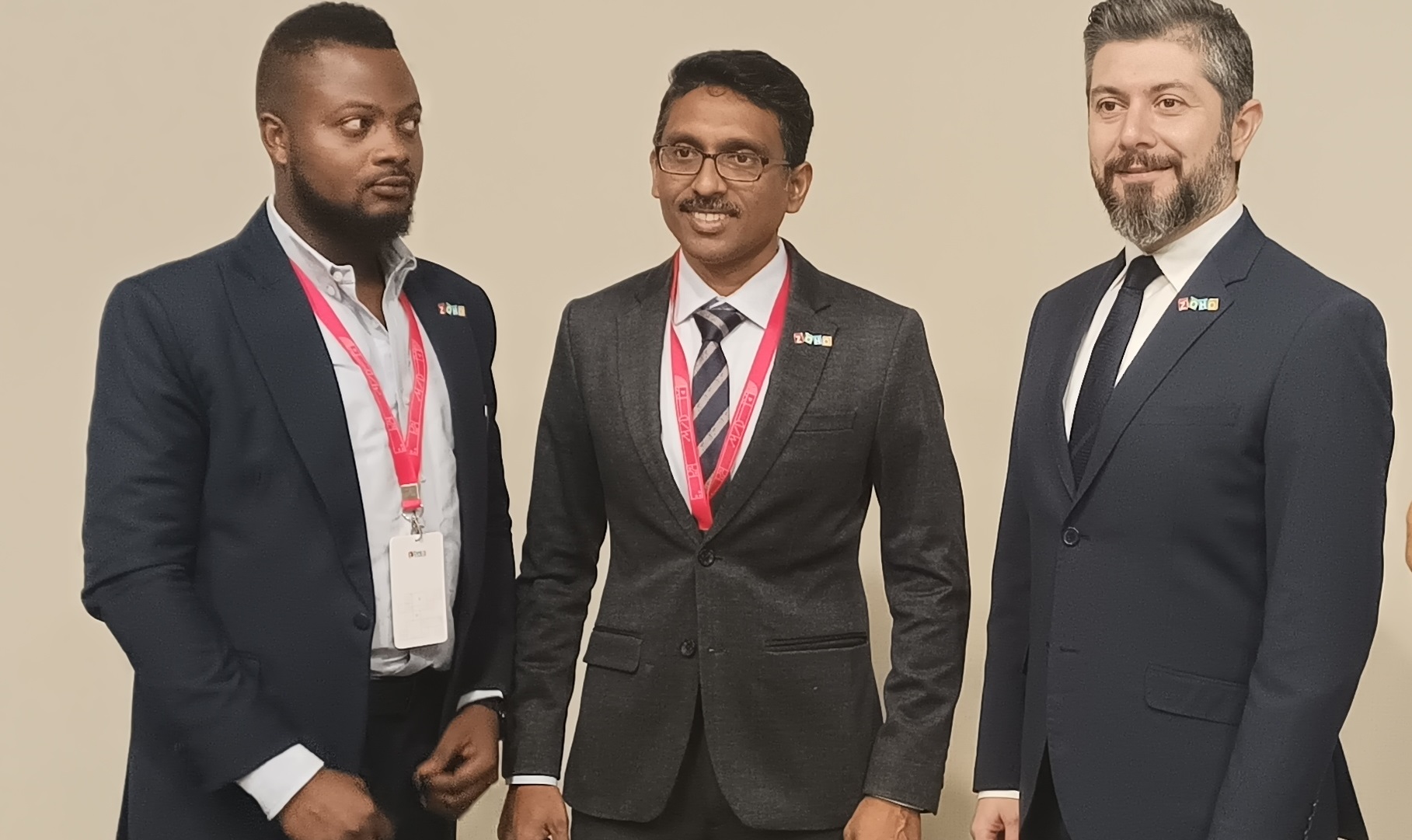 By Dipo Olowookere
Global technology company, Zoho, will next month officially open its third African office in the Lekki area of Lagos as part of its efforts to serve its clients in Nigeria better.
Addressing journalists in Lagos on Friday, the President of Zoho for MEA, Mr Hyther Nizam, explained that the decision to bring the company closer to its consumers in the country is because Nigeria is its largest market on the continent.
He noted that the firm will use the opportunity to reduce the unemployment rate in the country as it would hire more employees locally for customer-facing roles, especially in the sales, marketing and other departments.
While speaking on the sidelines of the company's first user conference in the country tagged Zoholics Nigeria, Mr Nizam further disclosed that Zoho has introduced a new product called Zoho Africa Digital Enabler package tailored for small and medium enterprises (SMEs) with about five employees.
According to him, the Zoho Africa Digital Enabler package, which will be available from July 1, 2022, will help small businesses take steps towards digital transformation and it would be offered at a discount of 50 per cent for a period of three months with a collection of 10 leading apps.
He explained that subscribers will have access to standard support available to them, which will allow access to a knowledge base, community forums, a self-service portal, email support and remote assistance. It also includes live chat support and telephonic support during working hours five days a week.
"For small businesses, enterprise technology is prohibitively priced and inaccessible," said Mr Nizam. "We want to remove the technology adoption barrier and help them kickstart their digital transformation journey, which will in turn help them stay nimble and quickly adapt to changing market conditions.
"The products are available in local pricing, helping businesses avoid cost fluctuations due to changing dollar value, which is beneficial in the current turbulent economy. We hope that Nigerian businesses will avail of this plan and fast-track their growth by leveraging cloud technology."
Business Post gathered that in the package are Zoho Workplace, Zoho Invoice, and Zoho Begin, among others.
The Zoho Workplace is a unified platform that brings together collaboration, productivity, and communications tools and integrates them into other business processes. It has secure business email (Zoho Mail), team chat (Zoho Cliq), and an online office suite (Zoho Writer, Zoho Sheet, Zoho Show, and Zoho WorkDrive).
The Zoho Invoice helps users create and send customised invoices, track time, and bill customers accurately. It can also improve their cash flow by automatically sending payment reminders to customers, and getting paid online faster through debit/credit cards and PayPal. Moreover, businesses can record and track expenses by simply scanning their expense receipts. They will also be able to track tax levied on every transaction, allow customers to view their invoices, and projects, and make payments through the self-service portal.
As for the Zoho Bigin, it is a pipeline-centric CRM designed specifically to help MSMEs keep track of their customers and improve customer relationships without having to worry about high costs or complicated features. It can be set up in 30 minutes, with options to create multiple pipelines with customisable stages based on a company's operation style.
Latest News on Business Post