Mouka Donates Mattresses to GNOSIS for Domestic Violence Victims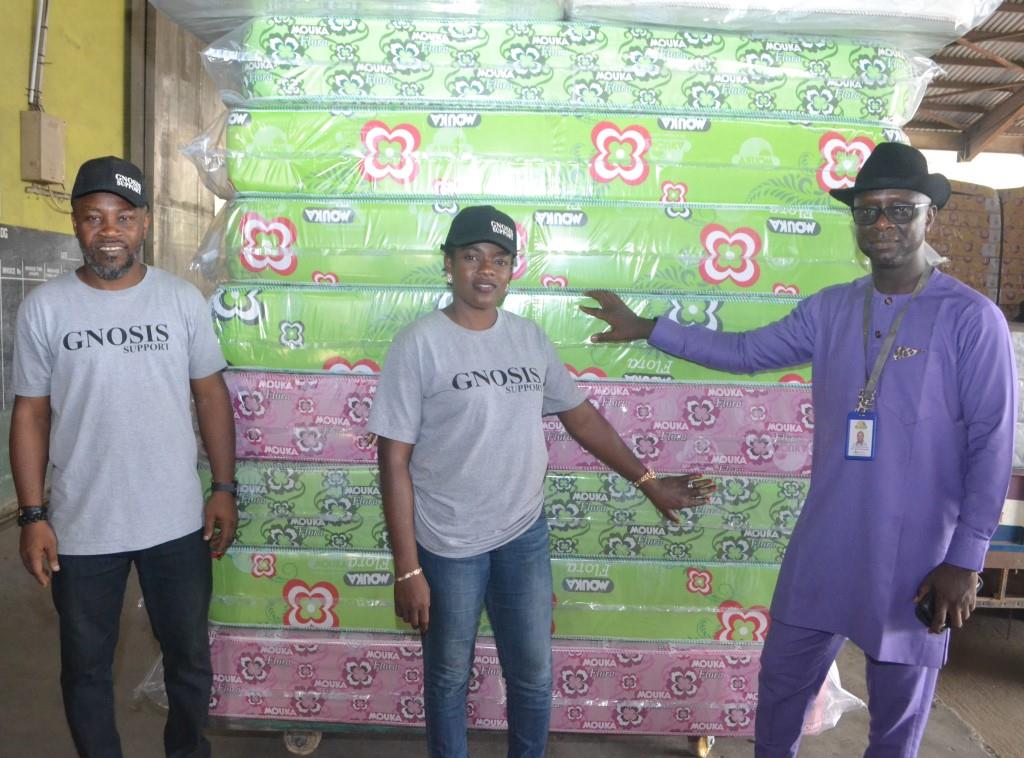 By Modupe Gbadeyanka
To bring succour to victims of domestic violence and abuse, Nigeria's preferred brand of mattresses, pillows and other sleep products, Mouka, has partnered with a non-governmental organisation (NGO), GNOSIS Help Initiative.
The company donated some mattresses to the NGO at its head office in Lagos on Wednesday to help improve the living condition of the displaced persons sheltered by the organisation, in line with its mission of adding comfort to life.
According to Mouka's Chief Commercial Officer, Mr Dimeji Osingunwa, the company truly cares about the wellbeing of its consumers and will continue to support worthy programs such as the GNOSIS Help Initiative that seek to alleviate the sufferings of Nigerians. He also called on other corporate organisations to lend a helping hand in making the lives of the victims easier in their journey of healing.
In his response, Barrister Olumide Kayode-Omosebi, Founder of GNOSIS Help Initiative (GHI), said, "When I reached out to Mouka, I did not expect they would respond with such a grand gesture.
"I am thankful as this would go a long way in making the victims feel comfortable in the places of shelter we provide."
He said with the donation, Mouka has truly demonstrated it is interested in the comfort of all Nigerians, even victims of abuse.
According to him, domestic violence and abuse cases are increasing. In the past year alone, GNOSIS Help Initiative has handled hundreds of abuse cases involving women, children and even men.
"We also engage secondary and tertiary institutions in the country to enlighten the students on how to identify abuse and seek help to break this vicious cycle as most times, the abuser was once a victim or witnessed a loved one being abused," Mr Kayode-Omosebi stated.
The founder and his co-founder, who is also his wife, shared numerous heartbreaking stories of abuse by spouses and parents that have, in many cases, resulted in grave physical injuries and, many times, death.
Mouka's National Customer Service Manager, Mr Femi Yussuf, also expressed his gratitude to GNOSIS Help Initiative for this opportunity to give back to society.
According to him, Mouka has given away thousands of mattresses in the past two years to worthy causes, including the first babies born in the year, COVID Isolation centres, internally displaced person's camps, flood victims, and orphanage homes as part of its CSR programs.
Mouka is a member of Dolidol International Group, Africa's leading brand of sleep products, with headquarters in Morocco.
The company has a wide range of products specially designed to meet the various needs of consumers based on their age, body build, lifestyle and budget to provide quality sleep to enable them to wake up refreshed and ready to take on the day.
Dissecting the Value of Public Relations in CEO Media Performance Audit
By: Philip Odiakose
Public relations (PR) is a crucial component of any organization's communication strategy. It involves the management of communication between an organization and its stakeholders, including customers, employees, investors, and the media.
PR plays a significant role in shaping an organization's reputation and can have a direct impact on its success. This is why it is essential for CEOs to understand the value of PR and to incorporate it into their media performance audit.
A media performance audit is a process that assesses an organization's media coverage and evaluates its impact on the organization's reputation, brand image, and business performance. The audit involves analyzing media coverage, identifying key messages, measuring the reach and impact of media coverage, and developing recommendations for improving media performance.
The value of PR in a media performance audit lies in its ability to shape the narrative of an organization's media coverage. By leveraging PR strategies, CEOs can ensure that their organization's key messages are being communicated effectively to the media and other stakeholders. This can help to enhance the organization's reputation and brand image, ultimately leading to improved business performance.
One way that PR can be leveraged in a media performance audit is through the development of a media relations strategy. This involves identifying key media outlets and journalists, developing relationships with them, and pitching stories that align with the organization's key messages. By doing so, CEOs can ensure that their organization is receiving positive coverage in the media, which can help to enhance its reputation and brand image.
Another way that PR can be leveraged in a media performance audit is through the development of a crisis communications plan. A crisis can have a significant impact on an organization's reputation and business performance. By having a plan in place for how to respond to a crisis, CEOs can minimize the negative impact on their organization's reputation and brand image. This can include strategies such as issuing statements, conducting media interviews, and engaging with stakeholders to address concerns.
In addition to these strategies, CEOs can also leverage media monitoring and intelligence consultants to track them and their organization's media coverage and reputation by monitoring CEOs media coverage, which can identify trends, opportunities, and potential threats to their organization's reputation. Media Intelligence consultants can provide insights into how stakeholders perceive the organization and can help to identify areas where improvements can be made.
In conclusion, the value of PR in a CEO media performance audit cannot be overstated. By leveraging PR strategies and tools, CEOs can ensure that their organization's key messages are being effectively communicated to the media and other stakeholders. This can help to enhance the organization's reputation and brand image, ultimately leading to improved business performance.
CEOs should work closely with their PR teams to develop a comprehensive media relations strategy, crisis communications plan, and monitoring and listening program that can help to optimize their organization's media performance.
Philip Odiakose is the Chief Insights Consultant at P+ Measurement Services, a Media Intelligence Consultancy in Lagos state, Nigeria.
Justrite's Energy Costs Surged Over 500% in 2022—Chairman
By Dipo Olowookere
The Chairman of Justrite Superstore, Mr Ayodele Patrick Aderinwale, has disclosed that the company's energy costs in 2022 significantly increased by more than 500 per cent.
Speaking on Friday on Arise TV's Global Business Report hosted by Mr Aruoture Rotus Oddiri, the Justrite chair said this surge in energy costs was triggered by the rise in the price of diesel in the year under review.
At the beginning of the year, a litre of diesel was selling between N200 and N250, but by the end of the first quarter of 2022, it was going for N650 per litre and later jumped to N800 per litre.
This increase was blamed on the invasion of Ukraine by Russia in February 2022. The price has not moderated to the pre-war period, forcing many companies to source cheaper energy.
But Mr Aderinwale said the company was making efforts to cut these energy expenses, especially with the funds raised from the sale of a minority stake in Justrite to Africinvest recently.
"Last year, our energy costs increased by over 500 per cent and don't forget that energy is part of our major operational costs. You have to have electricity 24 hours because you cannot afford to be in the dark; that is why we have to embrace solar energy," he said on the programme monitored by Business Post on Friday morning.
Speaking further, he said, "It is interesting that you raised this issue of renewable energy. One of the things we agreed with Africinvest is that from now henceforth, all our new stores to be opened would be powered solely by solar and the existing 17 stores would be integrated with solar energy."
He expressed optimism that Justrite would gain immensely from the experience of Africinvest because of its rich pedigree on the continent.
According to him, Africinvest "is not just coming with money, it is coming with insight, corporate governance, repositioning of the company and all manners of strategies."
"Before they made the final investment, they went through the due diligence process, both legal and commercial, to check the gaps and prospects of the company before signing the deal," the chairman said.
Konga, Verve Delight Customers With Free Shopping Vouchers
By Modupe Gbadeyanka
A partnership designed to reward customers with free shopping vouchers through a campaign tagged Season of Rewards has been entered into between Konga and Verve International.
The promo kicked off on March 1, 2023, and will see shoppers on the leading composite e-commerce platform in Nigeria receive free vouchers when they shop on Konga.com with their Verve cards.
The partnership underpins the commitment of both brands to add value by providing useful incentives for customers who make payments with their Verve cards.
Consequently, Verve cardholders who shop on www.konga.com are in for great rewards, with free shopping vouchers made available to them within a 24-hour period which they can immediately use on their next shopping on the Konga platform.
The vouchers can also apply to any category of product that catches their fancy, ranging from Mobile Phones, Computing, Electronics, Fashion, Home & Kitchen, Groceries, etc.
"We are delighted to partner with Verve to bring this exciting offer to shoppers on the Konga platform," disclosed Mr Gideon Ayogu, Group Head, Marketing & Communications, Konga Group.
"We are confident that this would deliver more value to Verve card holders in their shopping experience while also encouraging them to shop more," Mr Ayogu said.
Also commenting on the development, the Group Head of Growth Marketing Payment Tokens and Financial Inclusion Services at Interswitch, Mr Chidi Oluaoha, said Verve was committed to creating rewarding experiences for Verve cardholders while supporting their lifestyle needs.
"Our customers are at the heart of everything we do, and we are always looking for ways to reward them with invaluable payment experiences. It is for this purpose we are partnering with Konga to bring this exciting offer to Verve cardholders while giving them seamless, swifter and more secure payment solutions," he said.
Mr Oluaoha urged new and existing Verve cardholders to take advantage of this opportunity to enjoy the benefits of shopping on Konga and earning free shopping vouchers.
Through this Season of Rewards promo, Konga and Verve are confident of giving Verve cardholders more reasons to use their cards for e-commerce transactions and avoiding the ongoing hassles with cash availability. Both companies are also committed to improving financial inclusion and convenience for millions of Nigerians.
Latest News on Business Post