NSE Index Drops 0.06% as 37 Stocks Appreciate in Price in Four Days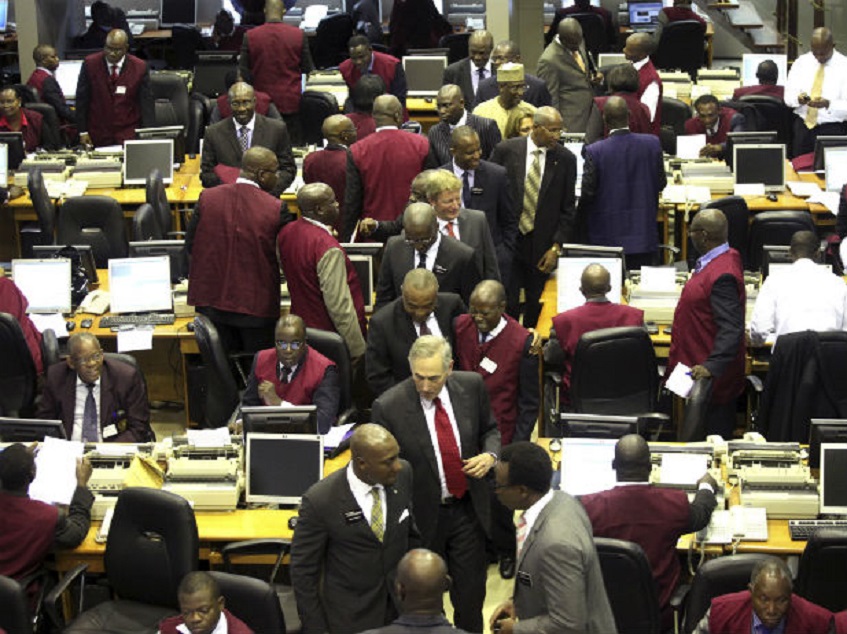 By Dipo Olowookere
A total of 37 equities appreciated in price this week higher than 33 in the previous week, Business Post reports.
Also, 32 equities depreciated in price lower than 41 equities in the previous week, while 100 shares remained unchanged higher than 95 equities recorded in the preceding week.
Business Post reports further that it was a four-day trading sessions this week as the Federal Government of Nigeria declared Tuesday, May 1, 2018 a public holiday to mark the Workers Day  celebration.
At the close of the week at the Nigerian Stock Exchange (NSE), the All-Share Index (ASI) and market capitalization depreciated by 0.06 percent to close the week at 41,218.72 and N14.931 trillion respectively.
Similarly, all other indices finished lower with the exception of NSE Premium, NSE Banking, NSE Industrial goods, and NSE Pension indices that appreciated by 0.12 percent, 1.56 percent, 1.06 percent and 0.21 percent respectively, while the NSE ASeM closed flat.
It was observed that a total turnover of 1.331 billion shares worth N20.835 billion in 18,695 deals were traded this week by investors on the floor of the NSE in contrast to a total of 1.825 billion shares valued at N24.653 billion that exchanged hands last week in 23,148 deals.
The Financial Services Industry measured by volume led the activity chart with 1.042 billion shares valued at N11.275 billion traded in 9,665 deals; contributing 78.32 percent and 54.11 percent to the total equity turnover volume and value respectively.
The Consumer Goods Industry followed with 84.124 million shares worth N4.322 billion in 3,691 deals, while the third place was occupied by Oil and Gas Industry with a turnover of 51.918 million shares worth N596.463 million in 2,307 deals.
Trading in the top three equities namely – United Bank for Africa Plc, Mutual Benefits Assurance Plc and Access Bank Plc measured by volume accounted for 457.930 million shares worth N3.784 billion in 1,469 deals, contributing 34.41 percent and 18.16 percent to the total equity turnover volume and value respectively.
Also traded during the week were a total of 709,058 units of Exchange Traded Products (ETPs) valued at N3.845 million executed in 10 deals, compared with a total of 56,260 units valued at N376,387.48 that was transacted last week in 6 deals.
In addition, a total of 80,152 units of Federal Government and State Bonds valued at N82.543 million were traded this week in 14 deals, compared with a total of 725 units valued at N660,984.55 transacted last week in 10 deals.
NASD Investors Lose N7.37bn to Profit-Taking
By Adedapo Adesanya
The market environment at the NASD Over-the-Counter (OTC) Securities Exchange was further weakened last week as a result of the 0.49 per cent decline recorded at the eighth trading week of 2021.
In the week, NASD investors lost N7.37 billion to reduce the market capitalisation of the exchange to N512.24 billion from N514.76 billion it finished in the seventh trading week.
In the same vein, the NASD Security Index (NSI) decreased by 3.52 points to settle at 713.91 points as against 717.43 points it ended a week earlier.
Business Post reports that the dominance of the bears at the unlisted securities market was caused by the negative movement in the prices of stocks on the bourse.
Niger Delta Exploration and Production (NDEP) Plc suffered a 2.98 per cent loss to close at N292.82 per unit in contrast to N301.84 per unit it traded the preceding week.
Also, FrieslandCampina WAMCO Nigeria Plc went down by 2.82 per cent to trade at N119.43 per share versus the previous N122.90 per share.
However, there was a price gainer during the week, though it was not enough to sway the market to the bulls. Central Securities Clearing System (CSCS) Plc appreciated by 3.1 per cent to quote at N16.50 per unit compared with the previous rate of N16 per unit.
During the week, there was a 62.4 per cent decrease in the total value of shares traded by investors; N31.6 million compared to N84.2 million of the previous week.
There was equally a decline in the total volume of securities traded by investors by 85.4 per cent as 370,270 units exchange hangs as against 2,535,707 units in the previous week.
Also, the total number of deals decreased by 39.5 per cent as the bourse published 26 deals compared to 43 deals on record at the preceding week.
According to data from the NASD, CSCS Plc ranked top among the five most traded securities by volume with 158,000 units. Nipco Plc traded 83,332 units, FrieeslandCampina transacted 82,585 units, NDEP Plc exchanged 46,348 units, while Mixta Real Estate Plc traded 5 units.
In terms of the top traded securities by value, NDEP Plc led the chart with N13.6 million. FrieslandCampina traded N9.9 million, Nipco Plc transacted N5.7 million, CSCS Plc exchanged N2.5 million, while Mixta Real Estate Plc sold N9.90.
A look at the activity chart on a year-to-date basis showed that investors have traded 24,201,001 stocks worth N602.1 million in 240 deals. Also, the unlisted securities market has lost 3.7 per cent in the year.