Ondo Farmers Get 400,000 Cocoa, Cashew Seedlings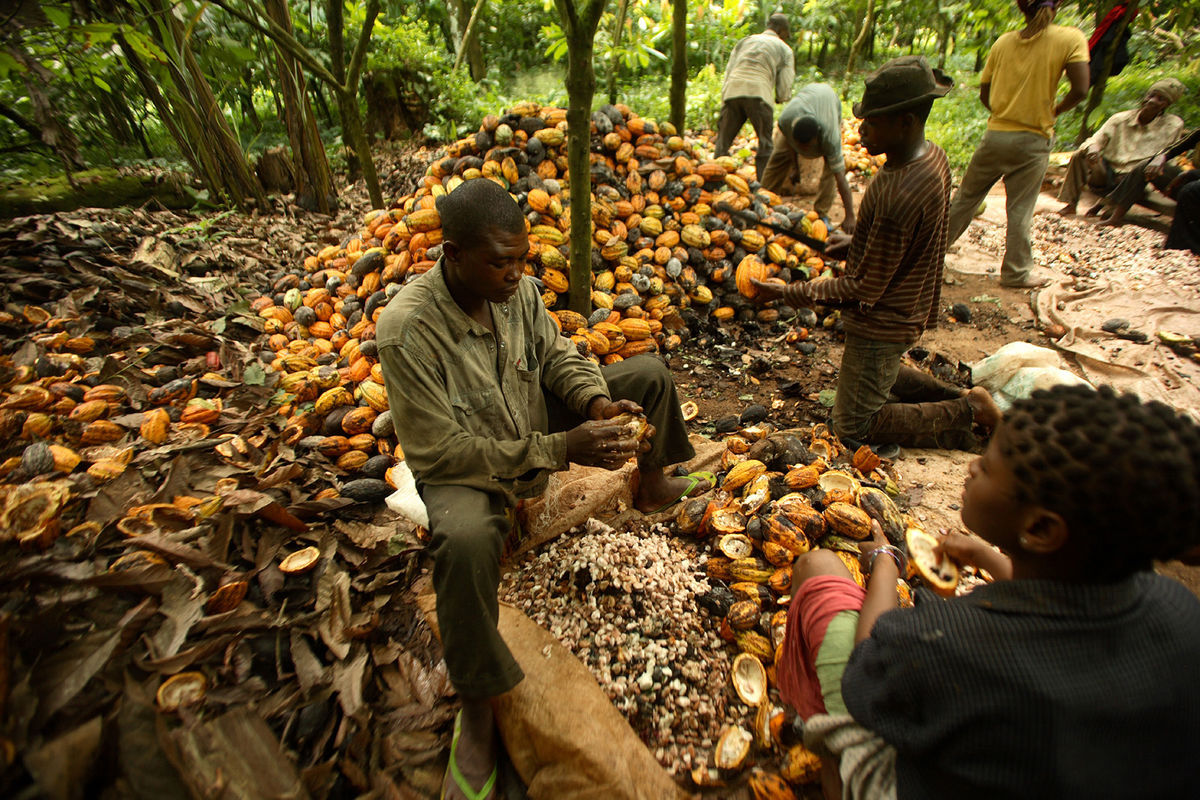 By Modupe Gbadeyanka
Farmers in Ondo State in happy mood as a result of the distribution of not less than 400,000 cocoa seedlings and 25,000 cashew seedlings to them by the state government.
The beneficiaries were drawn from the 18 local government areas of the state and it is part of efforts at repositioning cocoa as number one foreign exchange earner.
Governor of Ondo State, Mr Rotimi Akeredolu, while distributing of the seedlings to farmers, stated that his administration was making effective policies in returning the state and the country to the vantage position as the number one in the production of quality cocoa production in the world.
"Cocoa is Nigeria's number one cash crop and the second largest foreign exchange earner after petroleum.
"The country recently slipped from a global 4th position to 7th position, with an annual production of 190,000mt. Ondo State, at the same time, produces 80,000 metric tonnes (42%) to maintain its leadership position amongst the nation's cocoa producing states.
"To underscore this leadership position, Ondo State has been in the forefront of innovations and technology transfer at the downstream of the cocoa economy with most buyers having their field offices or headquarters in the state," Mr Akeredolu said.
According to him, part of the effort of the present administration is to make agriculture more attractive to the youths while he assured that his administration would make loans available to farmers and partner with banks to make loans easy and accessible.
He noted that the nation has been relegated to the background because of some challenges which include: old age of cocoa farms; low yielding varieties; problems of pests and diseases.
Others include, soil fertility degradation; weather conditions; old age of farmers; lack of interest by youths; urbanization and land tenure problems among others.
"The above listed problems and others had spurred our administration to deliberately put in place a programme that would drive the Federal Government's Cocoa Rebirth Initiative in the state," he added.
I Fully Agree Oil Has Been a Curse to Nigeria—Moghalu
By Aduragbemi Omiyale
A former deputy governor of the Central Bank of Nigeria (CBN), Mr Kingsley Moghalu, has said oil has been a curse to Nigeria.
He said this in reaction to the discovery of oil in the northern part of the country.
On Tuesday, President Muhammadu Buhari flagged off the Kolmani Integrated Development Project in Bauchi, and he said the country attracted $3 billion investment in fossil energy from the project at a time when the oil and gas sector was becoming less attractive.
"It is, therefore, to the credit of this administration that at a time when there is near zero appetites for investment in fossil energy, coupled with the location challenges, we are able to attract investment of over $3 billion to this project," Mr Buhari said.
The Kolmani Integrated Development Project is a fully integrated in-situ development project comprising upstream production, oil refining, power generation and fertilizer.
The Kolmani River field has huge commercial deposits of hydrocarbons, which the President said is "over one billion barrels of oil reserves and 500 billion cubic feet of gas."
But Mr Moghalu, who contested to be the President of Nigeria in 2019 under the Young Progressives Party (YPP), believes that the country has not gained anything meaningful from being an oil-producing nation.
Nigeria is one of the leading producers of crude oil in Africa. Most of the foreign exchange (FX) earnings come from the sale of the commodity. However, oil theft and corruption have subjected its citizens to abject poverty, with the government resorting to borrowing to fund its budgets.
"I fully agree with those who say oil has been a curse to Nigeria. Many of them question the ultimate value of the reported Kolmani oil find in Northern Nigeria.
"But I am also practical enough to know three things. First, some countries like Saudi Arabia, Gulf States, and Norway were smart enough to use oil to build their economies but diversified into other means of wealth creation and also built-up savings (reserves/Sovereign Wealth Funds) for the rainy day that have served them well.
"Secondly, the real secret of the wealth of nations does NOT lie in natural resources. It lies in economic complexity – the ability to prioritize technological innovation and use it to manufacture complex products that are value-added and competitively produced and then exported to dominate the world trading system. Singapore, South Korea, Japan, Switzerland and many other of the world's wealthiest countries have NOTHING of value under their soil but have used this principle to create wealth for their citizens. That's why they are rich, but we in Nigeria and most other African countries, with our so-called blessing of natural resources, are in a poverty trap.
"We in fact have the resource curse. 70% of the world's strategic minerals are in Africa, but the continent's share of world trade is just 3% in 2022.
"The third thing I am practical enough to know is that, as Nigeria is currently led and configured, the dominant mentality of its political leadership is still fixated on natural resources and resource rents. They simply do not share in, & do not care, about the secret of the wealth of nations.
"Their minds still haven't evolved to that knowledge or, more accurately, the political will to de-emphasize natural resource thinking and shift to real wealth creation," the respected economist said in a series of tweets via his verified Twitter handle, @MoghaluKingsley.
Index Rises 2.04% on Interest Airtel Africa, MTN Nigeria Shares
By Dipo Olowookere
It was another positive outing for the Nigerian Exchange (NGX) Limited on Friday as it closed higher by 2.04 per cent on the back of buying interest in Airtel Africa, MTN Nigeria and 16 others.
The sustained upward movement was buoyed yesterday by the 1.10 per cent growth posted by the insurance sector, the 0.26 per cent improvement in the industrial goods space, and the 0.25 per cent rise in the banking counter.
The trio offset the 2.37 per cent loss printed by the consumer goods counter, as the energy index closed flat when trading activities were brought to an end at 2:30 pm.
Consequently, the All-Share Index (ASI) closed higher by 949.40 points to 47,554.34 points from 46,604.94 points, as the market capitalisation grew by N517 billion to settle at N25.902 trillion compared with Thursday's closing value of N25.385 trillion.
The stock market was quiet on Friday as the most active stock, FCMB, only traded 16.8 million units, while MTN Nigeria sold 16.4 million units. Fidelity Bank traded 7.5 million shares, Zenith Bank exchanged 6.4 million equities, and Access Holdings transacted 5.8 million equities.
From an analysis of the activity chart, a total of 99.0 million stocks worth N5.5 billion were traded by investors yesterday in 2,780 deals compared with the 138.6 million stocks worth N2.2 billion traded in 3,434 deals, indicating an increase in the trading value of 154.41 per cent, a decline in the number of deals by 19.04 deals and a drop in the trading volume by 28.58 per cent.
Red Star Express ended the day on top of the gainers' chart after its value rose by 9.66 per cent to N2.27, Regency Assurance appreciated by 8.70 per cent to 25 Kobo, Livestock Feeds grew by 8.16 per cent to N1.06, Prestige Assurance expanded by 7.50 per cent to 43 Kobo, and Airtel Africa improved by 7.41 per cent to N1,450.00.
Conversely, Capital Hotel topped the losers' log yesterday after it went down by 10.00 per cent to N3.06, Nestle Nigeria fell by 10.00 per cent to N963.90, International Breweries drained by 2.27 per cent to N4.30, GTCO lost 1.48 per cent to N20.00, and Wema Bank depreciated by 0.97 per cent to N3.07.
Naira Gains at P2P, Weakens at I&E
By Adedapo Adesanya
The Naira closed stronger against the United States Dollar at the Peer-to-Peer (P2P) window of the foreign exchange (FX) market on the last trading session of the week by N1 to sell at N786/$1 compared with the previous day's exchange rate of N787/$1.
Similarly, in the black market, the Naira appreciated against the American Dollar by N2 to trade at N775/$1 yesterday, in contrast to the N777/$1 it closed on Thursday.
However, in the Investors and Exporters (I&E) segment of the forex market, the domestic currency depreciated against its US counterpart by 0.3 per cent or N1.33 to settle at N446.33/$1 compared with the preceding session's N445/$1.
Data from FMDQ Securities Exchange indicated that the FX turnover at the I&E window on Friday was $117.26 million, lower than the $145.89 million reported a day earlier by $28.63 million or 19.6 per cent.
In the interbank segment, the Nigerian Naira closed flat against the Pound Sterling and the Euro yesterday at N526.97/£1 or N455.56/€1, respectively.
Meanwhile, in the cryptocurrency market, there were recoveries as a majority of the 10 cryptos tracked by Business Post pointed north, with Dogecoin (DOGE) surging by 14.6 per cent to trade at $0.093.
This happened as the crypto market is still reeling after a brutal month, with investor confidence shattered following news that FTX, once one of the biggest and most popular crypto exchanges, went bust.
Binance Coin (BNB) recorded a 5.5 per cent appreciation to trade at $311.11, Ethereum (ETH) saw its value go up by 3.8 per cent to sell at $1,220.31, Cardano (ADA) recorded a 2.9 per cent rise to quote at $0.319, and Solana (SOL) appreciated by 2.8 per cent to trade at $14.41.
Further, Ripple (XRP) recorded a 2.4 per cent gain to settle at $0.4079, Bitcoin (BTC) made a 1.4 per cent improvement to sell at $16,626.37, Litecoin (LTC) jumped by 1.3 per cent to trade at $77.20.
But the US Dollar Tether (USDT) and Binance USD (BUSD) remained unchanged at $0.9995 and $1.00 apiece.
Latest News on Business Post