OPL 245: FG Fumes as Milan Court Acquits Eni, Shell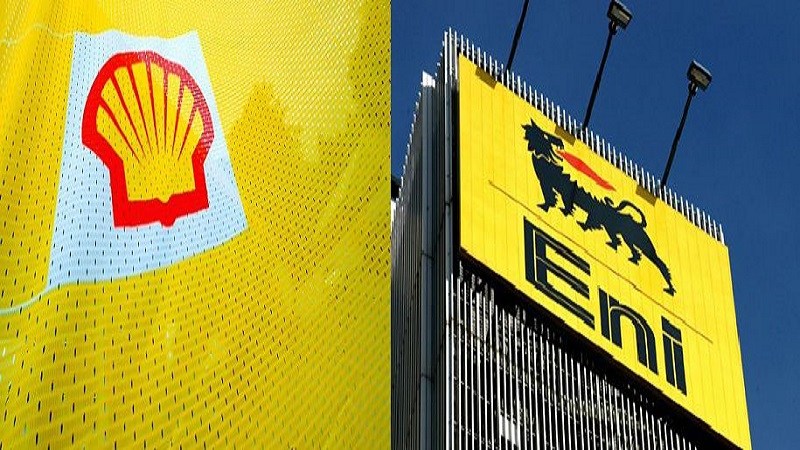 By Adedapo Adesanya
The federal government has expressed its displeasure at Wednesday's ruling by an Italian court that acquitted the Royal Dutch Shell and Eni for alleged fraud as regards the Oil Production License (OPL) 245 in Nigeria.
A representative of the Nigerian government told Bloomberg that the nation will wait to review the Italian court's written judgment before considering its position.
"The Federal Republic of Nigeria is disappointed in today's (Wednesday) ruling in Milan, but thanks the Italian prosecuting authorities for their tireless efforts.
"The Federal Republic of Nigeria will continue to hold those responsible for the OPL 245 fraud accountable," the unnamed official told the reputable news platform.
A Milan court on Wednesday acquitted energy companies; Eni and Royal Dutch Shell along with a series of past and present managers including Eni Chief Executive, Mr Claudio Descalzi in what has been regarded as the oil industry's biggest corruption scandal.
The sentence, read out in court by Judge Marco Tremolada, comes more than three years after the trial first began and after a total of 74 hearings. He said the companies and defendants had been acquitted as there was no case to answer.
However, there is a glimmer of hope for Nigeria as rulings in Italy can be appealed and only become enforceable once they are final.
According to an analyst, Matthew Page, an associate fellow at the Chatham House Africa programme. "This is a huge blow for natural resource governance and transparency in Nigeria.
"The OPL 245 deal has been a multi-layered tale of corruption and malfeasance and international complicity that's been going on for two decades."
"This judgment will continue to sting, as it is a real and visible defeat for global and Nigerian anti-corruption efforts," he said.
The exploration licence for the field, some 150 km (95 miles) off the Niger Delta, has not been revoked but it has not been converted into a mining licence and no oil has been produced.
A Brief History of the Case
The case revolved around the $1.3 billion purchase by Eni and Shell of the OPL 245 offshore oilfield in Nigeria in 2011 from Malabu Oil and Gas, a company owned by a former Nigerian oil minister, Mr Dan Etete.
Prosecutors alleged that just under $1.1 billion of the purchase price was shared with politicians and middlemen, including the former oil minister.
On Eni and Shell's part, there were clamours that there were to be fined alongside the call for prosecution of a number of past and present managers from both companies, including Mr Descalzi.
The defendants all denied any wrongdoing and said the purchase price for OPL 245 was paid into a Nigerian government account and subsequent transfers were beyond their control.
New Cash Withdrawal Limits Will Expose Tax Evaders—Oyedele
By Adedapo Adesanya
The Fiscal Policy Partner and African Tax Leader at one of the country's leading consultancy companies, PwC, Mr Taiwo Oyedele, has said the new cash withdrawal limits introduced by the Central Bank of Nigeria (CBN) would expose tax evaders, individuals and micro, small, and medium enterprises (MSMEs) in Nigeria.
In a series of tweets seen by Business Post, the tax maverick said that with the restrictions placed on cash withdrawals, many people would be forced to carry out transactions using electronic payments, and small businesses that currently operate mostly on cash would become visible to the tax authorities.
It had been reported the apex bank on Tuesday moved to limit the amount of cash withdrawals Nigerians can make with benchmarks placed at several channels, including over-the-counter, point of sales (POS), and automated teller machines (ATMs).
He explained that the policy would trigger various tax obligations, including income tax, value-added tax (VAT), and Pay-As-You-Earn for small businesses and individuals.
On Income tax, he wrote that "If your business is registered as a company, you may be liable to CIT depending on your annual turnover (i.e. no CIT if your turnover below N25 million, 20 per cent if your turnover is between N25 million to N100 million 30 per cent if your turnover is more than N100m) in addition to Education Tax at 2.5 per cent.
"If your business is not registered as a company, then you will be liable to personal income tax based on graduated taxable income bands between 7 per cent and 24 per cent."
On VAT, he explained that, "All businesses are required to register for VAT and charge 7.5 per cent on their goods and services except those with annual turnover below N25 million."
For PAYE, Mr Oyedele explained that employees earning more than N30,000 per month are liable to PAYE, which must be deducted and paid to the tax authority by the employer on a monthly basis.
To this, he noted, "You may also be liable to other statutory contributions such as pension depending on your staff strength."
For individuals, he noted that as they carry out more transactions, this will make them susceptible to transparency as it will make it easier for the government to track those who are tax evaders.
"The more transactions you make electronically, the more the tax authorities will get the intelligence to track your income and net worth, making it easier to fish you out if you are a tax evader."
He then advised small business owners to register with relevant tax authorities like the Federal Inland Revenue Services (FIRS) and the state internal revenue services where they operate.
Further, the PwC official called on SME operators to open a separate bank account for their business, "or dedicate one for that purpose if you already have a business account) and don't mix business with personal transactions."
The government, on its part, he said, needs to sensitise the general public, especially small business owners, adding that the CBN should ensure a proper handshake with the fiscal authorities.
"For instance, the conditions for excess cash withdrawals could include Tax Identification Number," he opined.
CBN to Establish Offshore Banking in Free Trade Zones to Boost Investment
By Adedapo Adesanya
The Central Bank of Nigeria (CBN), in collaboration with the Free Trade Zone Authority (FTZA), has commenced moves to establish offshore banking in the zones in Nigeria so as to encourage investors to repatriate their returns from their businesses.
Speaking on the sideline of a three-day conference to mark the 30th anniversary of the Free Trade Zones in Nigeria, the Managing Director of the Nigeria Export Processing Zone Authority (NEPZA), Mr Adesoji Adesugba, disclosed that having offshore banking operations in the FTZs is a factor that would further boost investors' confidence in the nation's FTZs operations.
Mr Adesugba also said that offshore banking in FTZs is an international best practice that Nigeria must adopt to enhance investors' operations in the FTZs.
"The CBN is in charge of processing offshore banking in the FTZs, and the FTZA and the CBN have met over the issue for almost two years, and we are still meeting. The document to establish the offshore banking operations is ready.
"We are just awaiting the approval of the CBN to commence operations in the Free Zones because Free Zones enterprises are not allowed to enjoy the facilities of the banking system in the Nigerian territory.
"So, we need an offshore banking system. There is no way you can do business without having a bank, so that is what we are asking for. It is high time we start that.
"Every other Free Zone outside Nigeria has that kind of system. It's not new, but in Nigeria, we still don't have it. It is an incentive for investors because that is the first thing they ask for when they come to the Free Trade Zones.
"The absence of offshore banking counts against us, so we are asking the Central Bank to please fast-track that for us to have it," he said.
Nigeria's Oil Production Now 1.59 million Barrels Per Day—NNPC
By Adedapo Adesanya
The Nigerian National Petroleum Company (NNPC) Limited has claimed that Nigeria's oil production, as of December 6, 2022, was 1.59 million barrels per day.
The Chief Upstream Investment Officer at the NNPC's Upstream Investment Management Services (NUIMS), Mr Bala Wunti, disclosed this yesterday at the ongoing 11th Practical Nigerian Content forum in Uyo, Akwa-Ibom State.
Mr Wunti said due to the government's intervention, the country's oil production output had increased amid the oil theft crisis, adding that the government was resolving the issues using three strategies which are detect, deter, and respond appropriately.
Representing the Chief Executive Officer of the oil company, Mr Mele Kyari, Mr Wunti revealed that Nigeria had not recorded significant funding in the oil and gas sector in the last 10 years.
"We were able to get the trans-Forcados pipeline back to work. And ultimately, the net effect of that is that from one million barrels three months ago, we are back to 1.5 million barrels per day. Is that our ambition? No. We believe we can get back to 2.4 million barrels per day early next year," he revealed.
He also insisted that Nigeria can hit 2.4 million barrels per day if the challenges confronting the sector are sorted.
Making a case for the usage of gas for industrial development, the NNPC official submitted that gas provides the opportunity to power the global economy in a sustainable manner.
According to him, to deepen gas utilisation, NNPCL has decided to focus on in-country infrastructure. While NNPC Limited is currently supplying about 1.1 billion standard cubic feet (scf) per day to the Lagos area, Mr Kyari insisted that the company has the capacity to supply 3.6 billion scf daily.
In his presentation, the Executive Secretary of NCDMB, Mr Simbi Wabote, revealed that the in-country capacity in the oil and gas industry had reached 54 per cent.
He added that a total of 178 Nigerian Content (NC) plans and 197 NC Compliance Certificates were approved in 2022, saying that has ensured an increase in the involvement of Nigerian businesses in the industry contracting process resulting in an increase in the percentage of the number of contract awards to Nigerian businesses from 79 per cent in 2021 to 82 per cent in 2022.
Latest News on Business Post