Reignite, BusinessDay to Host National Dialogue Series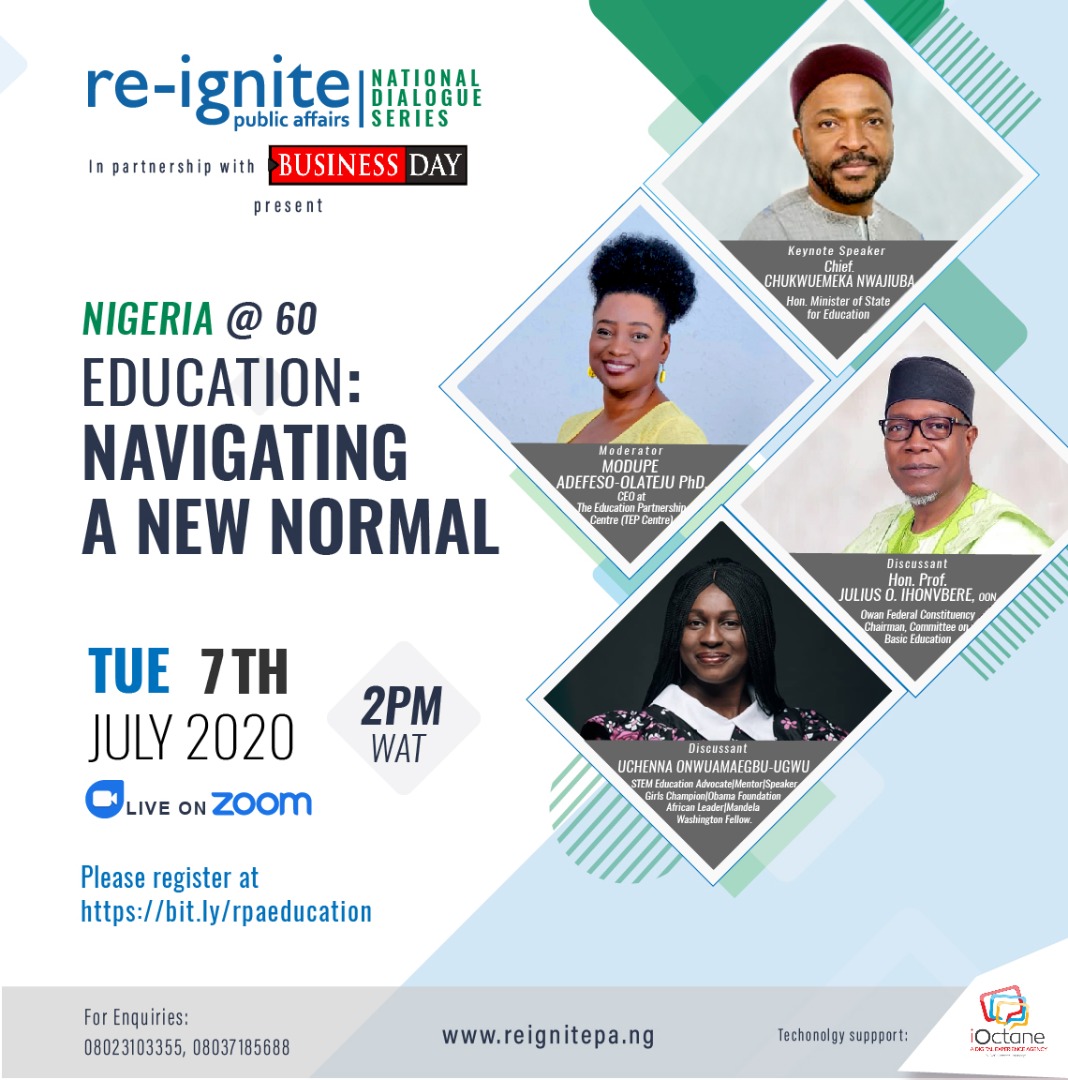 By Modupe Gbadeyanka
Two organisations with the shared values of promoting governance and socio-economic development of Nigeria, Reignite Public Affairs and BusinessDay Media, have come together to hold a national dialogue series.
The dialogue, christened Reignite Public Affairs National Dialogue Series (RPA NDS), is a knowledge-based policy dialogue series for collating refined submissions of thought leaders and stakeholders in order to promote dialogue on critical national issues, cause aggregation of expert's positions on national issues, influence policy formulation and implementation and ultimately determine a critical path for national development.
A statement from the organisers disclosed that the inaugural edition of the series themed Education: Navigating A New Normal, is slated for Tuesday, July 7, 2020, via Zoom link channel http://bit.ly/rpaeducation at 2:00pm (WAT).
It was stated that the webinar will feature the Minister of State for Education, Mr Chukwuemeka Nwajiuba, as keynote speaker, with some federal lawmakers and other key stakeholders on the panel of discussion.
The programme will be moderated by an education policy expert specialising in public-private partnerships in education, Mrs Modupe Adefeso-Olateju, who is also the Managing Director of The Education Partnership Centre (TEP Centre) and Programme Director of the LEARNigeria Citizen-Led Assessment and Advocacy Programme.
Key issues to be discussed during the webinar include the national education policy, developing and retaining talents, investments in education infrastructure, and opportunities in the education system, the dynamics between public schools and private schools, funding imperatives, technology and legislative framework. It will afford policymakers and stakeholders the opportunity for critical feedback.
Commenting on the event, Franklyn Ginger-Eke, Executive Director/COO Reignite Public Affairs, said as Nigeria marches towards her 60th Independence anniversary, there is a critical need to review her progress in key sectors such as education, health, agriculture, economy, security, infrastructure and governance that have the extreme potential to catalyse national development. This becomes even more strident in the post-COVID-19 era which demands a fresh approach to old challenges.
Speaking on the partnership with BusinessDay, Mr Yomi Badejo-Okusanya, Group Managing Director of CMC Connect (Perception Managers), said the COVID-19 pandemic, unarguably a major global health crisis, has further exposed the crisis within Nigeria's education sector even as governments and educational institutions including stakeholders struggle to adjust to a new normal in the face of uncertainties.
53 Nigerian Students Grab Cambridge Awards
By Ashemiriogwa Emmanuel
About 53 Nigerian students have again pulled off prestigious Cambridge learner awards in various subjects at the Cambridge International General Certificate of Secondary Education (IGCSE), Cambridge O Level and Cambridge International AS & A Level from the Cambridge International examinations written in November 2020.
Three out of the 53 students excelled in Sociology, Agriculture and Law, thereby copping for themselves the Top in the World honour.
In addition, 39 students were granted the Top in Nigeria awards having performed excellently well and attained the highest standard mark in their country for a single subject.
Cambridge International also granted 19 High Achievement awards and 3 Best Across awards to students who came out with the highest cumulative total standard marks over a set number of subjects.
Commenting on this thread of achievement, Cambridge International's Regional Director for Sub-Saharan Africa, Mr Juan Visser, noted that it was a thing of delight to see that students in Nigeria still come out in flying colours in their examinations despite the ugly disruption of the COVID-19 pandemic.
According to him, "Students around the world faced one of the most challenging years ever, with the COVID-19 pandemic disrupting teaching and learning.
"Despite this, we are delighted to see that students in Nigeria still excelled at their examinations and managed to produce these outstanding results.
"This points not only to the dedication of learners and their teachers but also to the quality of the schools in Nigeria registered to offer Cambridge programme. Well done to all the top achievers."
In connection, the Country Director, British Council Nigeria, Mrs Lucy Pearson, said that the IGCSE was focused on extending world-class education and assessments to young learners which will better position them for career opportunities.
"The exams we administer continue to help people all over the world gain educational and professional development, so they are better positioned for success in life and their careers.
"Education is a key enabler for these opportunities, and we believe in ensuring young learners have access to world-class education and assessments which we have achieved through our partners Cambridge assessment international education and the British council partner school," Mrs Pearson said.
All the outstanding students will receive certificates from Cambridge International, attesting to their remarkable achievements.
These feats provide an excellent opportunity for the students to gain entry into local and international leading universities which consist of over 1900 universities worldwide, and more than 800 universities in the United States including, all United Kingdom universities as well as top universities in Nigeria.
ASR Africa Gives N1bn Grant to University of Benin
By Adedapo Adesanya
The Abdul Samad Rabiu Africa Initiative (ASR Africa) has awarded a N1 billion infrastructure grant to the University of Benin (UNIBEN) as part of its 2021 Tertiary Education Grants Scheme.
This was revealed during the grant presentation by ASR Africa management to the Vice-Chancellor and council members of the University of Benin on Wednesday.
With this grant, the University of Benin becomes the fifth Nigerian university to receive the gesture from the ASR Africa Tertiary Education Grants Scheme, which is funded by the ASR Africa Fund for Social Development and Renewal, which has a yearly budget of $100 million.
The University of Maiduguri, University of Ilorin, University of Ibadan, and Ahmadu Bello University, Zaria are among the previous 2021 grant recipients.
During the presentation, Mr Ubon Udoh, Managing Director of ASR Africa, praised the university administration for their dedication to ensuring the highest tertiary education standards at the University of Benin.
He further said UNIBEN was chosen for the ASR Africa Tertiary Education Grant based on a number of criteria, including ranking, student population, gender inclusivity and others.
The ASR Africa Initiative, which is the brainchild of industrialist and philanthropist, Mr Abdul Samad Rabiu, was set up with an annual pledge of $100 million dedicated to health, education and social development issues within the African continent.
Out of this, Nigeria will benefit $50 million yearly and the rest of Africa, $50 million, in what is the largest private philanthropic giving of its kind by an individual in Africa.
Agbowó Rejigs Pioneering Editorial Leadership
By Adedapo Adesanya
A literary journal, Agbowó, has announced changes in its editorial leadership following the completion of their respective tenures.
In a press release seen by Business Post, the publication said the trio of Kunle Adebajo, Olu Afolabi, and Moyosore Orimoloye have completed their tenures as the non-fiction editor, poetry editor, and editor-in-chief, respectively.
It was revealed that the new occupants of the vacant seats will be announced soon.
"We hereby announce the following changes in the editorial leadership at Agbowó – Kunle Adebajo, Olu Afolabi, and Moyosore Orimoloye have completed their tenures as Non-fiction editor, Poetry editor, and Editor-in-chief, respectively.
"Being foundational members of the Agbowó team, all three members have been valuable to our growth over the past few years. For this, we are immensely grateful for their sacrifice and service," a part of the statement exclusively made available to this newspaper stated.
According to the statement, "Moyo Orimoloye has led the editorial team since the magazine's inception. His leadership has been a guiding light in Agbowó's quest to expand its reach within the African continent while constantly improving its editorial standards. It has been a pleasure.
"A journalist par excellence, Kunle Adebajo brought the same attention to detail and intensity that characterizes his work.
"If you have enjoyed any piece of non-fiction published on Agbowó over the past four years, you have probably met him. Thank you Kunle.
"Olu Afolabi, also a founding editor, has marshalled the poetry editorial desk at Agbowó these last 4 years.
"An amazing poet himself, his keen eye for lively and innovative verse has ensured a constant stream of exceptional poetry flowing through the gates of Agbowó.
"We thank you for your service, Olu and we are rooting for you," the statement added.
Agbowó, the literary journal, is an off-shoot of the UITES WRITE collective. UITES WRITE, founded by Habeeb Kolade and Dolapo Amusat in 2015, is a platform to showcase literary work by University of Ibadan students and alumni.
With an expanding vision, the founding editorial team decided to carve out a literary magazine and in the process, opened it up to Africa and, thus, Agbowó was born.
Recently, the magazine released the fourth issue of the annual magazine installation themed Chaos. It can be accessed here.
Latest News on Business Post