How e-Commerce Came Through for Nigerians in 2020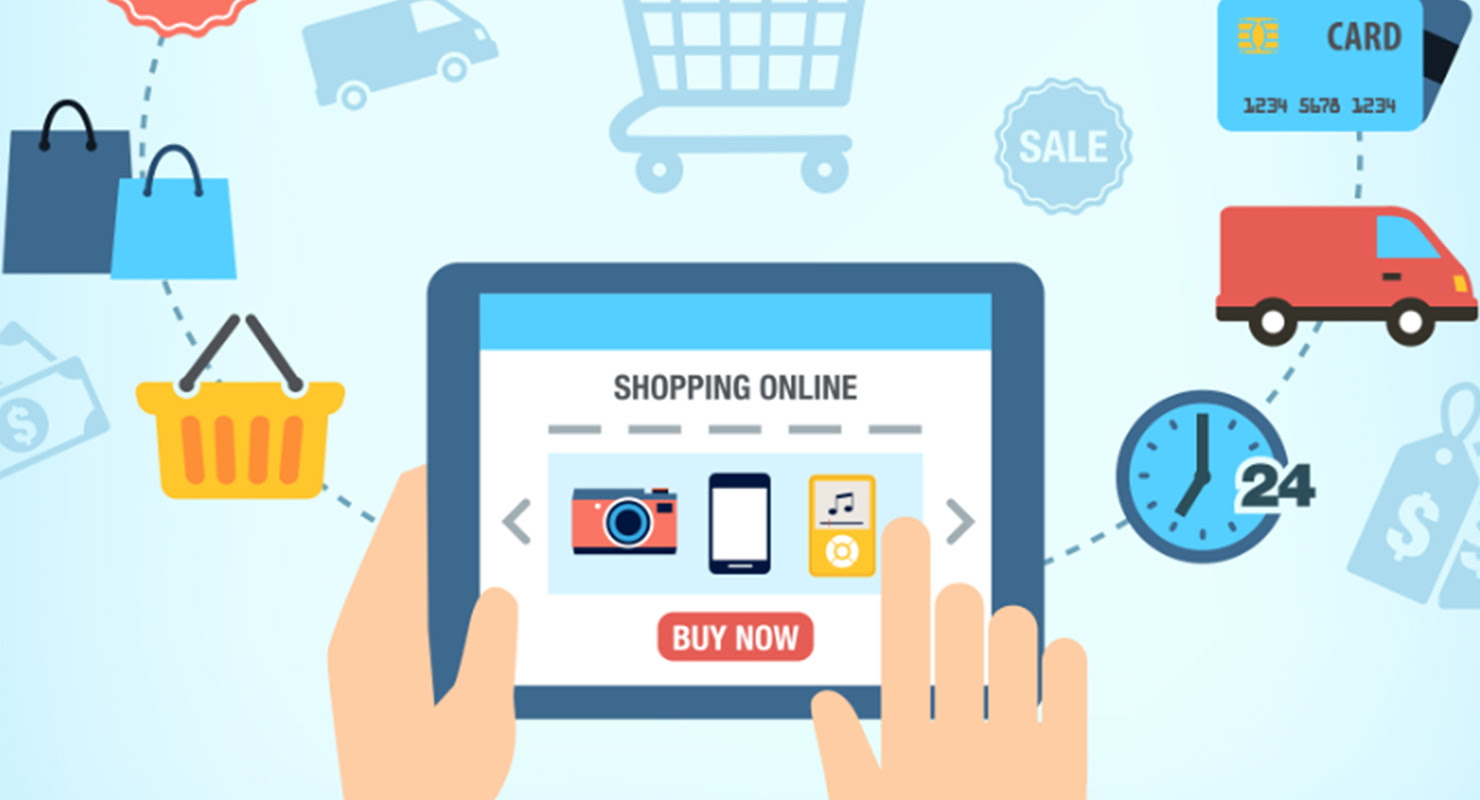 The year 2020 has been a year like no other, no thanks to COVID-19 pandemic and the accompanying restrictive measures which unleashed a far-reaching socio-economic impact on businesses globally.
Firms and businesses were sent to survival mode while many who couldn't cope were forced out of business. Most affected are Micro Small and Medium-sized Enterprises (MSMEs) who are the major economic drivers.
Interestingly, the year also turned out to be the one where the world came to a consensus on the importance of technology to the human race.
In the heat of lockdown and social distancing measures that limited human physical contact and activities, technology-based services served as the bridge between the virtual and human divide.
At the time when guidelines were strict, consumers stayed home and did their shopping online. E-commerce and its chain of services were crucial to survival across the globe.
Logistics services of e-commerce platforms partnered with governments, especially in Africa, in the movement and distribution of drugs and other medical equipment during the lockdown.
Purchase and delivery of essential products were made accessible and affordable to customers via platforms like Jumia during the lockdown.
For small businesses, the framework for e-commerce operations which is flexible, cost-effective, and offers wider reach- was crucial for their survival at the time.
It will be recalled that big brands in the FMCG sector also deployed e-commerce to their advantage during the lockdown to reach a wider audience and make more sales.
As a result of the belt-tightening implications of the pandemic, getting consumers to part with their hard-earned money became tougher for brands and sellers.
The pandemic orchestrated a change in consumer behaviour guided by a shrewd spending pattern. For every penny spent, the best deal and value is demanded. There's less spending with consumers prioritising the essentials. Smart businesses and brands were able to know that the best way to have a share of customers' pockets is to offer them an avenue to spend less for more.
The topsy turvy economic year is, however, ending on an exciting note for customers and sellers alike. The final months of the year are known for shopping events and campaigns that serve as windows for sellers to reach more customers and in turn make more sales.
One of such effective platforms is the Black Friday sales which is a global phenomenon. For Jumia partners, the last four Fridays served as an avenue to close the revenue gap created by the COVID-19 lockdown.
The period also provided customers with the opportunity to get better deals and save more on their choice products as Jumia and other etail platforms partnered with global brands and SMEs to thrill customers with products at discounted prices.
Though Black Friday sales have ended on major e-commerce platforms, the sales have ushered in the season of giving and the excitement is expected to continue into the festive period. And going by the trend of partnership and alliances brands continue to form with e-commerce platforms, the festive season holds thrilling prospects for e-commerce customers. The year 2020 despite all its uncertainties looks like ending on a winning note for both buyers and sellers.
Registration Requirements For Business Entities In Nigeria
By Benita Ayo
Registering a business venture is oftentimes the best and wisest move an entrepreneur should always take before launching out. The reason for this is not far-fetched.
In most situations, when an entrepreneur fails to register his business prior to its commencement, the desired business name may become subject to disapproval whenever he chooses to register the business at a later date.
This is one reason why it is strongly advised that a business undergoes the necessary registration with the Corporate Affairs Commission (CAC).
Let it be known that it is never enough to simply register a business and retreat. There are still things the law expects a business owner to do after registration of a business with the CAC.
For instance, every business entity, such as (Limited Liability Company (Public or Private), Limited Liability Partnership (LLP), Limited Partnership (LP), Business Name (BN), Incorporated Trustees (IT) etc, are all expected to file the Annual Returns of their businesses on or before the 30th June of each fiscal year. Failure to do this attracts penalties for default.
In extreme circumstances, where a business entity has failed to file its Annual Returns for consecutive years, the entity's profile with the Corporate Registry will be deemed inactive.
In sum, while most business entities continue to transact their businesses unabated, a check on their profiles at the Corporate Registry will reveal that such businesses are, in truth, inactive.
A company whose Corporate Profile is 'inactive' is on the watch list of the CAC for de-listing.
You may contact me via the under-listed channels for further consultations on the following services;
Business/Company Registrations
Annual Returns filing
Re-activation of 'inactive' corporate profiles
Corporate Profile search etc.
WhatsApp: +2348063775768
Email: jaybella120@gmail.com
Benita Ayo is a Seasoned Corporate Commercial Counsel with over nine years of post-call experience. She has handled myriads of briefs in Corporate/Commercial, Employment Law as well as Property Transactional Practice.
Checkmating The LGBT Incursion In African Politics: The Nigerian Case Study And Consequences
By Kwame lbrahim
The number of Lesbians, gays, bisexuals and transgender (LGBT) persons in Nigeria, though largely undocumented officially, has continued to rise exponentially, especially among teenagers, youths and adults.
According to several projects related to fact-finding research and spontaneous polls conducted in some institutions of higher learning and amongst clusters of young people in social media groups and platforms, this is common everywhere but more pronounced in cities of Lagos, Kano, Port Harcourt, Sokoto, Abuja, Maiduguri, Ibadan, Kaduna and Owerri.
This is even spreading all over the country at a growing rate despite the legal statutes and social responses, which have clearly red-flagged the queer preference and defined homosexuality as illegal in Nigeria and punishable by up to 14 years of prison in the conventional court system.
Nigeria is a largely conservative country, and the very Western proclivity towards openly embracing gay rights and LGBT penchants are deemed not only as anathema but also an unacceptable negation and disrespect for the very foundation on the mores and decency which its cultural, religious, traditional and secular communal existence have been built and have continued to thrive over the years.
As Nigeria evolves into a more post-modern and more globalized society, credible findings have revealed that the fundamental threat that this surge in queer attitude poses for its secularity is disturbingly manifest in the deliberate and determined effort by LGBT advocates to take over the political, legislative process in its 2023 elections.
The basic aim of such financiers is to subsequently secure sufficient representatives in its National Assembly to push for and promulgate the law legalising and legitimizing homosexuality.
In the past, such an attempt was resisted by communities in Kenya through the support of community leaders and its government, but the Nigerian situation seems different because of the present unholy silence that has greeted many aspirants for senatorial and House of Representative positions of some political parties that have well known LGBT sympathizers and practitioners as their candidates.
This is indeed a worrisome phenomenon which, if allowed to become a reality, will not only erode the very fabric of Nigeria's original existential identity but would dangerously affect the acceptable balance of decency and straight relationship, which have been the hallmarks of a majority of traditional families in Nigeria and Africa.
There is no gainsaying the fact that Nigeria society will be confronted with dire consequences if this queer LGBT advocacy gains traction in its National Assembly, especially when such a law would embolden the gays and lesbians to openly challenge and even violently rubbish any real or perceived rational and normal counter-argument against this quite uncharacteristic behaviour in its society.
Furthermore, there is no doubt whatsoever that a law legitimizing LGBT tendencies would result in uncontrolled homophobia, which will radically disrupt peaceful existence and dislocate many straight people, who will be subjected to unprovoked assaults by those gloating to endorse the new legislation on the streets, schools, bars and restaurants, churches and other places where the need to impose the law would be deemed necessary and patriotic.
This sad intent through politics by introducing and sponsoring LGBT members into the National Legislative System of Africa's most populous Nation will, of course, come at a great social, existential cost and unleash in its wake major destructive consequences to all African societies, the Nigerian nation and most developing communities of the world.
Against the backdrop of an anticipated backlash of violent and berserk orgies of unprovoked violence by members of the LGBT community, who had hitherto felt constrained, the need to sensitise the general public through the various channels of communication becomes highly recommended and inevitable, especially in recognition of the fact that this behaviour and the attendant defensive fightback, will definitely escalate if such is not checked at this 2023 election period in Nigeria.
All well-meaning Nigerians must act swiftly at this point of the electoral and voting process, where all the gains already achieved from the existing bill prohibiting and stipulating penalties for such queer practices can be reversed if they allow the pro-gay and LGBT sympathizers to dominate the National Assembly with their presence as elected Representatives as they would have a voice on the floors of the two parliaments to destroy its moral standards and religious beliefs.
The accommodation, maturity, peaceful, harmonious coexistence and decency which exist in Nigerian society would all be eroded once the legislation to legalise same-sex and LGBT relationships are achieved. A stitch in time saves nine. This is a time for community, traditional and religious leaders to speak up. This is the time for the electorate to grow in proper awareness of the consequences of making inappropriate choices.
Already, findings from credible investigations conducted to ascertain the next strategic ploy by the Queer community to accomplish the deliberate agenda of forcing legislation that would favour their cause indicate that the LGBT community in Nigeria has set its target at producing twenty House of Representative members from four states, namely: Sokoto, Kano, Rivers and Lagos, during the 2023 election.
In states where party tickets could not be secured in the two major political parties, sympathetic aspirants were sponsored with huge amounts of funding to join fresh parties with the clear intent to attract followers, which is a major catalyst for political mobilisation in a country like Nigeria.
Specifically, Kano, Lagos and Rivers states are said to have recorded huge success for this aspiration. However, the extent to which these plans work out would largely depend on the acceptance or rejection of these aspirants by the level of awareness created for the voting public, especially through their leaders.
Kwame lbrahim, PhD, is from the African Research Institute and Doctoral School of Safety & Security Services, Budapest, Hungary
Buying Naira with Naira, Rantings And Musings
By Prince Charles Dickson PhD
Under pressure we wail under pressure, under pressure black people under pressure, under pressure Nigerians under pressure. No food in we belly, no money in ah we pocket, no bed we lay we head.
The people dem are suffer, in ah ghetto, in ah city, everywhere dah me go oh, me see them, some are cry, some are die, some are weeping! Some are wailing! Everywhere dah oh eh. Under pressure we wail under pressure, under pressure everybody under pressure, Ras Kimono Under Pressure
You see the Nigerian looks upon Nigeria as a theatre and the entire population representing and manifesting the full spectrum of acts and actors. In this revelry, life is the theatre; the nation is the stage upon which we perform. The politicians and a few of us are the actors, very often mediocre. When stars appear, it is more often because a play must have a star rather than because the player is possessed of some dramatic genius. We saw it with Obasanjo, we saw it with Mr Yar'adua, and with the shoeless one, we are seeing it with the soon-to-end Mr Buhari. We falter and we muff our lines; sometimes our performance takes on an aspect of the grotesque-nobody takes this seriously because it is perceived as being the nature of the play. Our people become the audience.
I once watched with bemusement a deaf and dumb boy who caught his mom with a stranger in bed. When his father came home, the poor young boy was at a loss on how to communicate his discovery. After several futile attempts, the boy ceased trying. The father, on the other hand, patted him, walked into the bedroom and was scolding the wife, he asked her why she was sick, rolling on the bed and could not call for help from the neighbours or the family doctor.
I am not going to talk about the currency redesign brouhaha, because as good a policy as it supposedly is, again, it has exposed the gross behavioural nature of some Nigerians. The central bank, the commercial banks, the bankers, the PoS Operators and the general populace are guilty of varying degrees of culpability.
And, then the fuel palaver, the same one that once upon a time Minister of Information and Culture, Lai Mohammed, said: "This is the winter period. There is always more demand for refined products from petroleum during winter in colder countries. This is what we are experiencing now." Today, I guess it is winter in those places again. And at the black market, the usual trend, is certainly high petrol prices, unavailable and weak Naira, low minimum wage and increasing poverty.
Legislators are neither here nor there; governors' are not sure where they stand. In all the noise the product disappears. Transportation fare increases, food prices skyrocket…a nation that has a disconnect between the ruled and its rulers, like the deaf and dumb boy, his mother, the stranger and his father.
The fact is, our currency wahala, and fuel palaver are not the government's problem. What are we really subsidising? Is it the high cost of energy or unavailable petroleum products? Nigerians are tired, hungry and not in protest mode. There's no fuel scarcity but fuel criminality because leadership lacks the will.
Where are the refineries promised, all gone with the wind called Turn Around Maintenance! There is no PMS in the fuel station, but unregistered marketers/blackmarkers all have the commodity… a continued rationalisation and justification of absurdities like a commentator put it. It is even more disheartening when the intellectual effort and voice of elites are at the heart of such theatricals due to ethnoreligious cleavages birthed by economic disenfranchisement.
Our major problem is the lack of leadership manifesting itself in every facet of our human endeavours. Some of these areas may be fixable in future if we get the right people with the right policies but how do you fix the future of the mass population of our children who are not getting educated today?
The future of Nigeria is bright, and interesting but scary if we reflect on it. Teachers are illiterate; students can't go to school because schools are closed down, and alternatives are unaffordable, the change is bleak…
The fuel management chain is a lucrative cankerworm of corruption, our banking system is not exactly different, a serious government can yet tackle it, it's beyond committees and white papers. It's action; only action can stop the rot. Nigerians can, I believe we can but we don't know that we can, and doubt if we are ready.
The reason is simple…we are not just part of the problem, in some cases, we are the problem, when Sunny Okunsun sang;
Which way Nigeria, which way to go? I love my fatherland, o yeah, I want to know; Yes, I want to know. I love my fatherland, which Nigeria is heading to? Many years after independence, we still find it hard to start. How long shall we be patient still we reach the promised land? Let's save Nigeria, so Nigeria won't die. Which way Nigeria? Every little thing that goes wrong, we start to blame the government. We know everything that goes wrong, we are part of the government.
Which way Nigeria is heading to? Inefficiency and indiscipline is ruining the country now; corruption here there and everywhere, inflation is very high. We make mistakes in the oil boom, not knowing that was our doom. Some people now have everything, while some have nothing. Which way Nigeria, which way to go?
I end with this encounter, a politician was charged with profanity for calling an opponent a bastard: the politician retorted, "When I call him s.o.b I am not using profanity. I am only referring to the circumstances of his birth". What is the circumstance of the birth of Nigeria, can anything be done to bring destiny and fate to conjure up some good for us all?
The elites are having a field day, but with each fleeting moment, three facts of life beckon, the rising of the sun, the setting of the moon and truth, only time will tell.
Latest News on Business Post