African Lawyers Advocate Strong Data Privacy, Security Laws
By Aduragbemi Omiyale
Lawyers across Africa have advocated strong data privacy and protection laws on the continent, especially now that there are more activities in cyberspace.
Lawyers in Ghana, Kenya, Madagascar, Morocco, Nigeria, Rwanda, South Africa, Togo, Uganda and Zimbabwe recently commented on this issue in Baker McKenzie's new Africa Data Security and Privacy Guide.
It was observed that the COVID-19 pandemic drove home the high value of personal data to the global economy, while also highlighting its vulnerability to abuse and attack.
In response, governments around the world, including those in Africa, have been reviewing their data privacy and protection laws and regulations to ensure they are adequately protected.
A Partner at Templars Law Firm in Nigeria, Ijeoma Uju, noted that it was imperative that African countries develop a strong and more coherent framework for data protection by enacting comprehensive laws and regulations for the protection of personal data and privacy of its citizens.
She said that the growth of e-commerce and business in general in African countries makes the need for data protection more pressing.
Multinational organizations looking for investment opportunities in these countries may limit their business explorative activities in Africa due to the absence of, or lack of clarity around, data protection law.
This is particularly because multinational companies collect and process a large amount of personal data in the ordinary course of their business. Thus, in order to conduct business effectively and safely in Africa, organizations need to understand the scope of data protection laws in such countries.
As for Enid Baaba Dadzie, Senior Associate at Kimathi & Partners in Ghana, the African Union has adopted the African Union Convention on Cybersecurity and Personal Data Protection (also known as the Malabo Convention).
This Convention encourages AU member states to recognise the need to protect critical cyber/ICT infrastructure, personal data and the free flow of information, with the aim of developing a credible digital space in Africa.
However, it has not taken effect as only a few countries in Africa have ratified it. Some African countries have implemented domestic laws and regulations to protect personal data, while others offer little to no protection.
"In light of the current technological trends and innovations, and digital trade, it is imperative for African countries to implement data privacy and protection policies. African countries must have laws that take care of the local nuances and fit the local context, without simply replicating the provisions of the General Data Protection Regulations (GDPR) and other frameworks," she said.
Arnold Lule Sekiwano, Partner at Engoru, Mutebi Advocates in Uganda, explained that recently, there has been an upsurge in the data processing industry in respect of the data mining and data analytics areas.
"The COVID-19 pandemic has also led to an increase in remote access to information and data globally. It is therefore imperative that African countries raise awareness, invest in training and set up relevant infrastructure to enable the implementation of data privacy and protection.
"There is a vast need for autonomous data protection and privacy regulatory bodies which can independently impose and collect fines so that funds are not lost in corruption and embezzlement, and so that personal data is lawfully collected and processed, and breaches are managed throughout the continent, to promote economic and social development," he said.
Amalia Manuel, Partner at Atherstone & Cook in Zimbabwe agreed, stating that it was "crucial for African countries to put in place laws regulating the protection of data in light of global technological advancements.
Sonal Sejpal, Partner at ALN Kenya | Anjarwalla & Khanna also stated that Africa was more connected now than ever to the rest of the world in terms of trade, and the increasing number of foreign entities doing business in Africa.
"The natural consequence of this is that personal data will continue to move across borders. Therefore, it is imperative that data privacy and data protection laws are implemented across the continent," she explained.
The benefits of such laws are numerous. Sonal noted, "With the implementation of data protection laws, the resultant effect is that there will be more protections to data subject rights."
"Additionally, Africa will have more control over those who process the personal data of data subjects present in Africa, limiting what they can do with personal data once collected, and throughout the life cycle of processing personal data.
"Furthermore, African countries will be able to exert more influence over the transfer of personal data from African countries, both intra-Africa and inter-Africa. This will ensure that measures are in place to secure personal data during personal data transfers," she said.
Raphael Jakoba, the Managing Partner at MCI Law Firm in Madagascar, concurred that it was essential for African countries, such as Madagascar, to adapt to the evolution of technologies and the new realities of digital development.
"These new issues raise new risks and problems that African countries must imperatively address, and to which they must respond through the adoption of modern and updated regulations," he said.
Pierre Deprez, an Associate at Nasrollah & Associés Baker McKenzie in Morocco, said, "Baker McKenzie in Morocco, noted, "Having strong regulations on data protection is nowadays crucial in Africa in general, and especially in Morocco, regarding the exponential rise of data processing due to the use of smartphones and e-commerce this past decade.
"On the one hand, it ensures the protection of citizens and their fundamental rights. On the other, a solid data protection law helps to reassure the foreign investor/interlocutor who wishes to exchange personal data for business purposes."
Saad Khaldi, an Associate at Nasrollah & Associés Baker McKenzie in Morocco, agreed, "Strong data privacy regulation should be seen by African countries and businesses as a competitive advantage in a globalized world, where local and international data processing is key to gaining profitability."
Emmanuel Muragijimana, Principal Associate at K-Solutions & Partners in Rwanda, commented that data was increasingly becoming an important asset, and collecting and sharing data could serve as big business in the present day's digital economy. In addition, citizens are also increasingly becoming aware of the importance of protecting one's personal data.
"African countries, therefore, cannot afford to be left behind. They have to ensure that they put in place legislation to secure the protection of data and privacy in order to prevent issues stemming from unprotected data, such as unauthorized use of one's personal data without their knowledge, as well as the negative impact on a company or organization's reputation should it face sanctions, among other factors," he explained.
Janet MacKenzie, Partner and Head of the IPTech Practice at Baker McKenzie in South Africa, said that rapid digitization, boosted by the pandemic, meant that it is now critical to implement policy, legislative and regulatory frameworks that are intended to guide and enforce the protection and security of personal data, not just in Africa but around the world.
"Failure to do so will lead to business failure, massive financial loss, loss of investment and a devastating rise in criminality," she noted.
Kafui Achille Amekoudi, Avocat at AMKA Law Firm in Togo (Cabinet Me AMEKOUDI), explained that the penetration rate of the internet in Africa was constantly increasing because Africa has realized the importance of the internet as a vector of development.
"With a population of more than a billion inhabitants, Africa is potentially a huge mine of personal data, which explains the proliferation of GAFAM projects to better connect the continent. It is therefore important, already at the primary stage, to regulate data privacy and protection," he said.
Stakeholders Prepare for 2022 GTCO Autism Conference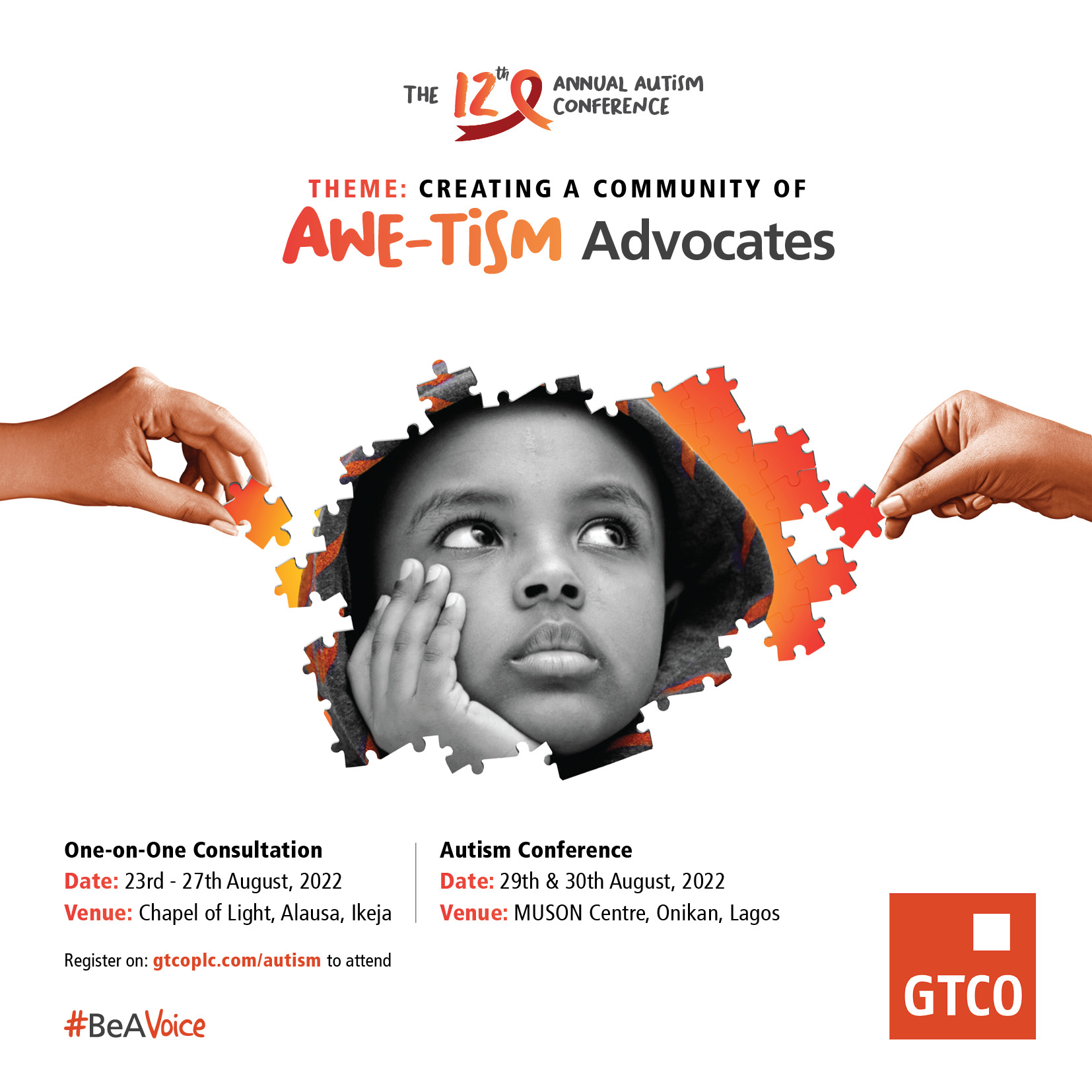 By Modupe Gbadeyanka
All is now set for the 2022 edition of the annual GTCO Autism Conference scheduled for Monday, August 29 and Tuesday, August 30 at MUSON Centre, Onikan, Lagos.
This year's event, the 12th, is themed Creating a Community of Awe-Tism Advocates and will involve different stakeholders, including parents, medical experts, caregivers and others.
Organisers of the programme, which has gained wider acclaim for bringing together some of the world's leading experts in autism, said the GTCO Autism Conference will feature keynote addresses and panel discussions by experienced specialists from renowned institutions in Nigeria and abroad in a hybrid set-up to allow for both in-person and virtual participation.
In addition, there would be one-on-one consultations and Q&A sessions during the conference to provide opportunities for parents and other stakeholders to further engage on best practices for proper diagnosis and treatment of persons on the autism spectrum with the experts.
Some of the partnering organisations include Federal Neuropsychiatric Hospital, Enugu, Autism Compassion Africa, Ghana, The Color of Autism Foundation, USA, Meharry Medical College, USA, and Behaviorprise Consulting Inc., Canada.
As a special feature and to ensure more persons with developmental disorders can benefit from professional help, provision has been made to offer specialist care to autistic children in the areas of speech and behaviour therapy, child psychology and psychiatry, as well as occupational development for adults living with autism via in-person consultations at the Chapel of Light, Alausa, Ikeja, starting from Tuesday, August 23 to Saturday, August 27 between the hours of 10 am and 5 pm.
"While much has been done over the years to increase the social consciousness around autism and to improve the available support systems for managing developmental disorders, we strongly believe that we can do more individually and collectively to create and uphold a culture of inclusion towards people with ASD to enable them to reach their full potential," the group chief executive of Guaranty Trust Holding Company (GTCO) Plc, Mr Segun Agbaje, said.
The annual event is a pivotal component of GTCO's Orange Ribbon initiative and serves as a key advocacy platform for people living with autism and other developmental disorders.
According to Mr Agbaje, "The Orange Ribbon initiative was created to support children and adults with developmental disabilities with a focus on those with autism spectrum disorders.
"Now in its 2nd decade, the annual Autism Conference has over the years created a community of people with a shared commitment to creating better outcomes for those who find themselves in the margins of society simply because they are different from the rest."
GTCO is a leading financial services company providing banking and non-banking services across eleven countries spanning West Africa, East Africa, and the United Kingdom.
The Group operates a diversified, proudly African franchise and is renowned for its innovative approach to customer service and stakeholder engagement which has endeared the brand to millions of people across Africa and beyond.
Oyo Government Begs Nigerians to Stop Cutting Trees
By Modupe Gbadeyanka
Nigerians have been urged to stop cutting trees and the earth will suffer from it if it is not stopped. This appeal was made by the Oyo State government in commemoration of the 2022 World Ranger Day.
In a statement issued by the Commissioner for Information, Culture and Tourism, Mr Wasiu Olatubosun, the government also saluted the bravery of park rangers at the Old Oyo National Park.
World Ranger Day, which is marked annually on July 31, pays tribute to those who have fallen in the fight to save forests, wild animals and trees, as well as a show of support for those still fighting.
Mr Olatubosun said the state government recognises reforms on forestry laws and policies, through its forestry department, advocating the need for enlightenment on forestry activities and the significance of the world celebrating the day.
He added that Oyo State is enjoying relative peace due to the synergy within the security architecture of the state, noting that the government appreciates the efforts of the guards at the National Park, especially in complementing the security architecture of the state.
"One of the cardinal points of this administration is security. The peace that members of the state are enjoying cannot be over-emphasised without the work of National Rangers in the state," he said.
"Oyo state government is proud to be associated with you because you have been very helpful tremendously by supporting other security agencies in maintaining peace in all our reserves.
"A ranger protects our cultural and historical heritage. Therefore, we appreciate your efforts. Through your efforts, our park and forests must be kept and saved from intruders," the Commissioner added.
The Coordinator, Old Oyo National Park, Mrs Caroline Samuel Ilori, said the annual celebration was an opportunity to celebrate rangers that have died in the course of exercising their duties, protecting this park.
She added that the day is set aside to celebrate living rangers who have given their all to having our environment protected.
"We are all aware of climate change in our environment; once protected, the forest helps to cushion and help mitigate climate change," the Coordinator said.
"A ranger plays a key role in our environment; a ranger is a protector, tour guard, security personnel and researcher. He knows what an environment is lacking," she concluded.
Welders Association Plan Protest Over PH Refinery Exclusion
By Adedapo Adesanya
The Association of Welders and Fitters in Nigeria has issued an ultimatum to the management of the Port Harcourt Refining Company (PHRC), requesting to be included in the ongoing rehabilitation of the oil facility or face mass protest.
During a peaceful protest at Eleme Council Secretariat, the group said the management has till Thursday to grant their request, expressing displeasure over their alleged non-inclusion in the ongoing rehabilitation of the Port Harcourt refinery.
The President of the Eleme branch of the organisation, Mr Innocent Ejire, said welders and fitters in the area are pained that the management of PHRC excluded them from jobs at the ongoing rehabilitation of the refinery.
Mr Ejire called on the management of PHRC to adhere to the Local Content Act by engaging its members, accusing the management of the refinery of giving jobs to welders from outside while sidelining those who are members of the PHRC's host community.
"Out of 150 welders and fitters they (refinery) have taken, they have not taken anyone from our community but elsewhere like in Bonny and Omoku; NLNG contractors must give jobs to Ibani Welders and Fitters Association.
"Welders in Bonny and Omoku pass through these associations to get jobs in the companies operated there.
"But here they say no host community will work and since we cannot take the law into our hands. That is why we say let's come and see our LGA Chairman and give them an ultimatum of 48 hours, if they don't call us to work, we will meet at the refinery.
"We have written a series of letters which they (refinery) have acknowledged but they continue to turn us back and forth without giving us favourable response," he said.
Similarly, the spokesperson of the association, Mr Daniel Omekea, urged the council chairman to ensure that the management of the refinery implements the Local Content Act by engaging local welders in the ongoing rehabilitation of the Port Harcourt refinery.
He regretted that Eleme, being the host community of the Port Harcourt refinery has continually been sidelined by the refinery, warning that they will resist all attempts to exclude them from benefiting from jobs at the refinery.
He also said welders and fitters under the association in Eleme are well trained and have what it takes to participate in the refinery's rehabilitation.
"Many of us were tested and qualified for the jobs, but they did not call us for the jobs.
"There are no welding and fitting jobs we cannot do; we have worked on Shell pipelines and every other pipeline here in Eleme, so it's not about competence."
Responding, the Chairman of Eleme Local Government Area of Rivers State, Mr Obarilomate Ollor, promised to look into the complaints of aggrieved welders and fitters.
Mr Ollor assured that the council would initiate a meeting with the management of the refinery towards resolving the matter.
Latest News on Business Post