Akande-Sadipe Wants More Women, Youths in Politics
By Dipo Olowookere
For politics in Nigeria to be robust, there is a need for more women and youths to participate in the development of the nation.
This call was made by the only federal female lawmaker from Oyo State, Mrs Tolulope Akande-Sadipe, when she had a chat with journalists in Ibadan, the Oyo State capital, on Wednesday.
The congresswoman representing Oluyole Federal Constituency at the National Assembly urged the leaders of the ruling All Progressive Congress (APC) to make provisions for more women to participate in politics.
According to her, women are known to have great leadership skills, which can be deployed for the growth of the nation, especially at a time the country is going through a tough period because of economic and security challenges.
She added that her role in politics has spurred many women to join her in the commitment to contribute to positive change, saying, just like her, many are tired of venting their anger on social media.
"Our party must dignify our women by giving them the opportunity to thrive in politics and run for elective posts. This will encourage the rapid development of our party because women have an inbuilt gift to develop things," she submitted.
Mrs Akande-Sadipe, who chairs the House of Representatives Committee on Diaspora, further said women's participation in politics was the only sound means they could use to assume political leadership in a democratic society.
Citing her adventure in politics, the lawmaker said it was borne out of her passion to do things differently in the development of Oyo State and Nigeria.
She, therefore, urged women to passionately position themselves to take up the challenge and run for elective offices, saying, "I tell members of my political party that I am the 33.3 per cent, at the moment.
"If we (women) don't become the 33.3 per cent, we are not doing right by our country.
"We need to create a level playing ground for better participation. I am imploring the party leadership of the APC to make more slots available for women and youth participation in elective roles and appointments."
Insecurity Will End With Full Cooperation of Citizens—Buhari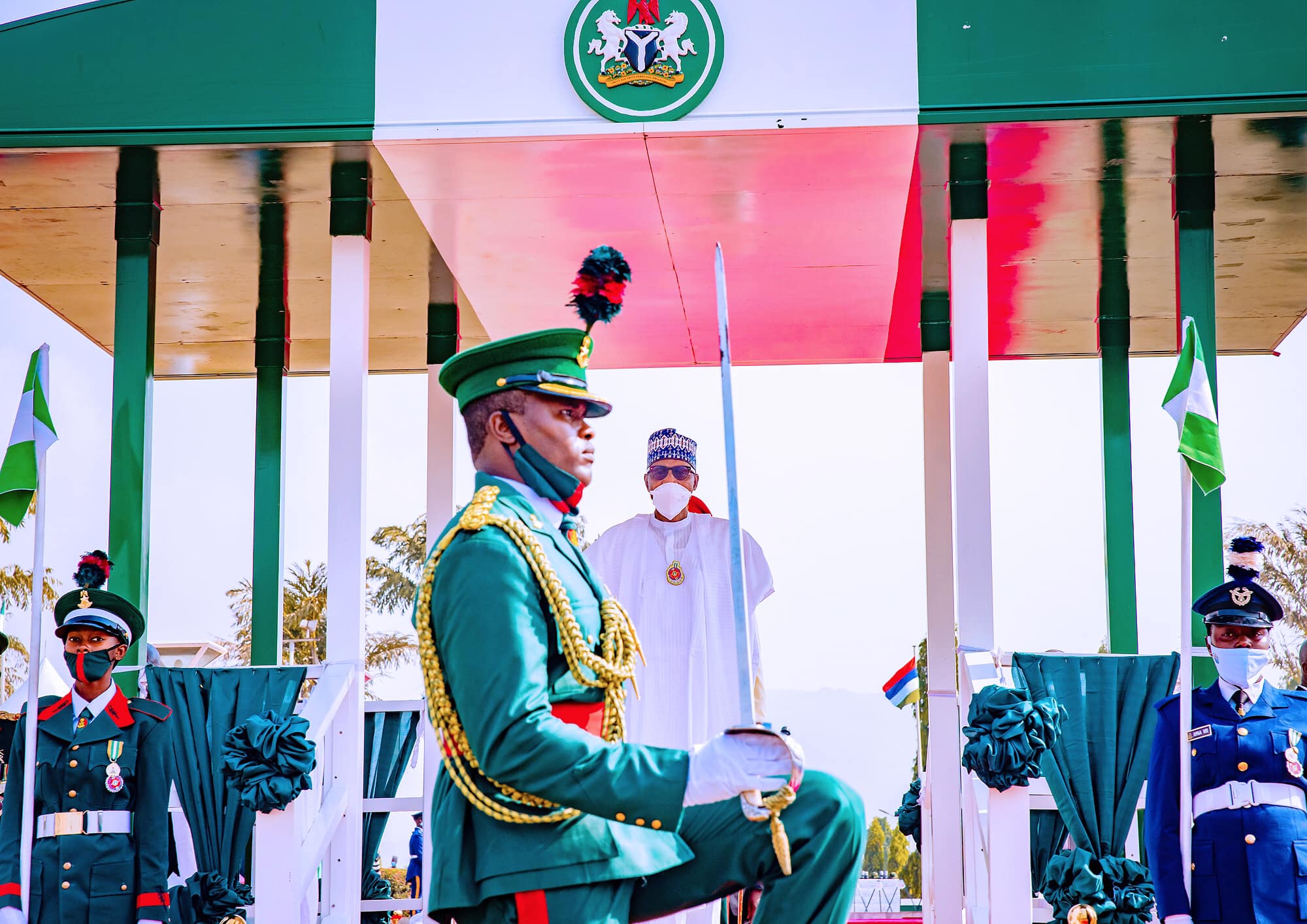 By Modupe Gbadeyanka
President Muhammadu Buhari has said Nigeria will surely overcome insecurity in the country with the full cooperation of its citizens.
According to Mr Buhari, security is a responsibility of every member of the community and only through solidarity and cooperation with law enforcement agencies can defeat the problems finally.
"The federal government is willing to strengthen support and cooperation with all the states. I believe that with the full cooperation of the citizens, we will surely overcome this problem," a statement issued on Sunday by the Senior Special Assistant to the President on Media and Publicity, Mr Garba Shehu, quoted Mr Buhari as saying.
He said the President made this comment in his message to the government and people of Niger State over the recent attacks in some communities in the state.
"I would like to express sincere sympathies to the government and people of the State following recent security incidents," the statement further quoted the President as saying.
Mr Shehu noted that the President, as Commander-in-Chief of the nation's armed forces, has set the ball rolling for a major military operation in Niger State which has faced continued attacks on its communities by bandits and remnants of Boko Haram terrorists fleeing theatres of war in the North-western and North-eastern parts of the country.
In a directive to the Defence Headquarters a few days ago, the President asked the military to respond robustly to the cases of killings and kidnappings in the state and to give effect to the strategic objectives through the use of force.
NDLEA Intercepts 1.5 million Tablets of Opioids in Edo
By Adedapo Adesanya
About 1.5 million tablets and capsules of pharmaceutical opioids such as Tramadol, Exol-5, and Diazepam loaded in Onitsha, Anambra State and heading to Yauri, Kebbi State have been intercepted in Edo State by operatives of the National Drug Law Enforcement Agency (NDLEA).
According to NDLEA spokesman, Mr Femi Babafemi, the agency intercepted the drugs on Friday, January 14, adding that on the same day, about 425,000 Diazepam tablets were recovered at Segemu, Kano.
In addition, a total of N1.4 million was seized along with arms and ammunition from a suspected bandit and a drug kingpin in Plateau State while over 137.754 kilograms of assorted illicit drugs were recovered during interdiction operations across seven states in the past week.
It was stated that the interception in Edo State was made possible due to credible intelligence and when the truck was thoroughly searched, the items were discovered to be concealed under legitimate goods.
The drugs seized included 394,480 capsules and 3,000 tablets of Tramadol weighing 83.707kg; Exol-5: 647,500 tablets weighing 203.315kg; Diazepam: 12,500 tablets weighing 2.05kg; Bromazepam: 1,500 tablets weighing 0.45kg; Codeine based Syrup: 999 bottles weighing 134.865kg; Pentazocine injections: 4,000 ampoules weighing 16.64kg.
The driver of the truck, Mr Bashir Lawali, 30, was arrested along with Mr Abubakar Sani, 30, and Mr Ali Abubakar, 19, while the exhibits in Kano were seized from one Mr Sa'idu Yahya, 31.
In other related operations, attempts by drug traffickers to export 73 parcels of cannabis (34.05kg) concealed in foodstuff plastic containers to the United Kingdom through the NAHCO export shed of the Murtala Mohammed International Airport, MMIA, Ikeja Lagos were frustrated by operatives on January 8.
Also, another 50 parcels of cannabis consignment (27.25kg) meant for the United States was also intercepted at the export shed of the airport on Tuesday, January 11 and at least three suspects so far arrested.
In the reverse bid, moves by illicit drug merchants to bring into Nigeria 94 parcels of cannabis indica (Colorado) weighing 43.4kg through the Tincan seaport in Lagos were crushed on January 13 when operatives intercepted the drug inside a 40ft container from Canada.
The exhibit was concealed inside a Toyota Camry car. This came on the heels of a similar seizure on 11th Jan. of 59 parcels of Colorado (17.3kg) concealed in a Mercedes Benz vehicle imported from Canada.
In Plateau State, a fake security agent, Mr Babagana Ma'aji has been arrested through a controlled delivery of 5.6kg cannabis from Lagos. The suspect based in Damaturu, Yobe State, was nabbed following the interception of a commercial bus bringing the consignment from Lagos to Gombe in Mararaban, Jos on January 8.
On Tuesday, January 8, operatives of the Plateau Command of the agency also arrested a suspected bandit, Abdullahi Usman Ahmad, 28, at Hwolshe with one Beretta pistol; seven rounds of live ammunition; two empty shells; 12 grams of cannabis sativa; a pair of handcuffs and one million one hundred and thirty-six thousand, three hundred and forty-four naira only (N1, 136,344), suspected to be ransom money as well as an Opel car with registration number ZAR35LQ.
Similarly, the suspected leader of a cocaine distribution ring in Plateau, Mr Chibueze Okoro John, 42, has been arrested along Zaria Road, Jos, with quantities of cocaine and Tramadol recovered from him as well as a Sienna Bus (BWR 584 AL), Toyota Camry car (RBC 461 BF) and the sum of two hundred and seventy-seven thousand naira only (N 277, 000), which the suspect offered to the narcotic officers as a bribe but was rejected.
Meanwhile, in Delta State, the bid by 38-year-old Ejike Obiora to smuggle different quantities of cocaine and heroin into the Nigerian Correctional Centre, Ogwashi-Uku, Aniocha South LGA, was foiled on January 8, when he was discovered to have concealed the drugs in foodstuffs meant for an inmate.
This is even as 598kg cannabis was recovered during a raid in the Owo area of Ondo State with the two owners: Mr Arataye Raimi, 41, and Mr Tope Osinnuwa, 36, eventually arrested in follow up operations.
Still, on the latest feats by the NDLEA, one Abdullahi Mohammed was arrested in connection with the seizure of 48.5 blocks of cannabis in Potiskum, Yobe State, another fake security agent, Dike Davison was nabbed at Aliade, Benue State with 50grams of cannabis and 29 rounds of live ammunition of 7.62mm calibre.
In Abuja, a buy and bust operation on Friday, January 14, led to the arrest of one Habib Yusif, 41, with a total of 28.2kg cannabis recovered from him, while in Osun State, the trio of Samuel Joseph; Francis Ujor, and Sola Johnson were arrested in Onikoko village Area 5, Ile-Ife, with 100 bags of cannabis weighing 1,530 kilograms recovered from them on Thursday, January 13.
ASUU Gives February Deadline Before Planned Strike
By Adedapo Adesanya 
The Academic Staff Union of Universities (ASUU) has decided to hold on till February before embarking on a nationwide industrial action.
This follows intervention from the Nigeria Inter-Religious Council (NIREC) which plans to avert the strike action as the federal government was yet to fully fulfil its agreement with the academic pressure group.
The 50-member NIREC, under the co-chairmanship of the Sultan of Sokoto, Mr Muhammad Sa'ad Abubakar III; and the Chairman of the Christian Association of Nigeria (CAN), Mr Samson Olasupo Ayokunle, is also backed by the Bishop of the Catholic Diocese of Sokoto, Bishop Mathew Kukah, among other Christian and Muslim leaders.
ASUU had resolved to embark on industrial action to compel the federal government to meet its demands since last year, threatening strike action among government-owned universities.
However, following the intervention of NIREC, ASUU has opted to go for more consultations and to give the government a few days within January 2022 to address all outstanding issues arising from the December 2020 Memorandum of Action (MoA).
In an interview with THISDAY Newspaper over the weekend, ASUU President, Mr Emmanuel Osodake, said that the union had agreed to wait till February.
He also added that it has also submitted its position to NIREC which promised to help mediate and resolve the issues.
"ASUU leadership has agreed to wait till February to give NIREC and other stakeholders enough room to address the union's grievances," he said.
The decision of ASUU to suspend action till February is seen as bowing to pressure from prominent Nigerians and the leadership of NIREC comprising of the Sultan of Sokoto, the president of the CAN and other stakeholders.
Mr Osodeke noted that ASUU would resist any attempt to blackmail it and derail its patriotic struggle for a productive university system "by official propaganda founded on tokenism and crumb-sharing".
Its earlier statement had summed up the decisions reached at the emergency National Executive Council (NEC) of the union held at its National Secretariat, University of Abuja.
The meeting was meant to review the level of government's implementation of the FGN-ASUU Memorandum of Action (MoA) of December 23, 2020, and other related matters to decide on the way forward.
In deciding to stay action on strike, Mr Osodake said: "NEC took full account of efforts by student union bodies, leading media organisations, traditional rulers, civil society organisations and other interest groups within and outside Nigeria to make government address all outstanding issues arising from the December 2020 MoA".
In particular, the ASUU president said the union took special cognisance of the pledges made by the NIREC to make further consultations on the crisis in the coming days to find an amicable resolution.
He accused the government of reneging on its promise to set up an inter-ministerial committee to handle renegotiation of the 2009 agreement.
One of the issues in contention is the delay in approving the University Transparency Accountability Solution (UTAS) developed by ASUU.
ASUU said it was fully prepared to address all the reports of the "integrity test" on UTAS raised by the Nigeria Information Technology Development Agency (NITDA) to pave way for its deployment.
Latest News on Business Post