Google Introduces Features to Help Africans on Search Engine
By Adedapo Adesanya
Google has introduced a new mobile-only feature it called People Cards, which make people more discoverable on Google Search.
People Cards allow people to create their presence on the search engine in the form of a card (similar to a Google Search Knowledge Panel) that includes all the details they want other people to have about them.
Speaking on this, Mr Olumide Balogun, Head of Consumer Apps, Sub Saharan Africa at Google, said "For many people, whether they're content creators, business professionals, or just wanting to stand out from the crowd — having an online presence is important."
"For those without a formal website, or for people who share a name with many others, this is an easy way to create or distinguish their presence on Search," he added.
"Google's mission has always been to organise information and make it useful and accessible, and we're now providing a new way – for people who want to be found – to organise information about themselves, right on Search, on their mobile phones," he further said.
Anyone with a Google Account can create a People Card by simply searching for their name and tapping the "add me to Search" prompt. This will lead them through a simple process to add a photo, description, links to social profiles and other information that they'd like others to know about them.
For the initial card creation, a unique phone number is required. One profile card is allowed per Google account and phone number.
Additionally, people can report abusive content and impersonation claims through a feedback link directly from the product.
"In the last few years, we have been working with people across the region to better understand how Africans see Search and how we can make it more relevant and work better for the people on the continent.
"We built this feature for the millions of influencers, content creators, entrepreneurs, self-employed individuals, freelancers, or anyone else out there who wants to be discovered," Mr Balogun continued.
"A critical part of creating for Africa means building in line with the insights we are seeing from the region. We see that people in Africa want a search tool that reflects their real environment and also supports them to succeed as they go about their everyday hustle which is why the People Card creator is in full control of their information at all times; they choose what they would like to make public and if they would like to remove it," he concluded.
Google has recently introduced several locally relevant features within Search. Job Search Experience, for example, helps people find jobs through Search, while Health Symptom Search makes it easier for users to explore health conditions related to symptoms.
Google has also introduced other features that make it easy to find information on everyday interests like sports, recipe, movies, and lyrics.
Court Rejects Abba Kyari's Plea to Thrash Charges
By Modupe Gbadeyanka
The application filed by the suspended Deputy Commissioner of Police (DCP), Mr Abba Kyari, to throw out the charges against him has been rejected by the Federal High Court in Abuja.
The embattled cop had challenged the court's jurisdiction to entertain the drug-related charges levelled against him by the National Drug Law Enforcement Agency (NDLEA).
But Justice Emeka Nwite, in his ruling on Wednesday, dismissed Mr Kyari's plea, stating that the court has the exclusive right and jurisdiction to hear the case.
Recall that the NDLEA dragged the former head of the Intelligence Response Team of the Nigeria Police Force and others before the court.
The other four members of the IRT accused of being involved in drug-related offences arraigned before the court are ACP Sunday J. Ubua, ASP Bawa James, Inspector Simon Agirgba and Inspector John Nuhu.
They were accused of conspiring to deal in 17.55kg of cocaine without lawful authority. They were also alleged to have conspired to tamper with cocaine and unlawfully tamper with the 21.35kg of cocaine seized from two convicted drug dealers.
But Mr Kyari asked the court to dismiss the suit against him, arguing that the charges were premature as the NDLEA ought to have allowed the police to exhaust its internal machinery before taking an action.
According to him, authorities of the police had already ordered a probe into allegations against him, with an interim report released.
He argued that the Police Service Commission (PSC) has similar powers to investigate and discipline erring police officers in line with the Police Act & Regulations, the same way the National Judicial Council (NJC) disciplines judicial officers.
However, Justice Nwite was not moved by the arguments of the suspect, informing him that the powers of the PSC do not supersede the powers of the Federal High Court
Ramadan: Rite Foods Preaches Peaceful Coexistence
By Modupe Gbadeyanka
As Muslims across the globe and Nigeria prepare for the annual one-month Ramadan, a period for fasting and getting closer to Allah, Nigeria's market leader in the food and beverage industry, Rite Foods, has called on all to adhere to the doctrines of Islam, which preach peaceful coexistence.
The annual Islamic ritual, which is in fulfilment of the fourth pillar of Islam, is expected to commence this week.
In a statement, the world-class and proudly-Nigerian company said it has made available its unrivalled brands for consumption and refreshing moments during the fasting period for Islamic believers and on extraordinary occasions.
The Managing Director of Rite Foods, Mr Seleem Adegunwa, stated that as a consumer-centric company poised towards the delivery of quality products for consumers' satisfaction with award-winning brands comprising the 13 variants of Bigi carbonated soft drink (CSD) and premium water, Rite sausages, Fearless energy drink, and the premium Sosa fruit drink for Muslim faithful's during the holy month of penitence and self-denial as enshrined in Islam.
He urged the believers to uphold virtues that foster unity, decency, tolerance, and love for one another, by what they propagate and are known for.
In the same vein, the company's Assistant Brand Manager, Ms Boluwatife Adedugbe, avowed that Rite Foods would continue to cater to the needs of consumers with its leading brands that are produced with state-of-the-art infrastructure and in a first-rate factory in line with global best practices.
She affirmed that Rite Foods would continually identify with its consumers with initiatives that add value to lives and felicitate them during religious undertakings.
Against the backdrop of continually connecting with its consumers, the company's Bigi brand unveiled its new slogan, Bigi For Every Moment, as the most delicious brand that suits all occasions.
The mantra highlights the idea that there is a perfect refreshing flavour to suit every moment for all demographics, whether for a celebration or a relaxing mood. It is suitable for all events.
Similarly, with its new mantra, Embrace The Thrill, the Fearless energy drink has demonstrated that it would continue to rejuvenate consumers to become braver and more adventurous, to activate their dreams to attain success with the positive energy it provides.
It motivates them to go beyond their limits and not be laid back by the many rejections they have received. The brand also encourages them to be daring and energetic, exhibit the willpower to excel, be enthusiastic in their endeavours, and be vigorous.
US Threatens Sanctions Over Voter Intimidation at Lagos Guber, Others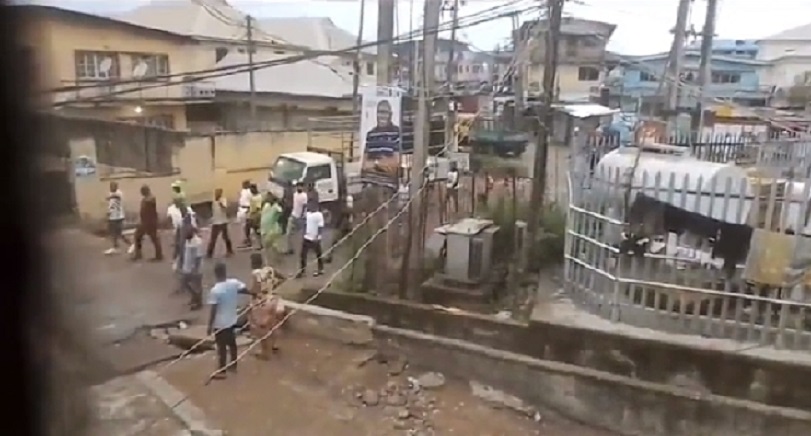 By Adedapo Adesanya
The United States government has condemned the disturbing acts of violent voter intimidation and suppression that took place during the governorship polls in Lagos and 27 states in Nigeria on Saturday, March 18.
The world power also said it would consider all available actions, including additional visa restrictions, on individuals believed to be responsible for, or complicit in, undermining the democratic process in Nigeria.
In a statement on Tuesday, the US diplomatic mission in Nigeria said it observed the elections in Lagos and elsewhere and witnessed some of these incidents first-hand.
It condemned "The use of ethnically charged rhetoric before, during, and after the gubernatorial election in Lagos," which it said "was particularly concerning."
"We commend all Nigerian political actors, religious and community leaders, youth, and citizens who have chosen to reject and speak out against such violence and inflammatory language, affirming Nigerians' commitment to and respect for the democratic process.
"We call on Nigerian authorities to hold accountable and bring to justice any individuals found to have ordered or carried out efforts to intimidate voters and suppress voting during the election process.
"The United States likewise will consider all available actions, including additional visa restrictions, on individuals believed to be responsible for, or complicit in, undermining the democratic process in Nigeria.
"Following the February 25 national elections, the United States joined other international observers in urging the Independent National Electoral Commission (INEC) to improve voting processes and technical elements that experienced flaws in that voting round.
"The March 18 elections appear to have had significant operational improvements, as polling stations generally opened on time and most results were visible on an electronic viewing platform in a timely manner," the statement read.
The United States used the opportunity to call on those dissatisfied with the outcome of the exercise to go through established legal processes to reclaim their mandate.
"We further call for Nigeria's people to work together as they participate in and continue to strengthen the country's vibrant democracy," the statement added.
Business Post reports that the candidate of the Labour Party (LP) in the governorship election in Lagos, Mr Gbadebo Rhodes-Vivior, has promised to approach the court to challenge the exercise.
Latest News on Business Post