Hunger Eases First Time Since Boko Haram Crisis
By Modupe Gbadeyanka
For the first time since the onset of the Boko Haram crisis, hunger has considerably declined in north eastern Nigeria. In the three states ravaged by the violence, the number of people facing acute hunger has halved since June-August – from 5.2 million to 2.6 million people – according to the latest Cadre Harmonisé food security analysis.
This is a major step forward thanks to an overall improved security situation, and the scaling-up of humanitarian and longer-term livelihoods assistance by the government and its partners.
The report warns, however, that without sustained and timely assistance, all good work could quickly be undone; more than 3.5 million people could battle again with acute hunger, including a risk of famine, by next August.
FAO provided cowpea, maize, millet, sorghum, vegetable seeds and fertilisers to 1 million people  – internally displaced populations (IDPs), returned refugees and host communities – to help them get through the last rainy season (June-September) when food stocks are low.
Now, as the harvest season is winding down and communities transition into the dry season and a new planting phase, FAO is aiming to further boost local production through distributions of vegetable seeds, farming kits, fertilisers and irrigation equipment to some 780,000 people across the three states.
In Yobe, one of the three states affected by violence, the villages are still a bustling field of yellow as farmers cut the last millet and sorghum and pile them in neat bundles. The smell of freshly cut crops lingers in the air.
Everyone takes part in the harvest – the children cut the head of the millet, the women thresh it, the men bundled it and carry it home. For many, this is the first time they have enough food to eat.
"This will be enough food for the family, and with the money from my knitting business, I will plan for my children's education," said 37-year-old Aisha Ibrahim who was forced to flee her village three years ago and has been displaced ever since.
"Families in my village help about five to six displaced people each. They depend on our assistance. Good harvest brings joy to all of us. It reduces the pressure and makes us stronger," said Malam Mohammed, a local farmer from Ngalda village who supports IDPs.
By supporting host communities to plant during the rainy season, FAO has also brought relief to displaced, landless populations who could work in the fields and earn an income.
"The local communities have helped me; I could work on their farms and got paid," said 40-year-old Hajanuwe Sulieman, a widowed mother of eight children who has been displaced by violence three years ago and is now taking refuge in an informal settlement of Mainok. This is a considerable support for Hajanuwe who, at times, has had to resort to begging to make ends meet.
Across north eastern Nigeria, violence aside, farmers have been through a lot these past few months; some have had to deal with a dry spell, others with flooding. Others still with pest infections that ate their crops.
But now the fields are dry and farmers like Malam and Hajanuwe are getting ready to plant again.
Sustained support – from rainy to dry season – builds vulnerable communities' resilience, strengthens their capacity to grow both staple and cash crops, and reduces the need for food assistance.
Sea Piracy in Nigeria Drops 80%—NIMASA
By Adedapo Adesanya
The Nigerian Maritime Administration and Safety Agency (NIMASA) has disclosed that sea piracy has declined drastically by 80 per cent on Nigeria's territorial waters.
This was made known by the Director-General, Mr Bashir Jamoh, during a courtesy call by Executive Members of the Nigeria Union of Journalists (NUJ), Lagos State Council, led by the Chairman, Mr Adeleye Ajayi to the NIMASA headquarters in Lagos.
According to Mr Jamoh, $783 million had been lost to piracy in the Gulf of Guinea.
He said: "We have recorded a drastic reduction in piracy and this is enough for us to beat our chest and say that we are ready to return to the category 'C' of membership of International Maritime Organisation (IMO).
"However, the year 2021 has witnessed a significant turnaround under my leadership as insecurity on Nigerian waters had reduced by 80 per cent."
Mr Jamoh said that the last time the country had a drop in piracy attack in the nation's waterways was in 1994, saying that Nigerian waterways were one of the top 10 safest glasses of water in the world.
He noted that this achievement was enough reason to sensitise and inform the international community that the Nigerian waterways were now safe than ever before, as Nigeria must take its rightful position among the comity of nations globally.
"We want the cost of the insurance premium paid by Nigerians as a result of insecurity to be reconsidered as insecurity in the country's waterways had drastically reduced," Mr Jamoh said.
The NUJ chairman, in his remarks, assured NIMASA of regular publicity as well as a robust relationship between the Lagos Council of NUJ and NIMASA.
He lauded NIMASA for the giant strides it had achieved in the maritime sector, which included safeguarding of Nigeria's waterways, collaboration with sister agencies of government as well as donations worth millions of naira to the Internally Displaced Person (IDP) camps and victims of the disaster in the country.
LAWMA, Alliance Evacuate 75,000 Plastic Bottles from Ilashe Beach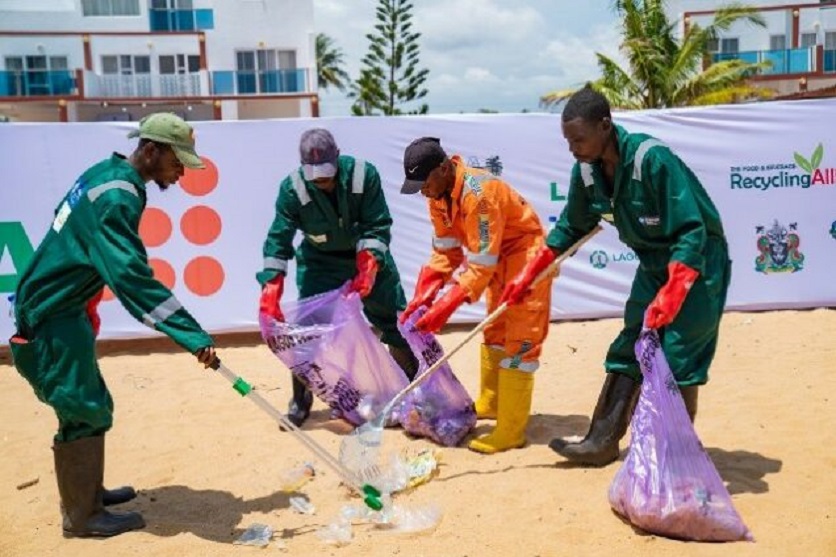 By Adedapo Adesanya
The Lagos Waste Management Authority (LAWMA) commemorated the 2021 World Clean-up Day by evacuating 75,000 plastic bottles from Ilashe Beach, Lagos.
The exercise was undertaken by Food and Beverage Recycling Alliance (FIBRA), an umbrella body for about 20 food and beverage manufacturing companies along the five kilometres Ilashe/Ibeshe beach area on the outskirts of Lagos.
Others were Nigerian Maritime Administration and Safety Agency (NIMASA); Lagos State Waterways Authority (LASWA), Nigerian Ports Authority (NPA), Lagos Ferry Service, among others.
The World Clean-Up Day, celebrated every September 18, is an annual global social action programme aimed at combating the global solid waste problem, including the problem of marine debris.
Speaking at the event, the Managing Director of LAWMA, Mr Ibrahim Odumboni, said at the event that his agency was using the opportunity of the World Clean-up Day to open up the entire Ilashe Island shoreline to proper cleanup.
Mr Odumboni urged residents and beach users to come together and make a difference by leaving an enduring legacy of a people-friendly environment for improved living and economic prosperity.
"The idea of the World Clean-up Day came up in 2018 when nearly two million volunteers, across individuals, corporate bodies, NGOs and government organizations, came together for massive clean-up activities in major cities across the world.
"We are setting the pace here in Ilashe Island of Lagos for our country. So, I enjoin all residents to sustain this effort.
"LAWMA is not leaving any stone unturned in our determined effort to rid Lagos State of all forms of solid waste.
"Our Marine Unit is effectively evacuating marine debris around the Lagos waterways and we will continue to increase the scope of our activities," Mr Odumboni said.
Also speaking, the President of the Association of Waste Managers of Nigeria (AWAN), Mr David Oriyomi, noted that it was important to educate residents of the aquatic environment on the effects of dumping rubbish into the water.
Mr Oriyomi said that the fishes feed on that rubbish while human beings fed on the fishes which was very dangerous to human health.
In his remark, the Chairman of Lagos Recyclers Association, Mr Femi Idowu, noted that what people see as trash, was actually money, suggesting that people should see the economic value in waste materials.
The programme was attended by Special Adviser to the Governor on Tourism, Mr Solomon Bonu, General Manager of Lagos State Waterways Authority (LASWA), Mr Oluwadamilola Emmanuel, Executive Secretary of FIBRA, Ms Arase Aghareva, among others.
SERAP Urges NASS to Reject Buhari's Fresh Loan Request
By Adedapo Adesanya
The Socio-Economic Rights and Accountability Project (SERAP) has urged the National Assembly to reject the fresh loan request of President Muhammadu Buhari.
Last week, at the resumption of plenary on the Senate after a break, Mr Ahmad Lawan, the Senate President, read a letter from Mr Buhari requesting to borrow $4 billion and €710 million.
But in a letter, SERAP said both chambers, the Senate and House of Representatives, should not grant this request until the publication of details of spending of all loans obtained since the Buhari-led administration took office on May 29, 2015.
In the open letter signed by SERAP deputy director, Mr Kolawole Oluwadare, the group expressed "concerns about the growing debt crisis, the lack of transparency and accountability in the spending of loans that have been obtained, and the perceived unwillingness or inability of the National Assembly to vigorously exercise its constitutional duties to check the apparently indiscriminate borrowing by the government."
SERAP said: "The National Assembly should not allow the government to accumulate unsustainable levels of debt, and use the country's scarce resources for staggering and crippling debt service payments rather than for improved access of poor and vulnerable Nigerians to basic public services and human rights."
According to SERAP, "Accumulation of excessive debts and unsustainable debt-servicing are inconsistent with the government's international obligations to use the country's maximum available resources to progressively achieve the realisation of economic and social rights, and access of Nigerians to basic public services."
The letter read in part: "The country's public debt has mushroomed with no end in sight. The growing national debt is clearly not sustainable. There has been no serious attempt by the government to cut the cost of governance. The leadership of the National Assembly ought to stand up for Nigerians by asserting the body's constitutional powers to ensure limits on national debt and deficits.
"SERAP urges you to urgently propose a resolution and push for a constitutional amendment on debt limit, with the intent of reducing national debt and deficits. This recommendation is entirely consistent with the constitutional oversight functions and spending powers of the National Assembly, and the country's international anti-corruption and human rights obligations.
"Indiscriminate borrowing has an effect on the full enjoyment of Nigerians' economic and social rights. Spending a large portion of the country's yearly budget to service debts has limited the ability of the government to ensure access of poor and vulnerable Nigerians to minimal health care, education, clean water, and other human needs.
"Should the National Assembly and its leadership fail to rein in government borrowing, and to ensure transparency and accountability in the spending of public loans, SERAP would consider appropriate legal action to compel the National Assembly to discharge its constitutional duties.
"The National Assembly under your leadership has a constitutional responsibility to urgently address the country's debt crisis, which is exacerbated by overspending on lavish allowances for high-ranking public officials, lack of transparency and accountability, as well as the absence of political will to recover trillions of naira reported to be missing or mismanaged by the Office of the Auditor-General of the Federation.
"The National Assembly should stop the government from borrowing behind the people's backs. Lack of information about details of specific projects on which loans are spent, and on loan conditions creates incentives for corruption, and limits citizens' ability to scrutinise the legality and consistency of loans with the Nigerian Constitution of 1999 (as amended), as well as to hold authorities to account.
"SERAP notes that if approved, the country's debts will exceed N35 trillion. The government is also reportedly pushing the maturity of currently-secured loans to between 10 and 30 years. N11.679 trillion is reportedly committed into debt servicing, while only N8.31 trillion was expended on capital/development expenditure between 2015 and 2020.
"Ensuring transparency and accountability in the spending of loans by the government and cutting the cost of governance would address the onerous debt servicing, and improve the ability of the government to meet the country's international obligations to use maximum available resources to ensure the enjoyment of basic economic and social rights, such as quality healthcare and education."
Latest News on Business Post