I Don't Give to Show Off—Prophet Iginla
**Gives Cash, Cars in South Africa
By Dipo Olowookere
A Nigerian pastor, Joshua Iginla, has emphasised that his act of giving to the less-privileged in the society is not for show off as some are speculating.
Prophet Iginla, who is the General Overseer of Champions Royal Assembly, is known to be generous to many people who run to him for help.
But despite this, he has come under criticisms from some quarters.
Last Sunday, the man of God, during a service in South Africa, gave about R10,000 each to 34 widows. In addition, 10 orphans received R100,000 from the cleric.
One of the climaxes was when Prophet Iginla gave a brand new vehicle to a 78-year-old woman, who could only mutter "I am overwhelmed."
Also, some of the 34 widows, who received gift items from the cleric burst into tears when they could not believe their eyes.
They expressed gratitude to the man of God and urged him to stay in their country permanently.
But explaining reasons for his kind gesture, Prophet Iginla, who is based in Abuja, Nigeria, stated that, "As a way of marking my birthday, I feel that we should show more love to these ones and more love to them than any other person.
"We are not showcasing them to show we are givers but to teach you to visit orphanages. There are some children without parents, show them much love.
"To me, my birthday is not about what you give to me, it's about how many times these loved ones (orphans) can be touched by the feelings of our love."
Commenting further, he said, "What I have given in the secret is so much that it cannot be compared to what I'm giving as an example for you to do.
"If we don't give like this, you won't know we are giving. You will be criticising us saying that all these men of God don't give."
"It is believed that when a Nigerian comes to South Africa, he has come to take money. No, it's a passion and our passion is just to help souls.
"I can't say what I've given secretly, it is alarming. The bible says we should give secretly. It's true and I've given secretly. Jesus fed 5,000 openly, he turned water to wine openly, there's a time to give secretly and a time to give openly. This giving is not a show off. If it's show-off, take your own money and use it for show-off.
"You can fake prophecy but you can't fake giving. If you are not a giver, you are not a giver. It is in giving that we find love. For God so Love the world that he gave his only begotten son.
"In Botswana, we built a house for a widow, both in America, in London, I do same. My private jet is the widows, orphans and less privileged I touched. If I want to buy three or four jets, I can buy but these are my priority," he added.
Violent Protest Erupts in Ibadan Over Naira Scarcity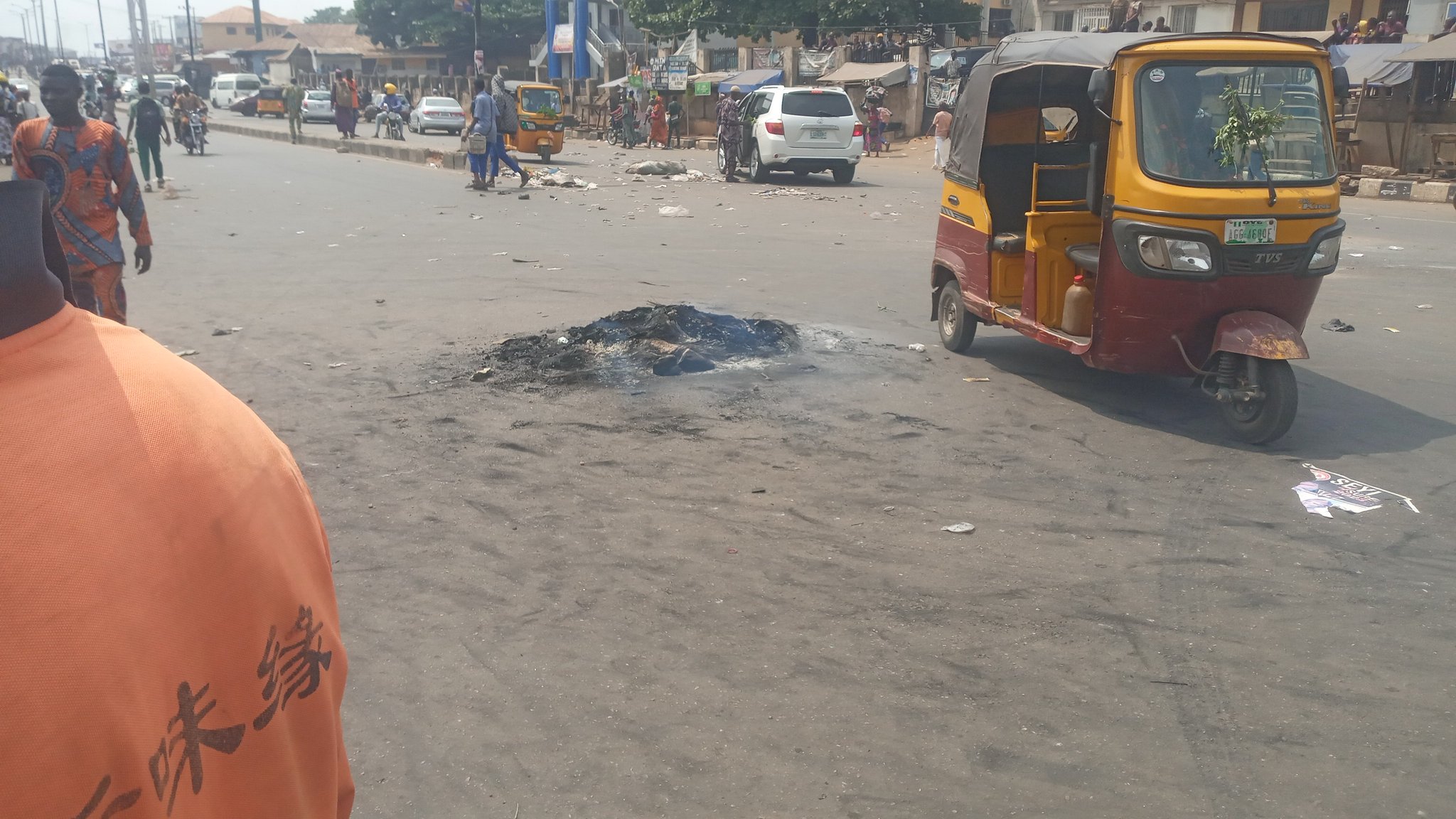 By Aduragbemi Omiyale
There are reports of a violent protest in Ibadan, the Oyo State capital, over the scarcity of old and new Naira notes, Business Post has gathered.
It was learned that residents of the ancient city are venting their anger over the hardship caused by the policy of the Central Bank of Nigeria (CBN) and the federal government.
The central bank redesigned the N200, N500, and N1,000 notes and asked citizens to return their old banknotes because they would cease to be legal tender.
However, since the introduction of the new currency notes in circulation on December 15, 2022, many Nigerians have not been able to withdraw their money from banks, fuelling anger in the land.
On Friday afternoon, some residents of Ibadan took to the streets to express their frustration at the development, which is coming at a time consumers have to queue for petrol. They had bonfires on the road and disrupted business activities in some areas of the city.
Recall that today, the Governor of Oyo State, Mr Seyi Makinde, announced the suspension of his campaign activities over the scarcity of Naira and fuel.
Also on Friday, the Governors of the ruling All Progressives Congress (APC) met with President Muhammadu Buhari to appeal to him to change his mind on the Naira swap policy because of the effect on the people and the 2023 general elections starting later this month.
The President had earlier been asked not to show up in Kano State because of fears of a violent protest over the development. After the deadline was moved forward, the Governor of the state, Mr Abdullahi Ganduje, said he was safe to visit the ancient city.
However, during his visit to Kano, there were reports of a demonstration, with a chopped stoned by some residents of the state and convoys attacked by angry protesters.
The government claimed the protest was not directed at President Buhari, while the opposition party, Peoples Democratic Party (PDP), said otherwise.
APC Governors Beg Buhari to Allow Use of Old, New Naira Notes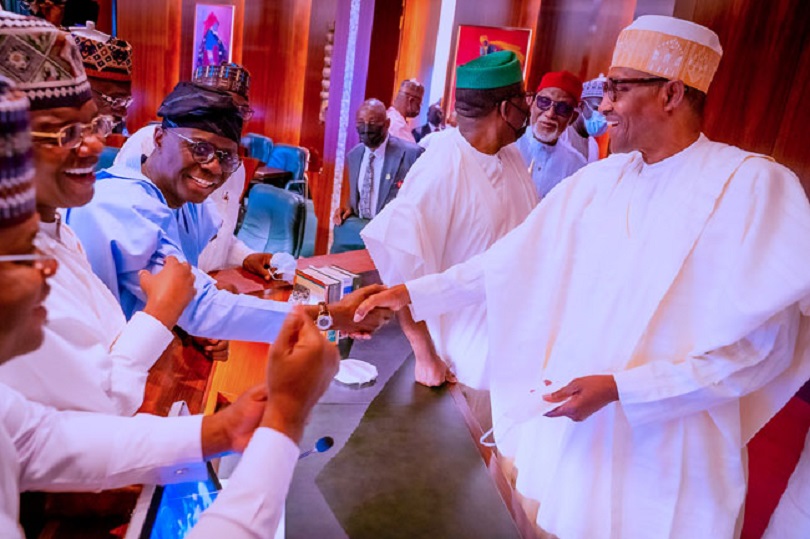 By Aduragbemi Omiyale
President Muhammadu Buhari has been urged to allow the use of old and Naira notes as legal tender in the country until the former is naturally mopped up from the circulation.
This appeal was made on Friday by Governors elected on the platform of the ruling All Progressives Congress (APC) during a meeting with Mr Buhari at the Presidential Villa, Abuja.
In a brief chat with reporters after the meeting, the Governor of Kano State, Mr Abdullahi Ganduje, said after the request was made to the President, he promised to look into it.
The Central Bank of Nigeria (CBN) last month redesigned the N200, N500, and N1,000 banknotes and said the old currency denominations would cease to be legal tender from January 31, 2023.
However, two days before the deadline, the Governor of the CBN, Mr Godwin Emefiele, after a meeting with President Buhari in his hometown in Daura, Katsina State, said the deadline had been shifted to February 10, 2023, noting that Nigerians had a grace period of February 17, 2023, to return the old notes to the bank.
On Tuesday, January 31, he appeared before the House of Representatives ad-hoc committee on the CBN policy to say Nigerians could still take their old notes to banks after the deadline, promising that citizens will not lose their funds.
Today, the APC Governors met with Mr Buhari to discuss the scarcity of Naira in the financial system and also the lingering fuel scarcity.
One of the Governors present at the gathering, Mr Nasir El-Rufai of Kaduna State, had claimed this week that the scarcity of cash and petrol was the handiwork of some elements in the Villa, who do not want the party to succeed in the forthcoming elections.
"We spoke with the President to allow the old and new notes to co-exist until the old notes die a natural death," Mr Ganduje told newsmen while walking out after the meeting.
"Sir, did you discuss the petrol scarcity with him," one of the reporters asked the Kano Governor, and he responded, "Yes."
Oyo Governor Suspends Campaign Activities Over Fuel, Naira Crisis
By Aduragbemi Omiyale
Due to the unending fuel and new Naira notes crisis rocking the country, Governor Seyi Makinde of Oyo State has suspended his campaign activities.
Mr Makinde is seeking another term in office under the platform of the Peoples Democratic Party (PDP).
He commenced his campaign activities last month, asking residents of the state to give him another chance to serve them.
But the scarcity of premium petrol spirit (PMS), otherwise known as petrol, and cash has put Nigerians under untold hardship.
Governor Makinde, during the flag-off of the Omi-Adio-Ido Road on Friday, said in solidarity with the people over anti-people economy policies of the All Progressives Congress (APC) led federal government, he would be suspending his campaign.
A statement by the Commissioner for Information, Culture and Tourism, Mr Wasiu Olatubosun confirmed this.
In the statement, Mr Makinde, who was in Ido to continue his campaign, directed that all campaign activities be suspended until further notice.
Mr Olatubosun said Governor Makinde noted that the suffering of his people was too much, saying he was elected to protect their interests and well-being.
The Commissioner said his boss, in an emotionally laden voice, directed leaders of the party in Oyo State to suspend the campaign.
"As a mark of honour to citizens and residents of Oyo State, the Governor of Oyo State, Seyi Makinde, has directed that all campaign activities of the party at all levels be suspended until further notice," the statement read.
"Governor Seyi Makinde's love for his people necessitated this unprecedented move at this time. We urge all residents and citizens of the State to remain calm as we navigate through this difficult period together," he added.
Latest News on Business Post