MSF Distributes Food to Displaced People in CAR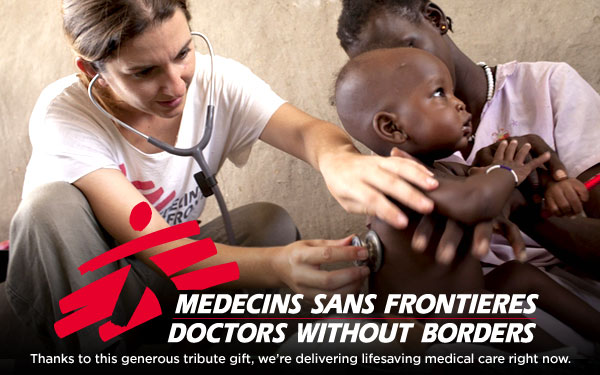 By Modupe Gbadeyanka
Doctors Without Borders/ Médecins Sans Frontières (MSF) teams distributed nearly 100 tons of emergency food supplies to more than 10,000 people in northern Central African Republic (CAR) in recent weeks due to the lack of sufficient aid to people affected by armed conflict in the country.
Since December 22, MSF teams distributed food in seven locations where displaced people are sheltering in the areas of Kabo, Gbazara and Moyenne Sido. Most fled their homes in the violence which engulfed the country two years ago and have been unable to return due to continuing insecurity.
MSF decided to carry out the food distribution, which is not a regular activity for its medical teams, as a preventive action after detecting that the displaced were receiving insufficient rations. The World Food Program (WFP) recently raised the alarm on the lack of funding for food aid in CAR and has sharply cut assistance.
"We saw that the situation for many of the displaced people was very fragile," said Maria Simon, coordinator of MSF's projects in CAR. "Food distributions are not something that we do as part of our regular activities. But after recent fighting in Kaga Bandoro and Bambari, other organizations were forced to divert resources to newly displaced people there, which prompted us to act."
The WFP had planned to provide assistance to 700,000 people in CAR in the coming year, before a funding shortfall forced it to halve the quantity of rations each person receives and to limit its target to just 400,000 people. An estimated two million people—or 40 percent of the country's population—are in need of food assistance.
The United Nations humanitarian coordinator recently agreed to release one million dollars in emergency financial assistance to WFP for CAR, but this will still not cover the current needs.
Each of the 2,000 households to whom MSF distributed food received about 80 pounds of rice, 11 pounds of beans, oil, salt and sugar.
At the same time, MSF's medical teams carried out medical activities, including vaccinating almost 3,000 children under 15-years-old against common childhood diseases.
Teams also carried out nutritional assessments, malaria tests and deworming, and provided vitamin A supplements. Pregnant women were vaccinated and given supplements of iron and folic acid.
"These are people whose coping mechanisms were exhausted long ago and whose situation is getting worse," said Simon. "We are witnessing suffering caused by a humanitarian crisis and a conflict that has not abated. Much more needs to be done now by international donors, agencies, and non-governmental organizations working in a country that has already had more than its share of suffering and neglect."
MSF has been working in CAR since 1996 and currently has more than 2,400 Central African staff and 230 international staff working in the country.
Since 2013, MSF has doubled its level of medical support in response to the crisis.
MSF currently works in about 20 locations in the country, where medical teams provide free health care, including paediatric care, routine vaccinations, maternal healthcare, and surgery, as well as treatment for diseases such as HIV and tuberculosis.
Family Announces Death of General Dipo Diya
By Modupe Gbadeyanka
A former Chief of General Staff, General Oladipo Diya (rtd), has been reported death by his family.

The late military officer was the second-in-command to the late Nigerian Head of State, General Sani Abacha, from 1993 to 1997, when he was arrested for an alleged treason.

In a statement, Mr Oyesinmilola Diya said the former Military Governor of Ogun State died in the early hours of Sunday, March 26, 2023.

However, he did not disclose if the 79-year-old Odogbolu, Ogun State-born army general suffered from any illness before his demise.

In the statement, he only stated that further announcements would be made public in due course.
We Will Fulfil Paris Agreement on Climate Change—FG
By Adedapo Adesanya
The federal government of Nigeria has assured that it is ready to fulfil the Paris Agreement on Climate Change to ensure effective gender inclusion.
This was disclosed by Mr Chris Ngige, the Minister of Labour and Employment, during the inauguration and inception workshop of the project in Abuja tagged The Nigeria Initiative for Climate Action Transparency (ICAT), Just and Gender Inclusive Transition (JGIT) Project.
The project is aimed at helping countries to better assess the impacts of their climate policies and actions and fulfil their transparency commitments.
Mr Ngige said the objective of the inception meeting was to launch the ICAT Just Transition project and increase awareness among the national stakeholders for a better understanding of its implementation.
He said that ICAT, an International multi-stakeholder partnership of the United Nations Office for Project Services (UNOPS), was supporting Nigeria in setting up Monitoring, Reporting, and Verification (MRV) of a Just and Gender Inclusive Transition(JGIT).
The minister, represented by Ms Daju Kachollom, Permanent Secretary in the ministry, said Nigeria had signed a Project Cooperation Agreement (PCA) with the UNOPS, represented by the ICAT management.
According to him, the PCA is to firm up the process leading to the take-off and implementation of the project over a 12 months period.
"The objectives of the project, among others, include developing JGIT monitoring and MRV and ensuring it links with the sectoral MRV system.
"Another objective is to Enhance Transparency Framework (ETF) implemented by the Federal Ministry of Environment to achieve synergy, institutional memory, and stakeholder inclusion and cooperation.
"It will further enable a tripartite cooperation between government, labour, and employer associations to achieve a Just and Gender Inclusive Transition going forward with the implementation of the Paris agreement," he said.
The minister said that the ICAT project would be implemented by a team of national experts and international ICAT consultants under the supervision of the Federal Ministry of Labour and Employment.
On his part, Dr Yerima Tarfa, ICAT, JGIT Project Team Lead, said the initiative would help to increase the overall transparency capacities of countries and assess the contribution of policies and development objectives.
According to him, this is by providing appropriate methodological information and tools to support evidence–based policymaking.
Dr Tarfa noted that Nigeria was the largest economy and leading oil producer, and most populous in Africa.
"It faces the unique challenge of having to diversify its economy away from fossil fuels (petroleum, natural gas, and increasingly, coal) while responding to the unmet energy needs of its growing population.
"Nonetheless, Nigeria is turning this challenge into an opportunity by increasing the use of renewable energy, reducing its carbon footprints, and eliminating gas flaring.
"Nigeria's National Determined Contributions (NDCs) is committed to a 20 per cent emission reduction by 2030 unconditionally and 45 per cent conditional, with focus on power and electricity, oil and gas," he said.
The team lead said the highlights of the NDCs include ending gas flaring by 2030 and a 30 per cent energy efficiency level by 2030.
He said the inauguration of the inception workshop would provide the opportunity to create awareness and build a national cross-knowledge sharing that would provide a platform for key stakeholders to facilitate the implementation of the Nigeria ICAT JGIT Project.
He added that this would further set up an MRV of Just and Gender Inclusive Transition and its Roadmap for implementation in Nigeria.
Appeal Court Restores Adeleke as Osun Governor
By Modupe Gbadeyanka
An appeal court sitting in Abuja on Friday upturned the judgment of the Osun governorship election tribunal, which removed Mr Ademola Adeleke as Governor of Osun State.
In January, the tribunal declared the former Governor of the state, Mr Gboyega Oyetola, as the authentic winner of the 2022 governorship election in the state.
While Mr Adeleke contested for the position under the platform of the Peoples Democratic Party (PDP), Mr Oyetola flew the flag of the All Progressives Congress (APC).
Mr Adeleke was declared winner of the poll by the Independent National Electoral Commission (INEC), but Mr Oyetola, who contested as a sitting governor, approached the tribunal to dislodge the winner.
He argued that Mr Adeleke won through an electoral fraud, over-voting and his prayers were answered, as the tribunal upturned INEC's decision and declared him the winner.
However, Governor Adeleke appealed the judgement and today, a three-member panel of justices held that the election tribunal erred when it ruled that Mr Oyetola and the APC proved their allegation of over-voting.
The appellate court held that Mr Adeleke was validly elected as the governor of Osun State and restored his mandate.
Latest News on Business Post