MSF Nurse Wins HIV-TB Prize for Life-Saving Test Research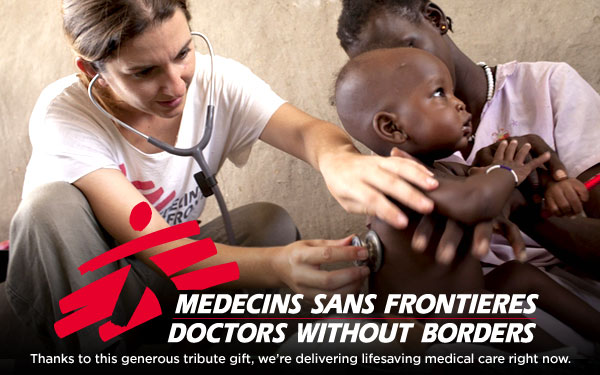 By Modupe Gbadeyanka
Zimbabwean Doctors Without Borders (MSF) nurse and researcher Chenai Mathabire has won an HIV/TB Research Prize at this year's International Aids Society Conference on HIV Science (IAS2017). Through a study conducted in Malawi and Mozambique, Chenai has provided strong evidence that an easy-to-use point-of-care TB LAM test, which quickly diagnoses tuberculosis (TB) in severely ill HIV patients, is feasible to use in real-life clinics with high numbers of HIV-TB patients.
TB is the biggest killer of people living with advanced HIV, with over 400,000 patients dying each year from the disease.
People with advanced HIV, also known as Acquired Immune Deficiency Syndrome (AIDS) have very weakened immune systems, leaving them susceptible to common infections, which can quickly become deadly.
Successfully treating ill AIDS patients involves rapidly assessing the strength of their immune systems and putting them on the right treatment straight away, whether they have TB or another disease deadly to HIV patients, cryptococcal meningitis.
However, in poorer countries, limited laboratory and X-ray facilities, and the time spent waiting on results can mean long and often deadly delays for sick patients arriving at clinics or hospitals. At the same time, people with late-stage HIV often can't produce enough sputum for more common TB sputum tests so common tests such as sputum microscopy cannot be done. X-rays are also less useful to detect TB in people with advanced HIV.
At $3 per test, the TB LAM test offers a quick, simple and cost-effective alternative that gives on-the-spot results in 30 minutes. Yet despite being available since 2010, only 140,000 TB LAM tests are used each year.
"In Malawi, some HIV patients with suspected TB were waiting months for laboratory or X-ray results to come back. Clinicians don't like to start patients on treatment based only on clinical signs and symptoms, they prefer to have a diagnostic test result," says Chenai, who was responsible for implementing and supervising the study. "The TB LAM test helped them make that decision, and they felt better about starting HIV patients on TB treatment. It doesn't replace existing tests, but adding this test helps us identify more TB cases and can improve the patients' chances of survival."
The test uses the HIV patient's urine to detect LAM (Lipoarabinomanan), a protein created when TB bacteria cells break down. The lower the patients' immunity, which is measured by numbers of CD4 T-cells, the more LAM appears in the urine and the more sensitive the test becomes. This is why the test is recommended for use in patients with CD4 cells below 100. The MSF study found the test was well accepted by staff, easy to use, and led to better, faster results than sputum or X-ray tests. Nearly 99% of TB LAM test patients received a timely result, versus 70% with sputum and 35% with X-rays.
Currently the main barrier to wider use of the TB LAM test by national governments is that it isn't included in country guidelines and national TB programmes are not actively pushing it. Use of the TB LAM test has been recommended by the new WHO guidelines for advanced HIV for use in severely ill patients in hospitals but not yet in primary care, given the test's decreased accuracy in patients with stronger immune responses.
MSF will use the study to advocate for health ministries in countries with high HIV TB burdens to use the TB LAM test in primary care and hospital centres, as well as include TB LAM within a diagnostic package for patients with advanced HIV. This would include point-of-care tests for CD4 (to allow rapid bed-side assessment of immune strength), cryptococcal meningitis and TB to help quick diagnosis and, most importantly, improve patients' chances of survival.
MSF currently uses TB LAM as part of a diagnostic package in HIV projects in Democratic Republic of Congo (DRC), Guinea, Kenya, Malawi, Mozambique, Niger, Uganda and Zimbabwe. MSF currently supports over 230,000 people living with HIV on antiretrovirals in 19 countries, with a focus on free quality care, and provides free hospital-based care for people living with advanced HIV in DRC, Kenya Guinea, and Malawi.
AI Can Help Transform African Blood Donations—BetaLife CEO
By Adedapo Adesanya
The rise of artificial intelligence and its revolutionary impact on African business, society, and culture led discussions on the final day (June 2) of GITEX Africa 2023 in Morocco.
Experts from across the globe gathered to debate and advance the transformational new tech that's now the focal point of worldwide debate.
Speaking at the event, Mr Mubarak Ayanniyi, the 21-year-old founder and CEO of BetaLife, a Nigerian health startup, noted that AI-powered health-tech solutions are helping to transform African blood donations.
BetaLife is a cloud-based AI-powered platform that connects hospitals and blood banks using advanced algorithms, ensuring the efficient flow of lifesaving blood products to needy patients.
The company's CEO said the greatest advantage of Betalife is its ability to analyse copious data via an AI-powered algorithm that accurately predicts when, where, and in what amounts of blood donations are required, thereby directing resources and allocating donations when needed, ultimately saving countless lives.
"BetaLife has revolutionised how blood donations are managed in Africa", said Mr Ayanniyi. "Instead of relying on manual processes, hospitals and blood banks are now using BetaLife to predict when and where blood donations are needed most.
"This has led to more efficient distribution of blood products, reducing waste and ensuring that those who need it most receive the lifesaving treatment they require," he added.
Speaking on another panel discussion, Mr Simon See, the Global Head of Nvidia AI Technology Centre in Singapore, said with the right investments and policies, AI can help Africa to achieve its development goals and improve the lives of its people.
"In Africa, the demand for AI skills is expected to grow by 36 per cent between 2020 and 2025," said Mr See, whose American-headquartered Nvidia makes specialist AI chips, with a market value that briefly surpassed $1 trillion this week.
"This growth is driven by the continent's young population and its investments in start-ups and innovation. The growth of AI is creating new jobs in Africa, as companies look to hire experts to help them develop and implement AI-powered products and services."
GITEX Africa, which concludes today in the Red City of Marrakech, gathered thousands of attendees from 120 countries over its three-day run, all looking to network and develop meaningful business connections with the 900 exhibiting companies and start-ups across 10 halls and 45,000sqm of exhibition expanse.
AI and its far-reaching multisectoral impact were also evident on the exhibition floor, with many exhibitors showcasing how the AI boom is turbocharging waves of innovation across industries, from education and agriculture to transport, retail, energy, or logistics.
Oyo Introduces Mobile App to Track Waste Collection
By Modupe Gbadeyanka
A mobile app designed to monitor waste management, especially to track waste collection, has been introduced by the Oyo State government.
This is part of a new step geared towards simplifying waste management in the pace-setter state and making it one of the cleanest states in the country.
The Oyo State Waste Management Consultant, Mottainai Recycling, unveiled the app on Thursday in Ibadan, the state capital.
The Chief Strategy Officer of Mottainai Recycling, Ms Uloma Airhienbuwa, disclosed that the easy-to-use application would help track the 'movement and management' of hazardous and other solid wastes.
According to her, the waste management app, which can be downloaded on all smart devices, is designed with user convenience and sustainability, offering several key features to facilitate waste and recycling pickup requests.
"The app also offers clarity on when your waste is picked up and by whom; and an ability to pay your waste bill," she said.
Speaking further, Ms Airhienbuwa hinted that it also has a fun and transparent way of incentivizing waste sorting, noting that, "The app has a user-friendly interface. It provides an intuitive and user-friendly interface that allows waste generators to easily navigate and make pickup requests with just a few taps."
"Users can initiate waste pickup requests through the app by specifying the type of waste, quantity, and preferred pickup date and time.
"Users can either make this an on-demand request or create an ideal pickup schedule for themselves. This feature enables efficient scheduling and coordination between Mottainai and users," she added, stating that, "The app incorporates GPS technology to enable users to locate their specific waste-pickup location."
"To incentivize waste sorting, the app incorporates a points-based system. Users earn points based on the accuracy of their waste sorting and responsible disposal practices.
"Accumulated points can be redeemed for various rewards, such as discounts on waste management services or donations to a charity organization of your choice," Ms Airhienbuwa stated.
She said the app is continually being developed to ensure users a seamless experience for pickup requests, tracking the progress of pickups and payments and receiving rewards.
Oyo Task Force Arrests 4,000 Environmental Offenders, Generates N30m as Fines
By Modupe Gbadeyanka
No fewer than 4,000 environmental offenders have been apprehended by the Oyo State Environmental Task Force since its creation.
This disclosure was made by the Chairman of the organisation, Mr Ojomo Francis, during a chat on Wednesday in Ibadan, the state capital.
He explained that some of the offenders were committed to community service after trial, while others paid fines to the tune of N30 million to the coffers of the Oyo State Government.
Mr Ojomo, who is also the Waste Enforcement Officer, urged the public to obey the environmental laws of the state, stressing that this will sustain the healthiness and good neighbourliness in the society.
He added that item 11 of the Sustainable Development Goals of the United Nations places a premium on sanitation and a sustainable environment.
Mr Ojomo appealed to Nigerians, especially residents of Oyo State, to pay attention to cleaning their environment, as the Task Force is watching everyone, reiterating the commitment of the state government towards ensuring a healthy and safe environment.
"This is not the first time we have appealed to members of the public to obey our environmental laws so that we will have sustained peace and health in our society.
"Item 11 of the Sustainable Development Goals of the United Nations places a premium on sanitation and a sustainable environment. We do not need to attend any formal school to take care of our environment in our interest," he added.
Meanwhile, the Oyo State Environmental Protection Tribunal, sitting in Ibadan on Wednesday, convicted five offenders for violating environmental laws in the state.
The Chairman of the Tribunal, Mr Jubreel Kareem, while speaking with journalists, disclosed that during monitoring in Ibadan, the five offenders were arrested.
He said two of the offenders, Olanrewaju Deola and Funmilayo Ayoola, were found disposing of wastes illegally at unauthorized places; they also failed to provide a standard refuse drum contrary to Oyo State Environmental Laws, 2013.
The persons admitted to having committed the offences and were convicted to three months of imprisonment or an option of fines of N5,000, N2,500, and N2,500, each.
Another offender, Olabisi Olatunde, who was caught at Preboyes, along UI-Bodija, dumping refuse on the median, pleaded guilty. The tribunal thereafter fined her N7,500.
In the same vein, John Blessing and Ali Sumaiya were caught illegally displaying goods by the roadside at Mokola.
The Tribunal ruled that this is against Section 2 sub-section 14 of the Oyo State Waste Management Law of 2014 and, after that, fined them N2,500 each.
The head of the Tribunal further warned the offenders not to violate the environmental laws of the State henceforth, saying this will serve as a lesson to them and others.
Latest News on Business Post