Symplifi Offers Loans for AXA Mansard Healthcare Insurance
By Aduragbemi Omiyale
Nigerians, who intend to purchase health insurance packages of Axa Mansard Insurance but are financially unable, can now do so with ease through a loan offering of SympliFi, a UK-based fintech company.
The firm entered into a strategic partnership with AXA Mansard to give Nigerians access to quality healthcare insurance. The insurance benefits will be unlocked when customers apply and secure loans on SympliFi's digital platform.
According to the fintech company, benefits provided by the unique insurance offering include hospitalization benefit that covers a portion of the loan payment, and a cash payout to help cover hospital costs and a life insurance cover. The goal is to provide financial support and quality healthcare to customers in the event that they fall ill.
The CEO of SympliFi, Maurice Iwunze, stated that the majority of Nigerians lack access to credit and healthcare, which hinders their ability to improve their livelihood, adding that the SympliFi-AXA Mansard partnership is built on a shared interest in empowering Nigerians to transform their lives and improve their wellbeing, by enabling access to critical financial and health services.
"Access to credit and health care remains out of reach for most Nigerians, so families in the diaspora end up serving as the bank and insurance company for their loved ones back home.
"It's a financial drain on those in the diaspora, while their loved ones back home continue to be excluded from the financial system.
"We wanted to develop an innovative solution to seamlessly address the problem, in a way that's a win-win for both sides.
"The AXA partnership allows us to do so and is a first step in working together to reimagine the way Nigerians in diaspora support their loved ones back home, beyond remittances," Iwunze said.
Also speaking on the initiative, CEO of AXA Mansard Health, Tope Adeniyi said, "We are delighted to partner with SympliFi to provide both easy access to healthcare and quick loans to Nigerians from the convenience of their mobile phones.
"We will continue to innovate and create new products, thereby improving the scope of our product offerings, whilst continuously enhancing our service delivery to ensure we always provide our customers with top-notch service to address their needs."
SympliFi's first of its kind mobile App enables Nigerians in the diaspora to help their loved ones back home access affordable credit on their own, instead of sending money, by digitally backing the loan.
Through this partnership with AXA Mansard, borrowers on the platform will now also receive the extra benefit of loan protection insurance to cover them in the event of hospitalization, thereby minimizing the financial impact of unexpected medical emergencies that may affect their ability to repay the loans.
Malaria: Nova Diamond Launches Give A Net Campaign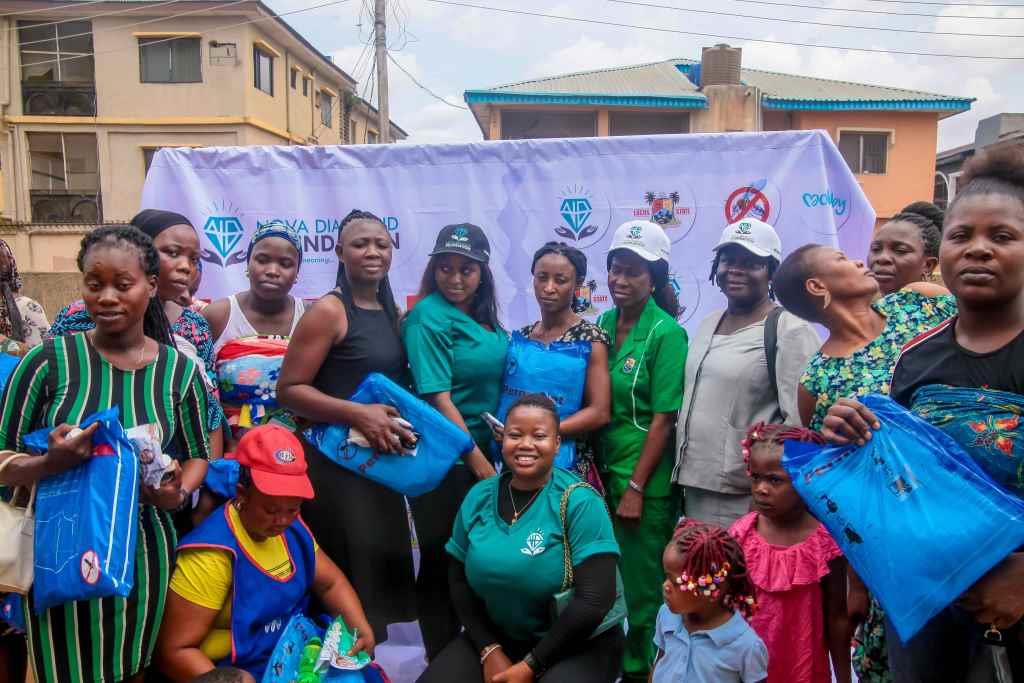 By Adedapo Adesanya
In commemoration of World Malaria Day for the year 2022, Nova Diamond Foundation has launched a campaign called Give a Net, ave Lives.
The Give a Net campaign is targeted to protect the most vulnerable in society, including pregnant women and children under the age of 5 because of the increased death rate, according to WHO 2021 Malaria report.
WHO described malaria as the 3rd highest killer non-communicable disease as the disease kills four in every five malaria cases in Nigeria. Malaria is the number one endemic in the country, which also has the highest number of malaria-related deaths.
To address this issue and reduce malaria-related deaths, Nova Diamond Foundation has partnered with the Lagos State Ministry of Health to educate residents on the danger posed by malaria.
The organisation also worked in partnership with Mobaby Care to walk the streets of Lagos, starting with Agboyi LCDA under Kosofe LGA, Mascara Primary Health Centre and Alapere Primary Health Centre, Ketu. These health facilities were visited between Monday, April 25 and Wednesday, April 27, 2022.
During the visits, pregnant mothers and children were given some malaria prevention incentives like Insecticides Treated Nets (ITNS) and mosquito repellant creams from Mobaby Care.
The executive director of Nova Diamond Foundation, Mrs Oluwafikayo Ooju, sensitised the participants on how to protect their unborn children, toddlers and themselves from malaria by ensuring that they always sleep under an insecticide-treated net.
She also lectured them on keeping their environment clean from stagnant water, ensuring children are well covered up and use of repellant to the exposed parts of the body.
In addition, she educated them on how to identify the symptoms of malaria as well as the need to visit the primary health centres for proper diagnosis and treatment immediately after they notice any symptoms.
In her remarks, the Medical Officer in charge of Agboyi LCDA, Dr Mariam Oshodi, commended the effort of the foundation and also advised the beneficiaries to use all the incentives distributed to them.
The team intends to visit other primary health centres across Lagos state and hopes to reach at least 1,000 pregnant mothers and 1000 children aged 0-5.
FG to Intensify Fight Against Female Genital Mutilation
By Adedapo Adesanya
The federal government has said it will intensify efforts to eliminate the practice of Female Genital Mutilation (FGM) in Nigeria as it pursues the realisation of the sustainable development goals (SDGs) 2030.
This was disclosed by the Minister of Women Affairs, Ms Dame Tallen, at the launch of the Movement For Good To End FGM in Nigeria organised by the Federal Ministry of Women Affairs in collaboration with the United Nations Children Fund (UNICEF).
Ms Tallen noted that the procedure of FGM has no health benefit for girls and women.
FGM involves partial or total removal of the external female genitalia or other injuries to the female genital organs for non-medical reasons. The practice is mostly carried out by traditional practitioners.
Speaking, she said, "Available statistics show that Nigeria has the highest number of cases of FGM in the world accounting for about 115 million out of 130 million circumcised women worldwide.
"The South-South zone with 77 per cent among adult women has the highest prevalence of the practice in Nigeria.  This is followed by the South-East zone with 68 per cent and South-West zone with 65 per cent.  The Northern part of Nigeria is also not free from this practice."
She described "FGM as a traditional practice inflicted on girls and women worldwide and it is widely recognized as a violation of human rights, which is deeply rooted in cultural beliefs and perceptions over decades and generations.
"The resulting outcome of FGM are adverse pain and haemorrhage, infection, acute urinary retention following such trauma, damage to the urethra or anus.
"During the procedure, the victim would struggle through an experience which leads to chronic pelvic infection, dysmenorrhea, retention cysts, sexual difficulties, obstetric complications, bleeding, prolonged labour leading to fistula formation amongst others.  The mental and psychological agony attached to FGM is deemed the most serious complication because the problem does not manifest outwardly for help to be offered.
"The continuous practice of FGM denies girls and women the right to quality education, opportunities for decent work and their health particularly sexual and reproductive are threatened."
The United Nations (UN) Resident, and Humanitarian Coordinator, Mr Matthias Schmale said the prevalence of FGM amongst girls up to 14 years old is still on the rise.
Mr Schmale said 86 per cent of these children were mutilated before the age of Five, meaning FGM is greatest in the early years of life.
"What this tells us is that the perpetrators of this harmful practice are devising ways to circumvent surveillance and diminish the gains recorded over the years towards the eradication of FGM in Nigeria, by targeting infants who neither knows nor understand the enormity or magnitude of the practice they are being subjected to," he said.
He explained that the practice of FGM which is handed over from generation to generation and culturally justified is no longer acceptable.
He noted that this practice violates women's and girls' rights to life, health, and dignity as well as their bodily autonomy.
"The time to end FGM in Nigeria is now and the responsibility to do so lies with us all," he said.
The French Ambassador to Nigeria, Mrs Emmanuelle Blatmann, on her part said at least 200 women worldwide have undergone genital mutilation and more might be affected in the coming years.
Ms Blatmann said FGM contravenes the rights of every woman.
"Indeed to promote the elimination of this scourge, coordinated and systematic efforts involving everyone are needed," she said.
WHO Warns as Cases of Measles Rise 400% in Q1 2022
By Adedapo Adesanya
The World Health Organisation (WHO) has warned that Africa is witnessing a surge in outbreaks of vaccine-preventable diseases over the past year.
This came as almost 17,500 cases of measles were recorded in the region between January and March 2022, marking a 400 per cent increase compared with the same period in 2021.
According to the world health authority, 20 African countries reported measles outbreaks in the first quarter of this year, eight more than that in the first three months of 2021.
It also warned that outbreaks from diseases that could have been prevented by vaccines have also become more common due to inequalities in accessing vaccines as well as COVID-19 has strained the health systems.
Twenty-four countries confirmed outbreaks of a variant of polio in 2021, which is four more than in 2020. In 2021, 13 countries reported new yellow fever outbreaks in the African region, compared to nine in 2020 and three in 2019.
Speaking on this, Dr Matshidiso Moeti, the WHO Regional Director for Africa explained that even as the continent focused on fighting COVID-19, there needs to be special attention to other health challenges.
"The rise in outbreaks of other vaccine-preventable diseases is a warning sign. As Africa works hard to defeat COVID-19, we must not forget other health threats. Health systems could be severely strained not only by COVID-19 but by other diseases.
"Vaccines are at the heart of a successful public health response, and as countries restore services, routine immunization must be at the core of revived and resilient health systems."
WHO expects countries to attain and maintain measles vaccination coverage of 95 per cent with two doses to reach measles elimination. In 2019, six countries in the African region attained 95 per cent coverage with first dose measles vaccination, while only three met this target in 2020, according to estimates.
On his part, Dr Benido Impouma, Director, Communicable and Noncommunicable Diseases Cluster at WHO Regional Office for Africa said while mass vaccination campaigns are the quickest way to administer a large volume of vaccines, WHO is committed to supporting countries to strengthen essential, primary health care services to deliver COVID-19 vaccines. The longer-term solutions will likely see benefits to communities beyond COVID-19.
"Routine immunization, a long-established practice in many African countries, has been severely strained by the impact of COVID-19. In the wake of this pandemic, we are committed to support countries devise smart approaches to scale up both COVID-19 vaccination and restore and expand routine immunization services," he said.
Latest News on Business Post