Undercooked Chicken Can Cause Stroke—Research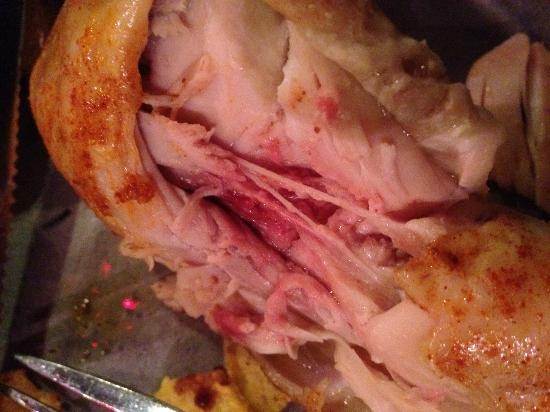 By Modupe Gbadeyanka
A new research has warned that eating undercooked chicken could trigger Guillain-Barre Syndrome (GBS) commonly called paralysis.
According to the study carried out by a Michigan State University research team, there is a common bacterium found in improperly cooked chicken causes GBS.
The latest research now published in the Journal of Autoimmunity, demonstrates how this food-borne bacterium, known as Campylobacter jejuni, triggers GBS.
"What our work has told us is that it takes a certain genetic makeup combined with a certain Campylobacter strain to cause this disease," said Linda Mansfield, lead author and MSU College of Veterinary Medicine professor. "The concerning thing is that many of these strains are resistant to antibiotics and our work shows that treatment with some antibiotics could actually make the disease worse."
GBS is the world's leading cause of acute neuromuscular paralysis in humans and despite much speculation, the exact mechanisms of how this autoimmune disease develops have been widely unknown.
According to www.healthline.com, "paralysis is a loss of muscle function in part of your body. It can be temporary or permanent. The most common causes are stroke, spinal cord injury, and multiple sclerosis."
However, the team has offered new information for a cure for the disease.
"We have successfully produced three preclinical models of GBS that represent two different forms of the syndrome seen in humans," Mansfield said. "Our models now provide a unique opportunity to understand how your personal genetic type may make you more susceptible to certain forms of GBS."
In the research funded by the National Institutes of Health Enterics Research Investigational Network, Mansfield said there are many other bacteria and viruses associated with GBS and her models and data could be useful in studying these suspected causes, as well as finding better treatment and prevention options.
"These models hold great potential for discovery of new treatments for this paralysis," Mansfield said. "Many patients with GBS are critically ill and they can't participate in clinical trials. The models we identified can help solve this."
Those suffering from GBS can initially experience vomiting and diarrhea, but can often write the symptoms off as eating bad food. One to three weeks later, they can begin to develop weakness and tingling in the feet and legs. Gradually, paralysis can spread to the upper body and arms, and even a respirator may be needed for breathing.
"Of course new treatments would be wonderful," she said, "but therapeutics to prevent GBS from developing in the first place would be the best strategy so that people don't have to suffer with paralysis."
New Health Reform Bill to Reposition Sector—Osinbajo
By Adedapo Adesanya
Nigeria's Vice President, Mr Yemi Osinbajo, has disclosed that a new health reform bill to reposition the country's health sector for improved delivery of set objectives would be in the works soon.
Speaking at the closing of the two-day Presidential Health Reform Committee Retreat in Abuja, he noted that this is pending a full committee report review and a complete policy document appraisal.
"The next steps now are to finalize subcommittee reports for the review of the full committee and produce a full committee report to guide the drafting of the policy document. And then draft a health reform Bill," Mr Osinbajo stated.
The Vice President then thanked the committee members for their hard work and dedication and reaffirmed the Buhari Administration's commitment to ensuring that the reform objectives are achieved.
The Vice President emphasized that the federal government's ongoing efforts to reposition Nigeria's healthcare delivery system must include collaboration among different levels of government and the private sector to ensure the effective implementation of reforms that will cater to the needs of Nigerians in the 21st century.
It would be recalled that President Muhammadu Buhari had in September 2021, approved the establishment of a Health Sector Reform Committee and appointed the Vice President as Chair of the team, which was officially inaugurated by the VP in January 2022.
The Health Minister, Dr Osagie Ehanire, also a member of the panel, was in attendance at the retreat and also Senator Ibrahim Yahaya Oloriegbe, who is the Chairman of the Senate Committee on Health.
Other members of the committee present at the 2-day retreat included the Emir of Shonga, Haliru Yahaya; DG, Bureau of Public Enterprises (BPE), Mr Alex Okoh; DG, Federal Competition and Consumer Protection Commission (FCCPC), Mr Tunde Irukera; DG, Nigerian Centre for Disease Control (NCDC), Dr Ifedayo Adetifa; Former Coordinator, Presidential Task Force on COVID-19, Dr Sani Aliyu; Lagos State Commissioner of Health, Professor Akin Abayomi; and Lead Coordinator, Presidential Health Reform Committee, Dr Nicholas Audifferen.
Stakeholders Form Coalition Against Counterfeit Pharmaceutical Products
By Dipo Olowookere
Some critical stakeholders in the pharmaceutical industry in Nigeria have come together to form a group aimed at frustrating and subsequently chasing makers of fake and substandard drugs out of business.
The group, known as the Coalition Against Counterfeit Pharmaceutical Products (CACPP), already has the support of the National Agency for Food and Drug Administration and Control (NAFDAC), the major drug manufacturers in the country, distributors, retailers, and others.
At the unveiling of the coalition in Lagos on Monday, the convener of CACPP, Mr Yomi Badejo-Okusanya, who is also the chief executive of CMC Connect, disclosed that the initiative was borne out of the desire to rid the country of counterfeit drugs and save lives of consumers, who take drugs to get better.
"It is borne out of the desire to take a firmer stand against counterfeit pharmaceutical products in Nigeria through engagement and advocacy, with hope to kick off an intense national advocacy campaign against counterfeit pharmaceutical products," he stated.
He stated that the group has mapped out strategies to achieve these goals, assuring that the coalition was focused and would not be derailed, no matter what.
According to him, CACPP found out that people consume counterfeit pharmaceutical products due to ignorance, poverty, and illiteracy.
While the West Africa Country Manager of Pfizer, Mr Olayinka Subair, agrees with this point, he stressed that, "Counterfeit medicines don't cure any disease, rather they put patients' health at risk because of their contents," noting that fake drugs "ultimately impede the Nigerian healthcare system as lives are lost and medical conditions worsened due to this cankerworm. It is not an individual's battle; it requires collective effort."
"Nigerians need to champion the anti-counterfeit cause, especially as regards healthcare. We need to join hands together because there is no shortcut to health. Due process must be followed to get the best results.
"Unlike commodities, fake drugs are life-threatening. This means patients should only buy prescribed medicines from accredited pharmacies and not quacks or roadside vendors," he stressed.
Also, the Deputy Director of the Federal Task Force on Counterfeit Substandard Regulated Products Investigation and Enforcement at NAFDAC, Mrs Florence Uba, who represented the acting director-general of the agency, assured the group of the full support of the regulatory agency.
However, she emphasised that NAFDAC would not entertain any favouritism as any fake drug maker caught would be severely dealt with, no matter the connection.
In his presentation, the president of the Nigerian Representatives of Overseas Pharmaceutical Manufacturers (NiroPharm), Mr Femi Soremekun, stated that, "In recent years, the fight against counterfeit pharmaceutical products has taken new dimensions due to the global influx of counterfeiting syndicates, it is like a race against time for pharmaceutical companies – the cost to our collective health and economies is enormous."
"Over the years, pharmaceutical companies have been perplexed as to how best to nip the challenges in the bud. The challenges are overwhelming owing to the sophistication of the activities of counterfeiters.
"Combating counterfeit pharmaceutical products is a herculean task, one that requires strong collaborations between government agencies and key stakeholders because of the impact," he added.
It was agreed by the stakeholders present at the event yesterday that to combat the illicit trade of counterfeit pharmaceutical products, there is a strong need for collaboration and must look beyond the surface, which is most times in-ward.
Business Post reports that other organisations which threw their full weight behind CACPP include the Pharmaceutical Council of Nigeria (PCN), the Pharmaceutical Society of Nigeria (PSN), and the Pharmaceutical Wholesalers and Distributors Association of Nigeria (PWDAN), among others.
Also, a prominent Nigerian actor and filmmaker, Mr Ayo Badmus, has backed the initiative as its brand ambassador.
Stanbic IBTC Gives Better Conditions for Healthcare Loan
By Aduragbemi Omiyale
Healthcare practitioners intending to get short-term funding support to expand their operations can now do so with better terms from Stanbic IBTC Bank.
The company, which is a subsidiary of Stanbic IBTC Holdings Plc, introduced a package called Healthcare Short-term Loan, which many stakeholders in the health industry have accessed.
In order to make it easier for practitioners to access the credit facility for an improved healthcare sector in the country, the lender has upgraded its short-term loan solution within the healthcare value chain.
This upgrade ensures a flexible repayment period, with an affordable interest rate and zero collateral to enable sector players to access better financing and achieve optimal service delivery.
The healthcare loan, which now offers a longer tenor of 12 months, affordable interest rate and zero collateral, will foster more investment in the sector and enhance strategic relationships to generate new businesses.
Speaking at the Medic West Africa Conference, the Head of Specialized Sectors at Stanbic IBTC Bank, Ms Jane Ike-Okoli, noted that effective collaboration between financial institutions and healthcare organizations is key to advancing Nigeria's health sector.
She advised financial institutions to be more intentional about complementing the government's efforts, saying, "Stanbic IBTC has a comprehensive understanding of the healthcare industry and its intricacies. This knowledge inspires us to continue to design innovative yet affordable solutions to boost healthcare businesses across the country."
According to her, despite Nigeria being Africa's largest healthcare market, challenges in the health sector include inadequate healthcare infrastructure and insufficient financing.
"Stanbic IBTC is passionate about driving change, hence our partnership with key stakeholders in the healthcare sector to improve access to healthcare finance.
"We achieve this by offering flexible funding options for healthcare businesses and providers and strategically partnering with the players in the healthcare ecosystem," she said.
"Our healthcare solutions are tailor-made for businesses in the sector who need working capital to expand healthcare operations, acquire medical equipment, facilitate medical research, and ultimately grow their healthcare businesses," Ms Ike-Okoli added.
The Head of Coverage, Commercial Clients at Stanbic IBTC Bank, Mr Babatunde Akindele, also stated that the newly improved healthcare short-term loan is a necessary investment.
"Healthcare is a basic need that everyone should access easily. The pandemic has increased the pressure on the health sector by revealing the urgent need to expand healthcare facilities. Stanbic IBTC has taken yet another step in the right direction to improve healthcare infrastructure and enable qualitative service delivery, which will restore the hope of many Nigerians," he said.
The growth of the Nigerian healthcare sector rests on impactful and innovative finance solutions positioned to create a level playing field for businesses to thrive. Stanbic IBTC has said it remains committed to blazing the trail in this regard.
Latest News on Business Post