FG Begins Production of N1.1bn Documentary Series
By Sodeinde Temidayo David
The production of a documentary series dedicated to the 60th independence anniversary of Nigeria, which is expected to gulp N1.1 billion and backed by the federal government, has commenced.
The series, titled Nigeria's 1914 Posterity Documentary, was originally billed for 2020, but the production was put on hold as a result of the global health challenge caused by the Coronavirus pandemic.
The film reflects on the past and envisions a greater future. The project is being done with the support of the Federal Ministry of Information and Culture, the National Institute for Hospitality and Tourism (NIHOTOUR), the National Film Corporation, the News Agency of Nigeria (NAN) as well as Interfora Initiative.
The documentary is part of the larger Nigeria 1914 Project in production which is a dramatised educational epic movie, featuring legendary actors and actresses already drawn from both Nigeria and Great Britain, acting in a story based on Nigeria's amalgamation in 1914.
This is the first time in the nation's history that the amalgamation of Nigeria will be told in an epic world-class movie and presented to the world to promote national education, humanity and the footprint of good things about Nigeria on the global stage to global audiences.
The funding is drawn from investors, donor institutions and sponsorships.
The documentary series is aimed at inspiring this generation and posterity, providing a spectacular platform to positively present Nigeria to the world.
It also profiles exemplary dignitaries, leaders, state governments, and outstanding government institutions; their relevant information and highlights their key and little-known achievements.
It is no doubt that it will serve as a source of education, inspiration and information for both academic and non-academic circles of the present and future generations of Nigerians, the government envisaged.
The programme would be made accessible to Nigerians, including the Diaspora and the rest of the world through all official websites of partnering government institutions and other major online platforms for posterity.
It has been recommended for every Nigerian and family at home, abroad and all well-meaning good friends of Nigeria all around the world to access and see through all major online and offline (TV) platforms, it will also be available on dedicated projects websites and websites of already partnering government agencies.
Tobi Bakre Joins LandLotto as Brand Ambassador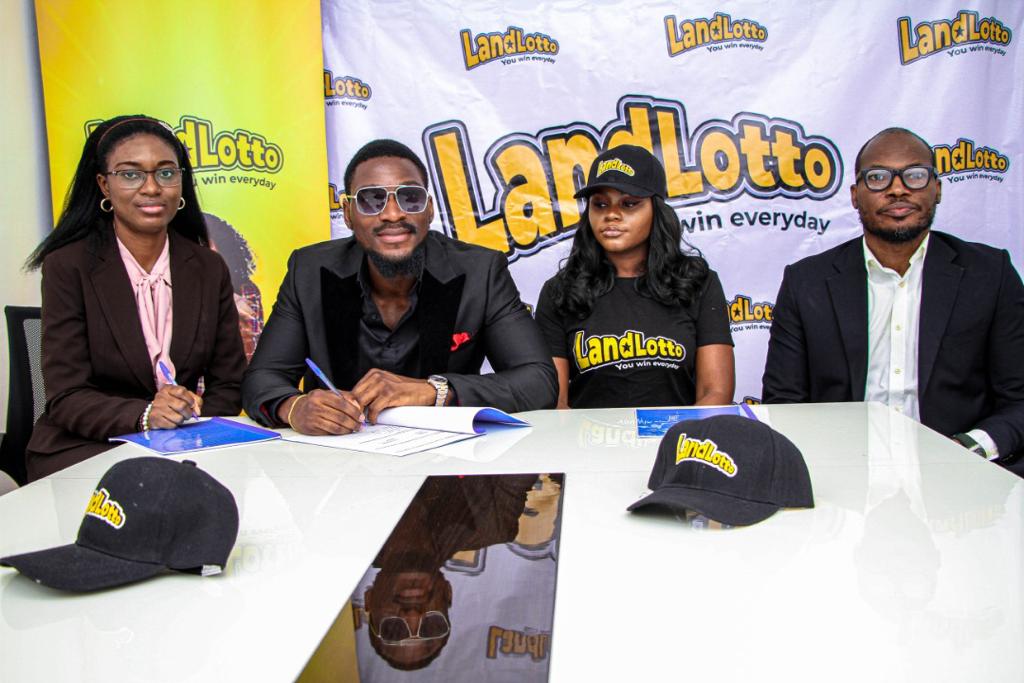 By Dipo Olowookere

Reality TV star, Mr Tobi Bakre, has been appointed as the brand ambassador for a lottery platform in Nigeria, Landlotto.
He was chosen to use his influence to promote the brand and make it very popular among Nigerians, who are exposed to many lotto brands.
Tobi Bakre shot into prominence when he featured in season 3 of the Big Brother Nigeria show and made it to the final. He later delved into acting and also became an influencer.
Over the years, he has garnered a huge following on social media. This is one of the things that attracted the management of Landlotto and both parties agreed to work together.
The firm said the new partnership consolidates its position as a trusted platform offering Nigerians a genuine shot at financial stability, as well as the chance to own landed properties and apartments in Lagos at a cost as low as N200, though this is only opened to persons who are 18 years or older.
Landlotto, which is licensed by the Lagos State Lottery Board, allows participants to win these various prizes on a daily, weekly, monthly, bi-monthly and quarterly basis.
The company said the lotto players can get N10,000 from the daily draws with just N200; N50,000 weekly with just N500 in the super Saturday draw; N500,000 monthly with N1,000 in the monthly jackpot; a grand prize of a piece of land with N2,000 every two months in the Land Mega Win draw; and an apartment in Lagos with just N3,000 in the Landlotto Boomer draw.
NFF Plans Insurance Cover for National Teams
By Adedapo Adesanya
The federal government is working to provide insurance cover worth N2.3 billion for Super Eagles players who sustain injuries or die playing for the country.
The President of the Nigerian Football Federation (NFF), Mr Amaju Pinnick, reportedly disclosed this on Arise Television, adding that the federation would sign a contract with a bank to procure the insurance cover.
This followed the several moves that the federation has made in the previous weeks including deals with MTN and Air Peace, which come on board as telecommunications and airline partners respectively.
According to him, "A lot of positives are coming to the Nigerian Football Federation. Today, we are going to be signing a sponsorship deal with them (Premier Lotto) of about N400 million for the next three years initially then renewable.
"With the signing of Baba Ijebu today, by God's grace, I believe we will be at least 90-92 per cent self-funding.
"Then the big one is coming on the 18th of this month (September) and if everything goes as planned, by God's grace we will be seeing another mega-contract with one of the very massive banks.
"But that one is strictly player based whereby the players will have a comprehensive insurance cover once they have worn the Nigerian jersey.
"The (insurance) will be paid by these institutions. For injury, that contract is about N600 million a year. Then for death, it is about N1.7 billion a year. So we are still studying it.
"There is gender sensitivity in that contract that we are also making provision for the female national team.
"We are talking to the bank and they kind of agreed that every time the Super Falcons or female national team wins, they will create an account for them. They will pay the bonus and leave that money there until they finish paying. The money will grow for them," the NFF President disclosed.
Mr Pinnick stated that the sponsorship is coming as a result of the improved integrity of the country's football body, adding that the federation worked with PriceWaterhouseCoopers (PWC) and Financial Derivative Company (FDC) so as to ensure transparency.
YouTube to Give Creators $1,000 Production Equipment Stipend
By Dipo Olowookere
An opportunity has opened for creators in Nigeria and South Africa to take their content creation to the next level and boost their YouTube careers through an initiative called the YouTube NextUp programme.
Business Post learned that content creators will receive a $1,000 stipend mainly for the procurement of production equipment in addition to a week-long creator camp, among other benefits.
It was gathered that 20 creators with eligible channels would be selected for this production equipment stipend and they must have 10,000 to 100,000 subscribers and at least 3 pieces of original and native video content uploaded in the past 3 months.
In addition, channel accounts must be compliant with the YouTube community guidelines and have no strikes, though participation in other YouTube creator masterclasses is also a basis for acceptance.
According to YouTube, at the creator camp, participants will learn new skills and access support by the YouTube partnerships team.
Applications for the YouTube NextUp programme are currently open and to enter, each creator must submit an entry form along with the video they are most proud of and that best represents their technical production skills, creativity and storytelling ability.
They also need to answer either of these essay questions in 200 words or less: Why should you be selected? How do you collaborate with other channels? or What are your plans for the next 2 years?
Judging will involve the evaluation of the creator's submitted video and essay along with a general evaluation of their channel, the organisers stated.
Commenting on the scheme, the YouTube Content Partnership in Sub-Saharan Africa, Addy Awofisayo, stated that, "We believe that the next generation of successful creators are already honing their skills on YouTube.
"We are excited that the YouTube NextUp programme will help take creators to the next level in their YouTube careers, enabling them to develop whole new genres and online experiences for audiences around the world."
YouTube, through programmes like YouTube NextUp, has a long-standing commitment to being an advocate for, and ally to, the diverse communities that reside on the platform and will continue to expand its efforts to support marginalised and underrepresented communities.
In Nigeria, over 500 channels now have over 100,000 subscribers while in South Africa over 250 channels now have over 100,000 subscribers. This is an increase of over 60 per cent, year on year.
As of June this year, the percentage of YouTube channels in Nigeria making 7 figures or more revenue in Naira has now increased by 100 per cent year-on-year.
South Africa also now has an increase of 70 per cent in channels making 6 figures or more in revenue in Rands, year-on-year in the period under review.
"YouTube creators are already doing what they are passionate about and making money from it. YouTube NextUp aims to take them to the next level in terms of income generation and professionalism," Awofisayo noted.
Latest News on Business Post