Fidelity Bank MD Interviews Don Jazzy on Music Business
By Dipo Olowookere
One of the top music entrepreneurs in Nigeria, Don Jazzy, was a guest of Fidelity SME Forum, a weekly radio programme by Fidelity Bank Plc to educate, inform, advise and inspire budding entrepreneurs in Nigeria with knowledge and expertise that will enable them build sustainable and successful businesses.
This month, Fidelity Bank Plc hosted a series highlighting the business side of entertainment and the opportunities that exist.
Headlining the series was Don Jazzy, Founder & CEO of the Supreme Mavin Dynasty (SMD).
On the episode, he shared insights on 'Understanding the Business Side of the Nigerian Entertainment Industry,' with the MD & CEO of Fidelity Bank Plc, Mr Nnamdi Okonkwo, who moderated the session.
How did your journey into entertainment business begin?
No matter how many times I get asked this question, I never get tired of answering it because there is always someone new in the audience who would like to know exactly how we got to where we are now.
Before I proceed, I would like to thank and appreciate Fidelity Bank for creating this platform for us to talk to the people. It is really an honour.
My name is Michael Collins Ajere Enebeli and I am from Delta state. I was born in my mother's hometown of Umuahia in Abia state. We moved to Lagos at some point and I grew up in Awodiora estate in Ajegunle, Lagos. This was where all my other siblings also grew up.
My childhood was pretty much about a young boy helping his parents to raise money as well as raise the children. Going to church on weekends to help make music was an opportunity for me to learn how to play the instruments.
I did that up until I turned 18 years old and an uncle of mine decided to take me to the U.K. He wanted me to go there and teach some of the musicians they had in the church. The church is Cherubim and Seraphim, one which people frown at because we wear white garment. It is the church I was born in and I have never seen them doing any rituals or anything of the sort.
In the U.K., there were not many people who were confident enough in wearing the white garment to church. I guess that was the reason why my uncle thought I would be the one to come over and teach the church members over there.
Eventually, after I got there, I got the church running smoothly. Along the line, I dabbled into playing music with some good fellows I met. I started with a group called Solek Crew, but at some point, we went our separate ways before I moved into another group called JJC & 419 Squad.
I worked there for a while and learned the ropes of music production from the guys at JJC & 419 squad. While I was with them, I had become quite good at what I do now before I met D'Banj. We both decided to work on his album and by the time we were done with it, we thought about where we would sell it. Eventually, we decided to go back to Nigeria, where the people understood what we were doing. D'Banj's album got released immediately after we got back to Nigerian and as God would have it, the rest is history.
What strategic plans did you put in place to make money from music?
When we started at first, it wasn't really seen as a business to us. We were just guys that had the passion for the music. We knew that if we had good products to sell, we would get popular and then the money would start to come. We were not thinking about the labour or capital initially.
Later on, we started looking at it as a viable business before we decided to start structuring things. I actually think we started late in putting together a structure for the business. I got it right a little bit with Mo'Hits Records, but I perfected it with Mavin Records.
However, I would say that with the mistakes we made from Mo'Hits Records where we were just learning on the go, we got better at doing things in Mavin where we just put what we had learned to play.
Did you think about the business side when collaborating with others?
The first song collaboration that we did was Dorobucci before Looku Looku. I recently signed new artistes and three of them are relatively new in the game.
We thought of the best ways to get them as popular as possible, riding off the popularity of me, Tiwa Savage and D'Prince, and so we decided to do the collaboration. We do that from time to time.
Although, it is easier for you to go to the radio stations and introduce yourself and your song with features by Don Jazzy and Tiwa Savage.
The Dorobucci song, for instance, is up on YouTube with over 20 million views. With that, the artistes have already gotten that face time that they would have been looking for as newbies in the game. We replicated the same with the Adaobi song, which just had three young artistes and me in it.
Also, for the people that know me and want to see me will have no choice than to see my other people as well. It got them popular faster. We think of these factors before we make such moves. Now that I have signed new artistes, I may think of some other ways to incorporate them.
Were you really thinking of branding from the business side of view or did they just happen?
I created the word "Dorobucci," but I was not thinking of branding at the time. I just wanted the talking points on "Dorobucci". The more people kept asking about it, the more it got popular. I also considered the use of social media in this case. For instance, when you use the hashtag "#Dorobucci," you see only us and no one else.
Meanwhile, if you use the hashtag "#Inspiration", you may see Inspiration FM or Inspiration Ghana and so on. With that, you cannot really tell the growth of your product. What I wanted was a place I could check and see the success of the product on its own.
With your experience, what should one consider before going into the music business?
There are lots of things that people can do in this space. One of the challenges that we have in the industry is actually human resources. We are looking for people that can handle different things.
For example, Mavin is successful today not just because of Don Jazzy, but because I give professionals different arms of the business to handle. Whatever you feel is your selling point or an area you feel you can handle best, please go for it. For instance, I have songwriters, dancers, PR experts in my team.
What do you consider before accepting a show?
First, it depends on which artiste you are talking about. For me personally, the money has to be high, because I am not an artiste, so you will have to pay for convincing me to come and perform on your show.
For the real artistes, it depends on the location, the brand, the sponsors, and then the fees.
What do you consider before singing an artiste?
I have had different reasons for signing almost every artiste under the Mavin label. There is no one that has been the same. If I am looking for an artiste, it's either I put out a word or they contact me. There are others that get to me through someone else that knows me closely.
In business nowadays, people always forget to work with the heart. It is not every time that you go for skills.
Aside the fact that my people have skills, I also look at the heart before I then look at the long term. It is better for me if we can work longer together instead of us to work for only a short period because you feel you have too much skill. If I see loyalty in the person, I know that he or she is someone I can bring up.
How do you plan to make your business outlive you?
I started planning this since three years ago. I have looked at the music industry and I understand it to the point where I realise that you cannot be perfect forever. I look at people like Mohammed Ali. They say he is the greatest. However, can you imagine what Mohammed Ali would have been if he was the one that founded and managed Mike Tyson? I have a bunch of people under me that are going to take over after my time.
Fidelity Bank
EFCC Grills Actress Simi Gold for Spraying New Naira Notes
By Aduragbemi Omiyale
A fast-rising actress in Nigeria, Ms Oluwadarasimi Omoseyin, otherwise known as Simi Gold, has been quizzed by officials of the Economic and Financial Crimes Commission (EFCC) in Lagos for allegedly spraying the new Naira notes.
A statement issued on Friday by the anti-money laundering organisation disclosed that the movie practitioner also stepped on the country's legal tender, which the EFCC said was against Section 21 (5) of the Central Bank of Nigeria (CBN) Act, 2007.
It was stated that the suspect was arrested by operatives of the Independent Corrupt Practices and Other Fraud Related Offences Commission (ICPC) on Wednesday, February 1, 2023, along Awolowo Road, Ikoyi, Lagos, following an intelligence report.
She was reportedly questioned by the EFCC on Thursday, February 2, 2023, for further investigations after she was handed over to the agency by the ICPC.
"The 31-year-old was arrested after the video of her spraying and stepping on the newly redesigned Naira notes at a party surfaced online.
"In the viral video, she was also seen flaunting wads of the new Naira notes," the statement today said, noting that, "Items recovered from her at the point of arrest include a Range Rover and iPhone mobile devices."
"The suspect will be charged to court once investigations have been concluded," the commission declared in the statement.
Emerging Artists to Watch Out For in 2023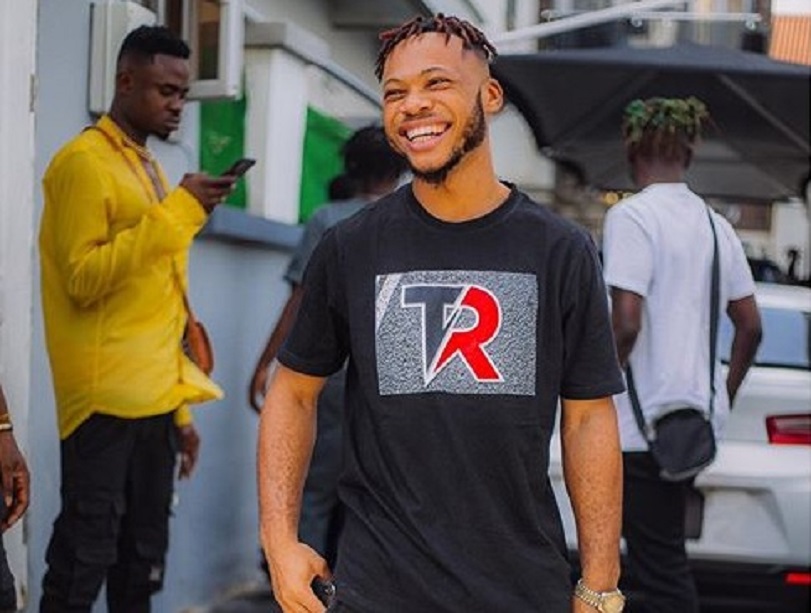 Few things are quite as exciting as discovering new talent to listen to on repeat, add to your favourite playlists and lean on for emotional support over the course of the year.

For fans of African music on Spotify, 2023 promises another roll call of amazing artists ready to break through to fame and mainstream streaming success. 
If anything, African music has consistently unfurled waves of new, fresh talent every year who have propelled the global interest in Afrobeats, Amapiano and its many other sub-genres. 2022 was a breakout year for artists like Buju, Costa Titch and Asake, whose success propelled them into Wrapped top lists at the end of 2022. 
And while those talents took their voices to the main stage, a slew of rising stars was also laying the groundwork for their own breakout year. Some of these musicians are primed to release their best music in the coming months. Others have enjoyed early success on Spotify and show many indications of even greater success on the horizon. Others are relatively new elements, developing new takes on familiar sounds that harken towards major shifts in popular music.
Hailing from Nigeria, South Africa, Kenya, Tanzania and Uganda with a wide array of styles, cultures and perspectives, these artists are, according to Spotify data, the ones to watch out for in 2023.
At 17, Khaid is a Gen Z starboy in every sense. His debut, With You, was an instant darling, evoking a syrupy teenage love story at its crescendo. As part of a generation of artists first discovered on social media, Khaid's songs resonate with a core online audience, inspiring many viral challenges. His Afrobeats inspirations come to the fore on songs like Akpako, but Khaid also shows his emo-trap side on Ski, a fave among young Nigerians in 2022.  
Known for his producer tag, MAD!, the young producer is behind some of Afrobeats' biggest songs. A long-term friendship with CKay birthed the global smash Love, Nwantiti, now certified double platinum in the United States. 2022 showcased a new pace to Tempoe's hit churning powers; he produced Joeboy's viral hit, Alcohol and performed in Soweto, the global sensation by Spotify RADAR alumnus, Victony. With over a hundred million Spotify streams under his name, Tempoe is primed to deliver more hits this year. 
First introduced to fans for his dance skills, Poco Lee has since applied his skill set to crafting some of the biggest street pop hits of 2022. Poco Lee has built a huge fanbase by backing some of the most interesting emerging talent – including Bella Shmurda and HotKid. Whether it's his ear for a future hit or his ability to put the right creatives in the same space, Poco Lee has blessed hit records like Otilo and YARD. Wherever Afrobeats goes this year, you'll find Poco Lee cooking close by. 
Bayanni has hit 2023 running. The newest artist from Mavin, the house that produced Rema & Ayra Starr, introduced himself with an eponymous four-track EP in September 2022. Ta Ta Ta has risen on the shoulders of a viral social media challenge to become almost inescapable. And it has not stopped there, finding its way into the dressing rooms of Manchester City, where Algerian footballer, Riyad Mahrez, chose the song to celebrate a stellar performance.
With just one release under his name, Brume is still a mysterious entity to some. His song, Workaholic isn't. Released in 2021, the unassuming hustler's anthem extols the virtues of perseverance and hard work as the young singer pursues his own holy grail. Brume first drew attention with occasional freestyles on social media before Workaholic, and as 2023 kicks off, ears are perked for what new music Brume has to offer. 
Formerly known as YusufKanbai, YKB is an eclectic artist on many Ones to Watch lists. He's released a number of cult favourites over the years and built a steady community while winning The One, a competition by online publisher Clout Nigeria. YKB levelled up with 2021's Before I Blow, spinning fan favourites like Practice Patience and Oshofree. He's converted even more fans with 2022's San Siro, a football-themed love story that has many convinced it's YKB time. 
Kaestyle boasts a certain dexterity with words and narratives that, aligned with soothing melodies, has eased him into the libraries of many music fans. The singer's debut EP, Kae's Study shows his ability to play in different lanes, offering drill on Moving Mad and some groovy Afropop on Blessings. His collaboration with Victony, True Love, is an early fan pick, and fans will be eager to stream more easy hits from Kaestyle. 
Here below is the list of other emerging artists on the continent. 
| | | |
| --- | --- | --- |
| GHANA EMERGING ARTISTS | KENYA, TANZANIA & UGANDA EMERGING ARTISTS | SOUTH AFRICA EMERGING ARTISTS |
|   |   | |
Funa Maduka, 15 Other Jurors for 2023 Sundance Film Festival
By Modupe Gbadeyanka
A Nigerian filmmaker, Ms Funa Maduka, has been announced as one of the 16 jurors granting awards at the 2023 Sundance Film Festival. She is one of the three jury members of the World Cinema Dramatic Competition, alongside Shozo Ichiyama and Annemarie Jacir.
The jurors of the 2023 edition are Jeremy O. Harris, Eliza Hittman, and Marlee Matlin for U.S. Dramatic Competition; W. Kamau Bell, Ramona Diaz, and Carla Gutierrez for U.S. Documentary Competition; Shozo Ichiyama, Annemarie Jacir, and Funa Maduka for World Cinema Dramatic Competition; Karim Amer, Petra Costa, and Alexander Nanau for World Cinema Documentary Competition; Madeleine Olnek for the NEXT competition section; and Destin Daniel Cretton, Marie-Louise Khondji, and Deborah Stratman for the Short Film Program Competition.
According to a statement, the festival kicks off on Thursday, January 19, in Utah, the United States, and will end on Sunday, January 29, 2023.
The jurors will grant awards to filmmakers for feature and short films. The winners are expected to be announced on Friday, January 27.
Ms Maduka is an award-winning filmmaker and the former head of International Original Films at Netflix, where she worked with the world's top global and emerging filmmakers.
Over six years, she was positioned at the frontline of the company's global expansion, managing the launch of the film offering across 100+ countries. She pioneered Netflix's move into international film production, building a development slate across Europe, the Middle East, Asia and Africa.
Meanwhile, her film acquisitions brought Netflix its first film nominations at both the Golden Globes and the Academy Awards.
Previously she worked at Participant Media, developing and managing campaigns for film and television projects.
Ms Maduka is an award-winning filmmaker credited with writing, producing and directing the first Nigerian film to world premiere at the Sundance Film Festival. She is a member of the Academy of Arts and Sciences. She holds a BA from Cornell University and a Masters from Harvard Business School.
Latest News on Business Post